While we were travelling around Europe this summer we needed a bit of downtime away from all the pesky crowds. We were exhausted and had to escape from travelling for a few days of just chilling out and relaxing.
Grabbing our togs (swimming gear) we headed to the northwest of Spain to a sleepy village called Zarautz to hook up with the awesome team from Stoke Travel surf camp.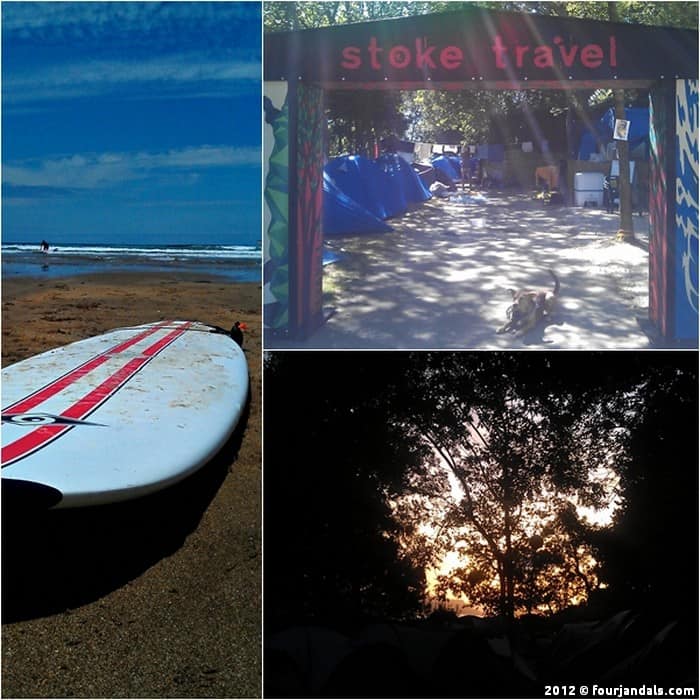 Spending a few days learning to surf has got to be right up there as one of the best summertime activities.
A day at Stoke Travel Surf Camp
Every morning you will wake from your slumber in your tent overlooking Zarautz and the Spanish coastline. The sunrises over the jagged Pyrenees and glistens across the oceans surface at your feet.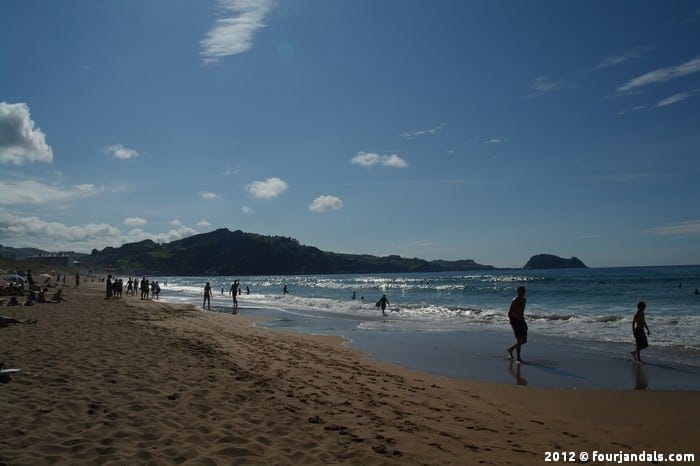 Depending on your level of hangover this is the best time to grab a surfboard and head down for a few waves. There is hardly a soul in sight and the wind will most likely be calm to non-existent so the waves will be clean.
No other feeling can even come close to plastering a smile on my face than paddling out with a buddy or two and perfect waves.
With arms turning to jelly after your early morning session you will need to rest. After our first surf we would usually hang around the surf camp waiting for lunch by passing the time with table tennis, catching up on emails (yes there is free WiFi) or even a class of yoga.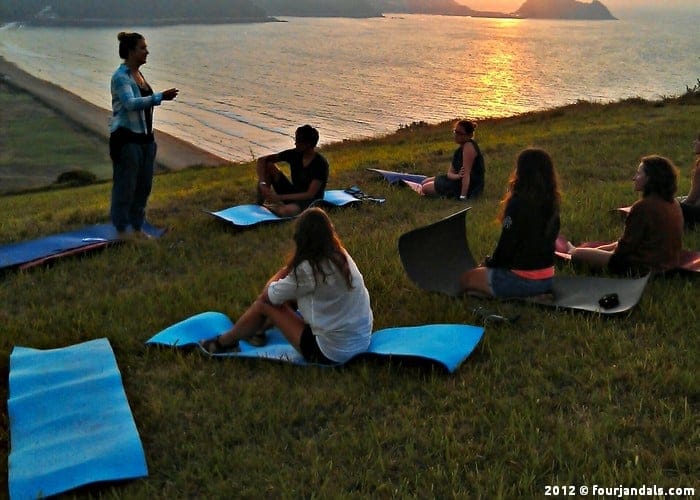 Depending on the tides, the surf lessons kick off after lunch for any beginners. The teachers are excellent and the surf lessons small enough that you will get the attention you deserve.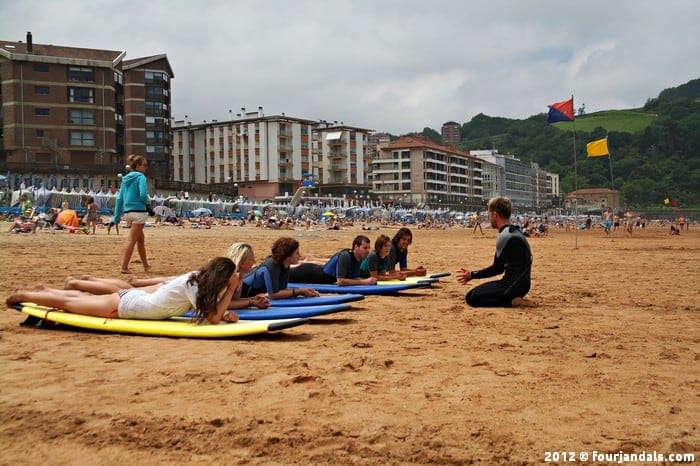 With the easy to learn on surfboards you will find yourself standing up after just a few waves. Just maybe not for that long…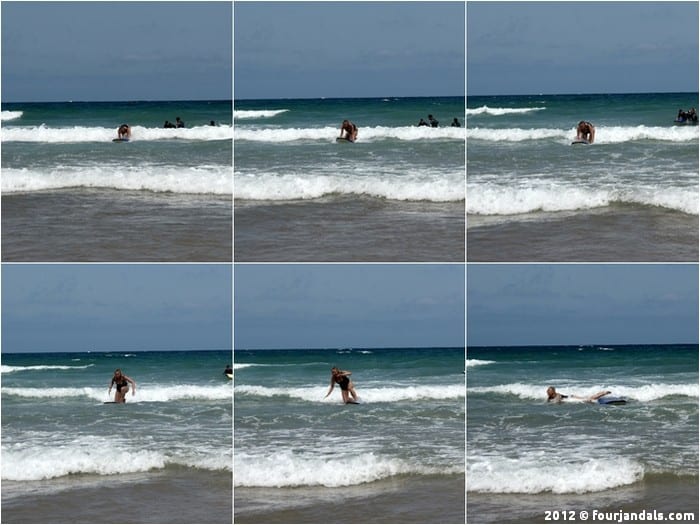 Michelle spent 2 weeks at the surf camp with us and was a pro by the end!
Now comes the hard part of the day. Do you:
a) Read your book on the beach;
b) Play a bit of beach cricket, football or volleyball;
c) Grab an ice cream and wander through the cute village of Zarautz; or
d) Have a siesta.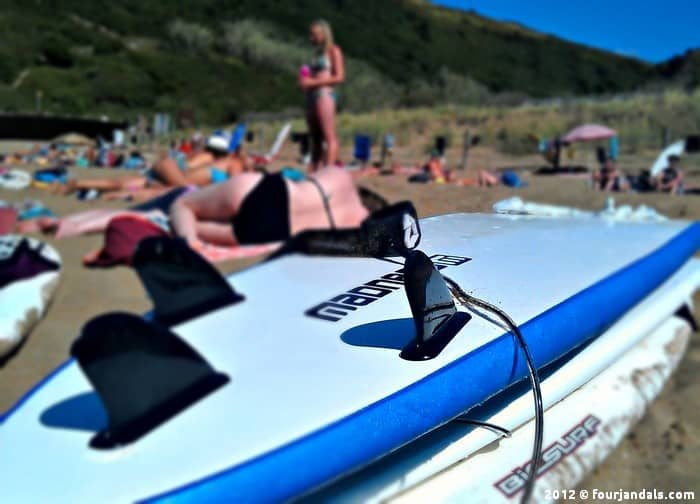 It's a hard life but just keep reminding yourself, someone has to do it.
If you haven't exhausted yourself by now or chose not to have a siesta then your evening is just getting started. The Spanish seem to only get going when the temperature starts to cool down in the evening.
Again you have a couple of options but either way start with a few beers and sangria's at the surf camp.
Option A: San Sebastian
Make your way into San Sebastian. It is one of those town in Europe that you could easily live in. Not only is it a gorgeous place to visit during the day but it also awakens when the sun goes down.
There is nightlife a plenty and all the delicious pintxos (tapas) you can eat! It's the culinary capital of Spain with no less than 16 Michelin stars awarded in this sleepy town.
Option B: Watch the sunset from the campground
Sitting on the hillside you can finish off another exceptional day with a bunch of mates and just this view to look at. Not a bad way to spend a few days (or weeks) over summer.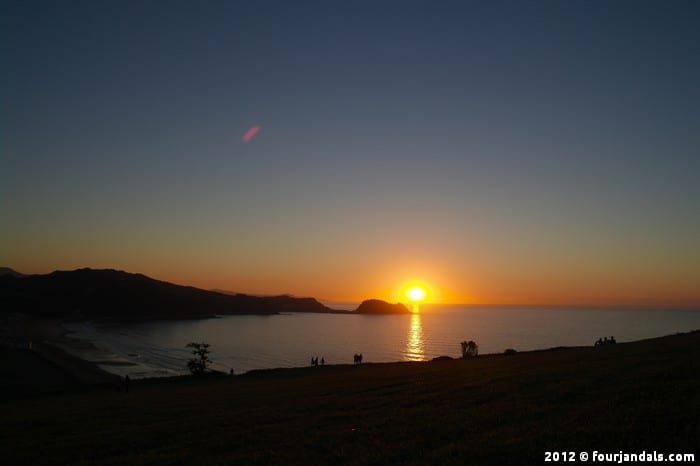 Have you learnt to surf before? Tell us about your experiences below.
Extra Travel Information:

Where: Gran Camping Zarauz, 10kms from San Sebastian in Spain.

When: All summer long from June 1st – September.

Cost: €50 all-inclusive (includes 3 x meals a day, accommodation and surf lessons).

Sleep: Camping accommodation (twin share tent, sleeping mat and bag included).

Extras: Unlimited beer and sangria (€5 a day), party trips, horse riding and yoga.
Disclaimer: We were guests at the Stoke Travel surf camp. However, as always our opinions and words are always our own.