We were really excited to be invited along to the recently refurbished Sheraton Grand Hotel and Spa in Edinburgh a few weeks ago as part of the Sheraton's #meetyouthere campaign. And we are even more excited to giveaway 10,000 Starwood Preferred Guest loyalty points to one of you!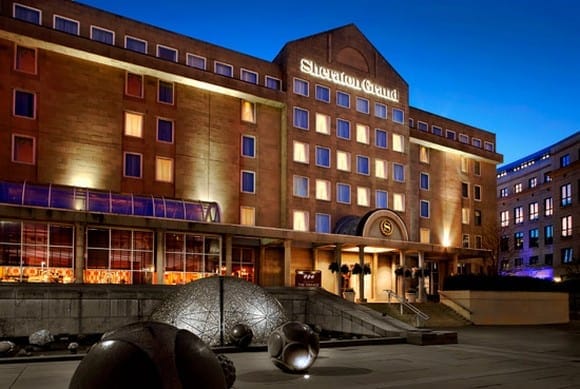 Sheraton Grand Hotel and Spa, Edinburgh
As budget travellers we are rarely given the chance to hangout in 5 star hotels so jumped at the opportunity to join the Sheraton team for a night of luxury at the refurbished Sheraton Grand Hotel and Spa in Edinburgh. Staying as part of the "Sheraton Club" we were in line for the full luxury experience. And boy were we pampered from the minute we arrived!
Usually we have to lug our backpacks up 17 flights of rickety stairs but as we walked into the reception our bags were carried to our rooms while we were whisked away to the Sheraton Club lounge for a welcome drink and canapes!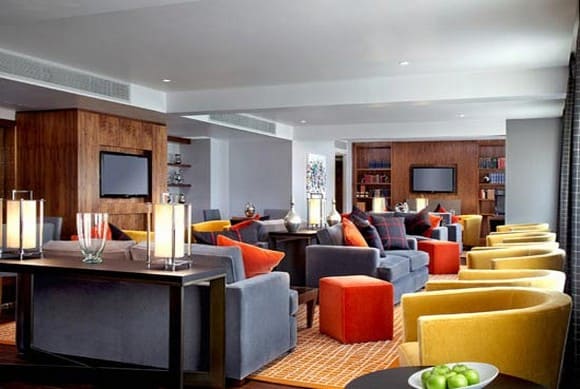 Sure we were getting the star treatment as part of the unveiling of the refurbishment but you can be guaranteed that you will get the same respect and luxury when you check in. Especially if you are lucky enough to win the 10,000 SPG points.
With our appetites held off for the next few hours we were led to what is surely the showpiece of the Sheraton Grand Hotel. The aptly named One Spa which is attached to the Hotel as part of the Club members experience. You can even join the One Club separately to the Sheraton resorts.
Fortunately we were dolled up looking dashing in shirts and skirts so were not expected to get a sweat on while we toured the exercise and workout areas. Although Adela and I did head down at 6.30am the next morning for a workout to burn off a few of the drinks we had. It is so nice being able to walk through a Hotel directly to the gym rather than run in the cold like we usually do.
We didn't say no to the Spa treatments though. However I did let the masseuse off lightly by offering to have a hand massage instead of a foot massage.
I even nearly fell asleep with the candles, oils and hippy music lulling me into a dreamlike state. If only we had longer here so we could have enjoyed the rooftop pool as well.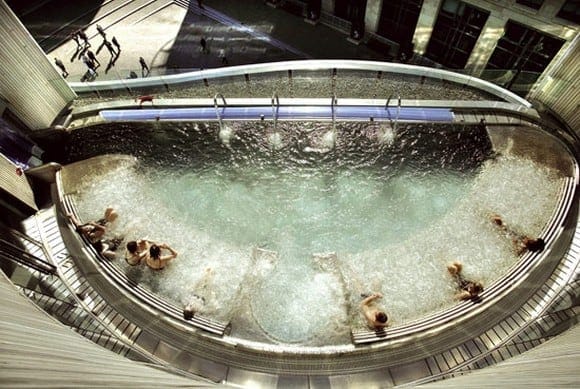 I would have to say that the highlight of the entire night was the food and drinks. Heading behind the chaotic restaurant scenes we met the world renowned Malcolm Webster, the head Chef and creator of some of the nicest food we have ever eaten. Plus the Sheraton team dished out wines to complement every delectable forkful.
Turns out that pairing your food with a decent bottle of red is much nicer than the usual £3 bottle at Tesco's.
The only thing left for us to do was to roll ourselves up to our Club rooms high above the city lights of Edinburgh and collapse on the gigantic bed. In fact, I now know why they make beds that are wider than they are long. Purely to fit my fat ass in after scoffing all that food.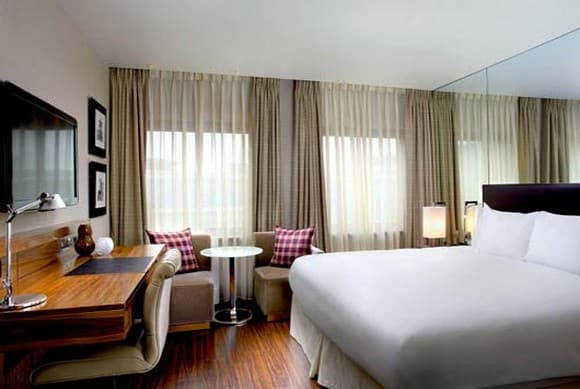 Our only disappointment is that now we are really going to struggle to get back into the budget travel frame of mind and wish we wrote a luxury travel blog instead!
Starwood Preferred Guest Points Giveaway
We are so lucky to be able to give you a chance to win your very own luxury experience with Starwood Hotels and Resorts. And the best part is that you can actually use the points anywhere in the world! And you don't have to use all the points in one go if you don't want to. Although we recommend it

For example you can spend 3 nights in a Starwood Category 1 Hotel by using 3,000 points a night or just 1 night in the Sheraton Grand Hotel and Spa. The choice is yours. Check out this list of the Category 4 Hotels around the world.
So all you have to do to enter our draw is to follow the next 2 links to join our newsletter mailing list and 'LIKE' us on Facebook. Once you have done that then there is nothing to do but sit back, relax and cross your fingers! If you have already done both then you are entered already!
The draw will be held on Friday 29th June and be announced in our June newsletter, on our travel blog and on our Facebook page.
CONGRATULATIONS TO OUR WINNER. THANKS ALL FOR ENTERING.
All photos courtesy of Sheraton Grand Hotel and Spa.
Disclaimer: We were guests of Sheraton Grand Hotel and Spa as part of their #meetyouthere campaign. However, as always our thoughts are always our own.