Seafood and local markets. Two things that we love to devour and explore when we are travelling. Combine the two into one evening at the Fethiye Fish Market, and you have us salivating at the very thought.
Eating at the Fethiye Fish Market
While we were in Turkey last year for ANZAC Day and our epic Busabout Sail Turkey cruise we found one of the best restaurants we have ever been to.
We are always on the look out for excellent food when we travel. And when a recommendation is handed to you from a local at your accommodation, you should listen. Our host at the Fethiye Guesthouse hostel had told us that the freshest, tastiest, and some of the cheapest, seafood in Fethiye was to be found at the local Fethiye fish market.
We didn't need much convincing.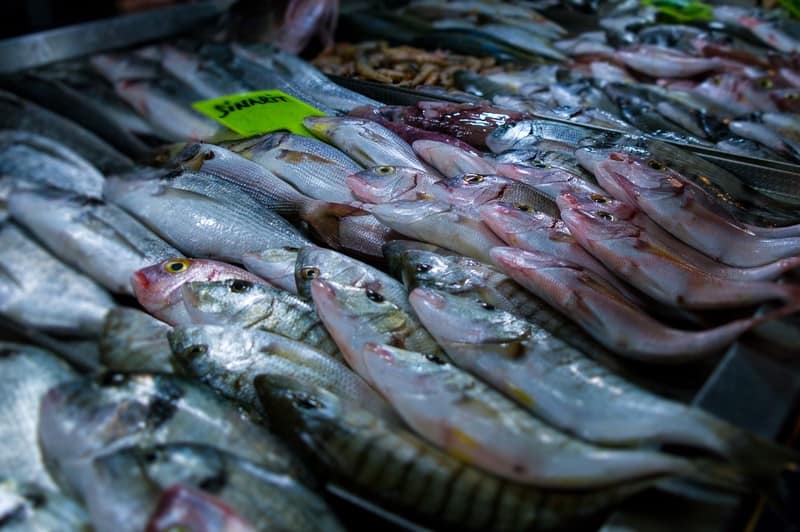 After a crazy and unique hamam Turkish bath with semi-naked Turkish men we were ready for a giant meal.
But finding the local fish markets in Fethiye is just the beginning.
Walking the streets of Fethiye you wouldn't realise that tucked away in one of the squares is a fish market. From the outside the square looks like a regular block of shops. Jewellers, tour companies and local supermarkets sit side-by-side hiding the gem inside.
It isn't until you walk through one of the four arched entrances into the open aired courtyard that the Fethiye fish market is revealed in all its glory.
As you step from under the awnings you mind begins to piece together the scene in front of your eyes.
Surrounding the square on all sides are tables covered with white linen and sparkling dinner sets. Each lit from above with paper lanterns.
In the middle of the square sits a brightly lit stand with local fishermen jostling together selling their fresh bounty from that days expedition on the Aegean Sea. Each fisherman takes up a small shelf of shaved ice piled high with squid, fish, mussels and prawns.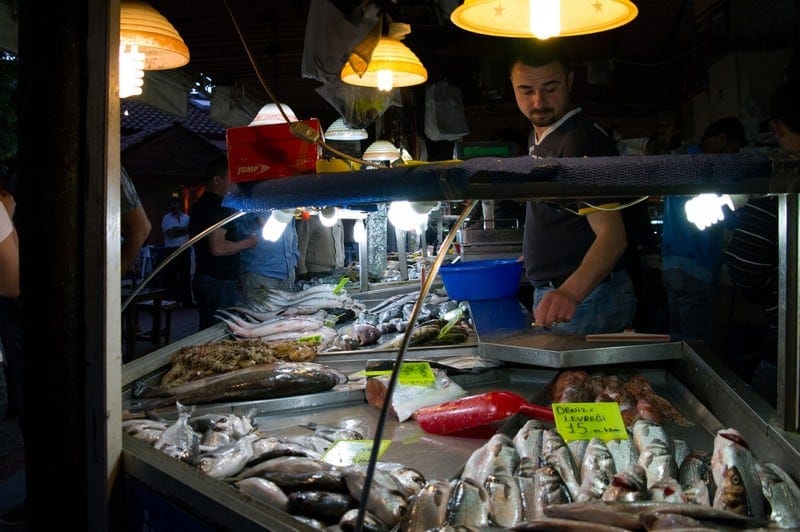 The seafood stand in the middle is where all the action is.
Seeing the confusing spreading across our faces we were approached by one of the English speaking waiters. He quickly explained that we were to select and pay for our dinner from any of the fishermen. They would prepare our seafood to our liking whether it was prawns with shells off, chopped calamari or whole snapper.
We  would then bring our bounty in plastic bags back to the restaurant of our choice where for a measly 6 – 8 Turkish Lira (US$4 – 5) they would cook our seafood. Included in the price was all you can eat salad and bread. A bargain.
Strolling around the stand several times we were waved in with friendly smiles and broken English.
While the fishermen were all competing with one another, they were all clearly friends. The mixed banter between them as they enticed us to their stalls was good-natured and there was a lot of it.
With so many options it was hard to decide on what we wanted to eat. But as a sucker for calamari, that was immediately diced and thrown into our bag. As well as king prawns, a side of quickly filleted fish, and a couple of pieces of tender salmon for good measure.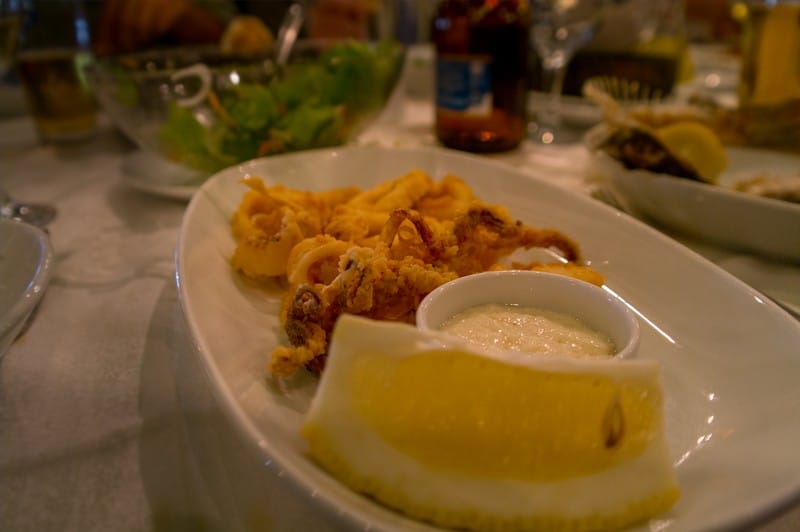 Handing our bags of fresh seafood over to our waiter we began downing the local Turkish beer, Efes, and watching as other locals and tourists joined the throngs in the square.
It wasn't long before we were tucking into our meals. Each plate was perfectly cooked to our specific liking. Each morsel as succulent as the next. And with 8 of us in our group there was a lot of sharing and mixing of meals as we all wanted to try what others had.
The Fethiye fish market was the perfect way to finish another incredible day in Fethiye.
What do you think of the Fethiye fish market? Sound amazing?!