Sea Kayak in Napoli, Italy
Exploring the Italian coastline by sea kayaking in Napoli is one of the best adventure travel activities you can do.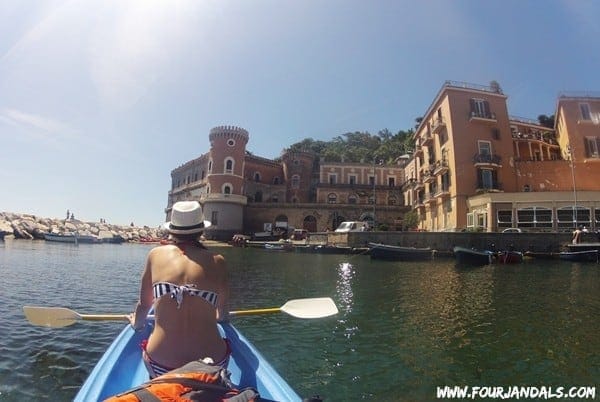 Ripples extend away from the end of our paddles as each stroke breaks the surface of the warm Mediterranean Sea. Sunlight flickers and reflects off the surface as our kayak cuts through the glassy waters off the coast of Napoli. The only sounds are the splashing of the paddles and the odd laugh echoing from kids diving off the rocky shoreline.
This is kayaking Napoli at its best.

Kayak Napoli
On a recommendation from the awesome staff at Hostel of the Sun in Naples we had grabbed our togs, lathered up with sunscreen and donned our sunnies for a morning of adventures and sea kayaking with the friendly folks at Kayak Napoli.
Even getting out to the kayak Napoli centre proved to be an adventure as our only directions were to hop off the local bus at supposedly one of the best restaurants along the Napoli coast. Apparently every bus driver in the city knew where this was. Apart from the one driving our bus of course.
With fumbling Italian and hand gestures we somehow managed to stop just 200m from where we were meant to get off anyway.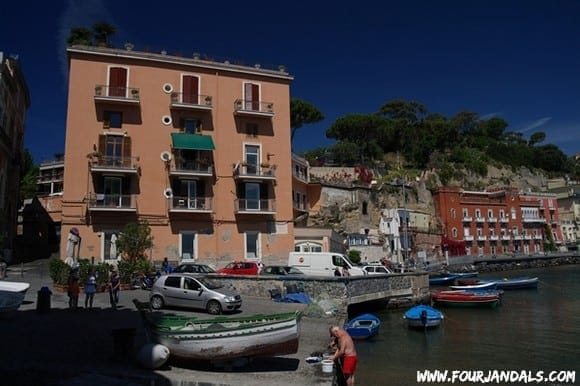 Hiking down the long winding road to the coastline our backs were soon sticky with sweat and all we wanted to do was get started on our kayak Napoli trip. However, as with all things Italian, everything is done at a slow and gentle pace. Our 10.30am start time neared 11am and then flew on by before our guide showed up on his trusty Vespa.
Can't say we were too disappointed getting to chill out for a half hour in such a cute village on the seafront anyway.
Everyone partnered up and we dipped our paddles in the water slowly stroking away from the beach.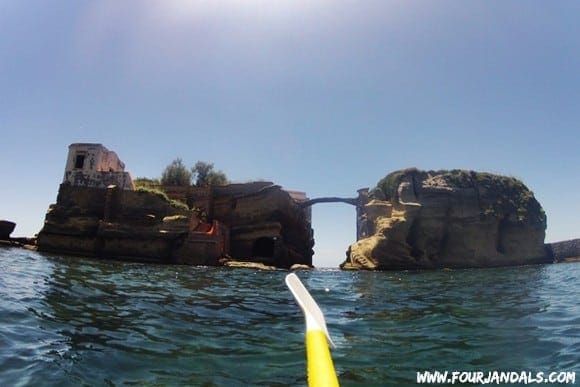 With only 6 of us, including the guide, on the kayak tour in Naples it really felt personal. And even with our limited kayaking skills we were actually the best of the small group with two of the girls careening into a small dinghy when they couldn't figure out how to turn or stop.
Luckily the sea was flat and the guide experienced enough to keep us close to the shoreline should anything go drastically wrong.
At over 3 hours in length it really is an awesome and unique way to see one of the most spectacular coastlines in Italy. Away from the hustle and bustle of Naples the cliffs plunge straight into the deep blue sea. Houses perch precariously on the cliff edge with rough stone stairs carved straight into the rock leading to the sea below.
With no beaches here the locals sunbaths on the rocks with ladders to help them climb back out.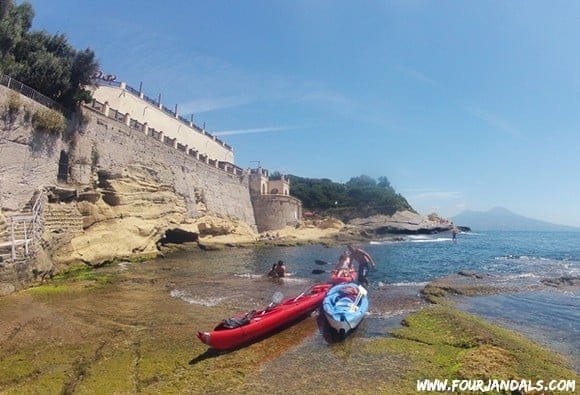 Our local guide knew all the best swimming holes and spots to rest our weary shoulders every half hour or so. With masks provided we could explore under the surface at every stop too.
We even had the chance to kayak into ancient caves that had been eroded from the relentless sea. Unsurprisingly these same magnificent caves have been used in the past for homes and storage for the wealthy.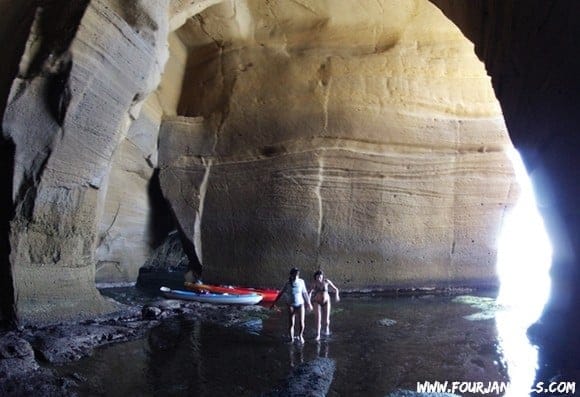 Each cave had winding steps leading into the blackness behind gates where we couldn't venture. Apparently some still lead into the basements of houses.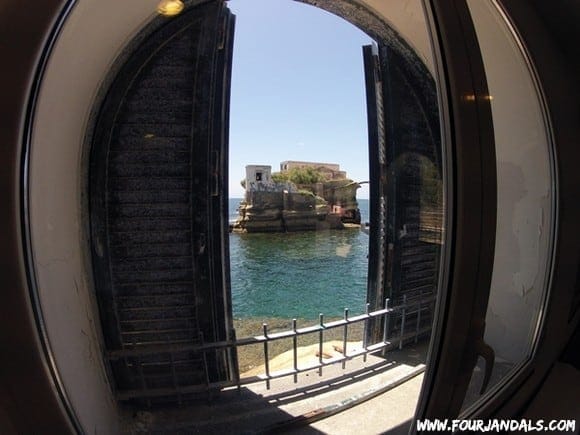 My favourite stop on the Napoli kayak tour was when we  stopped at the Roman ruins which were visible above, and below, the sea surface. Snorkelling gear was again donned to explore these ancient structures. I only wish we had more time here as this was definitely the highlight.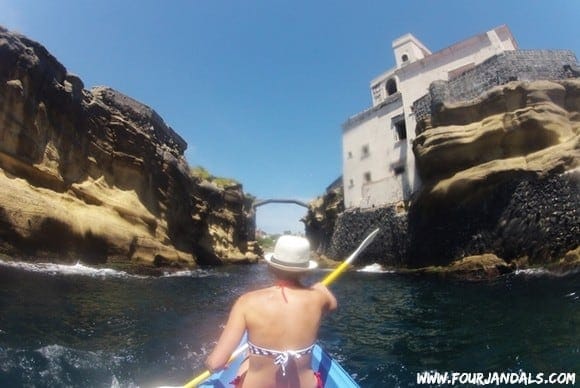 Oh apart from helping catch our guides dinner in the form of an octopus. If only he had offered to share it with us!
It was such a fun few hours and a totally different way to explore Napoli. We definitely recommend you to check out Kayak Napoli as they run adventure trips every day and it's a great way to escape the Italian heat.
Have you ever kayaked in Napoli or Italy? Any other recommended spots for us to explore?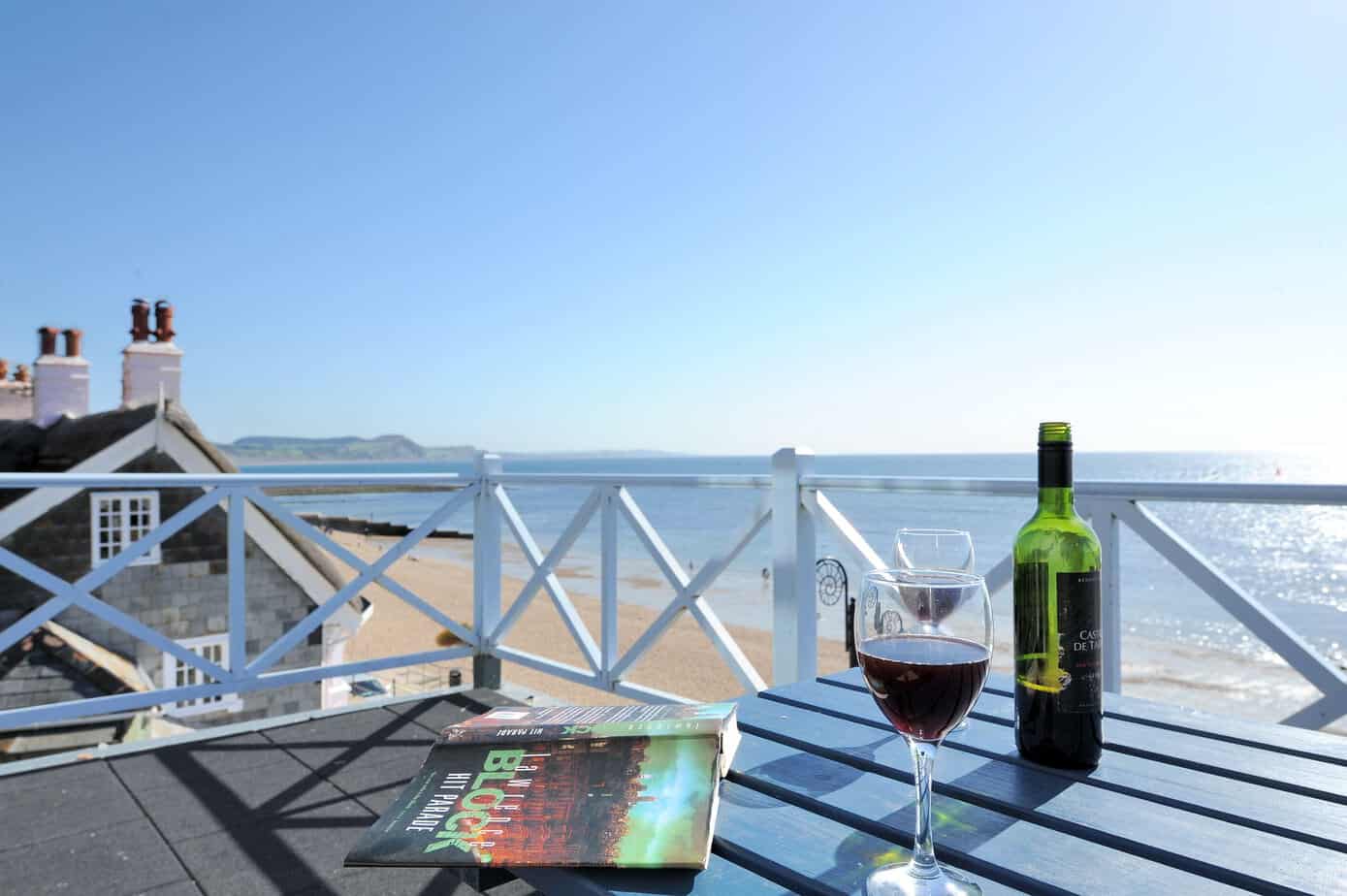 We all need a break at some point or another, as much as some of us don't want to admit it we simply aren't robots. So why do so many of us simply not recognise the fact that we are close to burn-out? (and yes burn-out is a very real thing). In fact, one third of people in the UK don't take their fully entitled annual leave every year. You could take a few guesses as to why this is; perhaps money is tight, perhaps work is incredibly busy or perhaps people feel like they're just not entitled to take time for themselves… Whatever the reason going for extended periods of time without a break can be extremely detrimental to ones mental and physical health, so what are the key warning signs that show you it may be time to get away for a bit?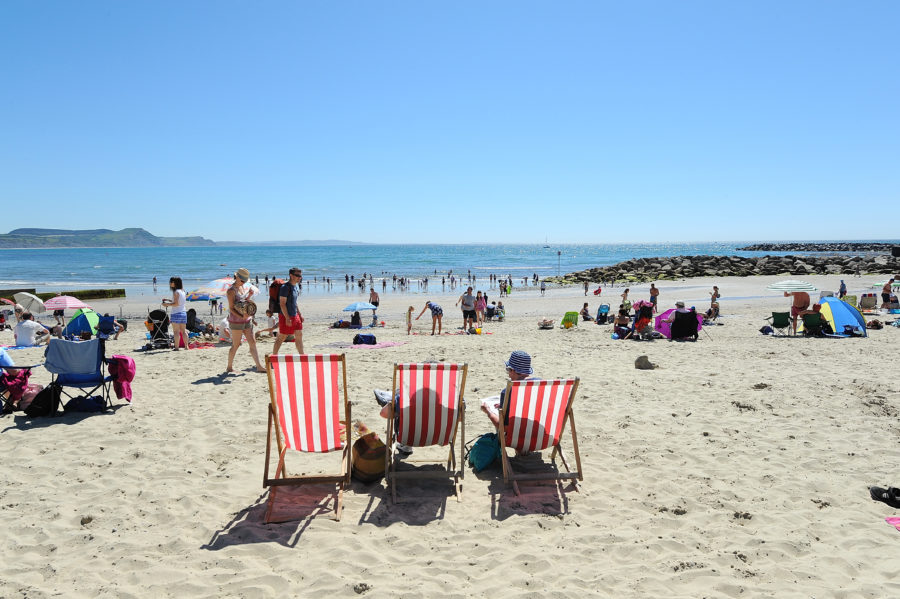 You're eating more than normal. This goes past eating for boredom, if you find yourself reaching for more than just a few snacks at work, perhaps you're finding that your lunch just isn't giving you the energy you need to get through the afternoon or maybe the prospect of any kind of food other than a takeaway pizza and a chocolate cookie is unappealing. Your body is telling you it needs energy that it can't get from food alone.
Your social life is kind of non-existent. We don't mean to be rude but when was the last time you met up with your mates? Or even your family? It has been said that not spending enough time with friends and family is one of the top regrets of people on their deathbeds, so do you want that to be you?
You have caffeine running in your blood stream. That morning latte has become a triple shot espresso and a post-five pm coffee hit has become a necessity, let's face it you're not just drinking all the coffee because you like the taste.
You oversleep pretty darn frequently, in fact your morning alarm has started to feel like a bit of background noise rather than the call for you to wake up and start your day.
You haven't posted anything to your social media accounts because you feel like nothing exciting has happened. Oh, and whenever anybody else posts an image of them on holiday, out for dinner or doing something vaguely interesting you get annoyed (it's not because you're a bad person, we promise!).
You are never home, in fact it could be questionable whether your roommates even know you exist anymore. The only sign of you being at home is a bottle of ketchup and some leftover takeaway containers in the fridge, yeah, not a good thing…
You live for Friday. Although when it finally arrives you end up doing the same thing you do every evening. Work, work and perhaps a bit more work accompanied with that takeaway pizza we were talking about earlier. (oh and don't forget the triple espresso!)
Your gym card is collecting dust. Nope you don't have an injury (even if you try to convince yourself or others that you do) nor do you go out running but instead you're working from dusk til dawn barely giving yourself time to catch some fresh air and take a brisk walk. Yeah that's not any good for your physical or mental health.
Phone calls become the bane of your life. Not only do you absolutely detest your ring tone but with every call you receive comes an instant assumption that it's work related and even if it is your friend you ignore it because work is just 'so busy…'.
And last but not least what used to bring you joy now irrationally annoys you. Whether it's a hobby you used to frequently partake in or the job that you used to enjoy whenever you think about it you just sigh.
So, did you answer yes to one or more of the ten points outlined above? If you did it really is time to think about booking a bit of a break. Whether that's a weekend getaway or a week-long adventure it's important for you take some time for yourself, relax, unwind and decompress. In fact, you'll almost definitely feel better upon your return, after all the effects of a good holiday are almost immediate with research showing that even after only a day or two, 89% of people experience significant drops in stress. What are you waiting for? Take a break, you deserve it.

Walking Holiday Ideas in Amazing Places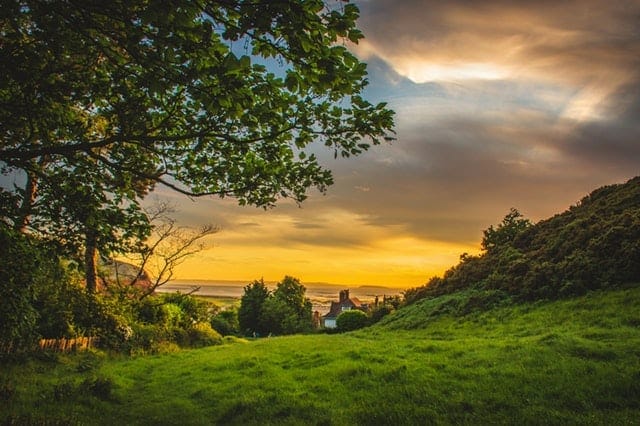 Going on holiday is one of the things that most people look forward to all year. Holidays are a way to see new places and enjoy a break the monotony of a routine life. People have their own ways of spending holidays. Obviously, countryside areas are free from the stress of city life and are free from all ill effects that city dwellers often face. Due to the better impact on the health, the concept of walking holidays is catching momentum these days. Walking holidays allow you to explore new areas, and you can make new likeminded friends in the tour group. Some of the fascinating destinations for walking holidays are as follows.
Wales
Located in the Southwest of the United Kingdom, Wales is a wonderful country that has gained a phenomenal popularity among the tourists. The country has amazingly beautiful places that can only be reached by foot. There are beautiful places to walk throughout Wales, but you should also make sure you spend some time in the lovely Welsh towns. In North Wales you can explore Ceiriog Valley which is located near the town of Wrexham. Book some cheap accommodation in Wrexham and then you can enjoy going off and exploring the many surrounding pathways and walking trails.
Crete
Loaded with unexplored beauty and adventure, Crete promises to be a great place for walking holidays. Since the country has numerous places to visit, you will need to have a think about where you'd like to go before you set off. Among some of the most wonderful places in Crete, you must experience the matchless beauty of Ayia Roumeli, Omalos Plateau, Preveli, Loutro, and Samaria Gorge. These are just a few to name; in fact, you can get a chance to explore hundreds of such places all over Crete.
Morocco
If you are interested in watching a variety of lifestyles and their impact on human life, then you must go for a trekking holiday in Morocco. The country has a stunning landscape that includes the presence of the Atlas Mountain, Mount Toubkal, Sahara Desert and many more. By walking extensively, you can get a chance to have a glimpse of these beautiful places that you cannot reach by car. Your walking holiday in Morocco will provide you with amazing views
Japan
Japan's amazing countryside can be best explored by foot. Your guide can explain to you the interesting history of the are through which you walk. Japan has a large number of interesting places to visit, but you may enjoy your visit to Shikoku Pilgrimage, Nakasend Trail, Kumano Kodo, and many more. The view of the volcano and volcanic lake is something you'll never forget.
Spain
Romantic hills, adventurous valleys, delicious cuisines, and being immersed in the Spanish lifestyle, all this and more, you can experience only on your waking holidays to Spain. Some routes are easy to navigate yourself, but if you want to go on a longer walk to properly explore the region then joining a group will be best.
There are hundreds of incredible walking destinations throughout the world, and there are so many benefits of going on a walking holiday. If you've never done it before, you could always go on holiday and join a walking tour for just a couple of days to see if you like it. There are different tours to suit all abilities so with just a bit of research you'll be able to find the perfect group for you.
5 Vibrant Destinations for a Fun Filled Holiday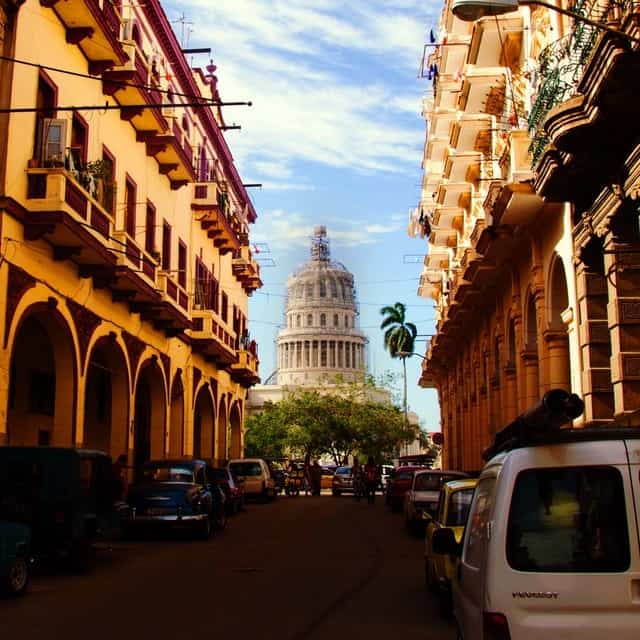 If travelling is a passion of yours, then you are certainly going to like this post. People always love to travel to some of the finest destinations that are scattered all over the world. However, there is hardly any doubt in the fact that deciding where to go is always the hardest part. Usually, people pick up their destination depending on what sort of holiday they want to have. If you want to ensure that you and your travel companions have a great time, then here are some excellent destinations which will allow you to enjoy a memorable fun filled holiday.
Fascinating Cuba
Situated in the Caribbean Sea, Cuba is an archipelago which is very close to the United States and Mexico. The wonderful and extended beach of Cuba attracts thousands of visitors from all over the world. The country has some of the finest tourist attractions that include reefs, corals, and colourful fish. You will feel uplifted by spending time in the most magnificent surroundings and the atmosphere and nightlife will make your holiday to Cuba feel extra special. Some of the best places to visit include; Villa Clara, Trinidad, Las Tunas, Baracoa, Havana, and Cayo Largo.
Superb California
Also known as The Golden State, California is a wonderful tourist destination for the visitors, especially the couples. The visitors love to enjoy the sunny beaches and theme parks where visitors love to spend time. The Golden Gate Bridge, the Yosemite National Park, Disneyland, Death Valley National Park, Lake Tahoe, and Universal Studios Hollywood are some of the most impeccable tourist destinations that you would love to be at. There are so many fun activities here, it is perfect for families, couples or solo travellers.
Amazing Ibiza
As a part of the Balearic Islands in Spain, Ibiza is a very popular destination for fun seeking holiday makers. The main Ibiza town is just a short taxi ride from Ibiza airport. Not only is Ibiza perfect for people looking to go on nights out and have fun, it is also home to many serene and beautiful beaches and chilled beach bars. There are plenty of street markets to explore, and many family friendly areas too. You'll find a wide mixture of different nationalities holidaying in Ibiza including French, German, British and Spanish. You can enjoy amazing tapas and sangria, and in the morning you can go for breakfast or brunch and enjoy an espresso to get you ready for the day.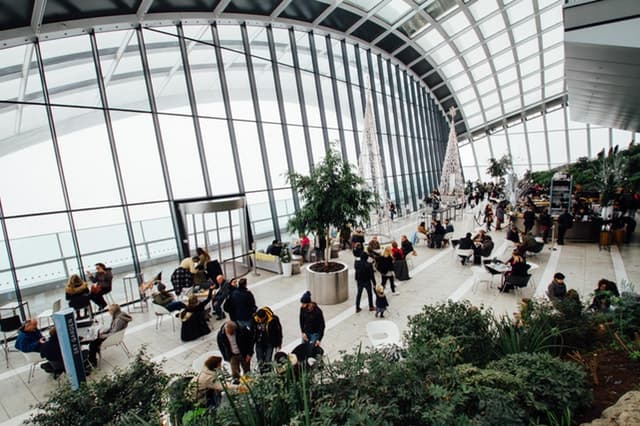 Astounding British Virgin Islands
One of the most inseparable parts of the Caribbean Islands, the British Virgin Islands is an amazing place for the loving couples. Accepted as one of the most popular tourist destinations, it offers natural surroundings in blue sea water, white sandy beaches, and a colourful presence everywhere. The place has some of the finest resorts in the world that offer every facility that you would expect. The nightlife and the party nights are worth enjoying for couples.
Beautiful Thailand
An Asian country, Thailand can compete with any European country in terms of facilities for international tourists. Loaded with the most luxurious facilities, the Resorts in Phuket and some other places are absolutely mind blowing. You would love the Buddhist lifestyle and you can enjoy trying out some meditation to truly relax. If you head to the beach you can enjoy taking part in plenty of water sport activities, snorkelling and scuba diving is particularly popular here due to the beautiful clear waters. You can see the best places to snorkel here.
The world all around us is full of thousands of known and unknown tourist destinations that people love to be, even for a few days. Visit these places whenever you get some time and come face to face with the joys of life.

We have been wearing out our jandals (Kiwi for flip-flops) on our travel adventures around the world since 2009. We think our blog is thought provoking and a little witty. But we have been proven wrong before. Find out more about us here...