Where have my fingers gone? Is my face meant to hurt this much? Why is my heart beat beating like a 90's dance club anthem? I am an experienced diver. Surely scuba diving in Iceland shouldn't be that different to regular diving?
Within minutes of slipping beneath the surface and becoming weightless these questions were tumbling around my head (which was suffering from brain freeze). At the end of the European winter with the outside air temperature tipping past -6 degrees Celsius (21 degrees Fahrenheit) I had decided to go scuba diving.
Was I insane?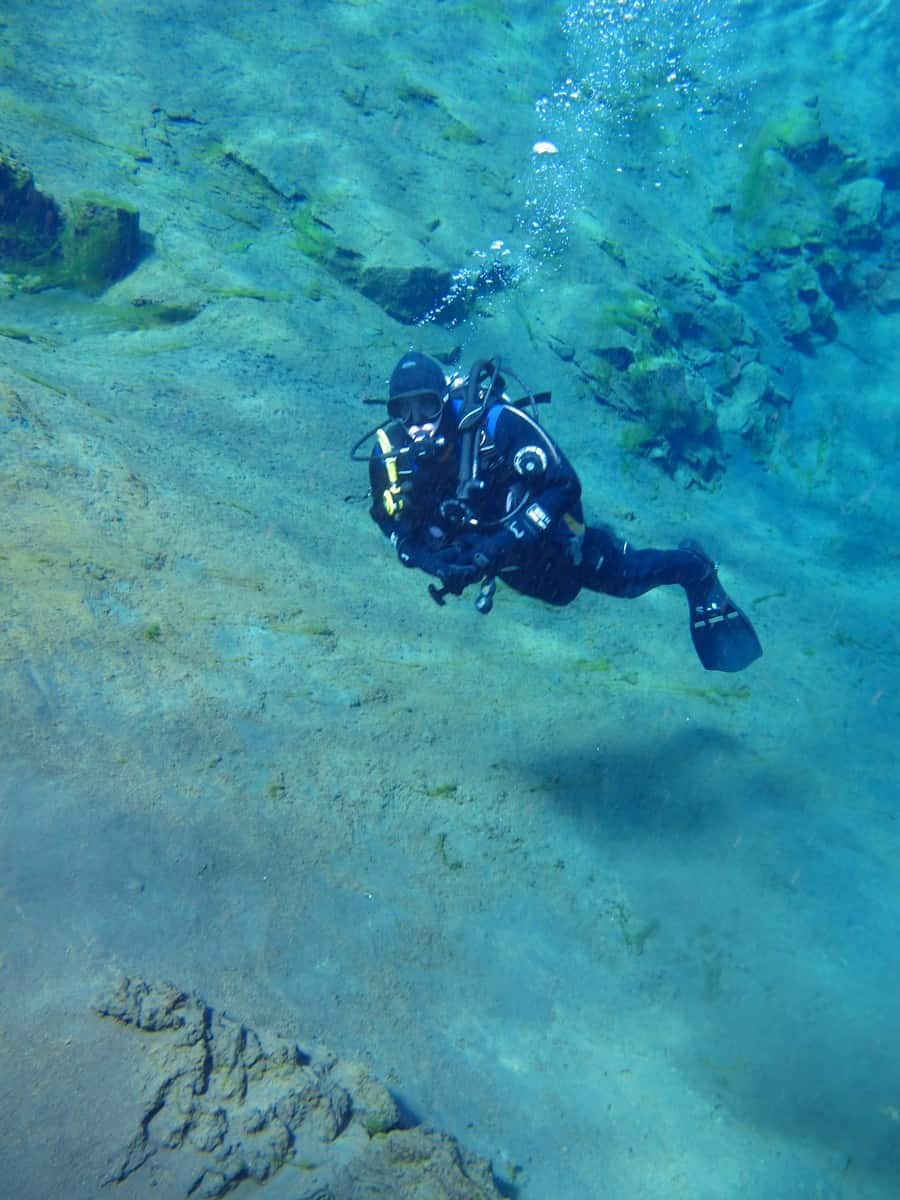 Scuba Diving in Iceland with Dive.is
As we listened to our safety briefing I began to have some serious doubts about our decision to go snorkelling and diving in Iceland. Wrapped in our warmest winter jackets, the wind howled across the barren Icelandic landscape, straight from the North Pole.
All we wanted to do was jump back in the van and crank up the heater.
Instead we were told to strip down to our thermals and suit up. Luckily we were given additional thermals that were actually warmer than our winter gear.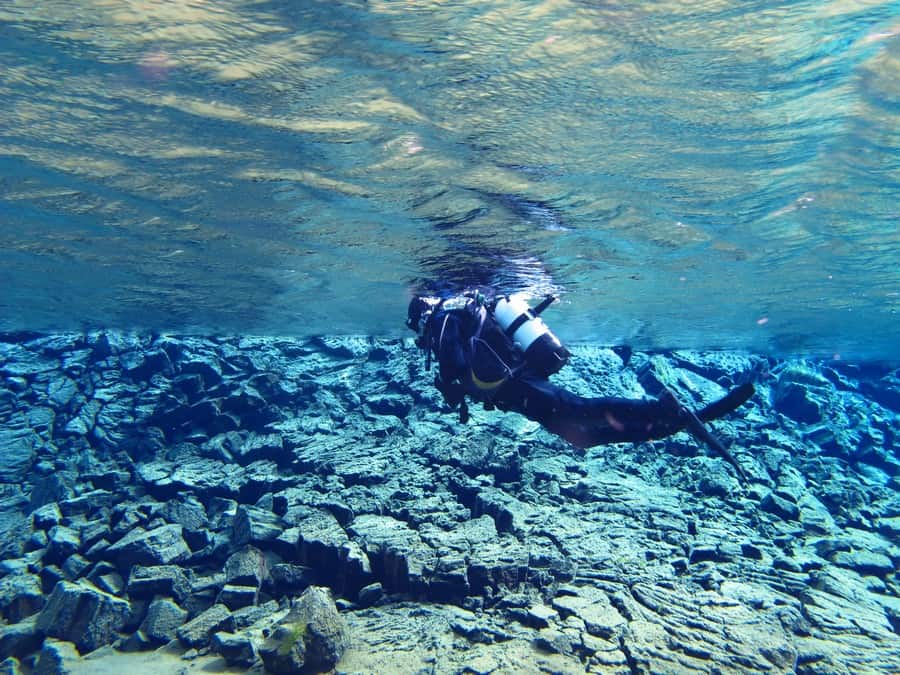 Squeezing my head and limbs through the waterproof seals of my drysuit, I felt as if I the drysuit was giving birth to me. But knowing how hard they were to put on, I knew they would keep us dry from the year-round 2 degree water. Water which filtered it's way through tiny cracks in the earth's crust from the glaciers to the north.
So clear that you can see over 100m across across Thingvellir Lake. And it's clean. So clean that you can actually drink it. You don't even have to worry about people peeing in it since they are in their drysuits.
After loads of fluffing about, as seems normal when going with other divers, we finally waddled our way to the drop in zone. Clambering down the steep staircase there was nothing else to do but dive in.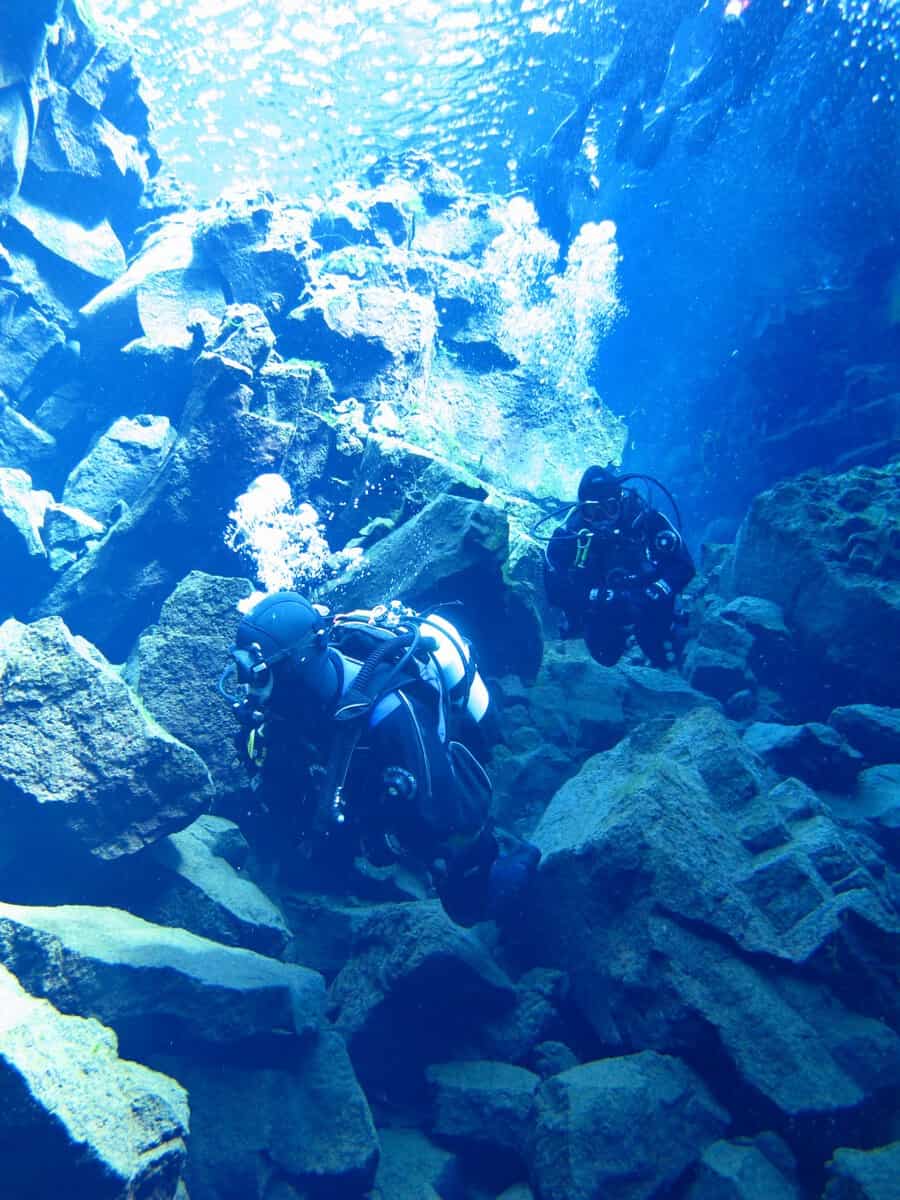 As I dropped into the water the cold hit me like a tonne of bricks. My exposed lips switched from a rosy pink to a slight bluish colour and my finger muscles began to spasm. Ok, it wasn't actually that cold. My drysuit was doing it's job perfectly fine.
Diving between two continents, the Eurasian and American, can be a little daunting. Especially after the dive instructor told us to stay away from the walls in case they decided to collapse unexpectedly. Although this is highly unlikely as they only drift apart at a rate of 2cm per year.
Drifting along due to the tiny current, caused by the flowing glacial water, we ascended and descended regularly as we navigated our way past the fallen boulders. Cracks and caves spilt across the open Silfra crack which meant that we were constantly having to adust out buoyancy. A feat made harder by the fresh water.
Entering Thingvellir Lake we make our slow progression across the sandy lake floor. The surface no more than a few metres above our heads. After just 45 minutes in the water our tanks were nearing the 50 bar mark and it was time to hit the surface. Ripples splashed across the lake as we came up out of the calm into the gale force wind again.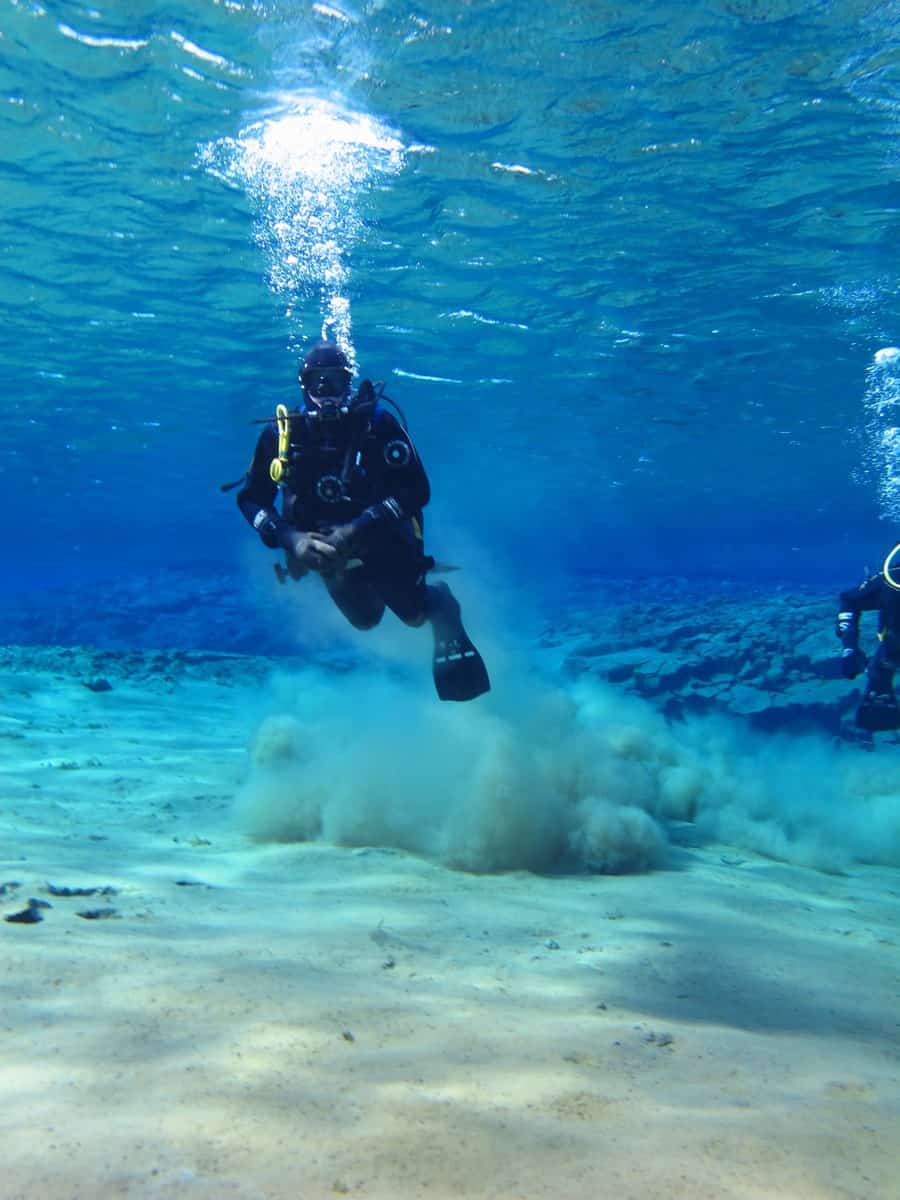 While it was only a 5 minute hike back to the car park, with all our gear on our backs, our gloves still managed to freeze with icicles dripping from my fingers like hard tentacles. Nothing that hot chocolates and biscuits to warm me back up again though.
Additional Information about Scuba Diving in Iceland with Dive.is
Dive.is will pick you up from your hotel in Reykjavík for a scenic 45 minute drive to the dive site, Silfra in the middle of Þingvellir National Park. After your dive, and complimentary hot chocolates, they will drop you back again in Reykjavik.
They also bring along a diver to take photos and record your scuba diving in Iceland. Definitely worth the extra krona, or just bring your own camera.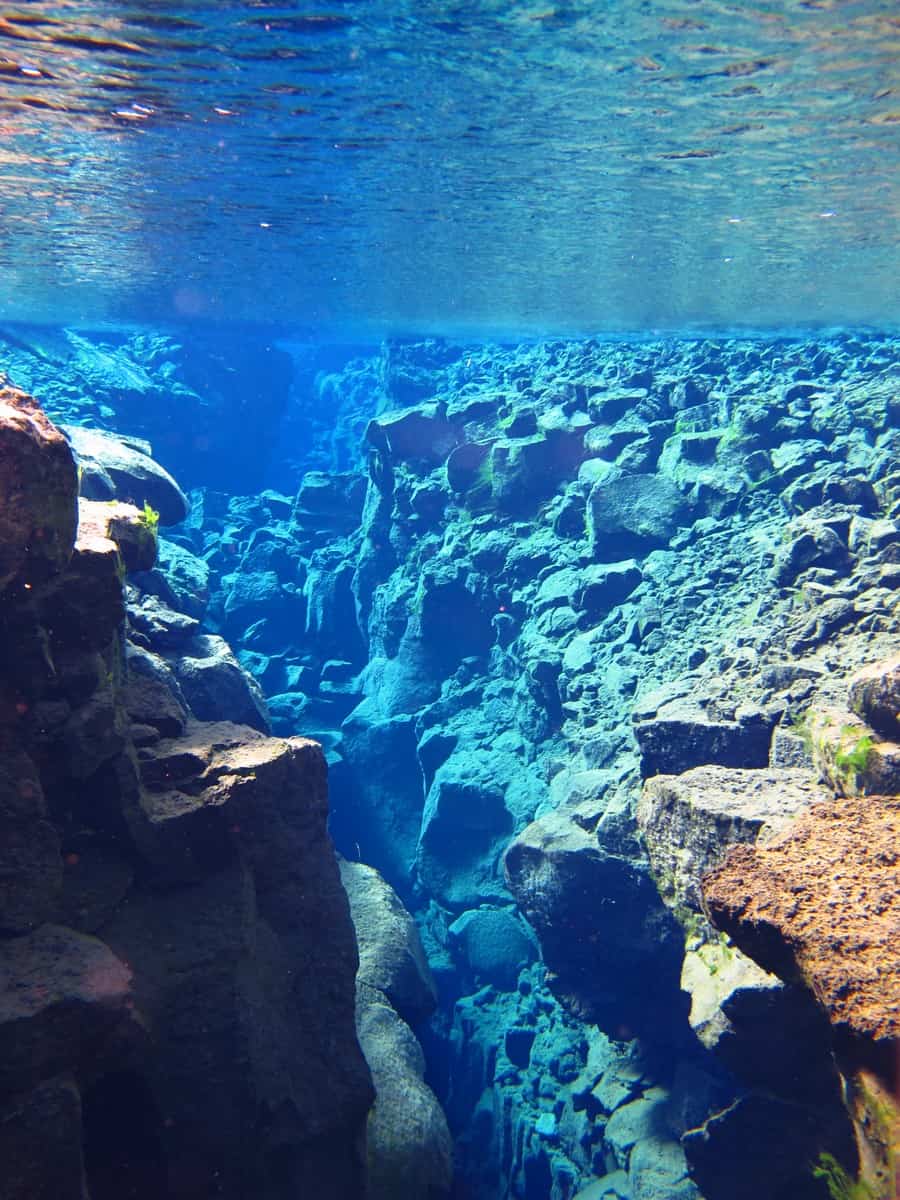 While all the dive gear including drysuits, masks, fins and thermals are provided, you should consider some important things to bring on your dive trip with Dive.is:
Your dive certification card and if possible your divers log book.
For the actual dive you should wear thermal underwear, a long sleeved t shirt and warm socks.
Appropriate clothes for the rest of your tour. This includes a jacket and hat as the wind can be bitterly cold.
If you wear glasses make sure you take contact lenses.
A towel.
Scuba diving in Iceland with Dive.is is available all year round but you must be PADI Open Water (or equivalent) certified.
Price: 34,990 Kroner (US$290).
Disclaimer: We were provided with a complimentary dive tour with Dive.is, however, our thoughts and numb fingers are always our own.