Yes you read the title right.
Surfing in a river.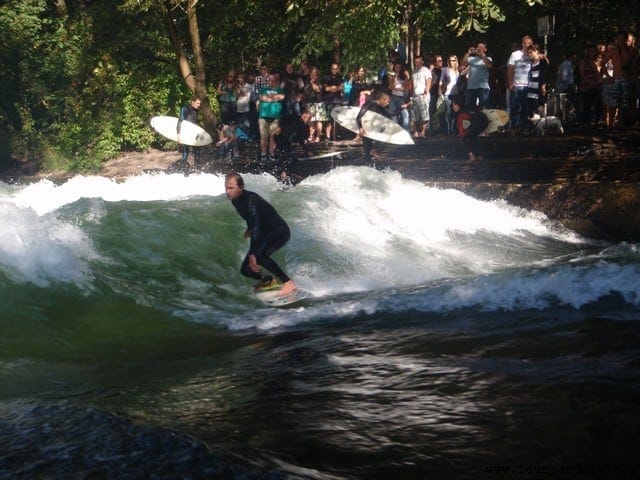 As far as adventure travel activities goes this is right up there. It may sound a bit out of the norm and not quite what you would expect but I have seen this taking place with my own two eyes in two separate Cities during our 2 years of travel so far.
The first time I heard about river surfing was actually in one of my many dog-eared surfing magazines before we started travelling but it was filed away. I didn't stumble across it again until I was browsing the Lonely Planet Guide book when we were visiting Montreal on our 18,000 km road trip across Canada.
Finally. This was it.
My first opportunity to witness it in person.
We headed over to the area known as Habitat 67 on the banks of the St Lawrence River and had no idea what to expect. With Jandals on we squelched along the muddy path left from the wet feet of the surfers running along the shoreline. The trees opened and with the sunset reflecting pink and red of the river we spotted our first surfer.
It. Was. AWESOME.
The surfer was performing a cutback about 50 – 100m off the shoreline in the rapidly flowing river. As he tried a second manoeuvre he bailed and as we watched he was ejected out the back before grabbing his board and paddling like mad to make it back to the shoreline. By the time we averted our eyes there was already another surfer up and going.
Making our way to the rivers edge we found at least a dozen guys and girls lined up chatting away in their beautiful French language. Every time a surfer wiped out, or had been going for about a minute which ever came first, the next surfer would jump in and paddle out into the current to take their place.
The hardest part seemed to be lining up correctly into the right section as you floated in backwards to the white wash before being able to stand up. A tricky feat that not all of them managed to do so would have to rejoin the queue.
Here is a short video of them switching it up when one guy had been there too long.
 httpv://www.youtube.com/watch?v=OwQwZeaK5n8
I still regret not spending another day in the city so that we could hire some gear and try it for ourselves.
Our second time was a slightly different setting in the heart of Munich while I was nursing a sore head after our first couple of days at Oktoberfest. Again it may seem a bit peculiar considering Munich is landlocked unless you had heard of river surfing.
This was a totally different set up to last time with the river only being a few metres wide with banks on either side. It allowed the surfers to stand up on their boards first, or for the coordinated ones a jump from the bank onto their boards directly onto the wave without paddling. Awesome for all those lazy surfers who hate paddling out time and time again!
The only problem was that the water was close to ball shrinking cold but there were a few brave souls just in their board shorts.
The moves they could pull in such a tight area were amazing and they had more skills than me and Adela combined (not that hard to be honest).
It did make me wonder how they would fare in the ocean with real waves. Hopefully I could give them a run for their money while they get pounded by the shore-break.
Check out this short (crappy quality) video of them river surfing in Munich.
http://www.youtube.com/watch?v=Tp8Ibd2Z7TM
Unfortunately we were leaving the next day so I missed out on my chance to try it again. We will be heading back to Germany in the near future so I am going to make sure I set aside sometime to finally try this out once and for all.
Have you ever seen River Surfing? Do you know of any other places we can try it out around the world?