Are you looking for an insider's adventure travel guide for the best outdoor activities in London?
As part of our Adventure City Guide series, Vicky from vickyflipfloptravels.com, shares with you her insider tips on the top adventure and outdoor activities in London; including how to get there and costs.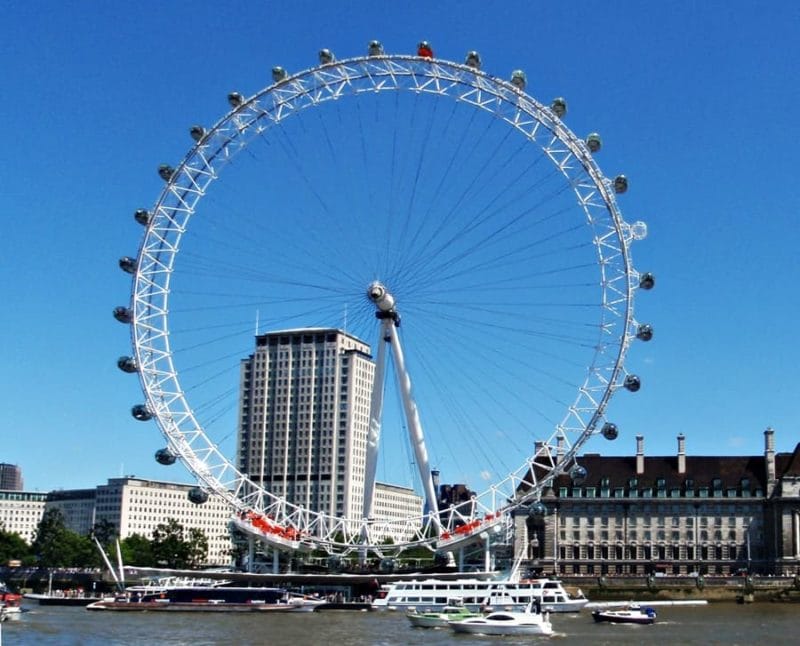 Why visit London for adventure?
London is filled with adventure opportunities. Each London borough has it's own personality and feel, from the hipster cool of Shoreditch to the pretentiousness of Chelsea. I can guarantee that you'll find all the adventure you want within London, you just have to know where to look for it.
It's so easy to get around too. There's the train lines, the Underground, the Overground, hundreds of bus routes, the Boris Bikes and even walking. London is a brilliant city for pedestrians as there's something to see with every step.
Outdoor Activities in London
Climbing up Pimrose Hill and Parliament Hill
Primrose Hill and Parliament Hill have two of the best views in London. Make the climb and you can see over the whole city, incredible skyline and all. In the summer I love to take a picnic and just admire the city as I munch on a baguette and sip at some cheap Prosecco.
If you want to up the adventure aspect, run to the top of the viewpoint, then run backwards to get down again. I prefer to watch them at it though, the walk to the views is enough for me.
Primrose Hill in Regent's Park is fairly easy to climb, it's steep but quick. Parliament Hill in Hampstead Heath is a different kettle of fish. Expect to gasp some breaths before you reach the top.
Getting to the hills
The closest underground stop to Primrose Hill is Chalk Farm, but it's easily walkable from Camden Town. To access Parliament Hill you need to get to Gospel Oak Overground or Kentish Town Underground.
Cost of walking up
Nothing!
Kayaking the River Thames in London
It's one way to get to work anyway, and there are always a few chancers following the route every summer. If you'd like to join in the fun on one of the most polluted rivers in the whole of Britain, but also a national icon, then sign up to Kayaking London. You can choose from a beginner class, a four-hour discover London tour or three-hour Big Ben by night trip.
Getting to the River Thames
There are lots of ways! It's that big blue line going through the centre of London. Waterloo or Embankment Stations would be your best bet, but there are plenty of stations along the route. Kayaking London is just five minutes from Battersea Bridge, or the Worlds End stop on the Kings Road.
Cost of Kayaking in London
The Big Ben trip is £33, a four-part beginnner course is £120 and the four-hour Discover London trip is £60. There are a few other trips available, check out Kayaking London for more details.
Additional information for Kayaking in London
All the trips are run in highly stable boats so no experience is required. The expert guides are on hand to help and everything is provided.
Skating in Hyde Park
The Blue Room at Marble Arch on the edge of Hyde Park have skates and blades to rent out to wannabe skater Londoners. Just leave your deposit and strap your skates on (maybe wait until you've crossed at the lights) and away you go.
Hyde Park has many paths you can use to master your skill and a super slick one that goes all the way down to Victoria. Expect to meet many other friendly skaters along the way, and skateboarders too. On a Wednesday and Friday night there are 'Skates' going on throughout London where skaters dress up and follow each other around the city with the tunes blasting out of the ghetto speakers (yes, old school stereos ).
If you want adventure and adrenaline in London there's nothing like weaving through the London traffic with only skates and arm pads for safety.
Getting to Hyde Park
If you want the skate hire shop you need to get off at Marble Arch and turn left away from the shops. Then it's just over the huge scary crossing. If you have your own skates you can get to Hyde Park via Queensway, Ladbroke Grove, Hyde Park Corner or Knightsbridge underground stations.
Cost of skating in Hyde Park
It's totally free to skate, but you need to pay to hire your skates for £12 per day from the Blue Room Skate Hire Shop.
Additional information for skating in Hyde Park
The paths in Hyde Park are pretty safe – so long as you watch out for pedestrians and inquisitive small children. If in doubt, fall to the side as the paths are all flanked by grassy banks. Just please be careful and take all the safety gear the shop offers you!
Outdoor swimming in London
The Serpentine Lido in Hyde Park, Park Road Leisure Centre in Crouch End and Tooting Bec Lido in Tooting Bec are just a few of the outdoor pools you can enjoy in London. Prepare to freeze if going in on anything other than a bright, hot, summer's day.
The chill of jumping into a freezing pool soon becomes addictive though, and you might just find yourself wanting to tick them all off the list. Prepare for them to be packed on said sunny days with no respect for the year rounders who brave the ice for their breaststroke.
Getting to the pools
There are more than 12 outdoor spots in London to get wet in the breezy/balmy summer days. My personal favourite is the Serpentine in Hyde Park. Just head to Lancaster Gate for the closest tube, or jump on a Boris Bike and follow the signs to 'Hyde Park'.
Cost of exploring the Serpentine
£4 for an adult
Additional information for the Union Canal
Pool opening hours change depending on the season, the weather and the day. Before you head out to enjoy a splash just make a quick phone call to check it's open.
Best time of the year to visit London for adventure?
The best time of year to visit London is definitely from April to October. We have a bit of a reputation for rain year round, but this is our summer season so if the sun's not shining during these months it never will. I've travelled a lot and firmly believe that nowhere in the world beats a sunny summer in London.
When my fellow Londoners are picnicking in the parks, the festivals have started and you can cycle around the City wearing just your tshirt, that's when London is really at it's best.
Finally, the reason I love London for adventure is because…
I can honestly say that every day is an adventure in London. Not the forest hiking, bungee jumping, dragon slaying kind, but the kind where you just don't know what's going to happen next. From the second I step out of the door in the morning and I'm greeted by the urban jungle that is Kilburn I know that any adventure I could want, I can have it London.
BIO:

Vicky blogs at vickyflipfloptravels.com about her travels, London and festivals. She's travelled through Europe extensively, dropping in on a few festivals and picking up work as she went. She's toured Australia, explored the Serengeti and backpacked through Morocco.

A wise man once told her, 'In the pursuit of seeing everything, we see nothing', and she tries to recite this to tame her travelling wants, but it's not working. You can follow her @VickyFlipFlop, or on Facebook or Google+.