Are you looking for an insider's adventure travel guide for the best outdoor activities in Amsterdam?
As part of our Adventure City Guide series, Nienke Krook from The Travel Tester shares with you her expert insider tips on the top adventure and outdoor activities to do in Amsterdam; including how to get there and costs. The best time to visit Amsterdam can be found here.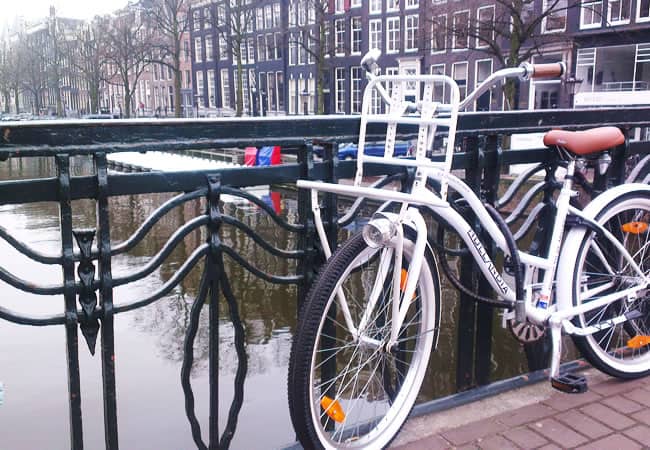 Why visit Amsterdam for adventure?
Anyone not from Amsterdam will agree to the fact that cycling through the capital of The Netherlands is an adventure on its own. But apart from risking your life on two wheels, there are many other options for seeking adventure in Amsterdam.
Amsterdam is probably not the first destination you think of when looking for an adventure holiday, but you might be surprised of what it has to offer. From go-kart racing to indoor climbing, Amsterdam can be an action-packed trip for you if you want. And for those with a little more time can try their hands on activities located about 35 minutes out of Amsterdam, such as ballooning, kite-, wind- and wave surfing. There are even things to do in Amsterdam when you're broke.
But there is much more:
Outdoor Activities in Amsterdam
Friday Night Skate
The original Friday Night Skate happened in California, 1989. An earthquake had damaged the Embarcadero Freeway, so it got closed. It attracted hundreds of skaters, as the now free road made an excellent skate way. When the reconstructions started, they decided to meet every Friday at the bay.
In spring 1997 Dutchies Yuri, Chris and Alice started skating through Amsterdam with some friends. At a fixed meeting point in the Vondelpark and with an unknown route, they started a tradition that we now know as the 'Friday Night Skate'. From 3 people, the skate soon turned to over 500 enthusiasts just one year later. Another year later, 3000 skaters joined.
In October 1998 the Skate! trust was founded to ensure the quality and the professional character of the Friday Night Skate. They also have a mission to promote skating in the rest of the country.
Skates are now organised every Friday throughout the year (if the streets are dry) and follow a route of about 20 kilometers. The Friday Night Skate routes are famous and notorious. Famous, because they go over stretches of asphalt where you never get to go as a single skater: as a group they just use the main roads! And notorious because they sometimes use more challenging roads: bridges that are just a little steep, parking garages, brick-paved roads along the canals, tunnels, sidewalks… you name it.
You never have to worry about the route, just relax, look around and enjoy. The route planners always take care that you return to the Vondelpark, with one or two stops in between. There is a new route every week, which can be found on the website.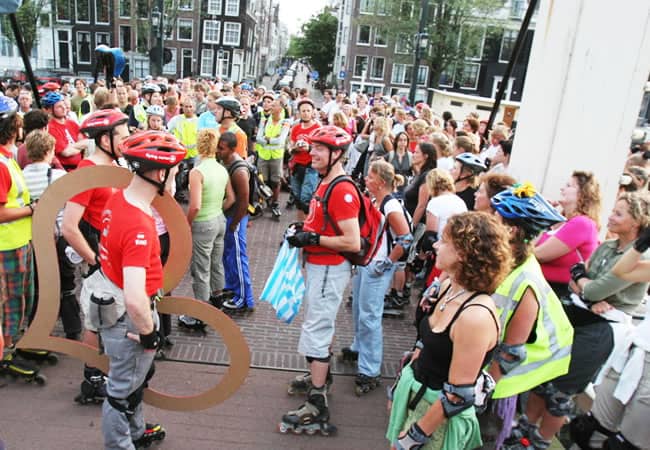 Photo Courtesy of Friday Night Skate
Getting to the Friday Night Skate Meeting Point
Meet the other skaters every Friday at 20:00 (20:15 in winter) at the round bench 'Het Ronde Bankje' next to the Film museum in the Vondelpark. The start of the skate will be at 20:30 exactly, you will return around 22:30. Make sure you arrive before 20:30, as the group will leave on time.
Parking: From 21:00, parking is free in the Emmalaan (park side) and the surrounding streets. And when you turn right inside the park, you can go straight to 'Het Ronde Bankje' (the round bench).
Costs
The Friday Night Skate is free. Don't forget to bring a drink, as there are not always opportunities to buy drinks during stops.
Safety Tips
The use of a helmet, wrist, elbow and knee protection is strongly recommended! Report accidents to the blockers and nurses and always give way to them. You should be able to brake, be in good shape and think of your safety and the safety of other skaters and traffic.
Don't forget: Keep to the right and pass skaters on the left!
Pampus Fort Island
Raise the flags and man the guns! For a fascinating day trip from Amsterdam, hop on a ferry and discover Fort Pampus, a UNESCO World Heritage site.
Once part of the defence line of Amsterdam (the 'Stelling van Amsterdam', constructed between 1883 and 1920 and stretching 135 kilometres around the edges of the city), Fort Pampus was a system of fortifications that defended the city by means of flooding. The entire island is man-made and got abandoned in 1933, after when the last military fort-keeper retired. The island used to be off-limits to visitors for many years, but opened to visitors in 1991.
Fort Pampus is not only interesting to engineers and history buffs, there are many treasure hunts and games organised for children (and adults) and nature lovers can spot a variety of wildlife.
Getting to Pampus Fort Island
The best way to reach Fort Pampus is by boat, being it your own or a ferry from either Muiden (Get the metro from Amsterdam Central Station to Amsterdam Amstel and take the Connexxion bus 320 to Muiden) or a ferry from IJburg (Take tram 26 from Amsterdam Central Station).
The ferry from Muiden departs a few times each day (file is in Dutch: 'vertrek' means 'leaves from' and 'gesloten' means 'closed'. * = 'Stay on the island is only 2 hours on these times' and the times are scheduled in the order Monday / Tuesday-Friday / Saturday-Sunday) opposite Herengracht 33 in Muiden.
The ferry from IJburg departs at least once a day from the yacht harbour.
All ferries take about 4 hours, including 2,5 hours on Pampus island.
Costs
Fort Pampus is only open to visitors from 1 April to 31 October, 10:00 to 17:00. It is closed on Mondays. If under 10 people, you don't need a reservation to visit.
A ticket for both the ferry as the island visit is 17,50 Euro (adults) or 13,50 Euro (children 4-11 years). If you arrive with your own boat, you pay 10,50 Euro (adults) or 8 Euro (children 4-11 years). Guided tours are offered for free, or you can take a free roadmap and explore yourself.
Once on the island, you enjoy lunch and refreshments at the Pampus Paviljoen. It is not allowed to have a picnic on the island, so you can't bring any food, drinks or snacks onto the island.
Savvy Tip
Have a look at this video of things to do on Pampus and hopefully you'll get excited too!
Climbing Park FunForest
The Amsterdam Forest is about three times the size of Central Park in New York. Over 6 million people visit this park every year to relax, play sports or visit an event.
The Fun Forest Climbing Park opened her doors in 2009. It's located right in the middle of the 'Amsterdamse Bos' (Amsterdam Forest), yet still close to the city. The climbing park is an active and fun experience for families, schools and businesses.
There are 9 different climbing courses to choose from. They all vary in difficulty, so the park can be interesting to both young and old as well as experienced and beginner climbers.
Getting to FunForest
You can find FunForest at Bosbaanweg 3, 1182 DA Amstelveen.
By train: get off at the Amsterdam Zuid WTC train stop and take bus 166 (direction Amstelveen) to stop Van Nijenrodeweg.
By metro: take route 50 and get off at stop Amstelveenseweg. Stay on this road and walk past the VU medical centre, after 10 minutes turn right into the forest.
By tram: Tram 16 of 24 from Amsterdam Central Station tot stop VU medical centre. Change onto bus 62, 166, 170, 171 or 172 (direction Amstelveen) and get off at stop Van Nijenrodeweg.
The climbing park is located on the left side of the entrance to the Amsterdam Forest at the 'Bosbaan'.
The park is open on Wednesday from 12:00 to 18:00 and during the weekends and holidays from 11:00 to 19:00. In Summer (July and August), the park is open every day from 11:00 to 19:00.
Costs
Prices are 21,95 Euro (adults), 19,95 Euro (youth 12-17 years) or 16,95 Euro (children 8-11 years)
A climbing experience at Fun Forest takes 3 hours, including instruction and materials. Wear sportive clothes and shoes. It is advised to make a reservation.
Safety Regulations
Children can climb from the age of 7 years (1.20 meters, about 3 foot 9) and there needs to be 1 adult present for every 4 children and a parental approval form needs to be signed for everyone up to 18 years.
Have a look at the digital flyer of FunForest Amsterdam.
More Adventure Activities in Amsterdam
Still not enough adventure for you? How about taking a scooter trip to explore the rural fishing villages just 20 minutes outside Amsterdam? Or go on a wetlands safari and see the landscape that inspired Holland's most famous painters such as Rembrandt and Ruysdael back in the Golden Age… by canoe!
Best time of the year to visit Amsterdam for adventure?
In general, most travellers visit Amsterdam between April and September, with longer days and milder temperatures than other months. The weather in Amsterdam is quite unpredictable though, so always bring wind- and rain protection with you. Accommodation is usually cheaper from late October to early March, except of December.
Have a look at this calendar of Amsterdam monthly weather advice and events.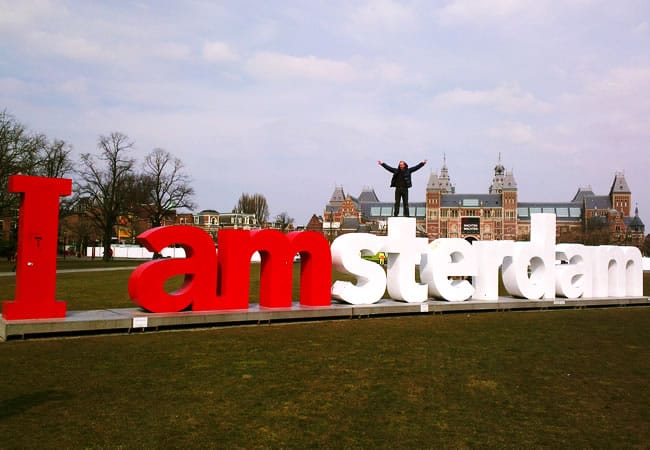 The reason I love Amsterdam for adventure is because…
…it really forces you off the main tourist tracks. Sure, the museums, historical buildings and Red light district in Amsterdam are a must-see, but there is so much more than that! Amsterdam has some amazing parks to avoid the crowds. Within 30 minutes, you get to visit the surrounding areas that carry lots of interesting history.
BIO:

Travel has been the red thread through Nienke Krook's life. Growing up with the quirky travel gear from her travel writing grandfather, she kept broadening her view as time passed. Exploring Europe with friends as a teenager, solo travels to Asia and Oceania after her studies and a recent two year expat life in Sydney, Nienke has a serious case of the travel bug that is unlikely to ever pass.

From the practical to the sentimental, on The Travel Tester Nienke shows you how to live a life filled with travel too. You can follow her on Facebook, Twitter, Google+ and Pinterest, or read more about her travel lifestyle on The Travel Tester.