Venice is one of Italy's most popular stops for tourists, not to mention European cities, with tourists arriving by the thousands everyday. Narrow streets open up in to beautiful Piazzas and gondolas are paddled sleepily through the picturesque canals that wind between beautiful historic buildings.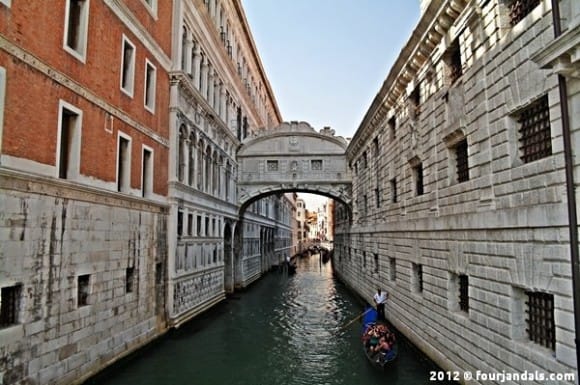 One Day in Venice
With so many people sometimes it can feel like you are trapped in an overcrowded outdoor museum. However, the city itself is relatively small and if you are pressed for time you could easily do just one day in Venice.
What to see in Venice
While Venice is popular with tourists it actually wasn't all that interesting for us. However we have highlighted all the top things to see and do below for your one day Venice itinerary.
Early on your will realise there are a lot of bridges in Venice. In fact there are over 400 which Cole seemed intent on finding! We actually found that the best ones were the smaller bridges that crisscross their way over the many canals between narrow alleyways. While the most popular ones, such as Ponte di Rialto, cross over the Grand Canal and can be beautiful in the sunset if there aren't any tourists (unlikely).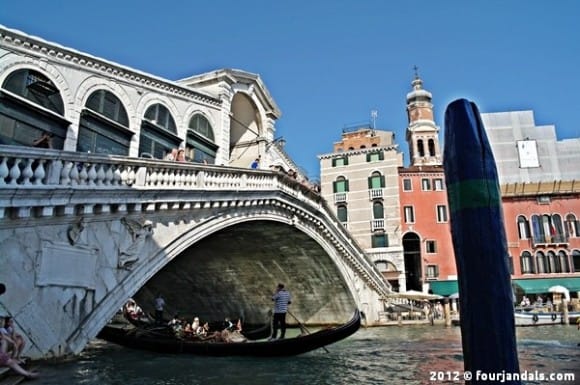 Nearby to Ponte di Rialto bridge you will also find the local Rialto markets with fruit, fish and hand-made goods available. Most close around 1 – 2pm though so get here early for the best food. Brilliant for a budget lunch option.
Many of the streets in Venice spill onto Piazza's (squares) with churches, restaurants and bars along the edges. The most popular, and largest, is Piazza San Marco and it really is the heart of Venice.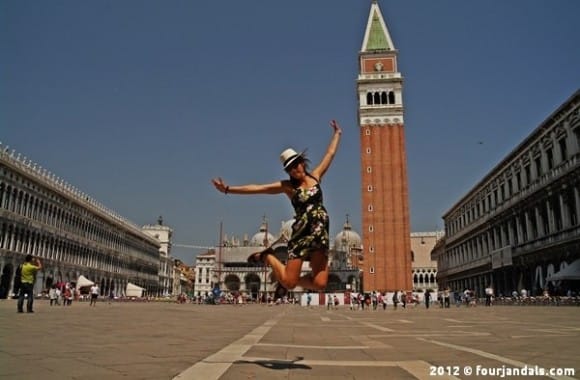 Buildings tower above the crowds and outdoor restaurants line the sides of the square with musicians entertaining the patrons with their melodies. Piazza San Marco is always teaming with people during the day getting photos with the pigeons.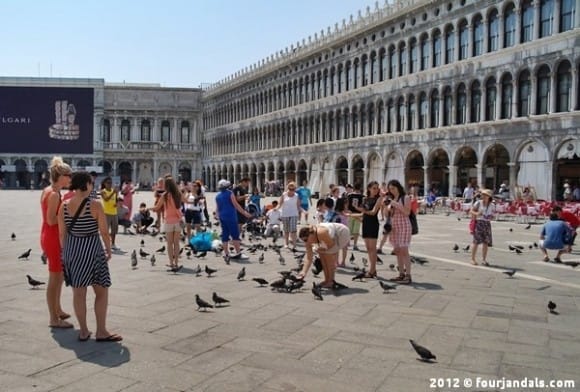 Not sure why considering they are basically flying rats and you would never do this in any other city in the world!
Basilica di San Marco is located in Piazza San Marco and the bonus is that it is free. The church is equally beautiful from the outside as the inside. Shimmering gold seems to reach even the darkest corners captivating every pair of eyes turned upwards at the ceiling. Unfortunately they don't allow photos inside.
As your day comes to an end head to one of the cicchetti bars, pronounced chi-keh-tee. Here you can join the locals for a glass of wine and indulge in the Venetian version of tapas. Tourists frequent the ones near Rialto bridge although we found a brilliant local cicchetti bar, Osteria da Codroma, popular with students located at Centro Storico fondamenta Briati No. 2540.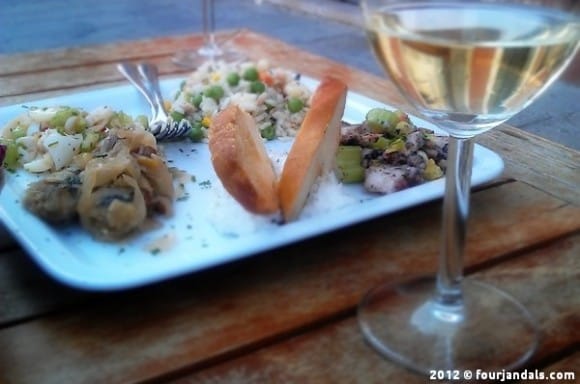 Honestly the above will take up your one day in Venice but if you have time to kill you can catch a ferry to one of the nearby islands like Murano, Burano and Torcello.
Getting around Venice
The best part of Venice is the walking around. Even if you don't do any of the above options it is easily the simplest option for seeing Venice as it gives you a chance to really explore the city. We highly recommend putting away your map and losing yourself in the maze of narrow streets. It's not like you can get seriously lost either with water surrounding you on every side.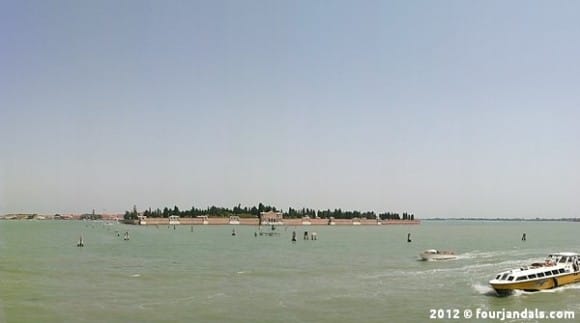 You will also find that once you get off the main tourist routes you have the streets to yourself as other tourists seem to flock towards the major attractions or ferries.
The ferries run along the Grand Canal stopping at various points. If you are going to take this option I would recommend buying an all day ticket as you can hop on and off as many times as you like and it can also get you out to the surrounding islands.
We didn't even consider a gondola as they seemed like an waste of money for what you get. But if you do insist on taking one then make sure you agree on a price before setting off and go with one of the reputable companies found around the city.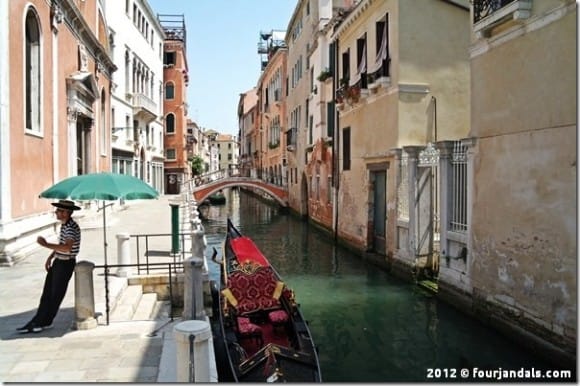 All in all a great place to visit if you have one or two days to spare. Even though there seem to be more tourists than locals!
Where to stay in Venice – Hotel Villa Serena
We stayed at Hotel Villa Serena when we spent our weekend in Venice and found it ideal for exploring the city.
You can find other Holiday apartments in Venice or try and find a local provider when you arrive. Though it's better to pre-book due to the popularity in summer.
Location
Hotel Villa Serena is actually located on the mainland near Venice in Marghera . Buses run outside to Venice every 10 minutes and only takes 8 minutes. This works out cheaper than staying in Venice itself.
The Rooms
Our room was a small private room in a bright shade of pink that hurt the eyes after a while. However, it was clean and provided a haven away from the craziness of Venice.
Other Amenities
There is a restaurant onsite although we ate in Venice for all our meals. The breakfast did look great and convenient if you want to get an early start to your day. Free WiFi is available throughout the hotel as well.
Staff
The staff were very helpful providing travel tips, a free Venice map and advice on where to go and what to see.
Social Atmosphere
As Venice is on your doorstep why would you want a social atmosphere? And considering it is a hotel there was none available anyway.
Cost
Per Person: $35 Euro for a private room with a private bathroom. There are also 3 and 4 bed rooms starting at $25 Euro each. Definitely recommend it over the extortionate hotel prices in Venice.
Overall
Hotel Villa Serena is a great option if you are a couple travelling on a budget compared to staying in Venice itself. The bus is cheap and easy to catch every day while the rooms are clean and provide a place to chill out after the bustle of Venice. Recommend it for backpacking couples but not solo travellers who want to meet lots of other travellers.
Disclaimer: We were guests of HostelWorld but as always our thoughts are always our own.