La Rosiere Ski Resort Guide – Skiing in France
All encompassing La Rosiere Ski Resort Guide including recommendations on the best ski runs, snow conditions, food and accommodation for the ski area.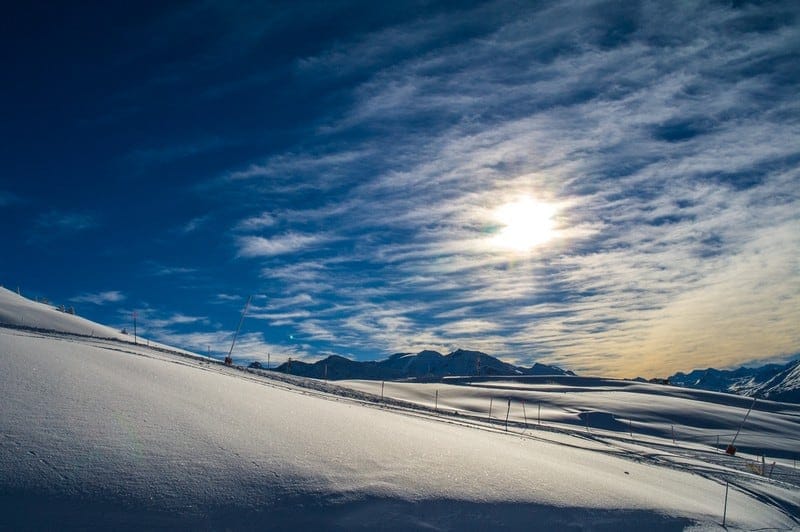 La Rosiere Ski Resort in the French Alps is one of those beautiful ski areas that is a true hidden gem. It is part of the Espace San Bernardo Ski Area which crosses the border between France and Italy.
La Rosiere is located on the French side while La Thuile makes up the Italian portion.
While La Rosiere is not as well known as its big brothers and sisters such as Les Arcs, La Plagne or the Three Valleys, all located within 1 hours drive, this charming Ski Area benefits from much quieter ski slopes and the snow conditions are just as good.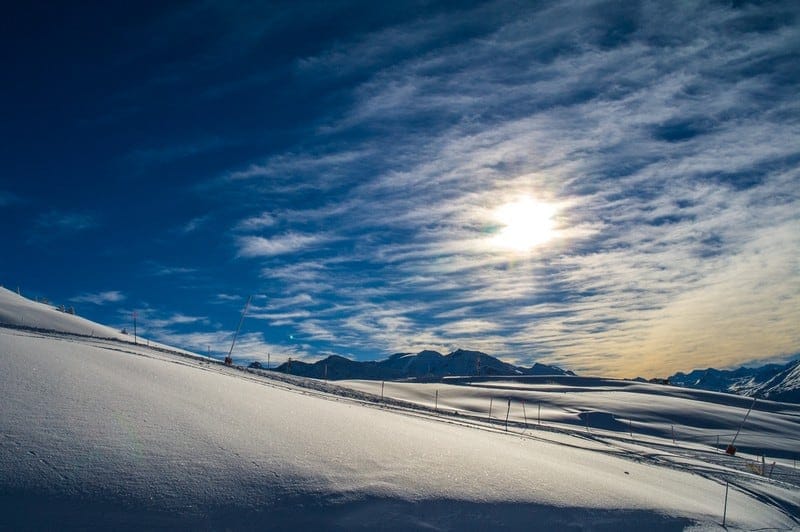 La Rosiere Ski Resort Basic Statistics
The Espace San Bernado ski area containing both La Rosiere Ski Resort and La Thuile Ski Resort has over 160 km of groomed pistes. 38 ski lifts crisscross the two powder filled bowls that make up the Ski Resort areas and offers a wide range of slopes to suit all abilities.
Lifts: 38 (1 Cable Car, 7 high-speed detachable chairs, 11 chairlifts, 16 surface lifts and 3 learner conveyors)
Downhill Ski Trails: 80 made up of 8 Green, 25 Blue, 35 Red and 8 Black runs.
Beginner: 40%
Intermediate: 40%
Advanced: 20%
Cross-Country Trails: 12 km
Snowmaking Coverage: 20%
Highest Lift Elevation: 8,665 ft. / 2,641 m
Ski Resort Elevation: 6,070 ft. / 1850 m
Vertical Drop: 4,806 ft. / 1,465 m
Terrain Parks: 2
Halfpipe: None
Restaurants On Ski Area: 11
Bars on Ski Area: 4
Ski In/Ski Out Accommodation: Yes
Night Skiing: No
Ski Season Open/Close: Mid-December to late-April.
La Rosiere Ski Resort Piste Map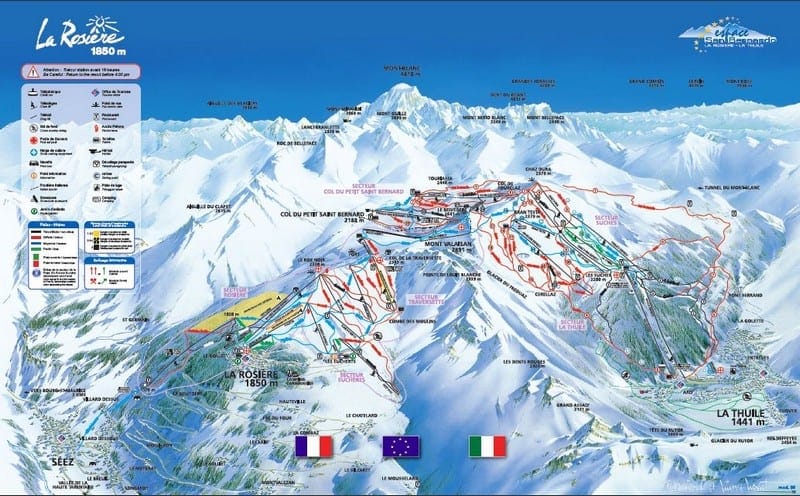 Download the full-sized La Rosiere Ski Resort Piste Map.
Positives
La Rosiere faces south with spectacular views over the Tarentaise Valley along the French Alps. This also means that the days are longer and you are blessed with sun throughout the day.
Mid-week the crowds are non-existent and you can easily ski all day without hitting a queue for the chairlifts. Even during the busy Christmas/New Year period and February school holidays the crowds move quickly with no queue lasting longer than a few minutes.
Ultimately this means more skiing time and less standing around. And with the ski connection to La Thuile Ski Area in Italy you won't get bored skiing here.
Very experienced ski schools who can cater for beginners to advanced skiers wanting a few extra tips. Plus there are three free chairlifts for beginners to start on without forking out for a ski pass.
Basically there is something for all levels of skiers to enjoy at La Rosiere Ski Resort.
Negatives
While having the sun all day on La Rosiere Ski Area is great, during the end of the ski season this can prove problematic with conditions turning slushy. Therefore it is best to ski in La Rosiere first thing in the morning before heading across the border to Italy and the north-facing slopes of La Thuile.
Be aware that the connection between La Rosiere and La Thuile has to be made via a VERY long drag surface lift.
As there are a high number of surface lifts, this can be particularly daunting for first time snowboarders. Although after a few times you will master the technique. You can also easily explore the entire La Rosiere Ski Resort just using chairlifts.
La Rosiere can be affected by high winds due to its openness. This means that the La Thuile connection may be closed from time to time.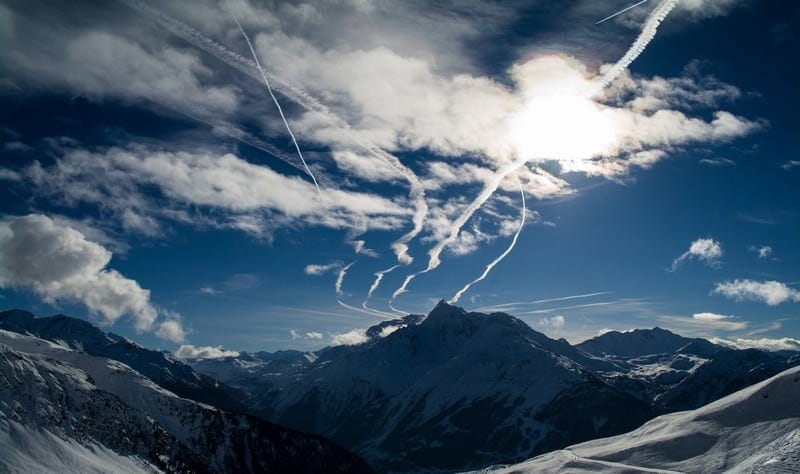 On-Piste
The only trails in La Rosiere that don't get groomed every night are the black runs. This means that every morning the very wide trails are perfect for warming up your legs with big turns before tackling the steeper bumps.
While there are not many Green Trails, don't let that put you off if it is your first time. The Blue Trails are perfect for learning on and you will be whizzing down them with ease. Even the Red Trails are easy enough that skiers on their first week are able to tackle them after a few days on the slopes.
Best locals on-piste run
My favourite trail is definitely the never-ending top to bottom red groomed run from Roc Noir chair to the base of Petit Bois. You can get a lot of speed up without worrying about other skiers.
Off-Piste
Since La Rosiere is much quieter than some of the other ski resorts in the French Alps, you will find untracked lines of powder over 3 days after a snowfall. Even if you are skiing with beginners you can ride the same areas and chairlifts together due to the open bowls of La Rosiere. As the rest of your group snowplows to the bottom of the run you can dart off-piste and easily meet them at the same chairlift.
There are lots of small cliff-drops and challenging black trails for the more experienced skiers wanting to ski back-country runs, in-bounds.
Best locals run in powder
Ski to the top of Ecudets Chairlift and follow the Red Trail to the bottom. This run is usually left alone by tourists as other skiers will ski the wide open bowl in the next valley. This is also the best place for powder filled tree runs.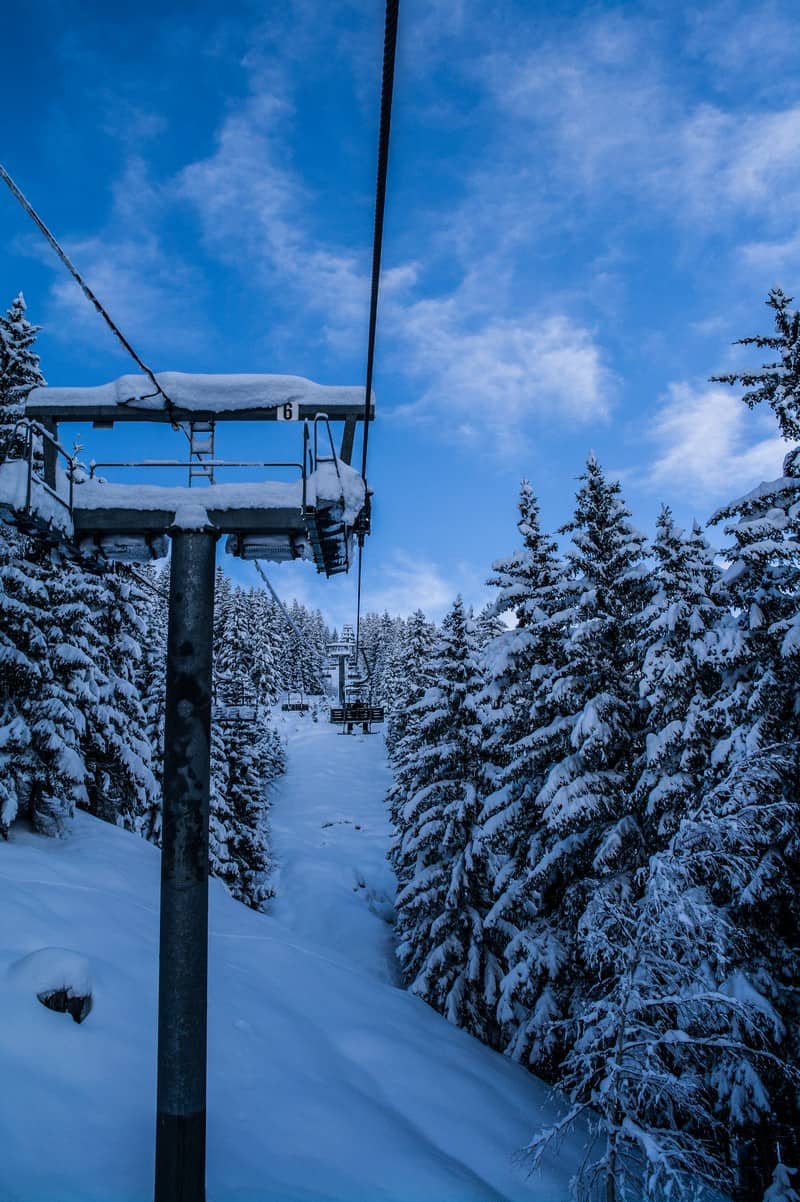 Ecudets Chairlift after fresh powder
Terrain Park / Boardercross
La Rosiere Ski Resort is freestyle friendly with an excellent terrain park to suit all levels of skiers and snowboarders. The ski resort's main snowpark is 300 metres long and has a number of features including multiple table tops, hips, fun boxes and rails.
All of these features are graded from Green to Black so you can work your way up to harder, and bigger, tricks. The giant airbag is also available for anyone to try a new trick on.
A skiercross and boardercross course has been developed next to the Fort chairlift. Great fun for everyone to have a go and a chance to race between your group. You can even stagger the starts to make it fun for the kids.
Other On-Snow Activities
La Rosiere Ski Resort is not just limited to skiing and snowboarding. 20kms of cross-country ski trails and snow-shoeing trails will keep you occupied, even after dark.
If you are feeling like a little more adventure then it is worth trying out the extreme snow-kite and speed riding zones on the mountain which will get your adrenaline pumping. Or just take in the scenery while paragliding.
Heliskiing in La Rosiere is actually perfect. While Heliskiing is banned in France, you can catch your ride from La Rosiere across the border into the Italian Alps to ski from the top of a number of untracked mountains.
Lift Passes Cost
There are three free drag lifts for beginners, although these won't get you very high up the slopes. The prices for full lift tickets include both La Rosiere Ski Resort and La Thuile Ski Resort:
Adult 1 Day : €38.90
Adult 6 Days : €186.00
Child Day (5 – 12 years): €27.20
Child 6 Days (5 – 12 years) : €130.20
There are also the full range of ski passes such as La Rosiere Ski Resort only, half-days and multi-day options. You can find them listed on the Official La Rosiere Ski Resort site.
Location / Getting to La Rosiere Ski Resort
Located only a short 25 minute drive from Bourg St Maurice in the French Alps, La Rosiere Ski Resort is perfectly located for international travellers looking for a snow adventure.
Bourg St Maurice is serviced by the Eurostar with direct day and overnight ski trains from London running twice a day on Saturdays. There are direct shuttle buses from the train station up to La Rosiere Ski Resort.
The best airport to fly into is Geneva,which is only a 2 hour drive, depending on road conditions. Grenoble Airport is an alternative located about 3 hours drive from the ski area. Both are accessed by excellent public transportation including buses and trains.
Consider hiring a car for your ski adventure so that you can explore other ski resorts if you are tempted.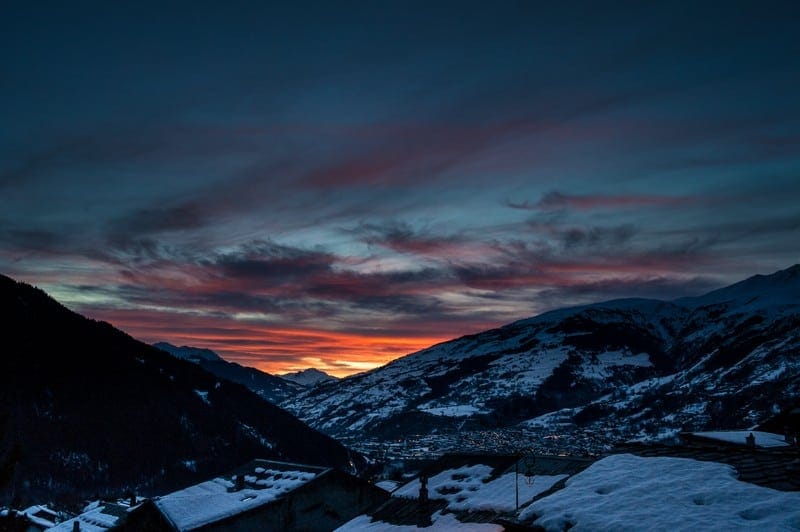 Sunset over Bourg St Maurice
Where to stay in La Rosiere
La Rosiere 1850m is the perfect ski in/ski out location with lots of options depending on your budget and needs. These include self-catering chalets through to 5-star chalets with full 5 course meals every night.
The other option is stay within Bourg St Maurice or the surrounding villages for those wanting to explore other ski areas. It does mean you will need to drive 1/2 hour up to La Rosiere ski area each day.
You can view the various Hotels in La Rosiere here.
Where to eat in La Rosiere
La Rosiere has three restaurants and bars on the mountain with the usual mountain style food and snacks. The finest dining can be found in the La Rosiere 1850m village itself.
The best coffee and hot drinks in La Rosiere can be found at the top of Fort Chairlift in a tiny slopeside hut. They have the best views across the French Alps and even have a snow cave for the kids to explore.
La Rosiere Ski Resort is best for…
Families or groups of friends who are looking for a quieter, and cheaper, week away skiing. La Rosiere Ski Resort will keep all levels of skiers occupied for the week. Especially if you venture into La Thuile a couple of times during the week.
Where else can you ski across the border for an authentic Italian pasta lunch before finishing back in France next to the fire with cheese and wine?
Insider Local Tip
On a nice day ski across the France/Italy border to La Thuile Ski Area, which is included in your lift ticket price, for better food and a chance to explore a different mountain. Kids will love the adventure and it will break up the week.
To find our more about La Rosiere Ski Resort then visit the Office of Tourism website for more information.
Tips For Unwinding While Travelling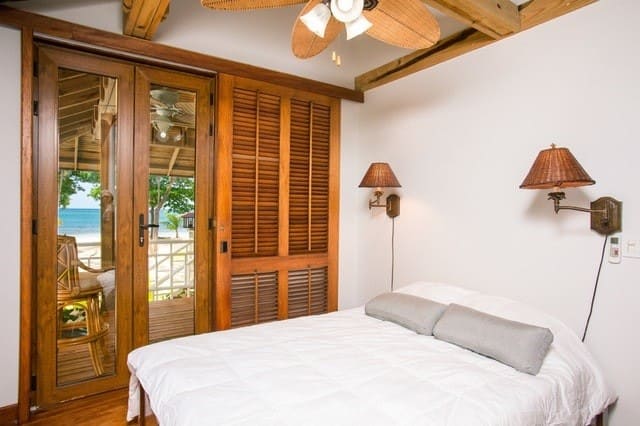 People often don't get the most out of their travelling experiences, and often the reason is a surprising one. People slam themselves with unrealistic schedules and try to do too much in too short of a time, and this winds up deteriorating the quality of the experiences that you want to have. So we have come up with a quick little guide with the help of our friends to help you get that needed decompression on your vacation:
Here are three key ways to savor that vacation many times more than you normally would just by running like a chicken with its head recently cut off. Note that all of them require time, and while time is precious, that's actually why it's that much more important to use it wisely.
Stay Inside For One Day:
Believe it or not, you don't have to spend every waking moment of every vacation out there tramping around checking items off of a list. Whether you realize it or not, this is a lot like work, and can be very stressful.
There's nothing wrong with taking a day to do next to nothing. Casinos online are an excellent way to pass the time in a fun fashion, or any other sort of game that catches your fancy. Also, get your food ordered in for once. Get a reset. The rest of your vacation will be 1000% better.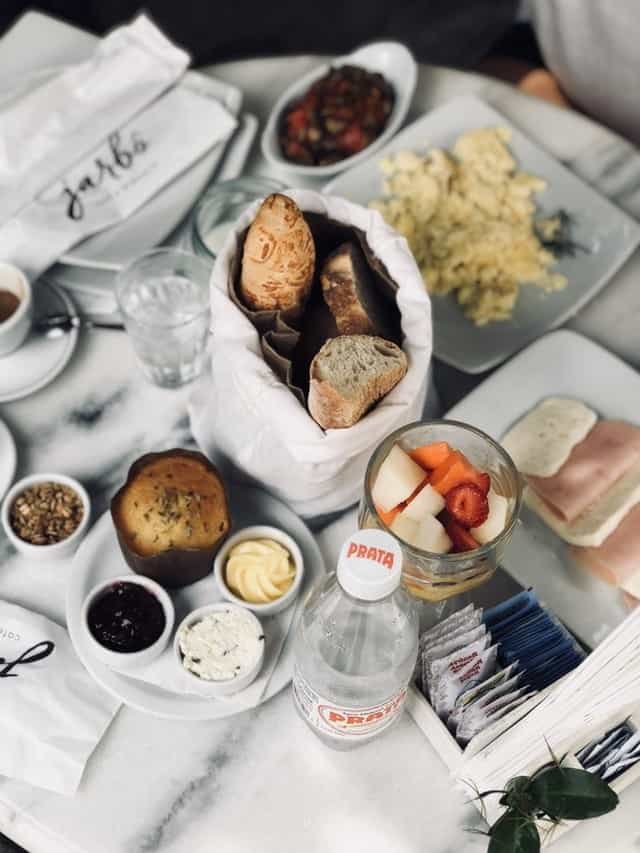 Treat Yourself to a Nice Meal:
Go out and find the restaurant wherever you are where you most want to go. If you're in a group, vote on it, but make sure everybody's happy to go there. If you're alone, this is that much easier. Either way, pick an excellent restaurant. Go there and absolutely take your time, meaning don't even think about leaving that place less than 2 hours after you've gone in. Enjoy every aspect of the meal slowly, contemplating the ambience and the flavors of what you are eating. It's a small thing, but it's a big thing at the same time.
Watch The Sun Rise or Set:
This is especially something to do if you can find a great lookout point. One thing that really works is to go to the lookout point, and just chill with a camera, even your phone's camera, and take pictures every 5 minutes or so and document the sun going up or down until it's done.
It's incredibly relaxing, and you will take with you a serious series of souvenirs that are eminently shareable with friends and loved ones. You can even turn the whole thing into one big time-lapse photo. And the act of calmly and quietly observing one's environment is in and of itself so relaxing and rewarding in surprising ways.
Tips For Hitting The Orlando Area For Holidays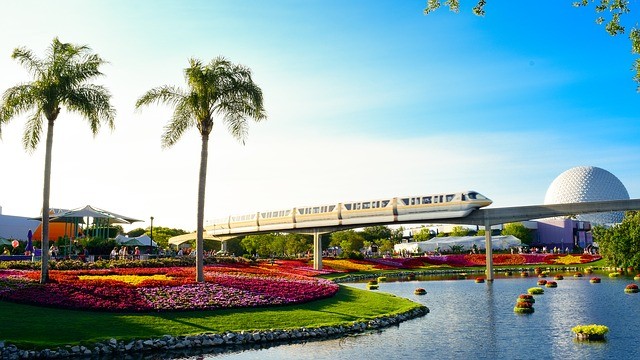 Planning on visiting the famous theme parks in and around Orlando soon? This is definitely something everyone should do at least once in their lifetimes, whether as a couple, with the whole family, or even solo. Here are some pro tips to make the experience the absolute best one possible:
Don't Leave Anything for the Last Minute: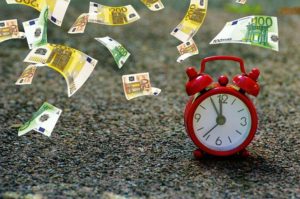 You have to understand that this is an extremely popular destination for tourists, so much so that if you don't have things planned out beforehand, you could be shut out of a lot of things you actually wanted to see, because they actually fill up to capacity well in advance sometimes. Especially, make very sure to get your theme park tickets before you go. Doing so will save you so much potential headache and stress.
Think Carefully about When You Want to Go:
Orlando is in a particularly hot and humid part of this Earth, but it's not that way all year round.
If your schedule permits, you may want to consider going during March and April. This is a great time because the summer heat hasn't started slamming the area yet, and because it's still during the school year, the place isn't packed with tourists.
The second best time of the year  to go would be September and October. The temperatures will be roughly the same as in March and April, and prices will be even lower and crowds even less. The one caveat is that this is technically in the middle of Florida's hurricane season, and while Orlando is quite a ways inland, there still exists some risk, albeit a minor one.
November through the beginning of March is an excellent time to go for weather (although as of this writing it went below freezing in Orlando for the first time in 30 years, this is a very rare event; usually things in Orlando are quite balmy, even in the absolute dead of winter). The problem with this time of year is that a lot of people are on vacation, especially during Christmas break, Presidents' Week, and Spring Break. This means crowds and marked-up prices everywhere.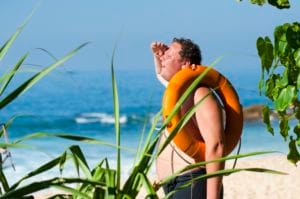 Lastly is the summer. Unless you are a gecko or an iguana, you probably won't like Orlando in the summer very much, as the heat and especially the humidity go practically off the charts. If all people concerned are very cold-blooded, this may be an option for you. The other downside is that people tend to come here despite the heat in the summer because that's when their kids have their summer break from school.
What is Your Dream Vacation When You Have Won the Lottery?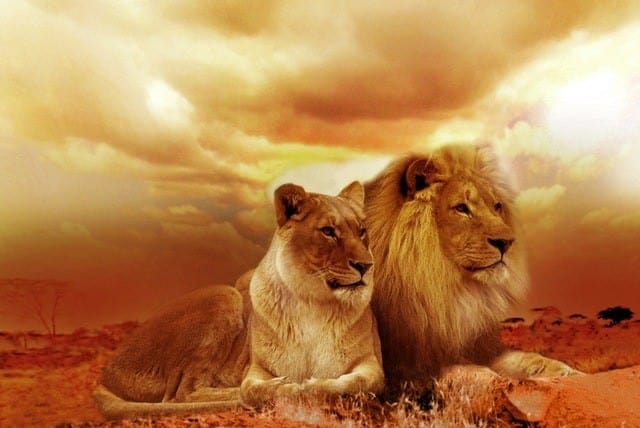 For everyone that buys a ticket for a lottery draw anywhere in the world, the dream is always to win and win big.  We all have things we would buy and stuff we want to do when we won the lottery and among that list is to take a dream vacation.  But what are the types of dream vacation you could enjoy with all those millions in the bank?
Ultimate safari in Africa
Africa is the second largest continent in the world and takes up a massive 22% of the planet.  That means there is a lot to see across it and the ultimate safari would include the most important sights.  From scaling Mount Kilimanjaro to seeing Victoria Falls, one of the Seven Natural Wonders of the World there are so many things to do.  You can visit one of the oldest prehistoric sites in Olduvai Gorge or the larger unbroken volcanic caldera at Ngorongoro Crater.  Then there's the wildlife – elephants, giraffe, lions and so much more to see during the 29 day private tour across Southern Africa.
Jet tours with National Geographic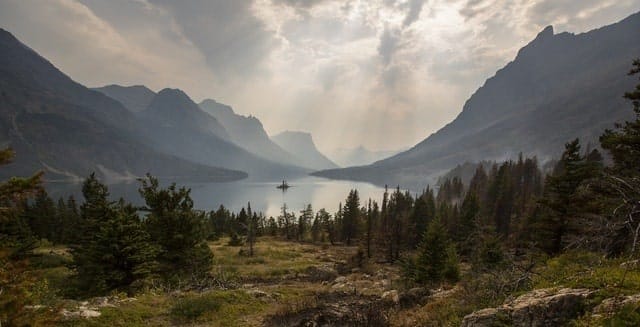 If you want to see the most amazing natural wonders, there's no-one better to do it with than National Geographic experts and this is something you can do for just around $80,000 a person.  This 24 day adventure takes you from the Iguacu Falls in Brazil to the Great Barrier Reef in Australia to Easter Island and lets you see the most amazing places in the world while learning about them from the ultimate experts.
Luxury Antarctica Cruise
For the adventure fans, there's nowhere more fascinating that Antarctica and a luxury tour of the frozen continent is a great way to see the most amazing sights while still enjoying all the best conveniences.  Spot the penguins and elephant seals who are unafraid of human visitors while seeing the amazing icebergs floating through the glasslike seas.
Silk Road private train
The Silk Road is associated with some of the most famous figures and events in history from Alexander the Great to Marco Polo.  Now you can take a private train and explore the 4000-mile length of the 'road'.  Stop at historic spots, see amazing modern towns and villages and enjoy the amazing scenery while recreating a route that brought many of the luxuries we take for granted today from the Far East in the first place.

We have been wearing out our jandals (Kiwi for flip-flops) on our travel adventures around the world since 2009. We think our blog is thought provoking and a little witty. But we have been proven wrong before. Find out more about us here...