Any travel where you are stuck in a small seat in an upright position sucks. Whether it is the dreaded long haul flight from New Zealand to the United Kingdom or an overnight bus between cities there are usually no comforts to be found. So with some hesitation we booked ourselves on the Istanbul to Fethiye bus.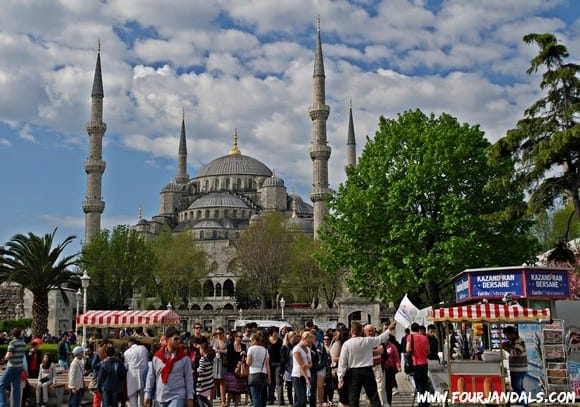 Don't get me wrong, there are some fantastic reasons why you should catch overnight buses. I won't go into the debate of overland versus air travel in terms of environmental issues as that is a totally different kettle of fish that warrants multiple posts.
But other reasons that matter to most travellers is that firstly, you usually leave late at night and arrive early in the morning which gives you at least an extra day or two of sightseeing rather than having to transfer and wait at airports. Secondly, the majority of overland travel including trains and buses can be cheaper than flying. Once you add transfer costs to/from the airport plus the flight then overland travel is cheaper. Although I will concede that in Europe it is hit or miss with so many cheap flights available with budget airlines.
Finally overnight buses are a great way to save on accommodation. We hate forking out an additional $50 for a late night accommodation so every penny saved means we can indulge our passion for adventure travel or local food at a later date.
Istanbul to Fethiye bus pre-departure
The first thing to note is that there is not really any way to pre-purchase your Istanbul to Fethiye bus tickets prior to your arrival in Turkey. We googled every option looking for help but came up drawing a blank. Doing what we do best, we left it to chance and knew that it would sort itself out once we were on the ground in Istanbul.
No surprises it was incredibly easy to book our trip. We found out that Metro Turizm bus (one of the largest in Turkey) travels overnight from Istanbul to Fethiye every day from 9pm so it was a matter of showing up at the Taksim Square Metro Turizm office (map here) and buying our bus tickets for 60 TL (approximately US$30) on the morning of our departure.
We were even given a free shuttle from the Taksim Square office to the main Istanbul Otogar (bus station) outside the city centre an hour before our overnight bus left.
The Journey
Our tickets said the Istanbul to Fethiye bus would take 12 hours. Factoring in Turkish time we calculated more like 13 – 14 hours in total. Having resigned myself to the fact that I was going to get, at most, an hour or two of sleep we settled in for the long haul.
Immediately we were impressed by the service on the overnight bus to Fethiye. Our seats reclined more than most economy seats on airlines. And the back of each seat was fitted with a small TV screen. Unfortunately my Turkish consists of about 10 sayings to get me by so it was pretty hard to follow what I think was the Turkish version of Days of our lives.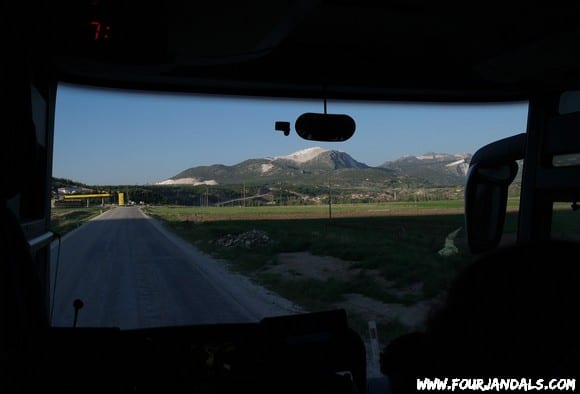 Once seated we were offered traditional Cay Tea (pronounced Chai) and Turkish coffee plus a range of snacks. This continued throughout the night whenever we stopped. Which turned out to be about every hour.
We had hoped that would have toilets onboard but no luck there. But thanks to all the frequent stops this isn't a problem.
Settling in with my book while Adela slept like a log. She has that wonderful gift of being able to sleep anywhere! While the majority of Turkish drivers are have feet made of lead with heavy acceleration and braking our driver was smooth as silk. So believe it or not I even managed about 4 hours of sleep.
I love travelling overland as you do get to see the countryside at it's best. Waking as the dawn broke high in some mountains still covered in snow is a great way to start any day. We have fallen in love with Turkey and are already trying to plan how we could work here for a few months sometime.
Arrival in Fethiye
Turns out that we were spot on and our overnight bus pulled into the main Fethiye bus station at about 10am. Only an hour behind schedule which is early in our opinion.
We were quickly greeted with smiles and handshakes as seems traditional in Turkey. Everyone is so friendly and just wants to have a chat. And once they found out where we were staying it was a matter of grabbing a lift with a local to our accommodation on the waterfront.
If you want any help sorting out your journey on the Istanbul to Fethiye bus then get in touch and hopefully we can help you out!