Facing my Fears – Hot Air Ballooning in Costa Brava, Spain
I'm not a huge fan of heights & when I was given the chance to face my fears while hot air ballooning in Costa Brava, Spain, I was a little apprehensive.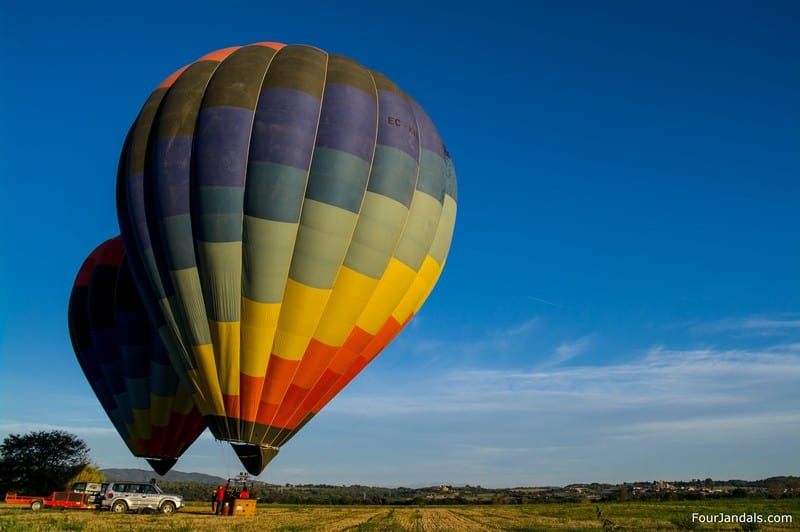 "Everyone holding on tight?"

"Brace! Brace! Brace!"
Not really the words I wanted to be coming out of our hot air balloon pilots mouth as we descended towards earth.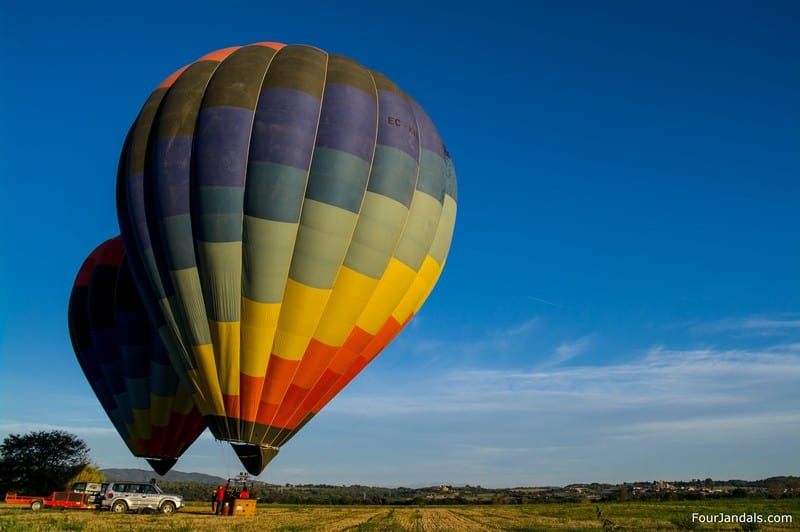 Even though I have always wanted to go hot air ballooning, I have not pushed it. You see, while Adela is not a fan of being underground, I hate being above ground. High above ground that is.
I don't do heights very well.
So how did I find myself on a crystal clear summer morning above the stunning Costa Brava coastline? Being told to "brace" as we descended towards a tiny clearing between trees and cornfields?
Hot Air Ballooning in Costa Brava, Spain
Rising before dawn is usually not a problem for me. I love sunrises. Even being told we have an awesome travel adventure high up in the sky doesn't faze me this early.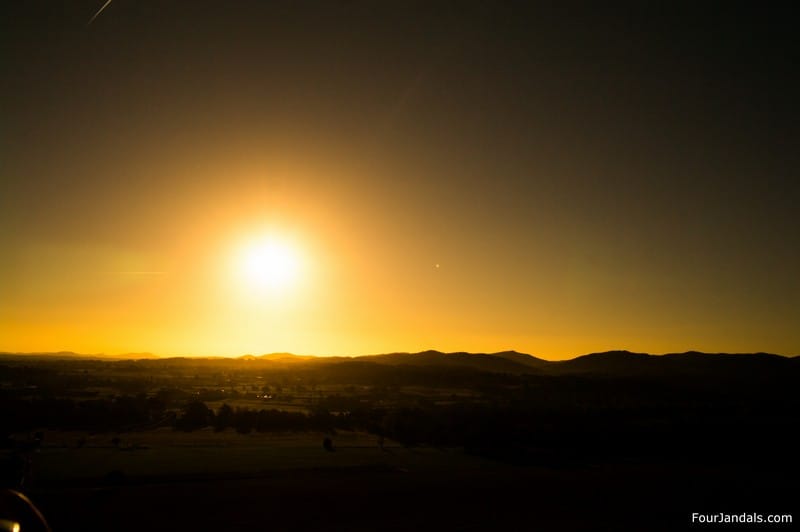 It is not until we are actually watching the balloons be filled with scorching flames that I begin to worry a little bit. How is a little bit of hot air meant to hold 10 full-grown adults up 1,000 meters in the sky? Not to mention 10 adults that have been gorging themselves silly on food and drink for the past week.
Climbing into what can only be described as a fruit basket for humans, I begin snapping away with my camera to avoid looking anyone else in the eyes in case they see my fear.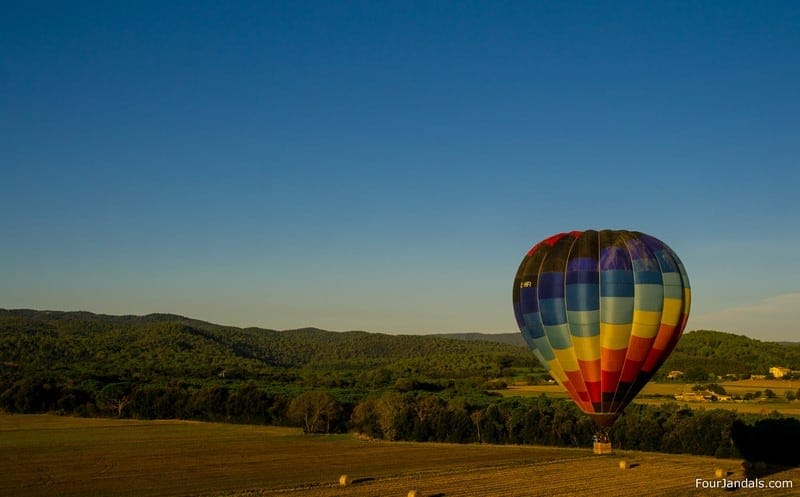 Pulling my eye from the viewfinder I quickly realise we have already drifted several hundred meters above the ground. I was so pre-occupied that I didn't even notice how gently we had taken off.
Maybe it has something to do with the sunrise peaking its blazing head above the Costa Brava skyline. Or the tight space we have managed to all squeeze ourselves into. Or maybe it is the extreme stillness and quiet between bursts of flame.
I realise it is not that bad up here. I am even breathing normally and able to look over the edge of the basket.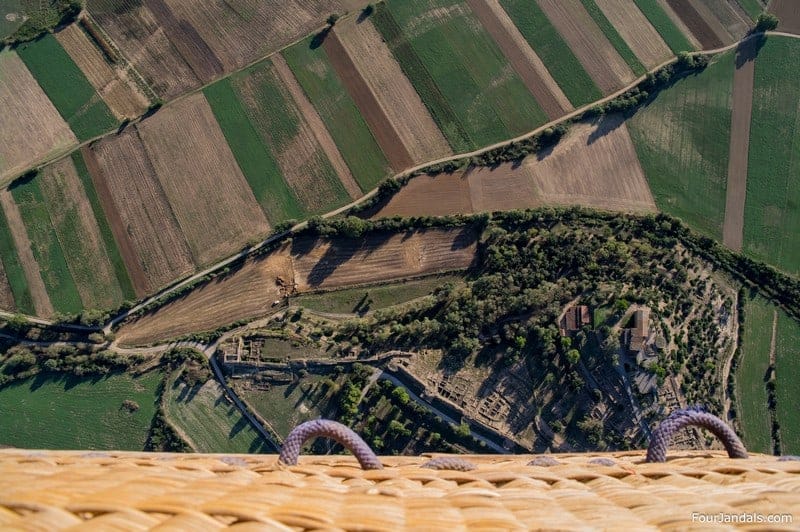 Okay, maybe not such a good idea.
But I am able to gaze into the distance towards the Pyrenees and across the stunning Costa Brava landscape. Farmland and Medieval towns drift silently below our feet. People go about their daily lives without even realising we are drifting above them.

In fact, it is not until we are starting to descend that the irrational fear begins to take hold again.
Our Spanish speaking pilot is gesticulating to our guide and interrupter that we are all meant to be doing something important. They both give nervous laughs before falling silent again.
Okay now would be the perfect opportunity to have finally learnt a second language like I promised myself at the beginning of the year.
Turns out that since we basically have no steering ability we are at the winds mercy. And with the coastline rapidly approaching it is time to take this contraption down to earth.
"Brace! Brace! Brace!"
Eyeing up the only clear patch of earth within a mile, our pilot is all business. The trees and houses that looked like miniature toys just a moment ago suddenly loom large directly in front of us.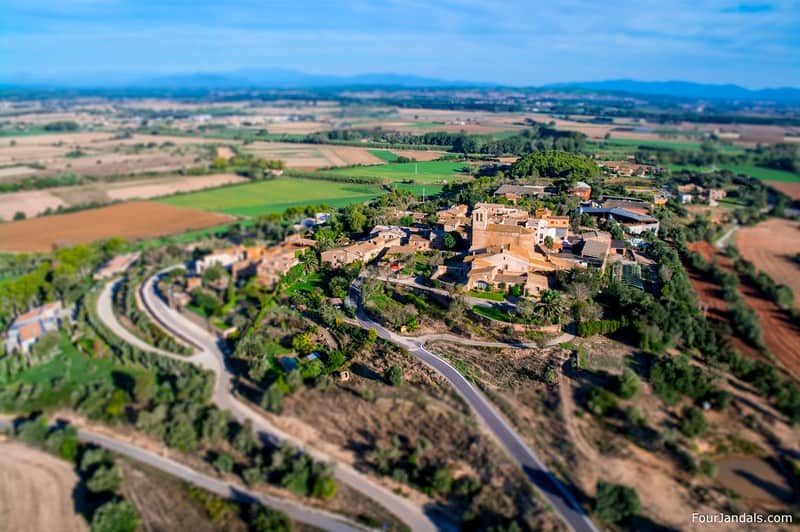 Instead of gently floating down in replication of our takeoff, we are drifting along quite quickly thanks to the wind picking up speed in the last 10 minutes.
My knuckles turn white as we brace our knees and back against the flimsy wicker basket.
And even though the command to brace is just a pre-caution, we still manage to bounce hard 3 times before settling down. A laugh escapes my lips as the tension eases from my muscles. And from the looks on the others faces, I am not the only one to be relieved we are back on solid earth again.
I had done it. I had conquered my fear.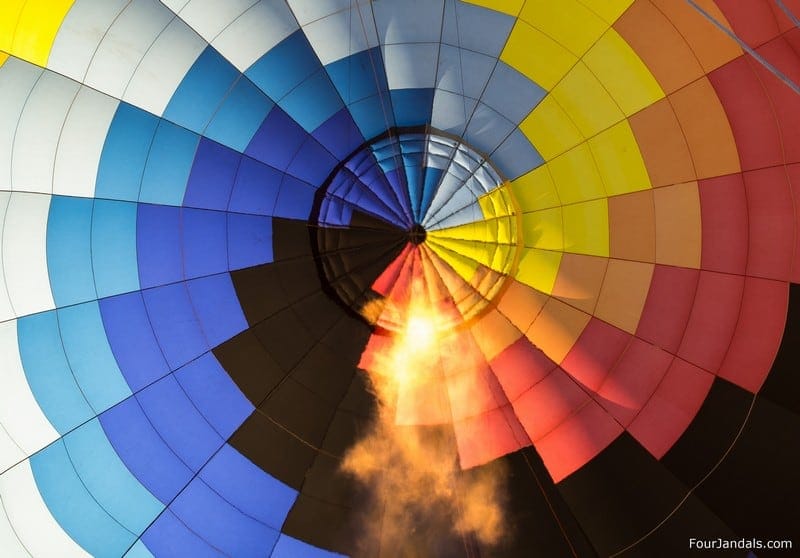 And if I ever get the chance to go hot air ballooning ever again, then I would jump at the chance.
I want to give a huge thanks to our incredibly talented pilot from Globus Costa Brava for taking me on a ride that will be forever remembered. And of course the extremely wonderful team at Costa Brava tourism board for helping me face my fears by organising the hot air ballooning in Costa Brava, Spain.
This is a post from a series called Facing my Fears. It helps us to step outside our comfort zone, in comfort. Check out the rest of the series here.
Disclaimer: I was a guest of the Costa Brava tourism board, but as always our fears, stories and photos are all our own.
Do you have a fear of heights or another phobia? How did you face your fears?
Great Barrier Reef Tours from Cairns & Port Douglas
The Great Barrier Reef is the most extensive coral reef system in the world. It stretches over 1,430 miles and composed entirely of living organisms. Because of its sublime beauty, it is no surprise that it is considered as one of the wonders of the world where more than 2 million travellers visit the reef annually to witness its charm.
The Great Barrier Reef is Queensland's most remarkable natural gift which is comprised of over 3000 reef systems and coral cays. It is home to an abundance of fascinating marine life and is filled with amazing tropical islands and world class beautiful beaches.
Cairns is one of the top most visited locations for travellers wanting to experience the Great Barrier Reef, either by taking on a scenic flight or by boat. The breathtaking array of marine wildlife, lush rainforest vegetation, and a myriad number of exotic coral reefs that make up this wonderful reef surely gives any tourist an extraordinary journey that cannot be found anywhere in the world.
Choosing the best tour can get a little frustrating because of the overwhelmingly large number of reefs you can visit around the area. If you are still at a loss and want to get some guide of what type of tours to take in order to maximize your Great Barrier Reef experience, worry no more as we will unravel in this piece the best Great Barrier Reef tours on offer to help you start your wandering without delay.
REEF TOURS FROM CAIRNS
Sunlover Reef Cruises
Sunlover Reef Cruises offers one of the best Great Barrier Reef Tours where travellers get a full day of reef adventures. This trip is designed mainly to cater for everyone including families with children.
Leaving daily from Cairns, this 40 km-trip will surely bring happiness and extraordinary experience to its travellers as they will enjoy a high-speed air-conditioned catamaran experience to the new multi-level pontoon at Moore Reef. The sundeck, as well as the theme-park style water slide on the reef, is also a must-see attraction especially if you travel with your kids.
Once you arrived, you'll get the best 4 hours of your life as you enjoy the activities at the pontoon, which comes with snorkelling equipment, guided glass bottom boat and semi-submersible tours− allowing the travellers some options to stay dry while in a safe and comfortable environment as they explore the beauty of the Great Barrier Reef. The tour also allows travellers to feed the fish. It is also a family-friendly tour as it has a fully enclosed kid's pool and an underwater observatory to get a closer look with the marine life.
Sunlover Reef Cruises also include a hot and cold buffet lunch where you can enjoy the freshly caught seafood in the city while you explore the amazing views of the Great Barrier Reef. After the meal, don't miss the chance to swim amongst the fishes and enjoy the last hours of your stay, savouring the charm of this great reef.
Pro Dive Cairns
If you fancy diving, Pro Dive is perfect for you. In fact, Pro Dive is all about diving suited whether you're a novice or an advanced diver with years of experience in this field.
Boasting with its more than 32 passengers, Pro Dive Cairns offers an adventurous tourist with a more personalised experience, providing access to around 19 exclusive and unspoilt dive sites on the Great Barrier Reef.
Pro Dive Cairns offers premier three-day, two-night liveaboard dive trip and various range of PADI certified scuba diving courses where you can dive and learn to dive in a safe and wonderful environment.
From a five-day Learn to Dive Open Water certification course to advanced and professional development courses through its extensive range of the latest dive products and professional local service and advice, Pro Dive Cairns is your number one stop when planning your first or next scuba diving adventure.
If you don't have the time to spare and can only stay for one day, its Silverswift will surely give you the most comprehensive day-tour experience with its 5-hour trip spent out at the reef visiting three different outer reef sites. This ultra-modern catamaran caters to small groups; it offers all the things you need in order to for you to experience the underwater world of colourful marine life. Beginner divers can enjoy snorkelling with additional 2 introductory dives while more experienced divers can leisure in up to 3 certified dives.  
For a tourist who is yearning for more challenge and adventure, Pro Dive gives access in Liveaboard Trips to adventurous traveller where they can spend around 3-7 days enjoying the top best sites the Great Barrier Reef has to offer, while on board of the multi-million dollar purpose built a liveaboard vessel. Divers can participate in up to 11 dives, as well as 2-night dives at around 16 exclusive dive sites.
Reef Magic Cruises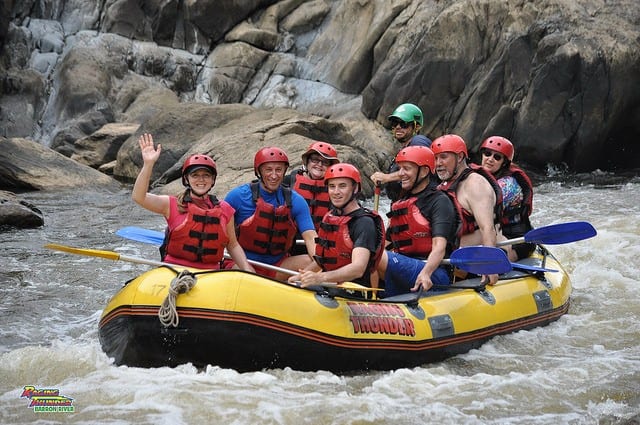 Departing from Cairns through a smooth yet fast and stable catamaran, Reef Magic offers a private access to a breathtaking coral reef location which was intentionally selected because of its superior pristine clear water, coral quality and its diverse marine life.
Snorkel in the sheltered lagoon or enjoy its Guided Snorkel safari trip with an expert Marine Biologist coming along with you. It also provides a semi-submersible reef viewer, glass bottom boat or underwater observatory, perfect for families with children or for non-swimmer travellers.
If you are looking for a downtime and just want to spend your stay relaxing and soaking up the tropical heat, then this one is made for you. Take time out on Reef Magic's spacious deck where you can enjoy the region's only reef-based massage therapist.
Fitzroy Island
Fitzroy is a favourite tourist destination, both interstate and international alike for travellers thinking to experience the Great Barrier Reef from a tropical island paradise. The island's location is spectacular which is just a 45-minute Fast Cat Ride from the Cairns Marina, offering unique access to a wonderful ecosystem ranging from an abundant green jungle to a crystal clear the Coral Sea.
You can opt to combine the Fast Cat transfer with a guided sea kayak where you can snorkel and swim amongst the rich marine life and be mesmerised by the tropical fish and get a chance to spot Fitzroy Island's famous clownfish or sea turtles. This package will take you to the most private beaches and a stunning coral reef where you are free to explore this magical Island and the surrounding coral reef at your own leisure.
If you want to get an up-close experience of the reef but fear of getting soak or wet, stress no more as you can include a glass bottom tour with your package where you can still get a glimpse of the charm that lies below the surface.
Fitzroy Island is very attractive for those on a budget, especially families and backpackers. Stay for more than one day at Fitzroy Island in order to get a maximum Great Barrier Reef experience on a tropical island where you can pamper your stay for a night or two.
REEF TOURS FROM PORT DOUGLAS
Reef Sprinter
Departing from Port Douglas, Reef Sprinter is a 15-minute trip to the stunning coral reef at Low Isles. The Reef Sprinter Reef Trip is perfect for travellers who do not find staying on the water very enticing.
Once you reach the destination, you can get 1.5 hours of snorkelling time to enjoy the breathtaking coral formations and colourful marine life of the reef before heading back to the port.
If you want to experience the Great Barrier Reef but are not too keen on boats and the thought of spending a whole day out on the water isn't very appealing, then Reef Sprinter Reef Trips were made for you.
Reef Sprinter also offers a glass bottom boat perfect for those who prefer not to swim the opportunity to still witness the astonishing coral reef, turtles and diverse marine life which makes the Great Barrier Reef as one of the seven wonders of the world.
Quicksilver Cruises
Quicksilver Cruises has a wide range of exciting activities on its sleeve, making it an ideal option for those who are wanting to get a little bit of experience of everything. Quicksilver's Wavepiercing Catamaran leaves from the Reef Marina in Port Douglas daily at 09:30 am out to Agincourt Reef− a pristine ribbon reef located at the very outer edge of the Great Barrier Reef.
Learn to dive and snorkel or if you are a  more advanced diver, dive and snorkel amongst the abundant marine life and enjoy the majestic beauty of this remote coral reef. Quicksilver Cruises also offers activities for non-swimmer who still wants to get a breathtaking view of the Great Barrier Reef. Enjoy the permanent floating pontoon at Agincourt Reef where you can get the best viewing experience and underwater observatory perfect for families travelling with their kids; Quicksilver's semi-submersible is the best option for non-swimmer to still get a magical experience of the reef while staying dry.
Getting the right reef trip for you and your family can give you ample time to enjoy and explore the beauty the Great Barrier Reef has to offer. Just like in any trip, it is always wise to plan ahead of time before embarking to your journey. Use the guide provided in this piece and we hope that you get the most out of your Great Barrier Reef adventure.
Looking for a Memorable Experience in 2019? Take a Wildlife Vacation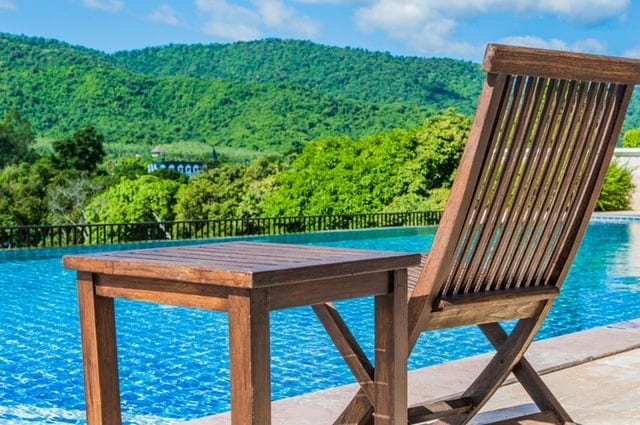 It seems like yesterday that 2019 started. Everyone set their resolutions and the yearly race is on. Just like that, a month has already run past us.
During this time, a few New Year's resolutions have been fulfilled, some have been forgotten, while others are still waiting to be met. The people associated with the latter segment are still looking for ways to fulfill their plans. Doing it properly than doing it quickly seems to be a popular approach these days.
Keeping this in mind, if your New Year's resolutions involved travelling, then they might still be on that to-do list. After all, a vacation is a big expense and needs to be treated as such. You want to make the most out of your vacation that you can, and no one can blame you for having that mindset.
If you want to fulfill that resolution in a way that leaves a long lasting smile on your face, then consider a wildlife holiday.
And if you select a platform such as Naturetrek Wildlife Holiday, which presents several wildlife vacation options all over the world, then you have the comfort of having several different choices at your disposal.
Why Should You Choose a Wildlife Holiday?
Even if it involves an extended safari or a few short treks; a wildlife vacation can be a wonderful source of inspiration, memories and unforgettable experiences.
They bring you close to nature, make you appreciate the simpler things in life, and present the beauty of Earth and its many creatures in a profound manner.
Whether you are going on a vacation with your family or just with that special someone, the experience provides an opportunity to bond with them and share the sincerest of smiles as you witness the beauty of nature together.
Due to the different options that are available to people in terms of a wildlife holiday, you can choose through a variety of vacation types and experiences.
Here are a few different types of vacations that you can choose and enjoy through the platform.
Go on an African Safari
The very mention of a wildlife holiday brings about images of the rich and beautiful lands of Africa.
With its tall Savannah grass, warm weather, and some of the most magnificent animals in the world, an African safari has everything that you can think of in a dream wildlife vacation.
If you go on an African safari, then you can see some of history's most popular creatures up, close and personal and in their natural habitat.
Some of the animals who you can expect to see include but are not limited to:
Lions

Elephants

Giraffes

Rhinoceros

Buffalos

Wildebeest

Zebras

Gazelles

Cheetahs

Hyenas
But land animals are not the only attractive aspect of the region. Similar to how an aviary acts in a zoo to showcase the best of birdlife that it could offer, the lands and skies of Africa do the same for its many different inhabitants.
But in an open-air setting that is definitely hard to surpass.
In terms of birds, you can expect to see the following:
Ostriches

Great white pelicans

Grey crowned cranes

Hoopoes

Crowned eagles

African penguins

African wood owls
And when it comes to fauna and trees, witness unique sights such as the magnificent baobab tree, the beautiful marula tree, and the one of a kind dragon blood tree.
Expect to see all of these four-footed and winged members of the African wildlife as well as their different companions through a few countries in the African region.
But witnessing them on a safari doesn't mean that you always need to be "roughing it" in the woods. On the contrary, your visit will be completely safe and could be designed to provide you with the most luxurious of experiences. You just need to be aware of what you want out of the vacation and how much you can spend on the vacation as well.
Go to the South American Wonderlands
If you are one to enjoy lush greenery, a variety of climates, and some of the richest wildlife in the world, then visiting the South American continent would certainly be a great choice.
While Galapagos is known as the tourist and wildlife hotspot, it would be quite unjust to place it down as being the only region that is rich in wildlife. South America is full of areas that boast of that quality as well, which is why exploring your options before selecting a destination would be the correct way to go.
From visiting the wonderful and nature-rich Amazon to the penguin heaven that is The Falkland Islands, you can be certain to have once-in-a-lifetime experiences throughout your time in South America.
Whether seeing the jaguars is a more exciting prospect or watching the birds is what tickles your fancy, ensure to find something that would make for an exciting memory for days to come.
The wildlife that you can experience within the South American region includes but is not limited to:
Llama

Anaconda

Capybara

Sloth

Emperor tamarin

Maned wolf

Giant Galapagos Tortoise

South American Tapir

South American Coatimundi
With that you can also enjoy the many ancient sights such as the Inca ruins in Machu Picchu, the path to which is strewn with llamas itself.
Take a Trip Down Under
Australia is known as one of the most wildlife-rich regions in the world. That is why, considering it as only the hub of kangaroos would be quite an understatement.
Apart from kangaroos, Australia is home to cuddly koalas and the curious looking emus. And of course, who can forget the famous Steve Irwin and the many reptilian friends that he introduced to the world. So is the effect of Australian wildlife that his whole family continues to nurture and care for the creatures that the late Crocodile Hunter loved so dearly.
The creatures that you can witness within Australia include but are not limited to:
Marsupials

Wallabies

Platypuses

Tasmanian devils

Dingos

Wombats

Cockatoos
This means that if you visit Australia, you can actually bet on seeing animals that you would never be able to see anywhere else in the whole wide world.
But going on trips to see these magnificent beings doesn't mean that it has to be an excruciating experience.
There's no reason to subject yourself to uncomfortable and foreign lands. On the contrary, Australia has some of the world's best offerings in gastronomy, hospitality and modern recreation.
The many natural tourist spots such as the Shelly Beach would be there to help you relax between your wildlife adventures, also witness some unique and interesting turtles while doing so.
With that, it is not that expensive to take a trip down under. Australia could very well be the spot to visit on your wildlife vacation.
The Options are Virtually Unlimited
From the sun-soaked regions of Africa to the icy lands of Europe, you can ensure to find something that matches your dream destination – with its own distinct wildlife to boot.
You just have to know what you want out of your vacation destination and how much can you spend on it. No matter what kind of budget you have, specialized tour companies would always accommodate you wherever they can.
Keeping this mind, if you have the intention to see wildlife, then making it happen is just a step away.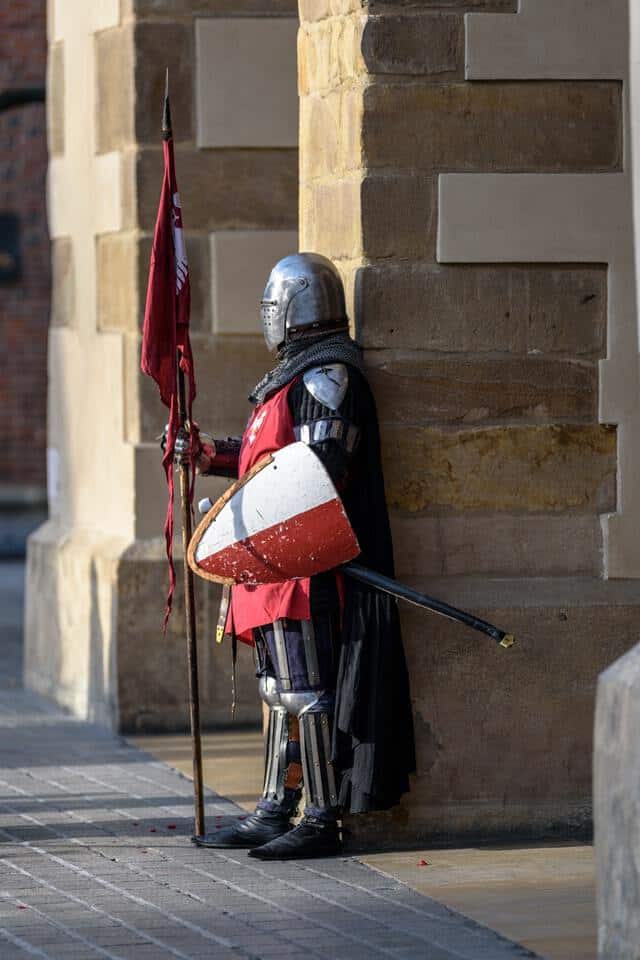 Everyone knows that the world of travel opens up a world of opportunities. Traveling the world allows individuals to dive into new experiences, wonderful authentic, natural foods and cuisines, great bonding with the locals and the traveling party, and a profound sense of appreciation for those that are present in different areas of the world that we live in today. Individuals can travel the world and immerse themselves in their hobbies, passions and times of rest and relaxation with the finest pipes and curated aged alcohol that the world has to offer.
We'll profile a few great and successful people who traveled the world in this brief guide.
Phil "Shoe Dog" Knight and His Travels
Did you know that Phil Knight traveled the world at an early point in his life? He asked his dad for some money, he reached out to a friend and he hit the road. He stopped off at Hawaii where Phil Knight and his friend parted ways. Phil didn't simply travel the world for mere pleasure.
He traveled the world in pursuit of completion. He was looking to catch and capitalize on his Stanford paper thesis of bringing home the perfect pair of shoes. Phil Knight was sort of renegade or a unicorn in this regard. Prior to the 1970s, a majority of the citizens of the United States did not step foot on to an aircraft.
Phil broke barriers and went to places such as Berlin, Paris, and Japan. He would meet some key figures in Japan and be able to start the sparks that would help him to build the empire which we all know as Nike. All of this was accomplished through his free-spirit, his sense of wandering and his needing to explore the world around him.
Surprisingly, Phil was exemplifying the simple slogan of "Just Do It" in his younger years.
Ernest Hemingway and his Many Sojourns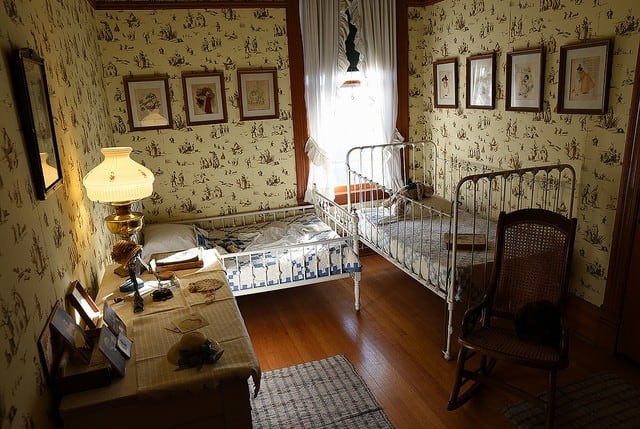 The great writer Ernest Hemingway was known to travel.  Ernest Hemingway used to state thing such as "there is nothing noble in being superior to your fellow man; true nobility is being superior to your former self." As such, he was always pushing himself in many ways to try and improve in his profession.
Ernest Hemingway moved from one place to another, and every time he did, he would replace one wife with another. His experiences were much too profound and his behavior much too peripatetic for that of being one to settle down in just one place.
He started his travels with obligation, he joined the Italian front to the play the role of a healthcare worker. He then came back home, recovered and moved away to Paris, where he would work as a reporter. As a part of his work, he would cover the Spanish Civil war in the capacity of a journalist and would later publish a novel on the matter.
He would then move on and travel to London with a new wife. London treated him well but he couldn't bear to stay stagnant in one place for too long, he met another significant other and would head over to Africa for a short while. Hemingway finally traveled to Florida and Cuba, before moving back to Idaho.
Make it a Point to Travel
Both of these individuals traveled the world and found ideas and inspiration you can too!

We have been wearing out our jandals (Kiwi for flip-flops) on our travel adventures around the world since 2009. We think our blog is thought provoking and a little witty. But we have been proven wrong before. Find out more about us here...
What Are You Looking For?