Facing my Fears – Hot Air Ballooning in Costa Brava, Spain
I'm not a huge fan of heights & when I was given the chance to face my fears while hot air ballooning in Costa Brava, Spain, I was a little apprehensive.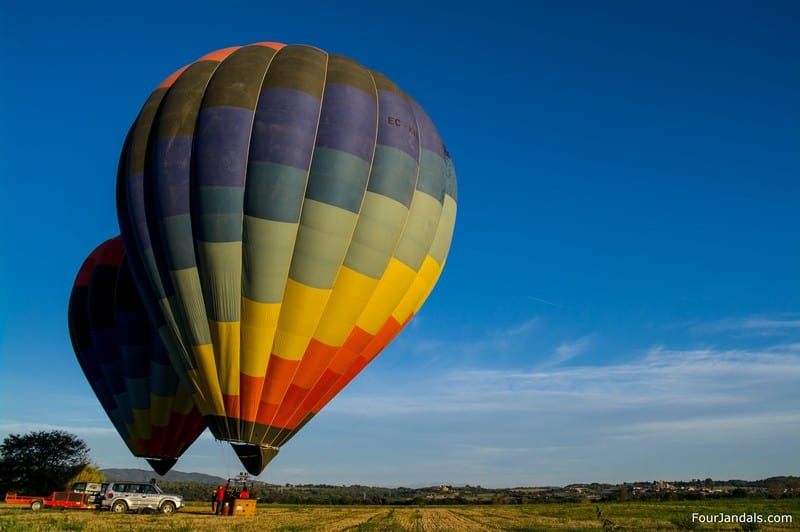 "Everyone holding on tight?"

"Brace! Brace! Brace!"
Not really the words I wanted to be coming out of our hot air balloon pilots mouth as we descended towards earth.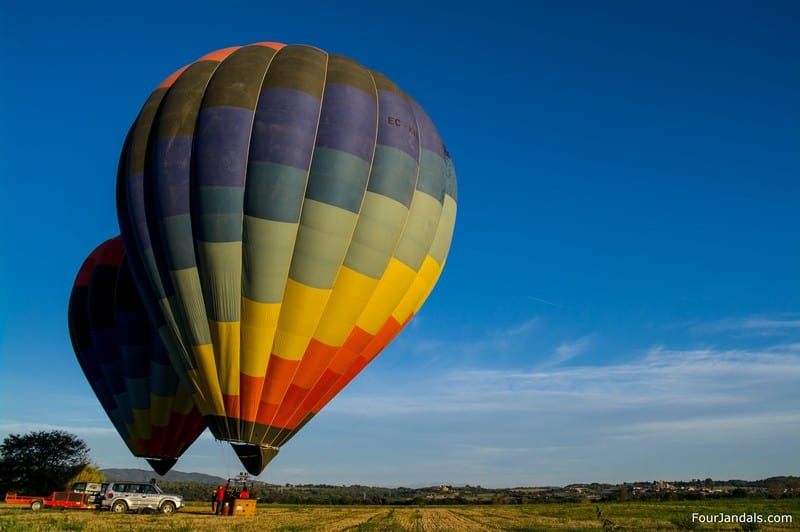 Even though I have always wanted to go hot air ballooning, I have not pushed it. You see, while Adela is not a fan of being underground, I hate being above ground. High above ground that is.
I don't do heights very well.
So how did I find myself on a crystal clear summer morning above the stunning Costa Brava coastline? Being told to "brace" as we descended towards a tiny clearing between trees and cornfields?
Hot Air Ballooning in Costa Brava, Spain
Rising before dawn is usually not a problem for me. I love sunrises. Even being told we have an awesome travel adventure high up in the sky doesn't faze me this early.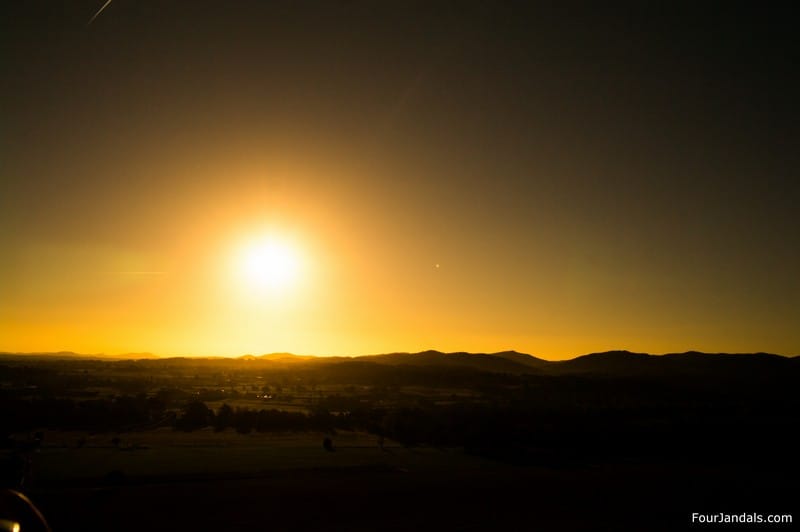 It is not until we are actually watching the balloons be filled with scorching flames that I begin to worry a little bit. How is a little bit of hot air meant to hold 10 full-grown adults up 1,000 meters in the sky? Not to mention 10 adults that have been gorging themselves silly on food and drink for the past week.
Climbing into what can only be described as a fruit basket for humans, I begin snapping away with my camera to avoid looking anyone else in the eyes in case they see my fear.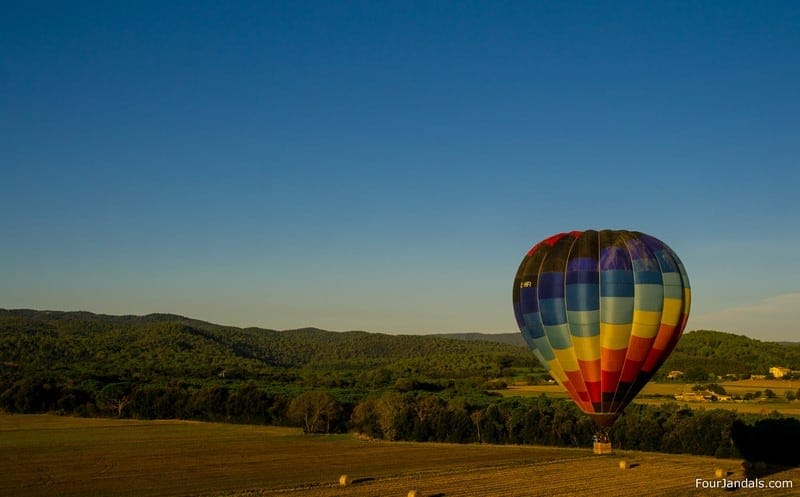 Pulling my eye from the viewfinder I quickly realise we have already drifted several hundred meters above the ground. I was so pre-occupied that I didn't even notice how gently we had taken off.
Maybe it has something to do with the sunrise peaking its blazing head above the Costa Brava skyline. Or the tight space we have managed to all squeeze ourselves into. Or maybe it is the extreme stillness and quiet between bursts of flame.
I realise it is not that bad up here. I am even breathing normally and able to look over the edge of the basket.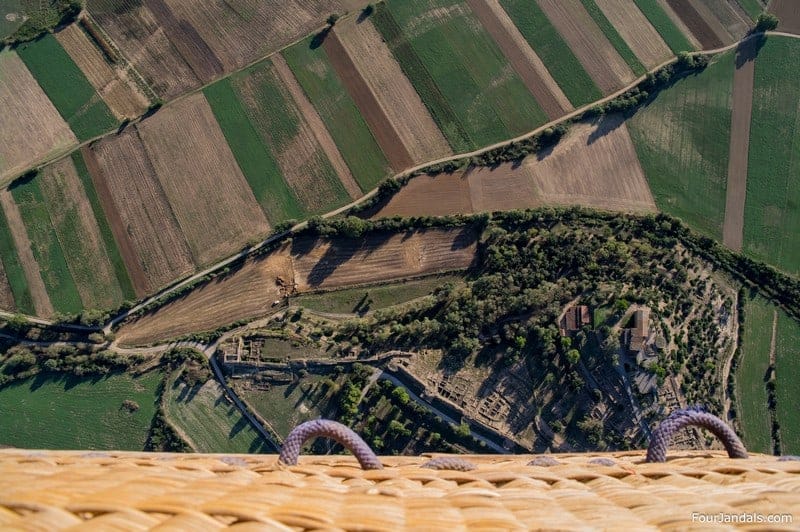 Okay, maybe not such a good idea.
But I am able to gaze into the distance towards the Pyrenees and across the stunning Costa Brava landscape. Farmland and Medieval towns drift silently below our feet. People go about their daily lives without even realising we are drifting above them.

In fact, it is not until we are starting to descend that the irrational fear begins to take hold again.
Our Spanish speaking pilot is gesticulating to our guide and interrupter that we are all meant to be doing something important. They both give nervous laughs before falling silent again.
Okay now would be the perfect opportunity to have finally learnt a second language like I promised myself at the beginning of the year.
Turns out that since we basically have no steering ability we are at the winds mercy. And with the coastline rapidly approaching it is time to take this contraption down to earth.
"Brace! Brace! Brace!"
Eyeing up the only clear patch of earth within a mile, our pilot is all business. The trees and houses that looked like miniature toys just a moment ago suddenly loom large directly in front of us.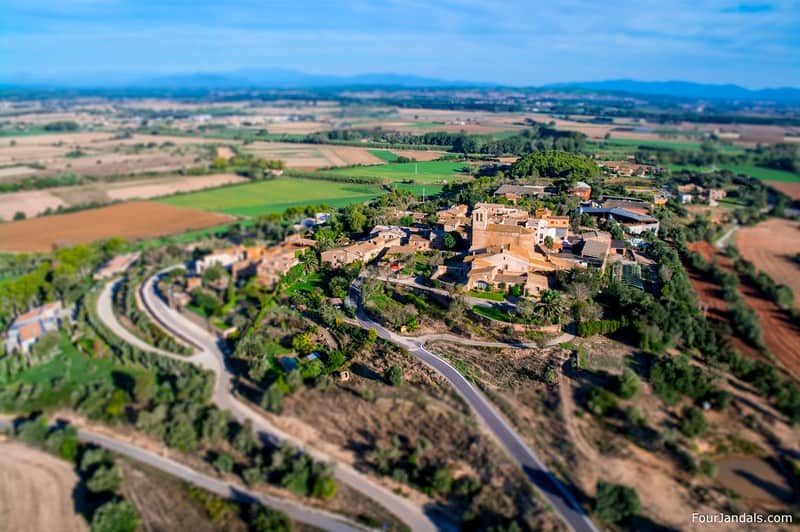 Instead of gently floating down in replication of our takeoff, we are drifting along quite quickly thanks to the wind picking up speed in the last 10 minutes.
My knuckles turn white as we brace our knees and back against the flimsy wicker basket.
And even though the command to brace is just a pre-caution, we still manage to bounce hard 3 times before settling down. A laugh escapes my lips as the tension eases from my muscles. And from the looks on the others faces, I am not the only one to be relieved we are back on solid earth again.
I had done it. I had conquered my fear.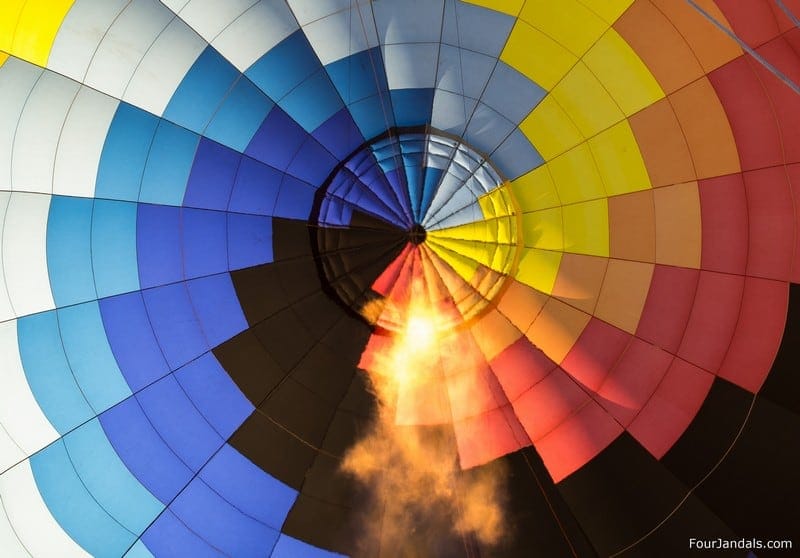 And if I ever get the chance to go hot air ballooning ever again, then I would jump at the chance.
I want to give a huge thanks to our incredibly talented pilot from Globus Costa Brava for taking me on a ride that will be forever remembered. And of course the extremely wonderful team at Costa Brava tourism board for helping me face my fears by organising the hot air ballooning in Costa Brava, Spain.
This is a post from a series called Facing my Fears. It helps us to step outside our comfort zone, in comfort. Check out the rest of the series here.
Disclaimer: I was a guest of the Costa Brava tourism board, but as always our fears, stories and photos are all our own.
Do you have a fear of heights or another phobia? How did you face your fears?
Why Should You Choose A Couple Resort as a Romantic Getaway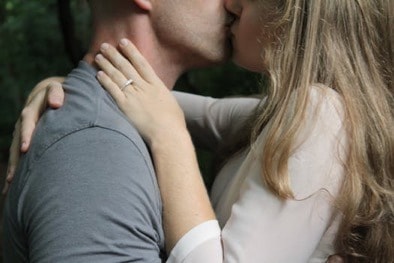 There's no point in planning a couple's holiday retreat if you aren't choosing a place that speaks of romance. Different couples have different tastes, some prefer long drives while some are into adventures. A majority of couples also turn to beaches or pick places that are known for calmness and quiet.
This is why it is important to know what your partner prefers so that you can choose a destination that fits everyone. This may be difficult, but what if there was a place that offered all of the above mentioned things? There is. A resort can offer you all this and much more.
You just have to find the best resort for the family and you are good to go. Remember that not all resorts are created same. For example, some are close to the beach while some are not. You need to find a resort that offers all the activities you are interested in so that you can have a great time when you go for a holiday with your partner.
Without much ado, let's have a look at why you should go to a resort when you plan a picnic in the future:
Excursions Included
If you are looking for memory making adventures as a couple then a couples resort is your best bet. Most resorts have their own excursions that you can opt for. This removes the need to find travel agents as you can book all that you need from the comfort of your room just by dialing the reception.
You can experience heart pumping activities like snorkeling, boat rides, jet ski and a lot more.
There's no need to panic or worry if you haven't gone through any of these activities before as you will be provided with safety equipment and training before you embark on your journey.
While all these are adventurous options, this is not all that a resort offers. You can enjoy other activities as well such as a couples massage and other relaxing activities.
Most top class resorts have their own spas where you can relax and allow your mind and body to soothe.
Top-Class Meals
Meals are the soul of a holiday trip and bad meals can definitely ruin your adventure by ruining your mood. However, couple resorts are said to have trained and top notch chefs who know how to make the diners go wow with their cooking skills. There's a wide variety of foods available at a couple's resort.
You can look at the available menu before you book a resort so that you know what kind of food you will get at the resort. Many resorts offer all-inclusive deals where you pay a lump sum for your stay and food. This is a good option as it takes the burden off your shoulder and allows you to relax without any worries.
Romantic Spots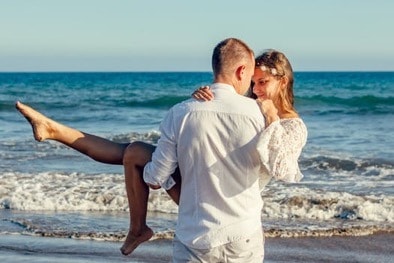 What's your definition of a romantic spot? Sunbathing under an umbrella? Getting drenched in a jacuzzi with your partner? Expressing love on a boat while you're in the middle of the sea? A couples resort can make all your romantic wishes come true and get you two connected like never before.
Let the receptionist know of your plan and they will make it happen for you. Plus, if you go for a couple resort you will be able to enjoy intimate moments without any trouble as they understand the importance of privacy and will provide you with all that you need.
Pack your bags and start planning your next trip tomorrow. The key lies in being on the same page as your partner and planning in advance so that you do not only save money, but also make every moment count.
4 Uncommon Sights To Find In Australia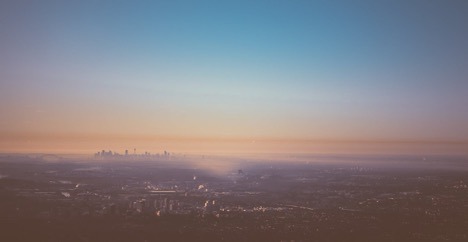 Australia, a country with a rich, versatile and blossoming natural life. A country with amazing food, amazing people, and an amazing history. A trip to Australia can feel a little discombobulating in the first few moments if making the trip from a Western climate to here, as of course the seasons will be completely flipped on their head. However, the moment you exit the airport you'll be greeted with the beautiful expanse of this wonderful country, and all it has to offer.
However, of course countries are known for many things, but it does feel like Australia is sometimes stereotyped a little too much. While beaches, great foods, crazy wildlife and hats with corks are to be found, as are plenty 'g'day mates' and kangaroos, that is only 0.01% of what this country has to offer. In the interest of finding you some wonderful uncommon experiences to see the hidden side of Australia, we have compiled a list of four uncommon sights you should find it more than worthwhile to visit.
Nambung Desert 
The Western Australian Nambung desert is around ninety minutes north of Perth. You can get there even more quickly with a good car hire. Of course, you might be thinking 'what does a desert have to offer me?' Well, nestled there are The Pinnacles, one of the most interest natural limestone developments to be found. Jutting out from the surface and spread along around a mile of land, this area almost seems like a natural form of ruins.
There is a storied history here. The aboriginals suggest that these limestone rocks are natural memorials to those who died in the quicksand. Of course, any and all residual quicksand is heavily cordoned off and maintained, so there's no need to be afraid of this area. However, it can certainly make for an interesting trip, as this is the one and unique place you will ever see a site such as this. Be sure to bring your camera, especially if you're interested in photographing strange shadows and compositions of nature!
Karlu Karlu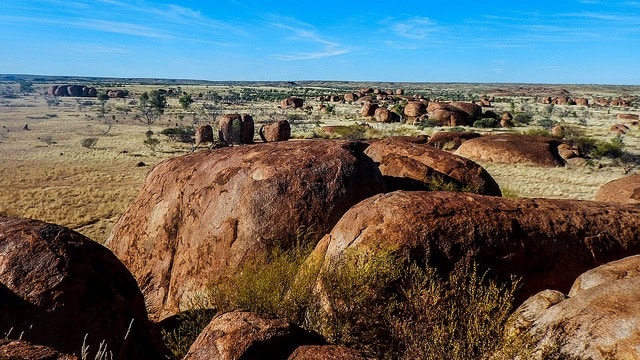 Karlu Karlu are also known as 'The Devil's Marbles,' and for quite a funny reason. These two massive granite rocks standing parallel to one another on rock platforms. This area is a protected conservation reserve, due to them being a strong and spiritually significant area for the aboriginals. This means that it is known as one of the oldest religious sites in the world. Karlu Karlu roughly translates to round boulders, which lends credence and respect to the sight.
You can get here at the exact midway point between Tennant Creek (North) and the Alice Springs (South.) Of course, like any protected conservation effort, you can learn the history here, enjoy a guided tour and relax in the nearby facilities. However, if you're into your natural history, the age and breadth of this site should give you some genuine pause for thought and wonder.
Wolfe Creek Crater
If you like your odd space history, where else is better to go than a meteoric impact? That is until Elon Musk allows us all to travel to Mars. However, the weather is much more pleasant in Australia, so this will more than serve for now. The Wolfe Creek Crater is located in the Western Australian outback and is of course the filming location of the popular horror series 'Wolf Creek'. Luckily in real life the tragedies to be experienced here are zero, only a natural wonder and interest that something so small could produce a crater so large. Be sure to bring your hiking boots, and only stick to the predestined path if traversing this rocky landscape.
Nimbin 
If you have a little hippie in you, then it might do you well to visit Nimbin, one of the very first hippie communities to ever grace Australia. Luckily this place is still thriving today, with plenty of community-led stores, events, art displays and musical gigs for you to explore. Nimbin is very popular with tourists, and the self-sufficient community hosts festivals for them to attend every year. This can be quite a tiring place to visit, as almost everyone has profound energy for celebration all the time. However, if you're looking to blow off some steam with people you'll think you've known forever, then relaxing and enjoying this community can be one of the best things you'll do on your Australian travels.
So what are you waiting for? A world of incredible Australian adventure lies just around the corner. Be sure to experience the most you can within the time allotted, and you're sure to have one of the best vacations of your life.
Perfect Your Car for an Offroading Adventure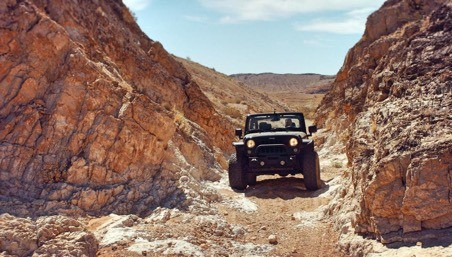 There is something awesome about offroading – the ability to just drive is so freeing it can get addictive! But if you don't want to get stuck or find yourself in a jam, you will need to make sure that your car is properly equipped to handle the terrain in front of you.
Road trips are the best way to discover what the wild has to hold and travel beyond the safety of the city. There is so much land to explore and so many opportunities to get back to nature that you just can't pass up a road trip when it comes along. Wherever you plan to go, here are the things you should never be without.
Car Snorkel
It sounds weird, but it does work exactly like a regular snorkel and allows you to take your car through deeper ravines without messing up the engine or exhaust. Airflow 4X4 Snorkels are great models to try and you can use their CAD templates to double check your measurements.
Even if you aren't planning to cross deeper water, having a car snorkel ready is perfect for a spontaneous change of route or if the weather takes a turn and there is a lot of water to deal with all of a sudden. It's also good to have when you find that you are going through a lot of mud.
The Right Tires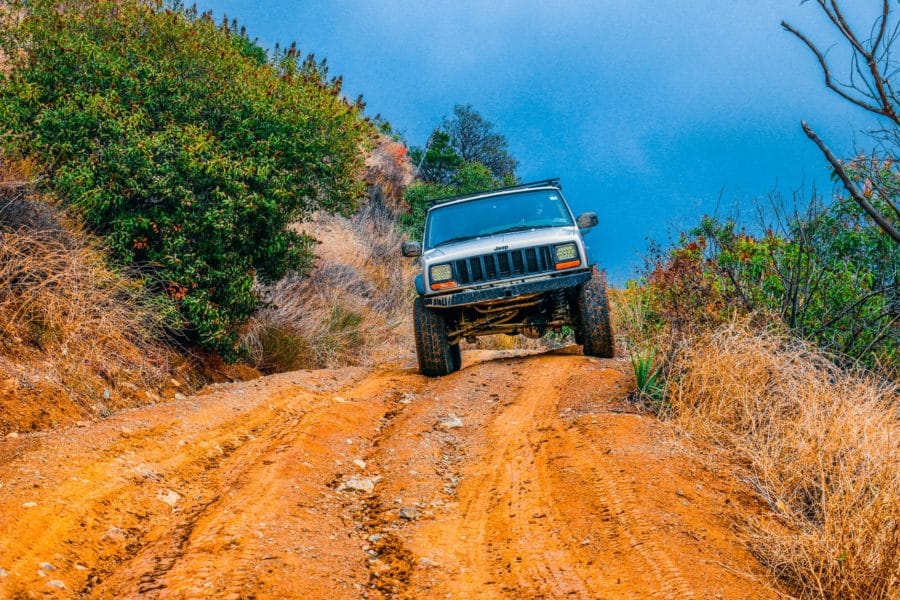 Depending on the terrain you plan to drive on, you will need to make sure your tires can handle it. Regular tires are just made for fairly smooth tarmac so if you want to go anywhere that doesn't have a road like that, you will need to step up your game and have a look at an off-road tire guide to see which is best for your trip.
Getting the right tires is important because you need to have enough grip on multiple terrain types to get to your destination. You also need to make sure that the car is stable while you drive so you aren't going to put your back out going over a bump. The better suited your tires are to different terrains, the more comfortable your trip will be and the safer it will be too.
Storing Extra Fuel
When you are far away from anywhere, fuel stations are, obviously, few and far between. This means that you need to think carefully about how much fuel you will need as running out in this environment is extremely dangerous. You could think about installing a long range fuel tank or bring jerry cans of fuel just in case.
Whichever method you choose, you need to make sure that you have enough plus spare to get to your next fuel stop. However, do remember that your vehicle will be weighted down with all your food and water as well as your clothes and whatever else you want to take. This means that you will go through fuel a bit faster than normal – especially if you are using your car battery to cook.

We have been wearing out our jandals (Kiwi for flip-flops) on our travel adventures around the world since 2009. We think our blog is thought provoking and a little witty. But we have been proven wrong before. Find out more about us here...