Facing my Fears – Hot Air Ballooning in Costa Brava, Spain
I'm not a huge fan of heights & when I was given the chance to face my fears while hot air ballooning in Costa Brava, Spain, I was a little apprehensive.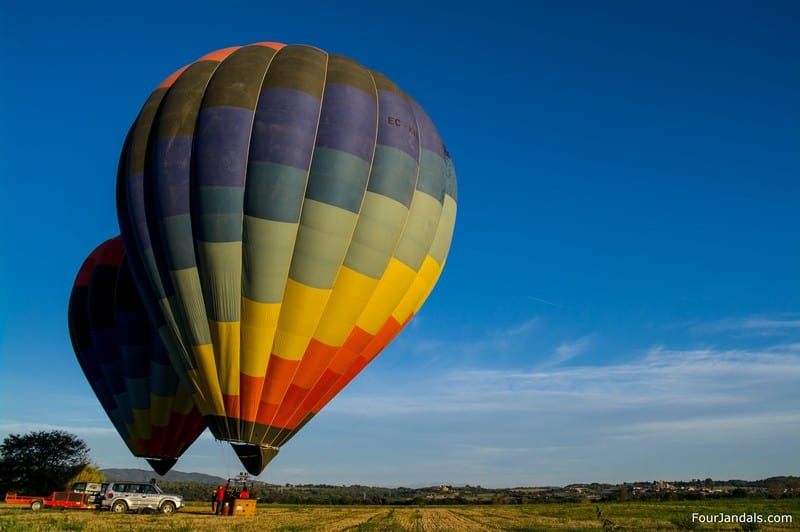 "Everyone holding on tight?"

"Brace! Brace! Brace!"
Not really the words I wanted to be coming out of our hot air balloon pilots mouth as we descended towards earth.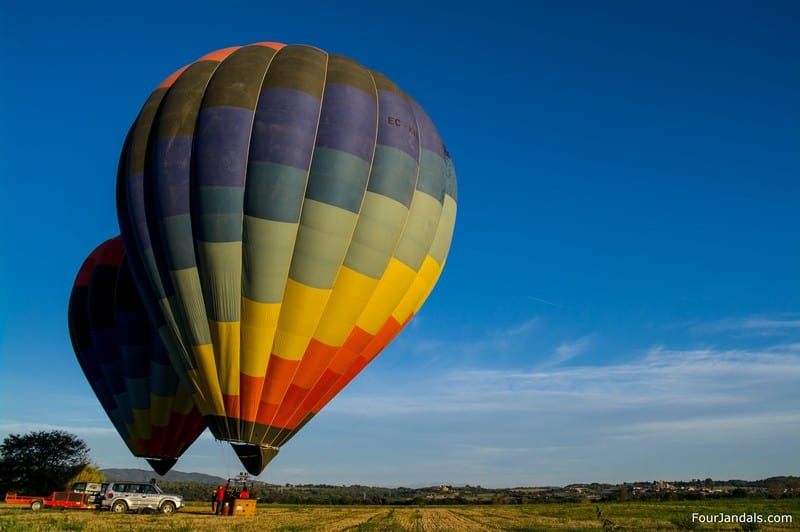 Even though I have always wanted to go hot air ballooning, I have not pushed it. You see, while Adela is not a fan of being underground, I hate being above ground. High above ground that is.
I don't do heights very well.
So how did I find myself on a crystal clear summer morning above the stunning Costa Brava coastline? Being told to "brace" as we descended towards a tiny clearing between trees and cornfields?
Hot Air Ballooning in Costa Brava, Spain
Rising before dawn is usually not a problem for me. I love sunrises. Even being told we have an awesome travel adventure high up in the sky doesn't faze me this early.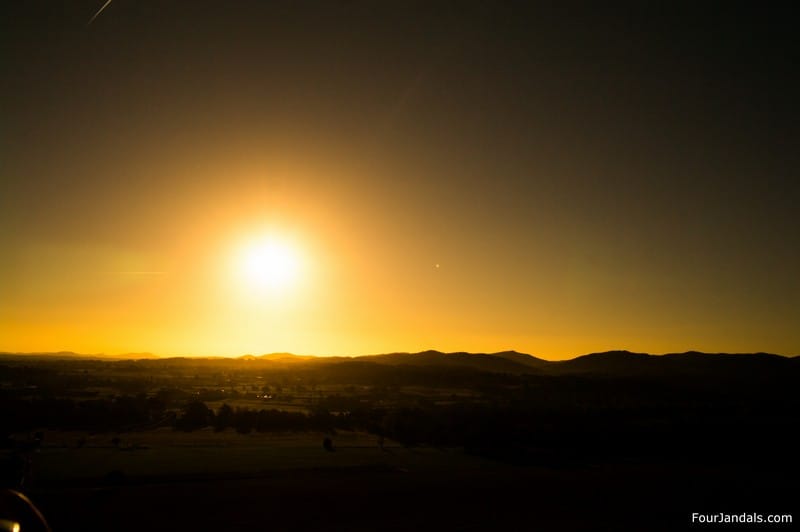 It is not until we are actually watching the balloons be filled with scorching flames that I begin to worry a little bit. How is a little bit of hot air meant to hold 10 full-grown adults up 1,000 meters in the sky? Not to mention 10 adults that have been gorging themselves silly on food and drink for the past week.
Climbing into what can only be described as a fruit basket for humans, I begin snapping away with my camera to avoid looking anyone else in the eyes in case they see my fear.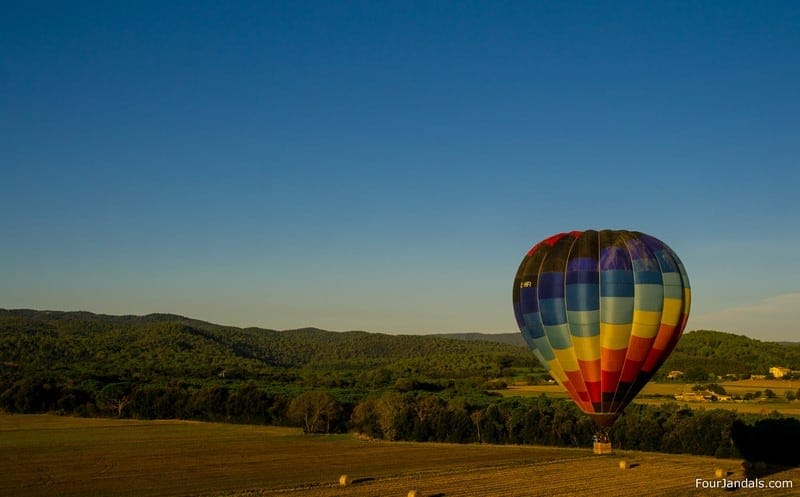 Pulling my eye from the viewfinder I quickly realise we have already drifted several hundred meters above the ground. I was so pre-occupied that I didn't even notice how gently we had taken off.
Maybe it has something to do with the sunrise peaking its blazing head above the Costa Brava skyline. Or the tight space we have managed to all squeeze ourselves into. Or maybe it is the extreme stillness and quiet between bursts of flame.
I realise it is not that bad up here. I am even breathing normally and able to look over the edge of the basket.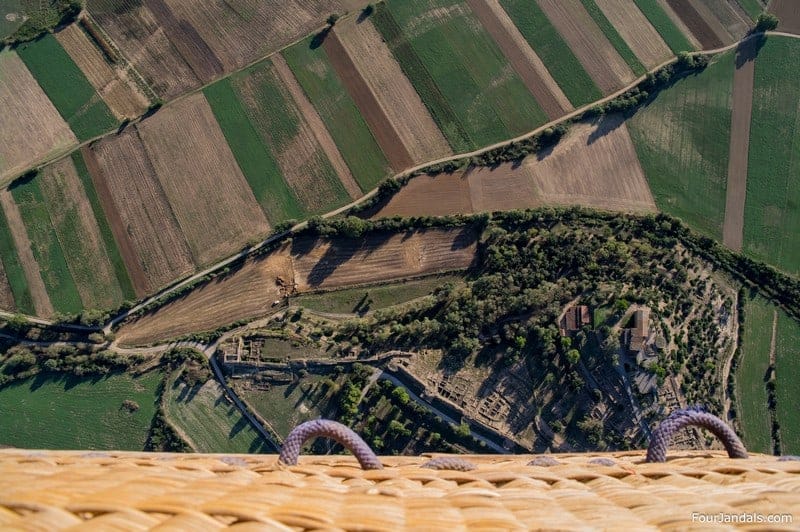 Okay, maybe not such a good idea.
But I am able to gaze into the distance towards the Pyrenees and across the stunning Costa Brava landscape. Farmland and Medieval towns drift silently below our feet. People go about their daily lives without even realising we are drifting above them.

In fact, it is not until we are starting to descend that the irrational fear begins to take hold again.
Our Spanish speaking pilot is gesticulating to our guide and interrupter that we are all meant to be doing something important. They both give nervous laughs before falling silent again.
Okay now would be the perfect opportunity to have finally learnt a second language like I promised myself at the beginning of the year.
Turns out that since we basically have no steering ability we are at the winds mercy. And with the coastline rapidly approaching it is time to take this contraption down to earth.
"Brace! Brace! Brace!"
Eyeing up the only clear patch of earth within a mile, our pilot is all business. The trees and houses that looked like miniature toys just a moment ago suddenly loom large directly in front of us.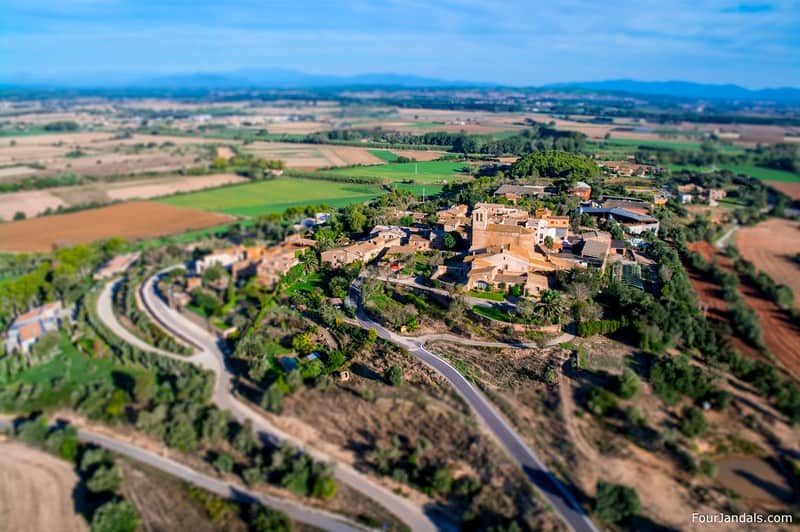 Instead of gently floating down in replication of our takeoff, we are drifting along quite quickly thanks to the wind picking up speed in the last 10 minutes.
My knuckles turn white as we brace our knees and back against the flimsy wicker basket.
And even though the command to brace is just a pre-caution, we still manage to bounce hard 3 times before settling down. A laugh escapes my lips as the tension eases from my muscles. And from the looks on the others faces, I am not the only one to be relieved we are back on solid earth again.
I had done it. I had conquered my fear.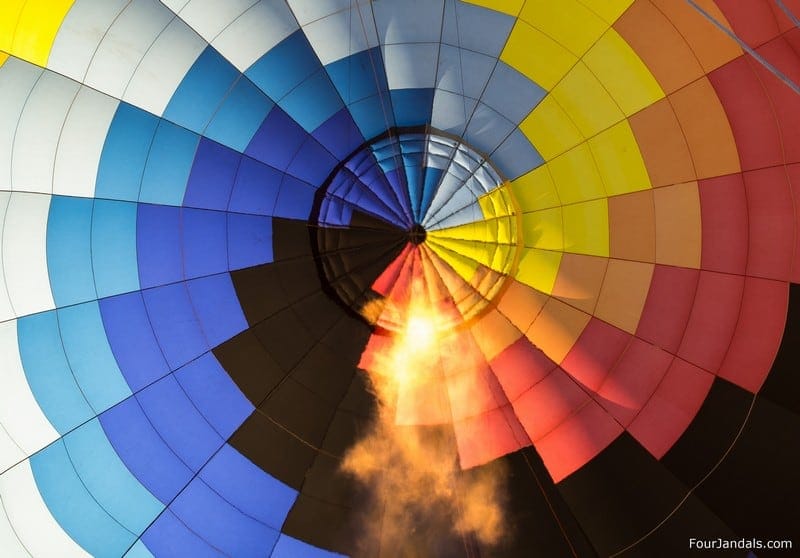 And if I ever get the chance to go hot air ballooning ever again, then I would jump at the chance.
I want to give a huge thanks to our incredibly talented pilot from Globus Costa Brava for taking me on a ride that will be forever remembered. And of course the extremely wonderful team at Costa Brava tourism board for helping me face my fears by organising the hot air ballooning in Costa Brava, Spain.
This is a post from a series called Facing my Fears. It helps us to step outside our comfort zone, in comfort. Check out the rest of the series here.
Disclaimer: I was a guest of the Costa Brava tourism board, but as always our fears, stories and photos are all our own.
Do you have a fear of heights or another phobia? How did you face your fears?
Popular vs. Underrated Destinations:How To Avoid The Crowd?
The biggest dilemma you have to face as an enthusiastic holidaymaker is whether to embrace popular destinations or to find lesser known regions for your vacations. Popular destinations have the advantage that they are experienced with tourists. You can be sure that you will find someone speaking your language and that hotel receptions will be open 24/7. But they are likely to be crowded to the point where it can be impossible to find a free spot on the beach or to walk down that famous avenue you've read about in your guidebook. Underrated destinations, in comparison, offer freedom of movement and peacefulness that you associate with a quiet pace of life. But they may not have all the necessary facilities to welcome tourists. You may struggle to find someone who speaks your language or even to get a decent hotel room, let alone direct flights to get there. In short, what's the best answer to this dilemma?
Popular destinations with a twist
When you pick a destination that is familiar to the tourist industry, it's both a blessing and a curse, as the available facilities and attractions are likely to attract hundreds if not thousands of same-minded tourists. However, these destinations are popular for a reason, so it would be a pity to avoid visiting marvels of the world just because you want to stay away from the crowd. Dubai, for example, receives every year a growing number of tourists, with estimations for 2020 to top 20 million. Needless to say, you'll need to find things to do in Dubai that avoid the main entrance to their attraction area. But, looking for concierge services in famous cities like Dubai, Paris or Hong Kong can get you access to a privileged network to avoid tourists.
Visiting Dubai without the tourists
The perfect mix: Destinations that are about to get trendy
There are some destinations that are getting the necessary infrastructure to welcome tourists without having yet become popular. They are destinations in the making, areas that are about to go big and that you can visit while they're not yet famous. The rising stars of the holiday industry are places such as José Ignacio in Uruguay – where you can meet the likes of Shakira among other celebrities – and Sofia in Bulgaria, which is Europe's cheapest city destination. In those places, you can enjoy quality visits, beautiful landscapes, and architectures, without forgetting the exquisite hotel services too.
Beautiful and underrated destinations offer peace
Finally, there are places that simply don't attract tourists for a reason or another. They are not specifically growing in popularity, but they remain hidden gems across the world. You will need to plan your holiday in advance, as some of these areas provide minimal comfort, such as the Basque Country which is a humble and quirky location. The Canary Islands, while being a highly popular spot in summer, is almost deserted in spring. There, you don't need to worry about holiday attractions.
The charm of the forgotten destinations
In short, picking the best destinations for you demands a little bit of logistics juggle at first. Nobody likes a crowded place, so you can avoid other tourists either by choosing a different tile in a popular area or by working directly with a privileged service. If you are not keen on a famous destination, visit rising holiday stars or forgotten jewels. You'll have fewer tourists but still a lot of fun!
Five Of The Best Ways To Soak Up Scotland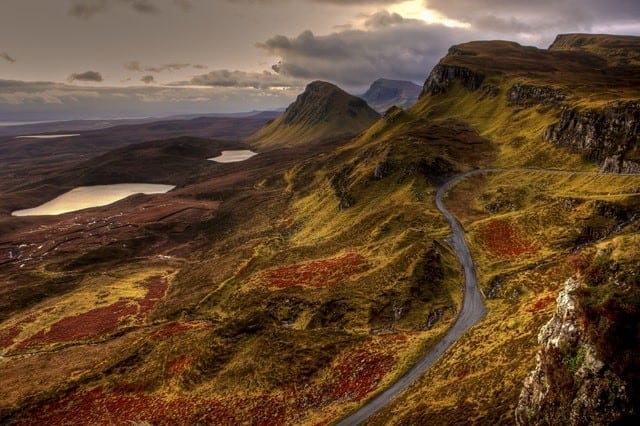 Rugged scenery, historic landmarks and a rich heritage – Scotland is a fantastic place to explore. With walking routes dotted between quaint cosy pubs, cities full with culture, and miles of beaches and scenic drives, there's really no excuse not to embrace the tartan. Here are some of the best ways you can explore and soak up Scotland's rich heritage.
Tour famous film locations
Scotland's landscape is stunning, so no wonder its dramatic scenery has been captured on the big screen. Explore the picturesque film locations, such as Glen Coe for James Bond's Skyfall moments. Visit Gairloch for the Billy Connolly classic, What We Did On Our Holiday where you can see views of the Isle of Skye from the expansive Red Point beach. Explore the Glenfinnan Viaduct in Lochaber for the iconic arched bridge that the Hogwarts Express chugs down in Harry potter.
By rail
Take the leisurely route around Scotland and travel by train. It's a much needed break from walking routes, with stunning views from the window that look out across the ever-changing landscape. Scotland's rail routes connect its seven cities with stops in many towns and villages across country, so you'll find it easy to delve into the West Highlands from Glasgow, traveling through the scenic Fort William, or roll past the battlefields of Robert the Bruce through Dumfries.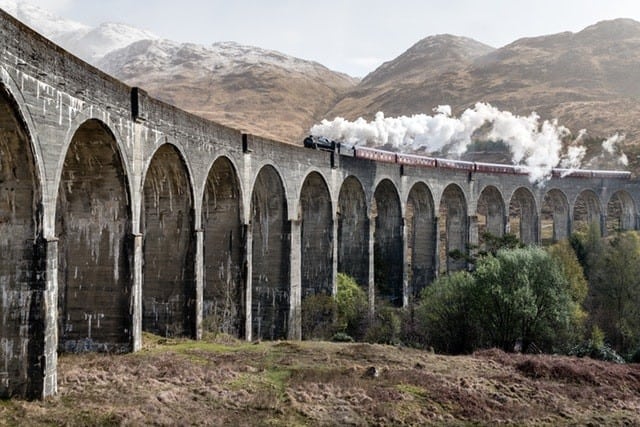 Walk, trek, stroll
Discover all the wonderful wildlife and nature on foot. Trek through the rugged countryside for unbelievable sights of the towering mountains, shimmering lochs, golden beaches and lush farmland. Find Lochan Urr in Glen Etive for a spot of paradise, stroll along Applecross Bay, or scale new heights for stunning views of Loch Lomond and The Trossachs National Park. For longer routes head to Fort William and Glen Coe for miles of green countryside.
Castle to castle
You'll find castles on top of, near enough, every rolling hill in Scotland. From pretty fairy tale castles to robust medieval fortresses, you can visit the most spectacular buildings all around Scotland. Enjoy strolling around the floral gardens looking up at the enchanting French design of Dunrobin Castle, on the northern coast near Dornoch. Explore Culzean Castle for dramatic scenes, or, Kilchurn near Dalmally in Argyll to gaze over the Loch Awe. Visit the royal stronghold, Fyvie Castle near Turriff for rich decor and 13th century furnishings. For something completely different, head to Kelburn Castle in Ayrshire for a colourful mural of unusual cartoons.
Cruise the Scottish waters
Take a look at Scotland from a different point of view by travelling Scotland's shores on a boat cruise around the islands. Visit the Isle of Skye, Stornoway, Port Ellen, Montrose and the picturesque Holy Loch Port. For something even more adventurous, canoe in the lochs and rivers around Fort William.
Sound good? There's so much to see in Scotland that you're bound to be mesmerised!
Top things to do in Cleveland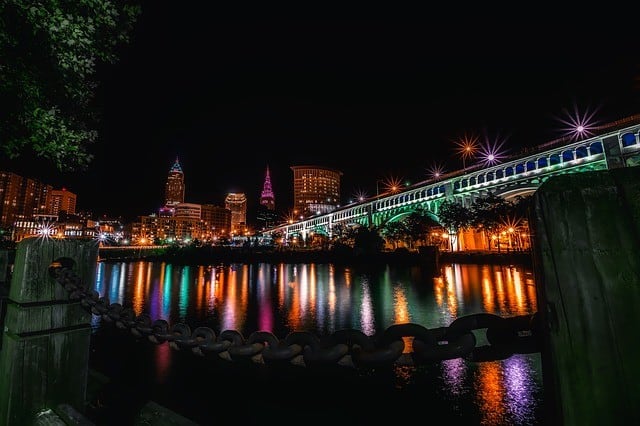 Cleveland, Ohio may not be a well-known city like the Big Apple or the sunny beach cities of California, yet there is still much to do in this small but very vibrant city. If you have been planning on heading out to this wonderful city, then you're in luck as there are numerous activities, attraction, and reservations that will be sure to educate as well as entertain the family.
Here is a small list of places and activities for the family and visitors to enjoy.
# 1 Hard Rock Rocksino
The Hard Rock Rocksino offers people a Las Vegas-esque kind of vibe and feel for the citizens and tourist of Ohio. If you love games, racing, elegant cuisine and just an overall fantastic night out on the town, the Hard Rock Rocksino is the place for you.
# 2 Outdoor Activities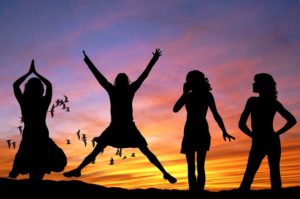 If you are someone who isn't too much into the nightlife and the whole city feel then Ohio still has you covered. Ohio indeed is one of the most aesthetically pleasing states to see and visit. Boasting and offering its residents and visitors sights and environments such as the Cuyahoga River in Lake Erie where people can go kayaking to The Townpath Trail where people can go jogging, hiking or horseback riding.
If you are an outdoor' kind of person than this is the place for you. Beautiful atmosphere, surrounded by nature and overall a sight that is awe-inspiring to look at – what more could an outdoors person as for?
# 3 Education – Family friendly Orientated Places
Now, ask yourself what type of family trip it would be if you just visit and didn't walk away learning something new and different? Well, in Ohio there are a plethora of places where you can take the family for an educational trip for the day.
There is the Cleveland Metroparks Zoo which boasts a wide array of animals from all around the world. There really is nothing more splendid for kids to see the animals that they love to imitate in person.
If the Zoo were fascinating and intriguing then the next destination, Greater Cleveland Aquarium would be sure to be as equally entertaining as the Zoo. When Visiting the Greater Cleveland Aquarium enter into an under that is akin to the Atlantis. Experience the aquatic lifeforms in such proximity.
Lastly, Ohio offers its residents and visitors many museums. There is the International Women's Air and Space Museum which educates the populace about the story of aviation and how much women had their part in history. And let's not forget the famous Rock and Roll Hall of Fame.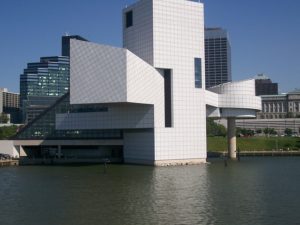 Final Thoughts
If you are deciding to visit this fantastic state, then be prepared for a wonderful visit and many cultural aspects that will be learned and offered. Make this trip a trip to remember with these places in mind.

We have been wearing out our jandals (Kiwi for flip-flops) on our travel adventures around the world since 2009. We think our blog is thought provoking and a little witty. But we have been proven wrong before. Find out more about us here...