Glentress is the UK's mountain biking mecca and is home to over 50 miles (80 km) of hand built and natural mountain biking trails.
If you have a full or half day to spare or even a few hours after work in summer and want to take part in some adventure travel activities to get the adrenaline pumping or just want to enjoy a casual ride with the kids through a beautiful setting then Glentress has something for everyone.
Getting to Glentress
Situated in the heart of Glentress Forest near the village of Peebles in the Scottish Borders it is only a short 40 minute drive from Edinburgh and 1 hr 15 minutes from Glasgow.
It boasts a huge selection of trails with a variety of different skill levels from the gravel and paved green trails to the expert black graded trails which are not for the fainthearted.
If you have never been mountain biking before then don't be scared. The Glentress Skills Area is the perfect place to start. It is green graded on a simple, safe and not-too-long loop which allows you to build confidence and practice your riding skills on features that you might encounter on the trails further up. Just tackle what you feel comfortable with!
Been mountain biking before (or just want to watch some crazy people in action)? Then the Glentress Freeride Park is where you want to head. With a variety of features including small, medium and large jumps it gives you a chance to showoff and improve your skills.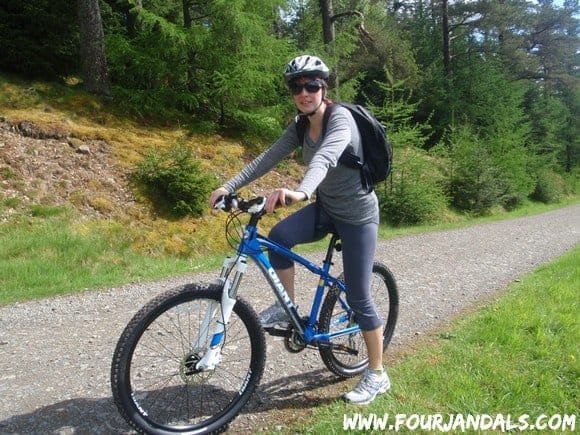 There really is something for everyone, which is why you can never get sick of the place as there is always new levels to progress to.
Riding at Glentress
When you arrive you have two options. Start at the bottom car park and start a hard thigh burning 20 – 30 min uphill slog. Or start at the second car park half way between all the trails.
I will never forget my first time there, I though I was doing pretty well when we started at the bottom only to watch as a woman boosted past me exclaiming it was her third time up that day!
Arriving in the second car park you can either take various trails back down, spend some time in the free ride park and skills area or keep climbing to reach more trails.
Obviously the higher you go the better the views. Overlooking the picturesque Tweed valley, sprawling green hills and cute houses dot the countryside. Absolutely fantastic on a rare sunny day in Scotland.
The best bit about the Glentress mountain bike park is that there are so many trail options you easily can do a different combination every time you go. Personally I like to ride right to the top then head all the way down to the bottom. That way you get at least 40 minutes of downhill.
Alternatively Cole likes to go up and down several smaller sections a few times to break the monotonous climbs. With all the smooth fast flowing trails merging together there are loads of opportunities to get up some serious speed in a controlled manner.
Our favourite blue trails like "Berm Baby Berm" and "Good Game" flow through the dense forest with small tabletop jumps that you can rollover if you are not that confident and berms to get you around the corners faster.
The world famous "Spooky Wood" red trail has a killer climb before one of the best descents ever. Starting with three rock drops the trails then just flows and flows and flows across open hill country before entering the dense forest below.
Glentress Facilities
Not only is the biking awesome but the facilities are superb too. There is a new café, plentiful car parking, an excellent bike hire store and a first aid center just in case all located at the brand spanking new Glentress Peel. For more info check out the local Glentress Forestry site with all your trail maps, guides and directions.
All these amenities give Glentress a great vibe and make for an excellent day out. We love sitting outside the café with a hard earned cake/coffee combo soaking up the atmosphere and listening to all the stories of the days riding.
So next time you are looking for some adventure travel activities, pack a picnic, pump up your tires and get out there!