The blazing orange ball dips towards the horizon line. While bright yellow Sunflowers twist to catch the last rays of sunlight sweeping across the silent valley floor.
Rows and rows of perfectly parallel grapevines line the hills. Their branches hanging low still thick with the plump fruit that will be harvested in a few months time to create thirst quenching wine.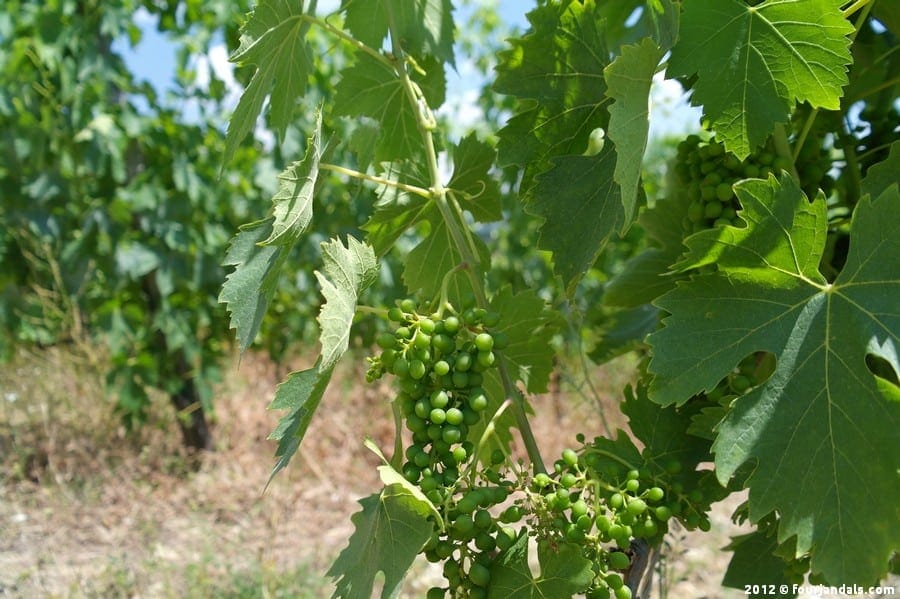 The smell of freshly cut golden bales of hay lie freshly bound across empty fields.
And black ribbons of tarmac coated with sticky tar, melted from the summer sun, twist and turn between the Tuscan farms. Dipping in and out of sight, the roads seemingly go on forever.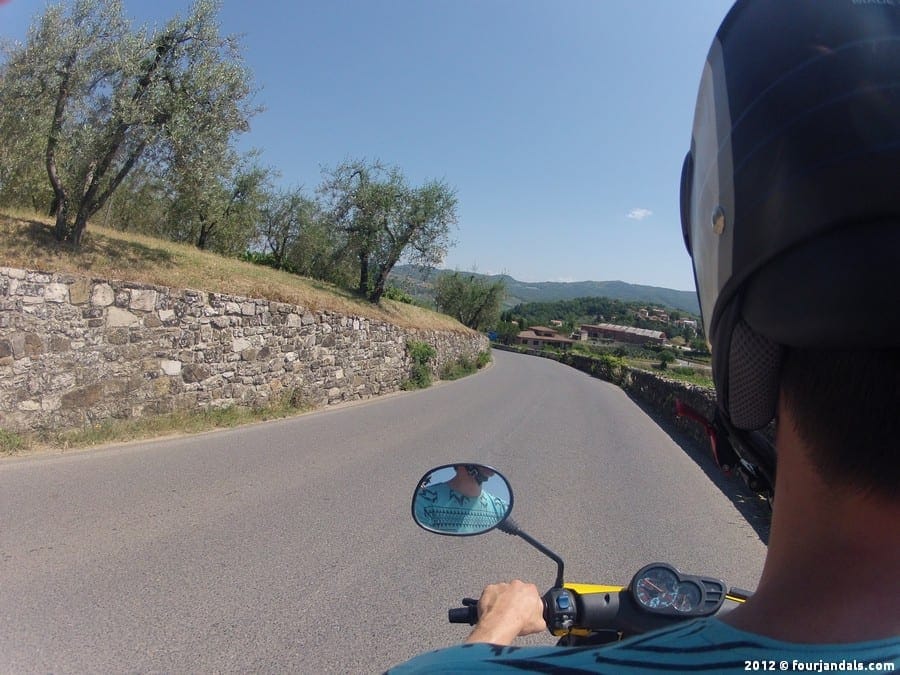 The silence is pierced only by a steady whine slowly building in the distance. It sounds like an entire beehive taking flight.
Bursting into the sunlight from around one of the twisting corners appears a single wheel attached to handlebars gripped by a pair of white-knuckled hands.
Two riders sit astride a sunflower yellow Vespa going hell for leather.
Urging the 100cc engine on, the driver gives another twist of the throttle. Leaning into the never-ending bends they sweep past the vineyards and sunflowers to disappear around a curve in the road.
Silence descends again on this remote Tuscan Valley.

If you had looked closer before they whipped past, you would have seen a manic grin plastered across my helmeted face.
My chest gripped like a vice by Adela's interlocking fingers. Her manic grin nearly wider than mine.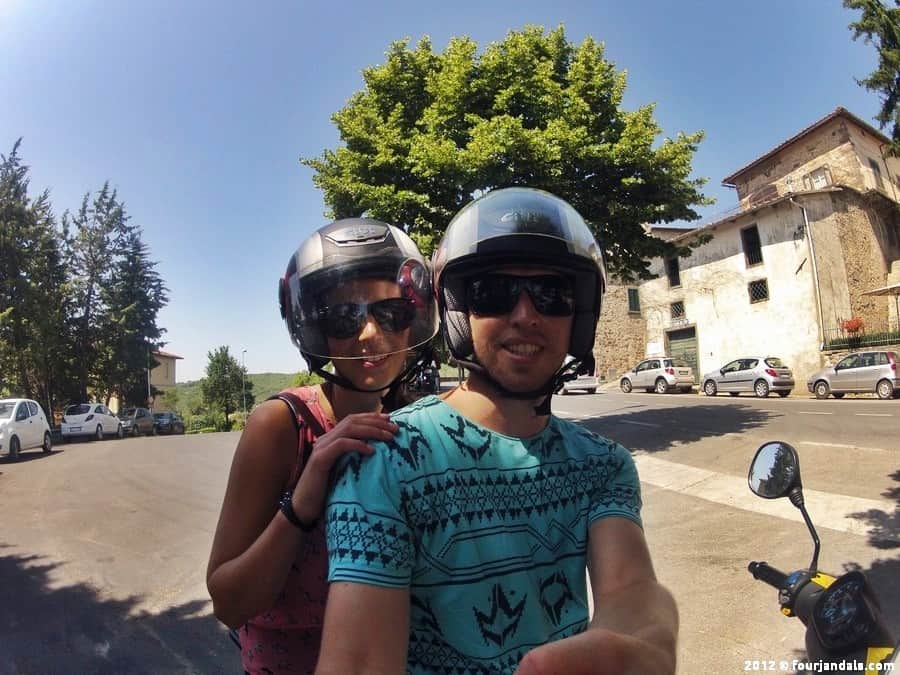 Exploring Tuscany by Scooter
Earlier that day we had unleashed the motoring beast within and spent the day exploring Tuscany by Scooter. Our hired 100cc scooter giving us one of our best adventures to date.
Our route was wild and unplanned.
All we wanted was to stick to the back-roads and find the cutest towns possible.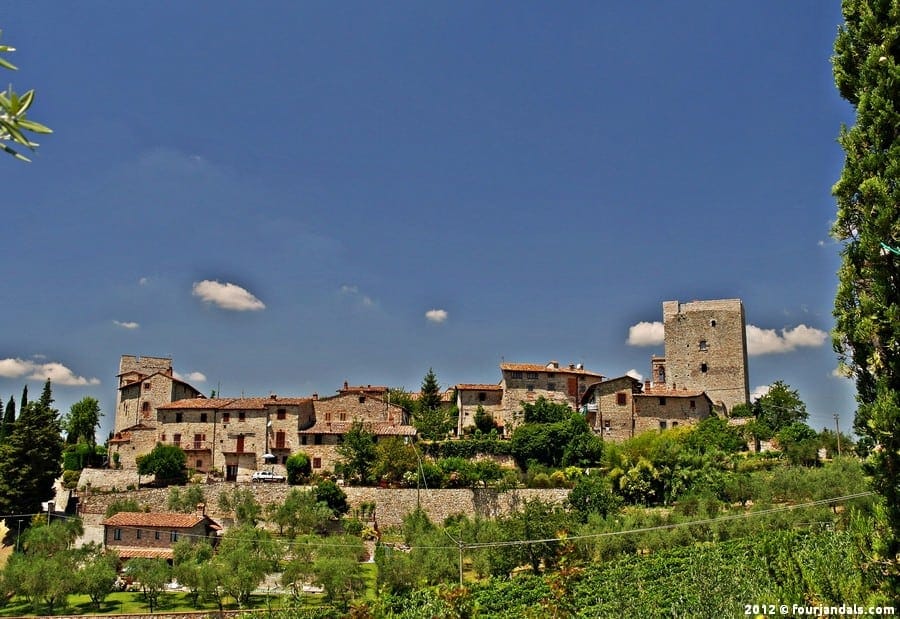 With a head full of ridiculously romantic visions and only 8 hours to take it all in we initially thought we had to move fast. That quickly changed as we cruised the empty roads.
Every bend revealed another sweeping vista with a village perched precariously on top of distant hills. The local town church spires guiding us to their coffee shops and sweet pastries.
Each of the villages only allowed access for local cars or motorbikes. And the usual hordes of tourists seemed to avoid them as they stuck to the main routes. Blissfully alone we zigzagged our scooter up narrow alleys before exploring deeper on foot.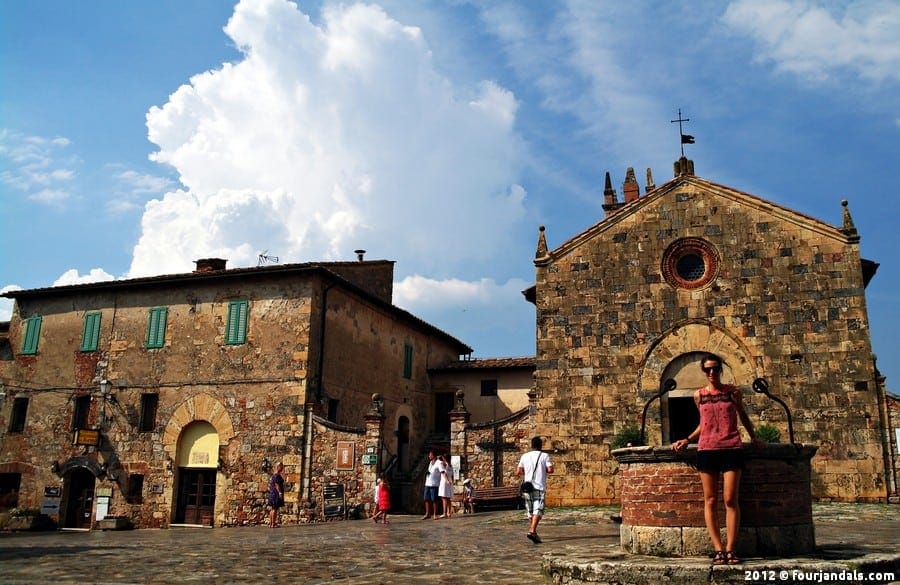 With recommendations from the locals in each town on where to go next we would blindly follow directions to find our next destination.
Places like La Porta di Kertine, an organic vineyard tucked off the beaten path.
The owner heard us puttering down the dusty gravel driveway and welcomed us with open arms. Even taking us on a tour of his vines. We were just sorry we could only fit one bottle of sweet Rose wine under our scooters seat.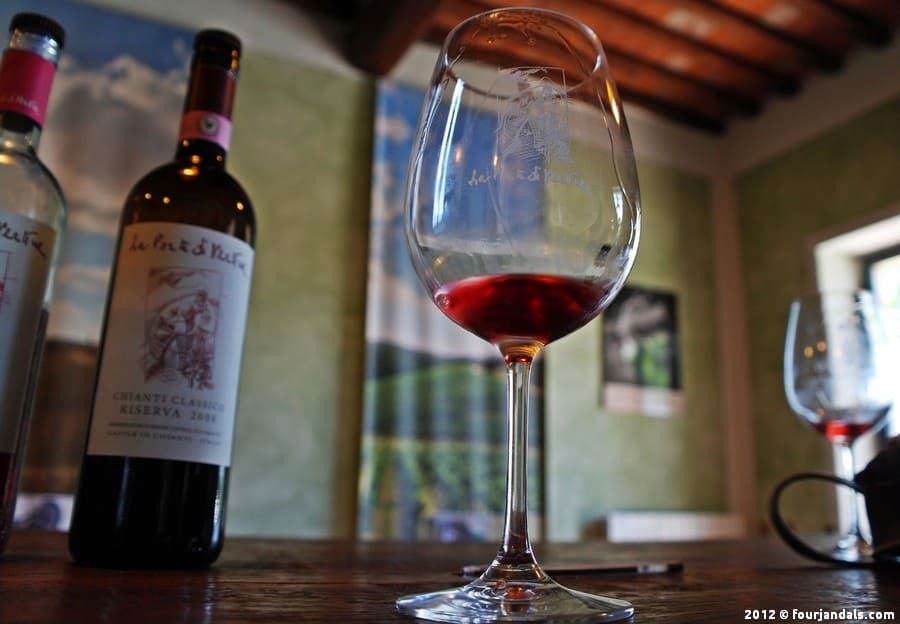 Even getting caught in the middle of a summertime thunder storm didn't give us reason to pause. Drenched to the bone we blasted on, quickly drying off when the torrential rained eased.
Wishing we could have stayed on the back of that yellow devil forever the light quickly faded as the sunset.
Sitting back with our bottle of Rose that evening we remembered the feeling of freedom and the beauty and emptiness around us. The perfect way to see a side of Italy and Tuscany that many don't.

Extra Travel Tips:

We stayed in Certaldo and can recommend the Fattoria Bassetto B&B and Hostel for travelling couples.

We rented our scooters in San Gimignano which is 35 km's from Florence. Easily accessible by train or bus and worth a few hours of exploring separately.

You have 24 hours so it is worth picking up the scooter the night before. It means you can set off early the next day.

Don't try to go too far. We only covered 140 km's on our scooter and stopped often. Also make sure you keep an eye on the fuel gauge as there are not many gas stations around.

Stay safe, obey the speed limits and be careful on the winding roads. Italian drivers can be quite aggressive although we only saw a handful of cars all day.