48 Hours in Edinburgh means you will only just begin to scratch the surface of Scotland's beautiful Capital. The beautiful architecture, huge number of historical sights, an array of free museums, great shopping, walking tracks and more bars than even we can keep track of are all tightly spaced so that you will be able maximise your visit.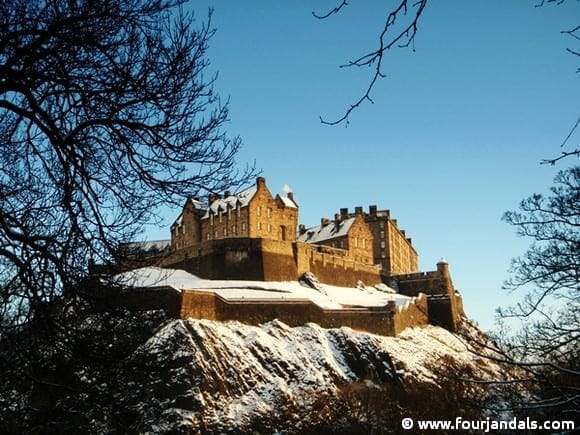 We would usually recommend 3 – 4 days but sometimes 48 hours in Edinburgh is all you have so we have highlighted all the best adventures and experiences in the itinerary below. By the end of it you will be absolutely exhausted but hopefully you will be satisfied and longing to come back.
48 Hours in Edinburgh – Day 1
If you need a recommendation of where to stay in Edinburgh then check out Sykes Cottages for some City centre apartments. From the city centre you will be able to start your morning with a quick warm up stroll up Calton Hill. It only takes five minutes to walk up and has panoramic views of Edinburgh, Holyrood Park and Edinburgh Castle.
It is also home to a number of Edinburgh's famous structures including the Scottish National Monument and the Nelson Monument.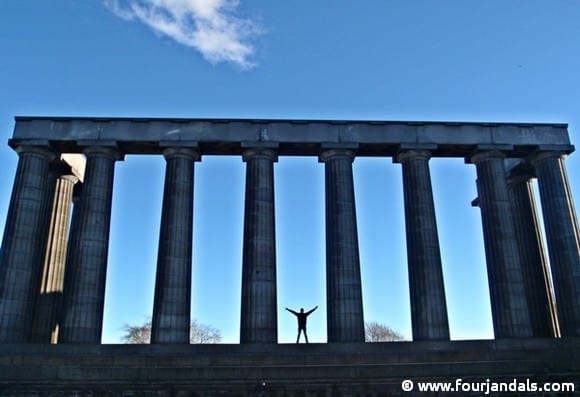 After getting your bearings from Calton Hill head on over to the world famous Royal Mile running between the Queen's home in Scotland, Holyrood Palace, at one end and Edinburgh Castle at the other. The Royal Mile is known as Edinburgh's "Old Town" and is packed full of tourist traps selling kilts and cute stuffed Scottish Highland cows. The cobbled lanes and narrow Closes (alleyways) add to the rustic feel and are great for exploring for a few hours.
About midway down the Royal Mile is a Starbucks and from outside you will be able to join the free Edinburgh walking tour run by New Europe Sandemans tours. These are completely free (although a small tip, £5, is usually expected) and are a great way to explore any European city including Edinburgh.
You will be able to familiarise yourself with the layout of Edinburgh and also learn some interesting facts that will make the rest of your sightseeing that much better. We make anyone that visits us in Edinburgh go on the tour as they are that good! Just be there 10 – 15 minutes before they start at 11am or 1pm as they can fill up.
Travel Tip: Wear comfortable shoes and DO NOT go hungover as while these tours are worth it they are at least three hours long.
After the tour you will probably want to rest your weary feet and Grassmarket is the perfect place to do this. Home to just some of the few 350+ bars in Edinburgh it is also home to some fantastic historical and traditional bars such as Last Drop Tavern and The White Heart Inn. These traditional Scottish pubs will also the perfect places to try some Haggis if you are brave enough.
Watch out for all the Stag and Hens parties which seem to flock to Grassmarket and get messy. If you want to join them on a night of partying then there are bunch of Pub Crawls available around the city. Or take the spooky option and join one of the many Ghost Tours that you can find in Grassmarket or on the Royal Mile.
48 Hours in Edinburgh – Day 2
To blowout the cobwebs from last night and get the blood flowing walk up Arthurs seat. While it may look daunting from the city there are lots of different routes you can take depending on how adventurous you are feeling. You can even drive if you are feeling that lazy. The views alone will be worth the small effort.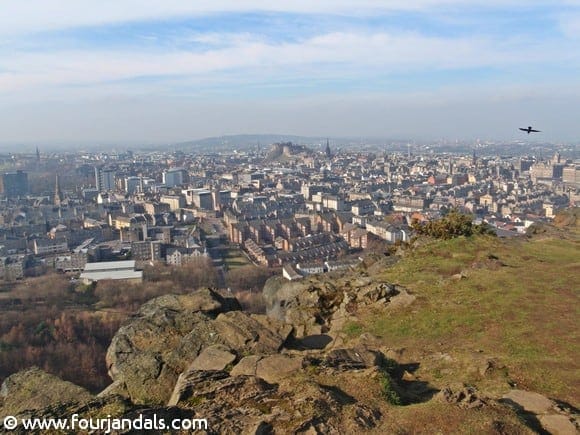 Depending on your route up Arthur's Seat it shouldn't take longer than two or three hours. This will get you back in time to visit Edinburgh Castle and see the One O'Clock Gun fired which is a tradition that has been going since 1861. Pencil in a few hours here is there is so much to see including the Scottish Crown Jewels, National War Museum, a dog cemetery, St Margaret's Chapel and THE STONE OF DESTINY!
Travel Tip: Purchase your ticket online to beat the queues.
With your 48 hours in Edinburgh coming to an end there are still plenty of options up your sleeve to finish with a flourish. For Art lovers the National Galleries of Scotland will be a must and the best part is that it is free.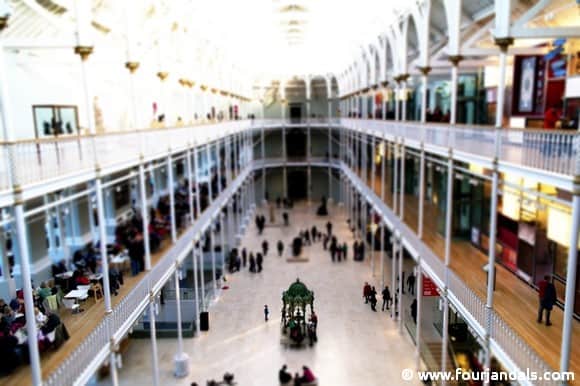 The National Museum of Scotland is a great option for families (or just big kids like ourselves) as it's a very hands-on interactive museum. There is even a replica Formula 1 car you can drive! If you are not much of a museum buff we would suggest shopping down Princes or George Street or for the more adventurous people a stroll along the Water of Leith or through the Botanic Gardens.
48 Hours in Edinburgh Map
Use our map below with all the sights mentioned in our itinerary to plan your route around Edinburgh. Click on the markers to see the sight and use the zoom and pan tools to move around the map.

View Four Jandals – 48 Hours in Edinburgh in a larger map
We hope you have a fantastic time in visiting Edinburgh and if you want any tips on where to eat or just relax please get in touch with us any time.
Plan your 48 hours in Edinburgh now and stay with Sykes Cottages.