ANZAC Day in Gallipoli – A Dedication
A few thoughts and words from our few days attending ANZAC Day in Gallipoli where we commemorated the ANZAC Soldiers killed in World War I.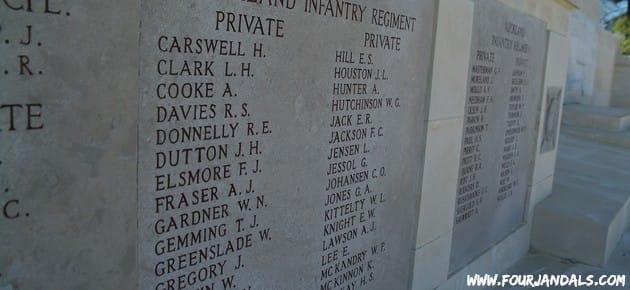 97 years ago on the 25th April 1915 tens of thousands of men and boys, most younger than me,stood on the shores of Gallipoli Peninsula. Britain had asked for something that could never be given back. Britain asked for what are now known as; The ANZACs.
These ANZACs, or more specifically the Australian and New Zealand Army Corps, were lured to the shores of Turkey during World War I by the sense of adventure, travel and the glory of war. What the ANZACs didn't know 97 years ago was that more than 10,000 of them would never see their families again. All in the name of protecting our nations.
For that, we are eternally grateful.
ANZAC Day in Gallipoli
We can only begin to imagine what must have run through the minds of those soldiers as the dawn broke across such a magnificent landscape. Was this the adventure that they sought months ago in New Zealand.
At the beginning, probably. By the end of the first day, I think not.
Sitting in the cold at ANZAC Cove overnight on the 24th April we feel lucky to have our sleeping bags to keep us warm. While all they had was courage and the beginning of what would become the birth of a nations identity.
ANZAC day in Gallipoli is a pilgrimage for Kiwi's and Australian's. Every year thousands of young, and old, travel thousands of kilometers to the same shores that many of our grandfathers and great-grandfathers stood all those years ago. There is a strong need for us to see where our heritage comes from.
The 9 months in the trenches of ANZAC Cove also created strong bonds that have become known as "mateship". It is a bond between those men in the trenches that was born from the need to form a lifeline to your home and family through your friends. Living and dying in such hellish conditions halfway around the world will quickly create that unbreakable bond.
And I believe that is why so many survivors refuse to speak of what happened during World War I.
ANZAC Day in Gallipoli Dawn Service
As the dawn breaks, the darkness that grips ANZAC Cove is broken while the silence is broken by a high pitch Waiata (traditional Maori word for song) welcoming us to the ceremony and commemorating those that were lost. Just as it was on the 25th April 1915 the beautiful shoreline of the Aegan Sea and rugged steep Turkish cliffs at our backs are revealed in the morning light.
Beauty surrounds us everywhere on Gallipoli Peninsula and we cannot comprehend how such a place of stunning wilderness could have seen so much bloodshed. The ground beneath our feet must have run red with the blood spilled from so many ANZAC and Turkish soldiers.
Our sleep filled eyes are quickly forgotten as you suddenly remember what we have come to Gallopoli for. We have come to honour those who fell on distant shores. And honour we do.
Once the dawn service has finished in ANZAC Cove it is a tough3.1 km slog uphill to the Lone Pine, site of the Australian service. And then another 3.2 km further up to Chunuk Bair, the site of the New Zealand service. Huffing and puffing in the early morning light under the scorching sun we have to keep reminding ourselves that this is nothing compared to what our soldiers went through.
I don't know how you could but try to imagine that uphill slog with an 80 pound backpack. Oh yea, don't forget that your friends are falling in the hundreds around you and bullets continue to fly around your head. Any second could be your last. Like I said, pretty hard to imagine.
Reaching the individual and personalised ceremonies is a really special feeling. Being surrounded halfway around the world by thousands of your fellow countrymen is a very moving experience. In fact, there is probably nowhere else in the entire world where New Zealander's and Australian's have such strong ties to a country.
A final thought.
Attending the celebrations, and I use the word celebration for all it is worth as it is a celebration of countries coming together, was a very moving and once in a lifetime experience for us. Being able to share it with our fellow Kiwi's and Australian's will forever hold a special place in my heart.
The most amazing feeling that I took away from the entire experience was that we were not even in our own countries. Here we were standing on the Turkish shoreline remembering a war in which so many of our own soldiers killed Turkish soldiers. But we are continuously welcomed. After so much horror for both sides we are still all able to come together out of a mutual and strong respect for one another.
For that we are thankful.
Lest we forget.
Overlooked and Underrated Euro Vacations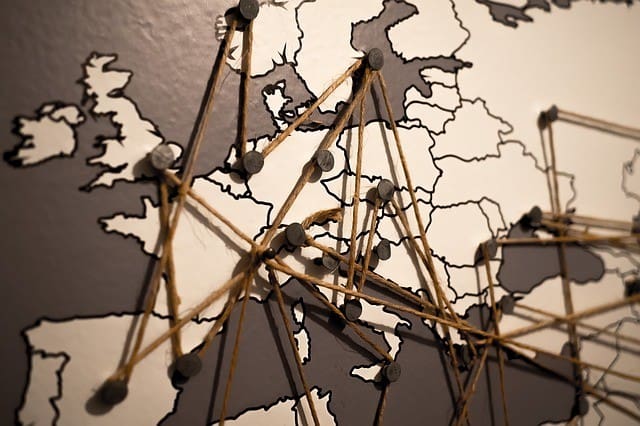 Here's a quick list of places to possibly include in your next European itinerary. 2018 is the year of the underrated vacation spot in our humble opinions, and we want to honor it.
Basque Country: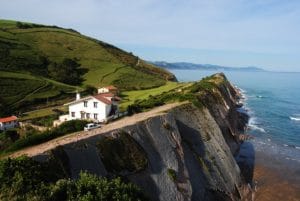 This place is in this author's humble opinion easily and hands-down the most underrated little corner of Europe.
And honestly, between the two, the Spanish side of Basque country is going to cost you probably around 50% what the French side will, and most people in the know will agree that the Spanish side is at least 100% more fun!
Canary Islands: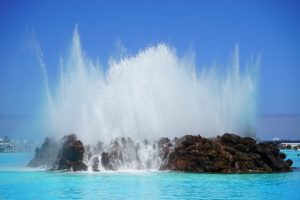 There are two ways to do the Canaries: simply fly in and enjoy them, or treat yourself and a loved one to a romantic Canary Island cruise.
Best time to visit is definitely either spring or fall, as it does get quite cold in the winter and quite hot in the summer. If you are a beach bum, on the other hand, summer is best (but there will be a lot more tourists in the summer).
Siena, Italy: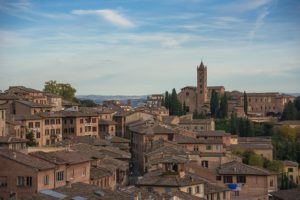 This city is often overshadowed by Rome, Florence, and Venice, but it actually is arguably the best-preserved city in Italy and has the best historic city center. The cuisine here is absolutely to die for, and you won't have to pay inflated tourist prices like you will in the aforementioned places either!
If you can, try to make it for the famous Palio, a horse race that has been going on literally for centuries.
Brussels: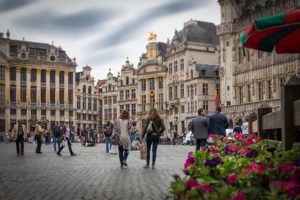 Just as Siena is overshadowed by other bigger Italian cities, Brussels tends to stand forgotten next to London and Paris. But Brussels has key elements of the two metropolises, as well as its own unique and delicious cuisine, its own beer (considered by more than a few experts to be the worlds best), and easily the worlds best chocolate, both in solid and drinkable form. Belgian chocolate will seriously change your life forever.
Istria, Croatia: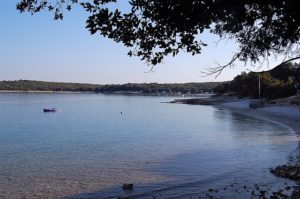 This is one of the world's best summer beach destinations. It's incredibly beautiful, and by Western European standards, almost outrageously cheap.
Hipster tourists are starting to come in and drive prices up, but it still remains a great bargain by any standards, and most importantly, it's a bargain without really having to give up any of our beloved amenities.
Budapest: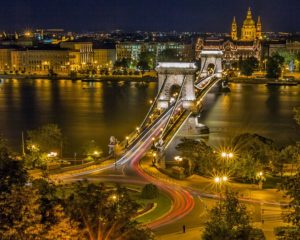 Budapest could be called the poor man's Prague, but in reality that name isn't very fair. For one thing, Hungarian culture and Czech culture are actually extremely different (for one thing, the Hungarian language isn't in the same family as the rest of Europe, it's its own thing completely, like the Basque language).
Prague is gorgeous, but it's getting almost as expensive as the rest of Europe too, and honestly Budapest's history and culture is much more interesting, especially for the seasoned traveller.
Top Things to Do When Visiting Frankfurt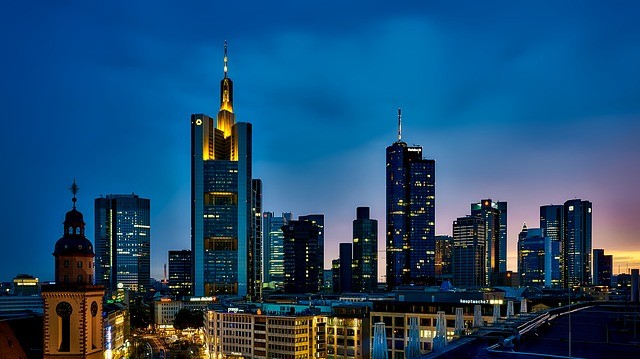 Frankfurt is the financial heart of Germany, located in the state of Hesse, and on the banks of the river Main. The city is known as a gateway to Europe, with the large Frankfurt International Airport being a popular hub for both commercial and private jets. However, the city itself offers plenty for visitors and makes a great place for a vacation.
Main Tower 
Frankfurt is known for its modern skyline and the best place to take in the view is from Main Tower. Named for the river that runs through the city, you can take an elevator up to the 650-foot high viewing platform to see some amazing views across the city.
There is also a bar and restaurant there offering an international menu.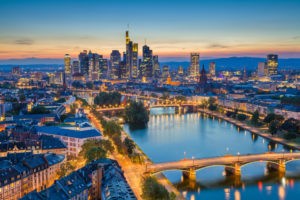 Goethe House
One of the most famous people from Frankfurt is the writer, Johann Wolfgang von Goethe, who is one of Germany's most important authors. His original home was destroyed during World War II but has been carefully restored including original furniture, paintings, and family books. It is now a museum where you can even see the desk where he wrote 'The Sorrows of Young Werther'.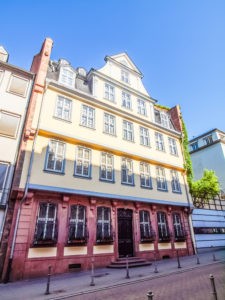 Romerberg
The Romerberg or 'Roman Mountain' is the original heart of the city, where the first trade fairs were held back in the 13th century. It has been restored to look as it did when it was first built so there are many stunning buildings there. Most notable is the Rathaus, or City Hall, which dates from 1405 and is surrounded by half-timbered houses.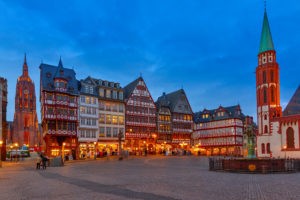 St Paul's Church 
St Paul's Church, or Paulskirche, was built in the early 1800s but is notable not for its history as a church but as the cradle of German democracy. It was here that the first freely elected German parliament met in 1848 and held political meetings. It is now used for exhibitions and special events.
 
Museum Embankment
Museumsufer, or Museum Embankment, is the location for many of the best museums in Frankfurt including the German Film Museum and the Städel Museum which is home to many works of art from the old masters. The largest flea market in Frankfurt is also held here and takes place every Saturday.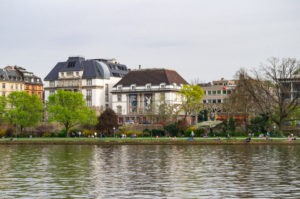 Zeil 
Zeil is a pedestrianized zone in the center of Frankfurt and a popular shopping destination,  known as the Fifth Avenue of Germany. Zeil features modern shops, a 10-storey shopping center, and plenty of small, independent stores where you can find something unique.
Want to explore Frankfurt and visit its most famous sights? Then charter a private jet so you can travel to the city in luxury. Contact Air Charter Service to get a quote for your private jet charter today and kick off your vacation to Frankfurt in style.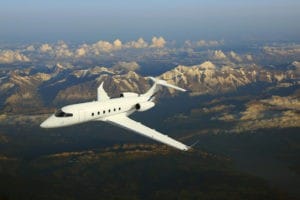 Gambling Around The World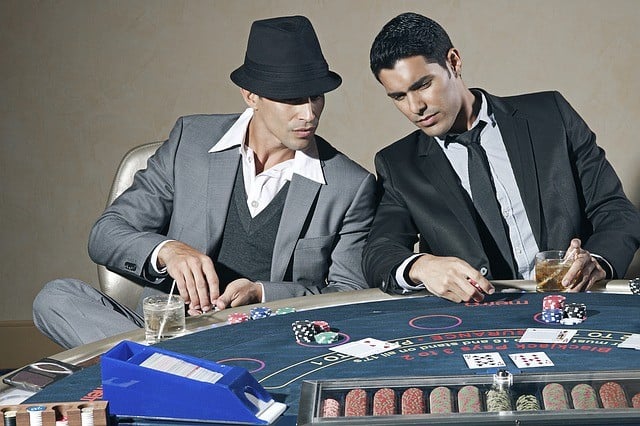 Gambling in 2017 has many different facets, some of them new, some of them going back literally thousands of years.
Some of us like to just stay home and play online, look for the best casino bonuses and have a great time from the comfort of our home sweet homes. And there is certainly nothing wrong with that.
But maybe you are travelling and you would like to check out the local casinos. We are going to include a quick list of the world's hot spots for gambling in case you come near one of these places, or just get the brick and mortar casino bug and want to check them out.
Monte Carlo: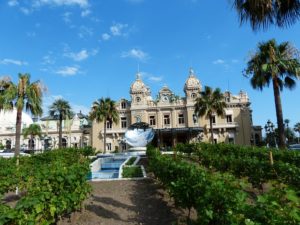 This is perfect for people who want to combine the classic gaming experience with spectacular views of the Mediterranean. Definitely you have a history and a tradition here not to be felt anywhere else. This place is not cheap, but it's worth every penny.
Aruba:
This one may surprise you, as people don't think of it as a gambling destination, but it's one of the world's best, with 24 world-class facilities, and of course, everything else to cater to tourists to a T.
It's also worth mentioning that most of these destinations are also beach destinations, but out of all of them, Aruba's beaches are hands-down the best.
Macau: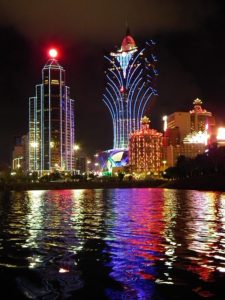 Once owned by the Portuguese, in today's world, Macau is part of China, but considered a special administrative district, in the same fashion as Hong Kong. Since a long time ago, it has been a famous destination for gamblers, and gambling and tourism make up a whopping 50% of its economy.
Las Vegas:
Las Vegas is all about big! It has the biggest concentration of casinos (over 75 next to each other on the strip), some of the world's biggest casinos, and biggest hotels. There is no doubt that this still remains the premier destination for people who are serious gamblers, no matter where in the world they may come from. No self-respecting high roller lives his or her life without at least one stop in Vegas.
Atlantic City:
This is the smallest of the destinations in this list, but not to be easily discounted. Many people prefer the relaxed vibe of Atlantic City compared to other destinations, and if you live anywhere between New York and DC, the proximity is a huge draw. And of course, the famous boardwalk is still there, and still as nice as ever in season.

We have been wearing out our jandals (Kiwi for flip-flops) on our travel adventures around the world since 2009. We think our blog is thought provoking and a little witty. But we have been proven wrong before. Find out more about us here...