A Crash Course Itinerary for Seeing London in 48 Hours
Itinerary for Seeing London in 48 Hours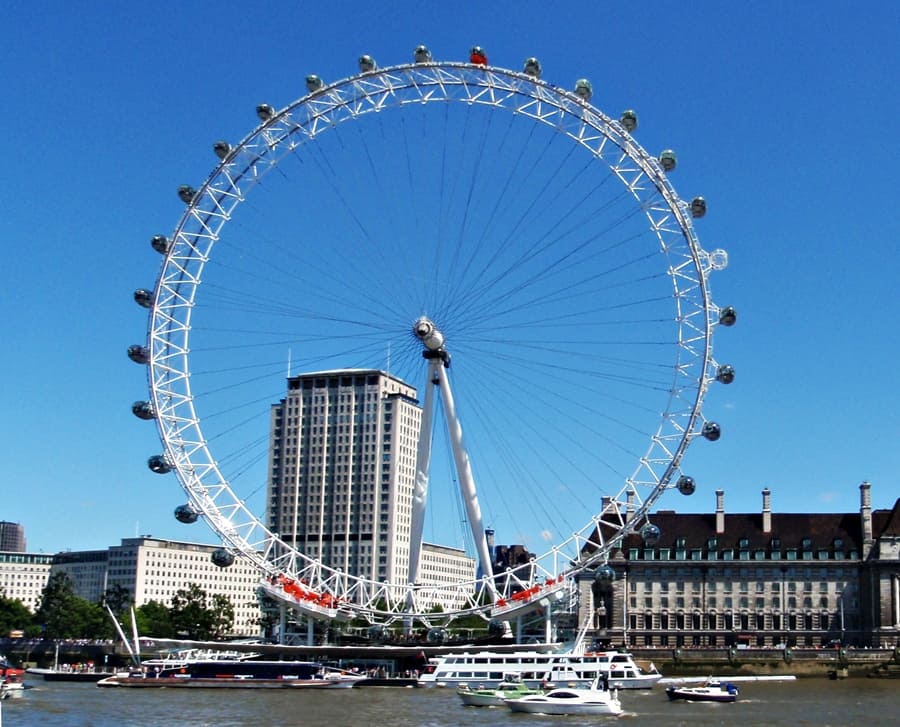 London is a huge city with many attractions to see and many plenty to explore, but sometimes you can only swing a short trip or a few hours to kill during a long layover. With a tight itinerary in mind, here is a plan for eating the best and seeing the most of London in 48 hours.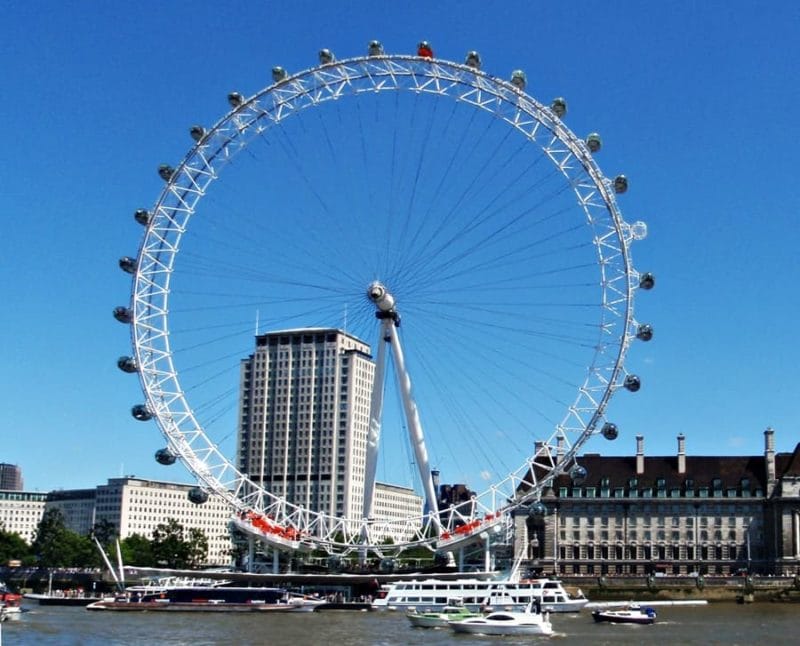 Itinerary for Seeing London in 48 Hours
Day One
Head out early to beat the crowds at Buckingham Palace, a top spot on every visitor's itinerary. Snap some pictures of the famous façade and try to make the guards laugh before 9:30am when tours of the palace begin.  You'll be one of the first in line!
Next, walk along The Mall and turn at St. James' Palace, grabbing a pastry at The Wolseley. Check out the neon signs and the fountain of Eros in Picadilly Circus, then follow Regent Street to Trafalgar Square, home to Nelson's Columns and the world's tiniest police station.
Make your way to Horse Guards Parade, where many large-scale public events are held.  Pass under the main archway toward Downing Street, home to the British Prime Minister.  With all of that walking, you'll be ready for lunch.  If you haven't caved yet, continue to Big Ben, grabbing a bite at the historic St. Stephen's Tavern Pub right across the street.
Cut across Parliament Square to Westminster Abbey, host to huge British moments, including coronations, funerals, and royal weddings (including that of Prince William and Kate Middleton in 2011).  The Abbey is closed on Sunday, so plan accordingly in order to get inside.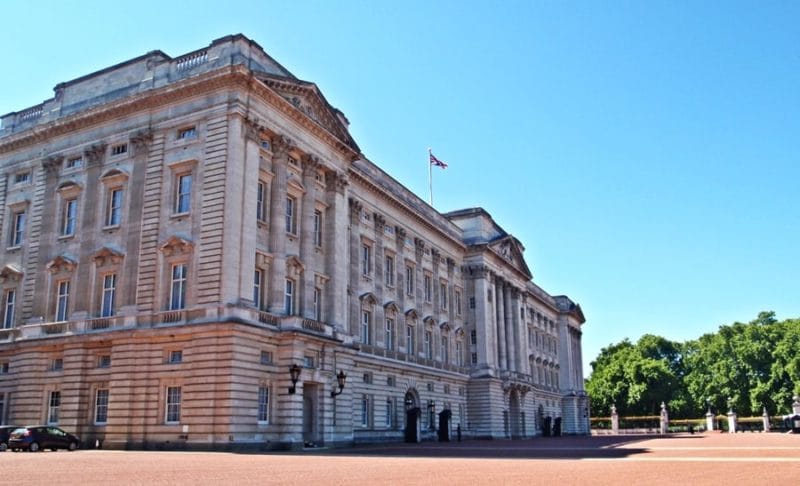 Pass by the House of Commons and the Palace of Westminster, crossing the River Thames to the London Eye for an incredible view.  Back at Westminster Bridge, take classic double-decker bus #148 to Grosvenor Gardens.  Enjoy an award-winning Afternoon Tea at the nearby Goring Hotel.  Wrap up your day in the West End, home to restaurants, nightlife, and theaters galore.
Day Two
Fuel up for your day with a full English breakfast, locally called a fry up.  You'll get a huge plate of eggs, bacon, potatoes, beans, toast, and more.  Priding itself on local ingredients, Roast serves up the best in town, and its setting overlooking Borough Market is pretty great, too.
After breakfast, walk to nearby London Bridge and along the Thames to often-photographed Tower Bridge.  Cross over and check out the Tower of London, home to the Crown Jewels.
Make your way to the Great Tower Street bus stop (15 or N15) and hop on board, enjoying views of the beautiful St. Paul's Cathedral and Somerset House.  Exit at Savoy Street and walk to Covent Garden, a bustling marketplace filled with street performers.  The area is packed with restaurants and pubs, so now would be a good time to grab a pint or some lunch—try The Harp in Chandos Place, the Lamb & Flag, or The Freemasons Arms.
The British Museum houses an amazing collection that includes the Rosetta Stone and the Elgin Marbles Parthenon sculptures.  It's free to enter and open daily, so there's no excuse not to go!
Next, stroll through Soho, checking out the shops on Oxford Street, then jump on the Tube at Oxford Circus, getting off at Knightsbridge.  Swing by Harrods before heading to Kensington Palace, home to the newest royal couple, and its gardens.  Finish the day with traditional fish and chips—the best are found at North Sea Fish in Bloomsbury and Golden Hind in Marylebone.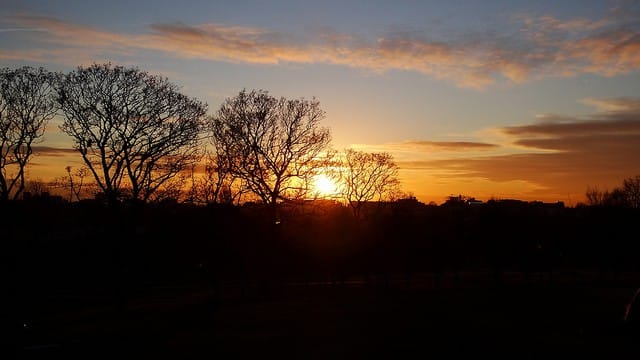 Getting Around Town
The quickest and most efficient way to get around London is via its extensive Tube system.  This underground train service has 12 lines and 270 stations.  Millions of people ride the Tube each day in order to travel throughout the city.  Ticketing is charged according to the zones through which you're planning to travel, but as most of the city's main attractions are all within Zone 1, things shouldn't be too complicated.  Riding the Tube is a attraction in and of itself–be sure to admire the stations, as many of them contain fantastic artwork.
Another option for getting around in London, and one we suggest using a few times in our itinerary above, is by bus.  The city has 700 different lines, many of which use the iconic double-decker red buses.  While riding the bus may not be very efficient if you get stuck in traffic, it will offer you a chance to see more of London while you're traveling between destinations.  The same goes with a taxi, which are readily available throughout the city.
For those who like to be active while on vacation, and like to get to know a location up close and personal, bike rentals are available all around town.  Hundreds of rental stations are located strategically throughout London and rates are very economical: free for the first half hour and just £1 per hour after that.
Where to Stay
London offers a fantastic mix of hotel accommodations, with everything from 5-star properties to money-saving hostels.  With accommodation options scattered in and about all of the main attractions in London, you'll be able to plan your stay accordingly in order to maximize your time.  After all, if you only have two days, it's key to stay close to the big-name sights in order to avoid wasting precious time traveling around.  Choose a London hotel in an area where you'll spend most of your visit: Mayfair, Soho, West End, or Westminster.  While Mayfair and Soho might be a bit more pricey, they're also right in the thick of things.  Westminster is very convenient to the historical government-related part of town. And, of course, the West End is where you'll likely be spending your evenings, so choosing a hotel in that area will mean having a nearby place to crash after a long day and night on the town. Here are some recommendations in those four fantastic, and convenient, London neighborhoods, broken down by budget:
Splurge
A classic hotel, The Savoy is all luxury, all the time.  The top choice of celebrities and politicians, guest rooms overlook the Thames and the London Eye.
Well-known luxury Mayfair hotel Claridge's offers every amenity you can imagine, in addition to a great location and spectacular service.
45 Park Lane is consistently voted one of the most luxurious hotels in London.  Overlooking Hyde Park in the Mayfair neighborhood, the hotel assigns each guest their own host, who will make sure that every aspect of their stay will be perfection.
Mid-Range
Dean Street Townhouse, in the heart of Soho, is perfect if you plan to enjoy London nightlife.  With rooms starting at £95, you'll enjoy comfortable accommodations and an ideal location.
Those looking for a typical hotel experience can check in to the Radisson Blu Edwardian Berkshire, which offers spacious accommodations right off of Oxford Street.
The Doubletree Hotel Westminster is located right in the middle of a bustling neighborhood that is close to all of London's biggest attractions.  With floor-to-ceiling windows, you'll be able to take in gorgeous views while enjoying your contemporary guest room.
Budget
The Pavilion Hotel is perfect for those looking for something on the quirky side.  With fashion and rock and roll coursing through its veins, the rooms start at £60.
With simple, straightforward rooms starting at £39, the no-frills Easy Hotel, London Victoria, is great on the wallet, especially if you'll be spending most of your 48 hours out and about.
Located near Oxford Circus, The Astor Court Hotel is housed in a former gentlemen's club, but you'd never notice it given that the guest rooms have been remodeled so many times, each one unique and interesting.  And with rates starting around £24 a night, you won't be able to beat either the location or the price!
FlightHubs Travel Tips for Visiting Montreal for under $25
Visiting Montreal for under $25
Montreal is an island-city located in the lower end of the St. Lawrence River, in Quebec and is affectionately known as the mini Europe of North America. With its historic landmarks, and stunning views Montreal also happens to be a budget traveler's dream destination! As one of the most affordable places to visit in the world, enjoy the city like a local without breaking the bank! FlightHub Review brings you all the best of Montreal on a shoestring!


Start your day with a cup of coffee from one of Montreal's many delicious and local cafes! Whether you're in the up-and-coming area of St. Henri, or if you're in the trendy area of the Plateau, you're choice of coffee providers are endless. FlightHub suggest splurging a bit and grabbing a café au lait and a croissant from Au Kouign Amman bakery on Mont-Royal Avenue. This authentic Brittany bakery is open 7 days a week, with pastry chefs working tirelessly to bring their customers only the best croissants this side of the Atlantic Ocean. For less than $3, you're ready to start your day!
Now that you're fueled up, FlightHub recommends visiting any of the numerous museums Montreal has. Gain free entrance and access to the permanent collections of the museums, and spend your morning wandering around the beautiful buildings! If you're looking for a different museum experience, then FlightHub suggests heading to the Redpath Museum at McGill University. With a suggested donation of $5, step inside the Victorian building and marvel at the unique oddities and artifacts collected for the museum!
Next on your to-do list while in Montreal is to get out and walk everywhere! Montreal is a small city and despite being home to more than 1.6 million people, the downtown core and surrounding areas are easily accessible by walking! If the weather is nice, then grab a 24hr Bixi pass for $7 and bike out to Parc Jean Drapeau! Is it too cold to bike? Then wander down to the Montreal Metro system, for $6 you can buy a two-way ticket to anywhere on the island. FlightHub suggest walking around the Old Port of Montreal first! Make sure you're camera ready and explore hidden cobblestone streets at your leisure! If you've still got the energy for it, then make your way to the Plateau and take a hike up Mount Royal! Once there, hang around the lookout and get the birds eye view of Montreal! If you're visiting during the winter months, take advantage of the weather and rent some skates at Beaver Lake! Rentals are only $5 and are endless fun!
Are you walking up a storm? Then it's time to refuel with some of the best shawarma Montreal has to offer at Boustan Restaurant. FlightHub can't get enough of this place, and as a Montreal staple a trip to the city isn't complete without tasting their famous garlic potatoes!
Now that you're recharged for your walking extravaganza, weave your way through the vintage shops on St. Laurent Boulevard. Feel like playing dress up? Then FlightHub thinks you should check out Eva B's, a multi-level second hand clothing and costume shop! Find everything you need to dress up as Madonna to a pro-boxer for less than a lunchtime snack!
Making your way into the evening doesn't mean the free fun needs to stop. Montreal is a festival city with events happening year-round! Come rain or shine or blizzard, Montrealers know how to keep the party going. See what's going on at the Quartier des Spectacles, as the site is home to the International Jazz Festival, Just For Laughs Festival, FrancoFolies, and much much more! Entrance to these festivals are always free, so wander at your leisure!
Finally, take your last few dollars and hit up L'Entrepot restaurant, where everything on the menu (and FlightHub really means everything) is only $5 all year-round! Load up on poutine, burgers, and anything else you want to munch on in this ultra-chill restaurant!
FlightHubs Travel Tips for Visiting Halifax for under $25
Visiting Halifax for under $25
Halifax is a coastal town in the heart of the Maritimes that was once a thriving port in Nova Scotia. It's the jewel of the Canadian coast, and for good reason! With the best food, music and sites to see, you'll love the city even more when you realize you can do it for under $25! FlightHub Review has compiled the best must-sees of Halifax that'll let you experience the city as a true local!
Begin your tour of Halifax with a walk around the citadel! Chosen for its view of the city, the citadel began construction in 1749, and remains an active part of Halifax life to this day. This unique star-shaped structure houses the Army Museum of Halifax, as well as plenty of exhibits to wander through. Depending on the time of year you visit, entrance to the citadel is less than $8 for adults! While at the Citadel, FlightHub also suggests taking a casual stroll around the lush gardens that bloom during the summer months.
Once you're done viewing the spectacular views of the citadel, make your way to the famous Alexander Keiths Brewery for an authentic tour of Canada's favorite beer. Though this is a higher priced activity in Halifax, getting a tour and tasting of the brewery is definitely worth the $20! If you're feeling like this may be too much for your budget, then FlightHub suggests grabbing a Keiths at a local bar and enjoy the view of the city instead!
If you're still looking for a tour to do while in Halifax, FlightHub recommends visiting the Maritime Museum of the Atlantic! For less than $10 in admission, wander around the museum at your leisure! Bonus fact, the Museum also has deck chairs from the S.S. Titanic available to the public!
Walking by the water front is an excellent way to spend time in the city without breaking the bank. With beautiful views of the city and plenty of cafes and bars to get you in the Maritime spirit, take a moment and relax while watching for submarines in the nearby waters. While there, look out for the iconic Theodore the Tugboat and remember to grab a quick picture!
Like any city, the best way to explore Halifax is by foot. Experience the quintessential Maritime architecture by wandering the beautiful streets of Yongue Avenue and South Park Street. These untouched, colorful homes are preserved by the city and offer a spectacular photo op to bring home with you!
Though it's a drive from the city, if you have access to a car then take the quick drive to Peggy's Cove. Enjoy the beach and walk along the iconic coastline! No matter the season, this is a must-see while in Halifax. But should you find yourself in the port city during the summer months, FlightHub suggests taking advantage of seeing the Halifax Tall Ships Challenge. Walk aboard these magnificent sail ships as they tour the east coast from the US to Canada. Hop on board a replica of the iconic Bluenose for free!
If you're around Halifax in the summer then be sure to check out Atlantic Canada's oldest Jazz Festival! For two weeks, Jazz aficionados enjoy free shows, activities, workshops and more! Drawing in more than 50,000 visitors annually, this free concert is an absolute must according to FlightHub!
To finish off your time in Halifax, FlightHub recommends visiting an authentic Maritime's bar, like The Old Triangle for a pint of beer, and free live music! FlightHub suggests learning the lyrics to Barrett's Privateers by Stan Rogers, and enjoy the night!
Visiting the Medieval Town of Bonifacio: Photo Essay
If you wish to visit a medieval town that is breath-taking and an adventure, we recommend visiting Bonifacio in France! This amazing sea side town is located at the bottom of Corsica, and was a highlight from our recent sailing trip!
Visiting the Medieval Town of Bonifacio
We were extremely fortunate to view Bonifacio for the first time via boat. The combination of spectacular cliffs, colourful buildings and a giant sea cave had us aiming our cameras in all directions!
We understand that not everyone has the luxury of arriving via boat. But we do recommend that you view the cliffs from afar with your own two eyes. Therefore, you can step aboard one of the many tourist boats located in the marina. Or, if your budget is running tight then we recommend making use of your legs. There is a great walkway leading along the cliffs to the light house. It provides a great view of the town, plus it is much easier to take a great photo of Bonifacio when you are not bopping up and down in the swell!
Unfortunately we were only able to stay in Bonifacio for one night,  plus the cost to berth our yacht in the harbour was ridiculously steep. However we had a blast during our 24 hour visit and managed to squeeze in a lot of exploring, hundreds of photos and even celebrated Moss's birthday!
Roy d'Aragon Stairway, Bonifacio
While in Bonifacio we highly recommend walking the Roy d'Aragon Stairway (King of Aragon's Stairway). While it may look steep and daunting, it only costs a couple of euro and surviving the walk back up the 187 steps is truly rewarding.
Legend says that the steps were sculpted into the cliff by soldiers overnight during the siege in 1420, but apparently the real story is that the walkway was used to reach drinking water.

We have been wearing out our jandals (Kiwi for flip-flops) on our travel adventures around the world since 2009. We think our blog is thought provoking and a little witty. But we have been proven wrong before. Find out more about us here...