The idea of caving in Budapest is akin to my kind of hell. And Cole's dream adventure.
Squeezing through chest tightening gaps 20 meters underground in the pitch black? Silence surrounding you while being covered in dirt? No thanks.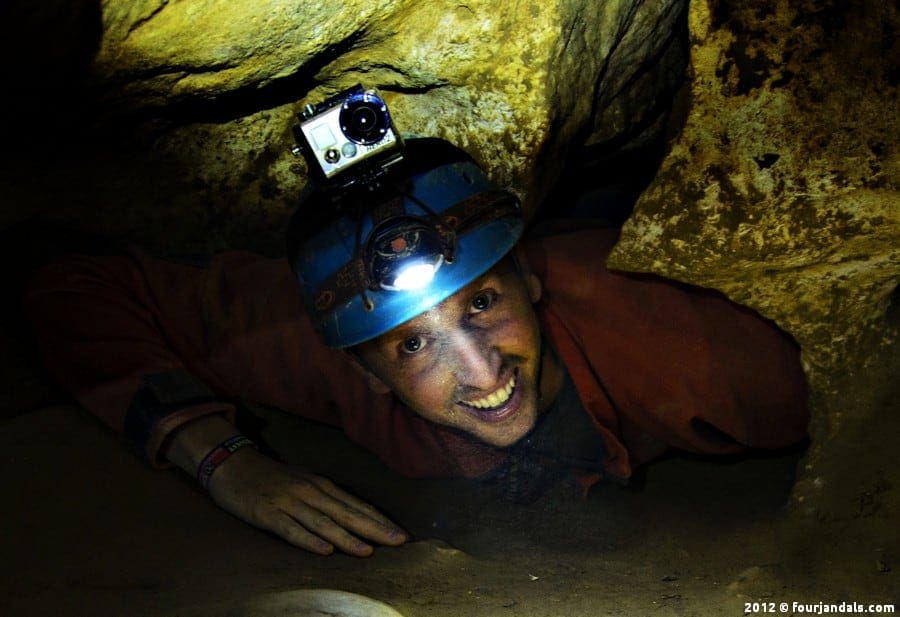 I guess being claustrophobic does not really help my case but caving in Budapest was not high on my to do list. So when Cole told me that's exactly what we were doing. I was petrified.
However, being the stubborn adventurous and competitive person I am, I wanted to overcome my fears. I smiled, nodded and told him I would be fine.
How wrong I was.
Caving in Budapest
I woke up with a deep feeling of dread in my stomach. Breakfast tasted like sandpaper. Coffee did nothing to ease the nerves, and Cole's excitement and attempts to lighten the mood with terrible jokes about getting trapped were no help at all.
My nerves were rattling more than the ancient bus as we trundled up to the UNESCO World Heritage Site.
Before I knew it we were at the caves and suiting up. With every layer of protective gear I strapped on I felt more and more trapped.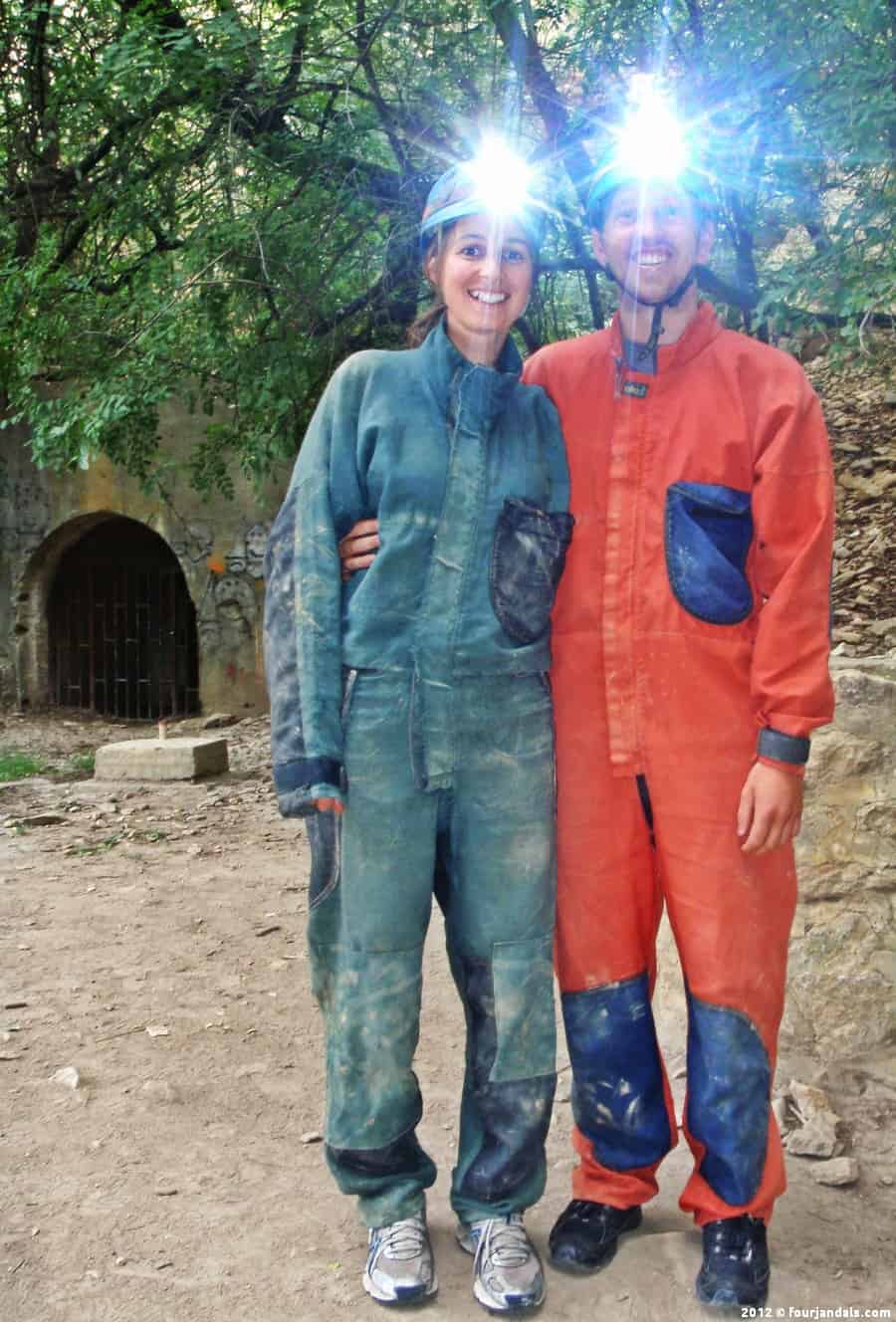 Putting on a brave face for the camera.
I tried to make small talk with the others on the tour but when I told them I was claustrophobic they looked at me like I was insane for coming caving. Maybe I was.
All too suddenly we were at the entrance. I had expected a big opening that would get gradually smaller so I could at least see some light coming in. Wrong again.
It was just a door. A locked door.
As I stepped through the void I started thinking maybe I can handle this.
CRASH!
The guide slammed the heavy door and locked it with a resounding clank that still haunts me in my sleep. To me it was the sound of fear. I was trapped.
Irrational thoughts flooded my mind.
What if I lose the guide and I can not get out because I don't have a key? What if we need to get out in a hurry and we lose precious seconds while the guide unlocked the door?
As the guide went over the safety talk I gazed blankly into the darkness. I took nothing in. All I could think about was the door and my uncontrollable shaking.
Shaken out of my inner nightmares as everyone begins to move I see the guide is pointing down a 10m ladder into a hole no larger than 1 meter square. "I thought we were already in the caves!" I exclaim. They all laugh as he confirms that is exactly where we are going.
It was the last straw. I had to get out.
Backing away I grab hold of Cole's sleeve. He has already noticed my anxiousness though and is hurrying me out with the guide close behind.
With every step towards the door my stress levels lowered.
I cannot explain how good it felt to walk out of that cave.
I gulped fresh air as relief, happiness and freedom washed over me.
As quick as it had begun my caving experience was over.
For Cole it was just beginning as he left me with my eBook on the surface 2 hours as soon as I was free! Can't say I blame him.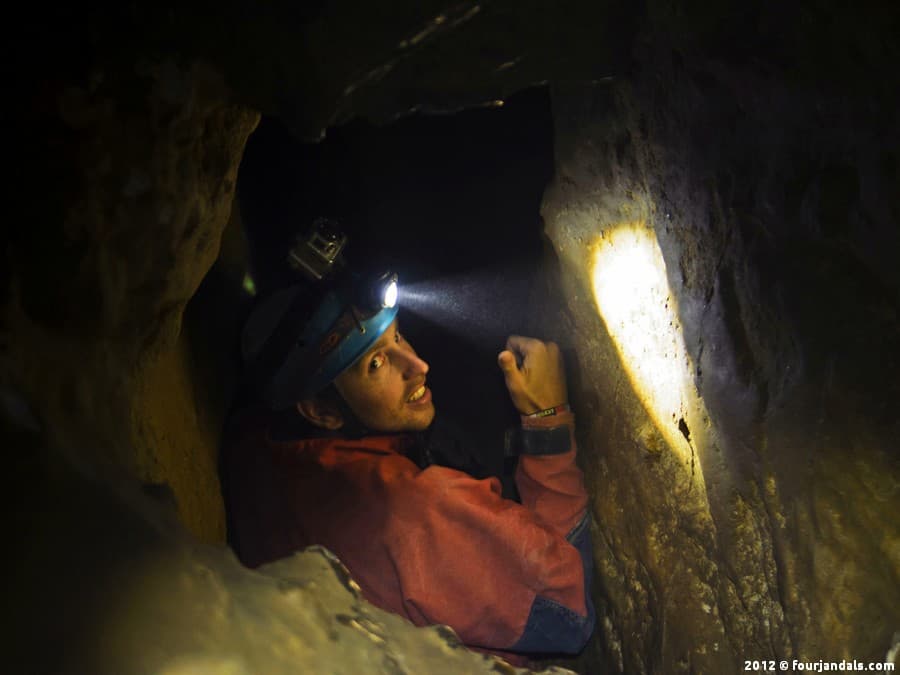 Extra Travel Information:

Try caving in Budapest with the awesome guides at Caving Under Budapest.

Fly to Budapest easily from pretty much anywhere in Europe with Jet2.com and we recommend staying at Marco Polo Hostel as they are quiet and have a brilliant breakfast buffer.
This is a post from a series called Facing my Fears. It helps us to step outside our comfort zone, in comfort. Check out the rest of the series here.
Disclaimer: We were invited to step out of our comfort zone by the Visit Hungary Tourism Board for our trip to Budapest. As always our thoughts, recommendations and fears are always our own.