Top of Cappadocia day trek – with Middle Earth Travel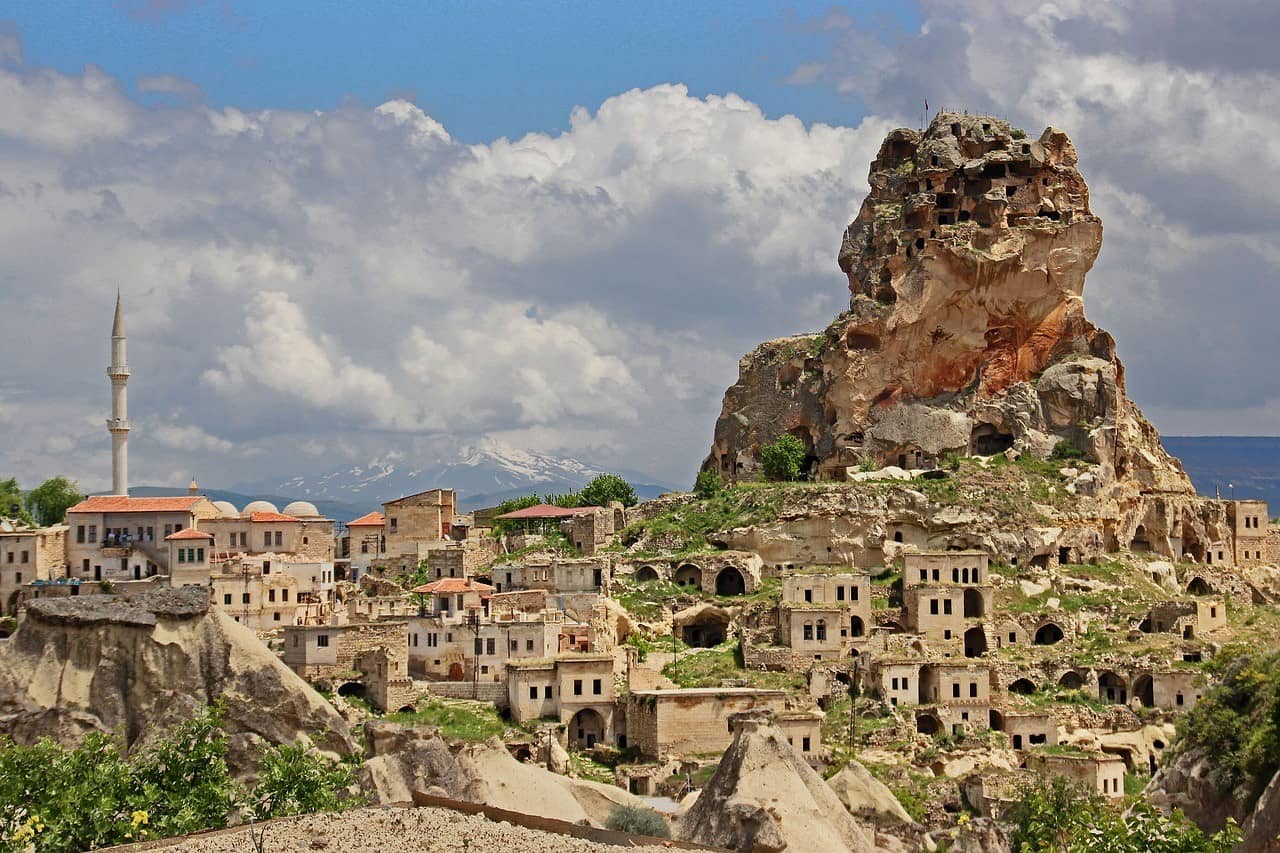 Trekking through the valleys of Cappadocia's fairy chimneys with Middle Earth Travel feels more like the set of a Star Wars movie than a historical region once carved out and lived in by humans. Churches, homes and pigeon houses are scattered throughout the valleys, all waiting to be explored. The best part is, Middle Earth Travel know all the hidden secrets.

Top of Cappadocia day trek – with Middle Earth Travel
On the 26th of July (which just so happens to be my birthday!) Middle Earth Travel took us on their private and guided Top of Cappadocia day trek. From Pasabag, along the top of Cappadocia and down through the Gulludere Rose Valley to Goreme, we trekked 15kms in one day! (We recommend getting your bearings with this map)
Upon arrival to the Middle Earth Offices, we were warmly greeted by our new friend Atil whom we had met a few days earlier while mountain biking through the Kizilcukur Red Valley. We were then introduced to our guide and given a briefing regarding the day. Normally, the Top of Cappadocia tour would start from Çavuşin, however, since we had already explored Çavuşin Castle, they adapted our tour to compensate ensuring we would explore new terrain!
With charged cameras, plenty of water and our running shoes on, we were driven to our starting point of Pasabag. We wandered through the fairy chimneys, coming across camels and markets – then the true hike began.
It was a slow and gentle incline. With no trees to provide shade, I quickly realised why our tour guide had chosen to wear fully covered clothing! As the sweat quickly set in (a waterfall in Moss's case) we snapped away with our cameras and enjoyed the entertaining shapes of Imagine Valley and the amazing view. We also passed a lot of rock piles, which according to our guide mean 'father' and are built to help lead the way.
The higher we trekked, the more breath taking the views became! As we walked along the summit of Bozdag mountain (the Top of Cappadocia) we could see EVERTHING – Pasabag, Çavuşin Castle, Kizilcukur Red Valley, Gulludere Rose Valley and Goreme. We were on the Father of Valleys! After a quick nod of agreement to the guide, we pushed ourselves the extra distance and made our way to the flag, as this HAD to be the highest point and was definitely worth a photo and a selfie or two!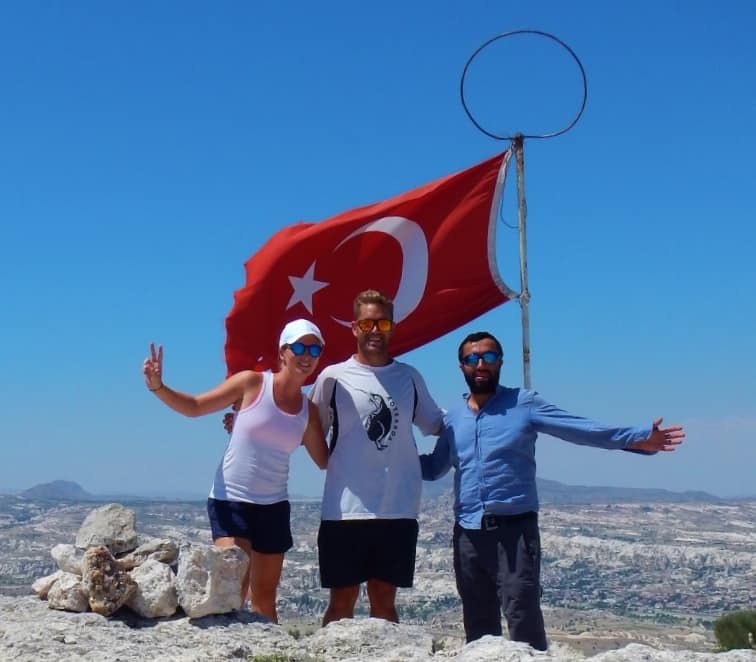 From the flag we looked down upon Aktepe Hill which is known as a popular destination for watching the sun set and could spot Kizilvadi Restaurant, our destination for lunch! Kizilvadi Restaurant is an attraction of its own. With its own historic winery and Grape church, plus some Middle Earth Travel treks even stay there for the night! After having a massive feed of soup, salad and pasta plus a surprise birthday cake, we made our way down into Gulludere Rose Valley.
The scenery is amazing, with strong colours visible in perfect layers on the chimneys, you would wonder what an artist was thinking, had it been a painting. Also, hidden to the side of the track we walked across a little bridge and not expecting anything to be there we were wowed by the massive church carved. It was absolutely huge and hard to believe that its most recent use has been as a pigeon house!
Middle Earth Travel Review
The team at Middle Earth Travel were extremely knowledgeable and certainly know Cappadocia's hidden secrets. They have friendships with local tea garden owners which is also of benefit as it gained us entry to locked churches and hidden rooms that we would not have otherwise seen.
We covered a lot of ground, however we did not feel rushed. The whole day focused on showing us the region, therefore we had as much time as we needed to explore each church and to take 'just one more photo'.
It wasn't all about trekking. With a whole day and 15kms to cover, there were a few silly poses (especially in Imagine Valley), and we learnt a lot about the myths, legends and way of life in Cappadocia.
In conclusion I highly recommend Middle Earth Travel if you wish to go trekking or mountain biking in Cappadocia.
Cost: Day treks with Middle Earth Travel range from 50-90 euro, depending on the number of people taking part. This includes lunch, guide, vehicle transfers and entrance fees to historical sites, but excludes alcoholic and soft drinks.
Middle Earth Travel are outdoor enthusiasts and offer multi-day over night treks, mountain biking, abseiling, or custom made itineraries, in multiple regions throughout Turkey.
Disclaimer: We were provided with a discount for the trek with Middle Earth Travel, however, as always our thoughts on our adventure travel blog our own.
The Best Ways to Explore Australia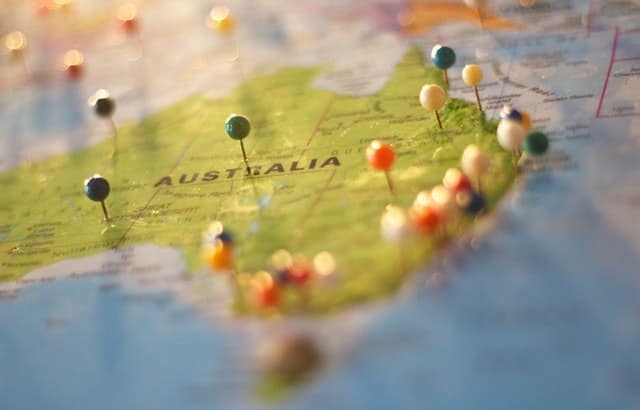 If you would like to make the most out of your long haul trip, you might want to start planning ahead months before you travel. In case you have already picked Australia as your destination, you should first decide how to explore this large and often underrated country. From wildlife tours to culinary and cultural experiences, there are several ways you can connect with the continent. Here are a few tips.
Camping
There is something absolutely unique about the skies in Australia. If you would like to experience vast space, freedom, and tranquility, you might book a camping trip to get the best of both worlds; staying close to nature and spending some quality time with your loved ones in a relaxing atmosphere. You can have a look at the selection of Summerstar Caravan Parks in Western Australia to find out about the best locations and the activities available in the area before you choose your destination.
Self Driving
To enjoy complete freedom, you could also try self driving tours, so you can see the wildlife, geological wonders, such as the Uluru and feel a special connection with the culture and the traditions of the country, There will be long distances to cover between different locations, so your best bet is to hire a car and have the freedom to stop whenever you wish.
Surf Resorts
Image via Max Pixel
Australia, of course, is also a paradise for water spots. You can book a beach hotel and get a course on surfing, diving, or sailing. No matter what level of adrenaline you are seeking from your trip, Australia will certainly have the right option for you. Surfing in Australia is almost like a national sport, and you will certainly pick up a tip or two from locals who love spending every minute they have to spare on the beach.
Rock Climbing
If there is one activity that will appeal to all adrenaline junkies in Australia, and give you a challenge for your vacation, it is rock climbing. There are plenty of amazing rocks to climb in Australia, and you will find great instructors and training programs that will help you master the skill and stay safe hundreds of feet above the ground.
Wildlife Resorts
Image via Wikimedia Commons
In case you have not seen Australia's wildlife in their natural habitat yet, this might be your time to visit one of the wildlife resorts. You might not know, but Australia has plenty of world class ecotourism resorts and lodges, such as Kangaroo Island, or Tasmania. Pick a beach location to explore the shore and find out more about the Great Barrier Reef, or stay close to the wilderness. Explore the natural wonders of this great country in style.
Planning a vacation to Australia can be challenging, as there are simply too many things to see. From the emus to the kangaroos, the stunning beaches, and the unique rock formations, you will have to choose your activities carefully. If you are a nature lover, you might even experience Ecotourism Australian style.
Top 6 Magnificent Places to Visit in Israel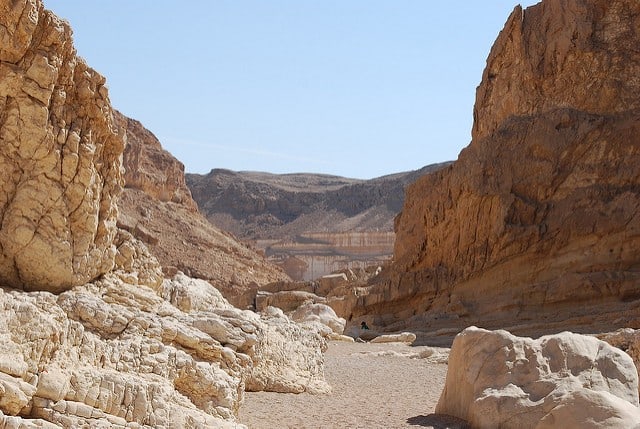 Israel is a country with a very rich history. Associated with the birth, life, and death of Jesus Christ, it is a place that ranks amongst most tourists destinations. Moreover, its mix of cultures makes it more enticing and exciting place to visit. Israel also offers spectacular archaeological sites, beaches and amazing cities that are a must visit.
Israel is well connected to the world via air transport. With direct Israel flights from most countries in the world, the countries national airline makes it a walk in the park to access this gem in the desert. Below are some of the most phenomenal places to visit in Israel. These are places that you will never regret spending your money to visit.
The Ramon Crater
Its Hebrew name is Makhtesh Ramon. It is located in Mitzpe Ramon in the Negev Desert and is the largest erosion desert in the world. It is a sight to behold and can be toured by driving in a Jeep, riding a bicycle through it, hiking it on foot, or riding hot air balloon above it.
It is a geological beauty, ringed by mountains around it. It is an ideal place to visit for hikers and lovers of nature.
The Dead Sea.
Let the name not scare you! The Dead Sea is a magical place to visit in Israel. The name is as a result of the harsh environment created by the salinity f the water. The Dead Sea's water is 10 times more salty than the ocean. Swimming in the Dead Sea is effortless due to the waters' higher density salt.
The Sea's water and mud have medical benefits for people with joint problems and skin diseases. Around the Dead Sea also are picturesque areas that are jagged, ragged and ideal for nature lovers. More sites that make this region a place to visit are the Qumran Caves, Adventure City Fun Park, and the Dead Sea Resthouse.
Nazareth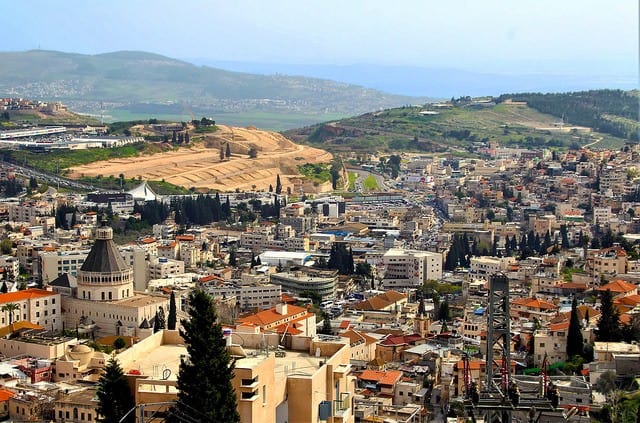 Nazareth is considered as the cradle of Christianity because it is where Mary encountered the Angel Gabriel and told of her conception of Jesus Christ. It is also known as the place in which Jesus spent his childhood days. To get a feel of this, it is best to take a tour of Nazareth Village.
Nazareth is also home to the Church of Annunciation (largest Catholic Church in The Middle East), Megiddo National Park, and Ancient Bath House of Nazareth. All these make Nazareth rank among the top places to visit in Israel.
Tel Aviv
Tel Aviv is the financial hub of Israel and offers the best of Israeli entertainment. It is home to the philharmonic orchestra and the national opera. It also offers some of the Mediterranean's outstanding beaches, such as The Frishman Beach, Gordon Beach and Banana Beach.
It has historical museums such as Beth Hatefulsoth which narrates the Jewish persecution across the ages. Tel Aviv's rich history and diverse culture make it a definite place to visit when in Israel.
Jerusalem
It is considered as the holiest place in the world and is frequented by many religious folks from across all corners of the world. It is known for its majestic structures and ancient buildings. Also known as the City of Peace, it is divided into four major quarters: Christian, Armenian, Jewish, and Muslim.
In Jerusalem, you can walk across Dolorosa, pray at the great Western wall, tour the Tower of David and visit the Church of the Holy Sepulcher, which is believed by Christians to be Jesus' burial place.
Jerusalem's most outstanding attraction is the Golden Dome Mosque which overlooks the Western Wall. You can also tour museums such as Yad Vashem, which is a remembrance for the Holocaust. The city is a combination of art, magnificence, and religion.
Great Barrier Reef Tours from Cairns & Port Douglas
The Great Barrier Reef is the most extensive coral reef system in the world. It stretches over 1,430 miles and composed entirely of living organisms. Because of its sublime beauty, it is no surprise that it is considered as one of the wonders of the world where more than 2 million travellers visit the reef annually to witness its charm.
The Great Barrier Reef is Queensland's most remarkable natural gift which is comprised of over 3000 reef systems and coral cays. It is home to an abundance of fascinating marine life and is filled with amazing tropical islands and world class beautiful beaches.
Cairns is one of the top most visited locations for travellers wanting to experience the Great Barrier Reef, either by taking on a scenic flight or by boat. The breathtaking array of marine wildlife, lush rainforest vegetation, and a myriad number of exotic coral reefs that make up this wonderful reef surely gives any tourist an extraordinary journey that cannot be found anywhere in the world.
Choosing the best tour can get a little frustrating because of the overwhelmingly large number of reefs you can visit around the area. If you are still at a loss and want to get some guide of what type of tours to take in order to maximize your Great Barrier Reef experience, worry no more as we will unravel in this piece the best Great Barrier Reef tours on offer to help you start your wandering without delay.
REEF TOURS FROM CAIRNS
Sunlover Reef Cruises
Sunlover Reef Cruises offers one of the best Great Barrier Reef Tours where travellers get a full day of reef adventures. This trip is designed mainly to cater for everyone including families with children.
Leaving daily from Cairns, this 40 km-trip will surely bring happiness and extraordinary experience to its travellers as they will enjoy a high-speed air-conditioned catamaran experience to the new multi-level pontoon at Moore Reef. The sundeck, as well as the theme-park style water slide on the reef, is also a must-see attraction especially if you travel with your kids.
Once you arrived, you'll get the best 4 hours of your life as you enjoy the activities at the pontoon, which comes with snorkelling equipment, guided glass bottom boat and semi-submersible tours− allowing the travellers some options to stay dry while in a safe and comfortable environment as they explore the beauty of the Great Barrier Reef. The tour also allows travellers to feed the fish. It is also a family-friendly tour as it has a fully enclosed kid's pool and an underwater observatory to get a closer look with the marine life.
Sunlover Reef Cruises also include a hot and cold buffet lunch where you can enjoy the freshly caught seafood in the city while you explore the amazing views of the Great Barrier Reef. After the meal, don't miss the chance to swim amongst the fishes and enjoy the last hours of your stay, savouring the charm of this great reef.
Pro Dive Cairns
If you fancy diving, Pro Dive is perfect for you. In fact, Pro Dive is all about diving suited whether you're a novice or an advanced diver with years of experience in this field.
Boasting with its more than 32 passengers, Pro Dive Cairns offers an adventurous tourist with a more personalised experience, providing access to around 19 exclusive and unspoilt dive sites on the Great Barrier Reef.
Pro Dive Cairns offers premier three-day, two-night liveaboard dive trip and various range of PADI certified scuba diving courses where you can dive and learn to dive in a safe and wonderful environment.
From a five-day Learn to Dive Open Water certification course to advanced and professional development courses through its extensive range of the latest dive products and professional local service and advice, Pro Dive Cairns is your number one stop when planning your first or next scuba diving adventure.
If you don't have the time to spare and can only stay for one day, its Silverswift will surely give you the most comprehensive day-tour experience with its 5-hour trip spent out at the reef visiting three different outer reef sites. This ultra-modern catamaran caters to small groups; it offers all the things you need in order to for you to experience the underwater world of colourful marine life. Beginner divers can enjoy snorkelling with additional 2 introductory dives while more experienced divers can leisure in up to 3 certified dives.  
For a tourist who is yearning for more challenge and adventure, Pro Dive gives access in Liveaboard Trips to adventurous traveller where they can spend around 3-7 days enjoying the top best sites the Great Barrier Reef has to offer, while on board of the multi-million dollar purpose built a liveaboard vessel. Divers can participate in up to 11 dives, as well as 2-night dives at around 16 exclusive dive sites.
Reef Magic Cruises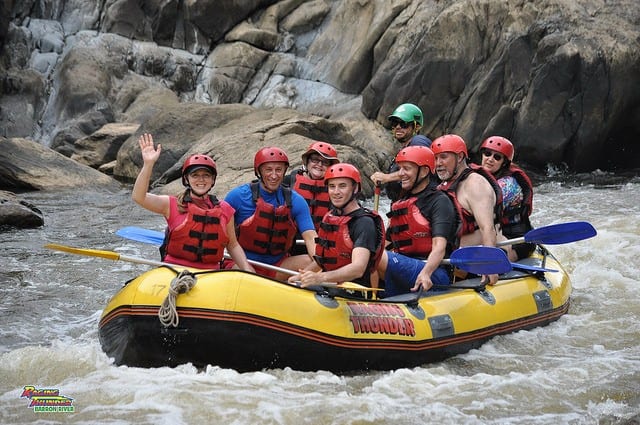 Departing from Cairns through a smooth yet fast and stable catamaran, Reef Magic offers a private access to a breathtaking coral reef location which was intentionally selected because of its superior pristine clear water, coral quality and its diverse marine life.
Snorkel in the sheltered lagoon or enjoy its Guided Snorkel safari trip with an expert Marine Biologist coming along with you. It also provides a semi-submersible reef viewer, glass bottom boat or underwater observatory, perfect for families with children or for non-swimmer travellers.
If you are looking for a downtime and just want to spend your stay relaxing and soaking up the tropical heat, then this one is made for you. Take time out on Reef Magic's spacious deck where you can enjoy the region's only reef-based massage therapist.
Fitzroy Island
Fitzroy is a favourite tourist destination, both interstate and international alike for travellers thinking to experience the Great Barrier Reef from a tropical island paradise. The island's location is spectacular which is just a 45-minute Fast Cat Ride from the Cairns Marina, offering unique access to a wonderful ecosystem ranging from an abundant green jungle to a crystal clear the Coral Sea.
You can opt to combine the Fast Cat transfer with a guided sea kayak where you can snorkel and swim amongst the rich marine life and be mesmerised by the tropical fish and get a chance to spot Fitzroy Island's famous clownfish or sea turtles. This package will take you to the most private beaches and a stunning coral reef where you are free to explore this magical Island and the surrounding coral reef at your own leisure.
If you want to get an up-close experience of the reef but fear of getting soak or wet, stress no more as you can include a glass bottom tour with your package where you can still get a glimpse of the charm that lies below the surface.
Fitzroy Island is very attractive for those on a budget, especially families and backpackers. Stay for more than one day at Fitzroy Island in order to get a maximum Great Barrier Reef experience on a tropical island where you can pamper your stay for a night or two.
REEF TOURS FROM PORT DOUGLAS
Reef Sprinter
Departing from Port Douglas, Reef Sprinter is a 15-minute trip to the stunning coral reef at Low Isles. The Reef Sprinter Reef Trip is perfect for travellers who do not find staying on the water very enticing.
Once you reach the destination, you can get 1.5 hours of snorkelling time to enjoy the breathtaking coral formations and colourful marine life of the reef before heading back to the port.
If you want to experience the Great Barrier Reef but are not too keen on boats and the thought of spending a whole day out on the water isn't very appealing, then Reef Sprinter Reef Trips were made for you.
Reef Sprinter also offers a glass bottom boat perfect for those who prefer not to swim the opportunity to still witness the astonishing coral reef, turtles and diverse marine life which makes the Great Barrier Reef as one of the seven wonders of the world.
Quicksilver Cruises
Quicksilver Cruises has a wide range of exciting activities on its sleeve, making it an ideal option for those who are wanting to get a little bit of experience of everything. Quicksilver's Wavepiercing Catamaran leaves from the Reef Marina in Port Douglas daily at 09:30 am out to Agincourt Reef− a pristine ribbon reef located at the very outer edge of the Great Barrier Reef.
Learn to dive and snorkel or if you are a  more advanced diver, dive and snorkel amongst the abundant marine life and enjoy the majestic beauty of this remote coral reef. Quicksilver Cruises also offers activities for non-swimmer who still wants to get a breathtaking view of the Great Barrier Reef. Enjoy the permanent floating pontoon at Agincourt Reef where you can get the best viewing experience and underwater observatory perfect for families travelling with their kids; Quicksilver's semi-submersible is the best option for non-swimmer to still get a magical experience of the reef while staying dry.
Getting the right reef trip for you and your family can give you ample time to enjoy and explore the beauty the Great Barrier Reef has to offer. Just like in any trip, it is always wise to plan ahead of time before embarking to your journey. Use the guide provided in this piece and we hope that you get the most out of your Great Barrier Reef adventure.

We have been wearing out our jandals (Kiwi for flip-flops) on our travel adventures around the world since 2009. We think our blog is thought provoking and a little witty. But we have been proven wrong before. Find out more about us here...
What Are You Looking For?