I have always thought of myself as a planner, both in my day to day life and when I am travelling. I like to have a routine and know where I am going next. So booking my flight to Spain to walk Camino de Santiago on a whim feels liberating.
It is also extremely daunting. I have been going through bouts of excitement that swing wildly to moments of pure terror. All I can think is; What have I gotten myself into?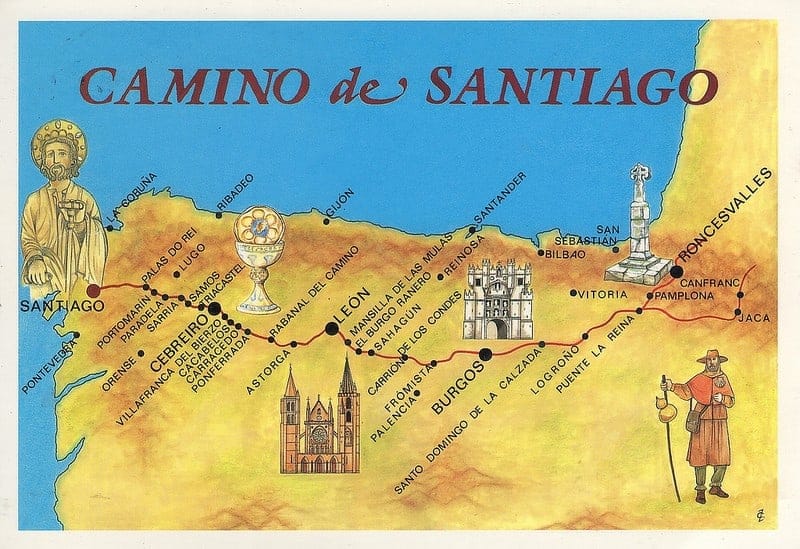 Camino de Santiago Live Blogging
To answer my own question, I have gotten myself into attempting a giant walk. A giant 700+ km walk to be precise.
I am following in the footsteps of hundreds of thousands of pilgrims who have travelled by foot, bike and donkey along the "French Way" to the city of Santiago de Compostela.
I will start walking from Pamplona near the border of Spain and France. Along the way I will be providing you with real time information with all my favourite adventures from Camino de Santiago with live blogging from the 10th March. I am not quite when, or if, I will finish. But I will definitely keep you all updated!
Below you will find all my favourite Instagram photos, travel tips and places I visit during my pilgrimage to help you plan your own adventure travel trip along the Camino de Santiago.
You can stay up to date now by following along with me via my hashtag on Twitter and Instagram – #fjCAMINO. As well as check back regularly on our adventure travel blog for updates.
If you have any tips, advice or questions for me then please make sure you send us a tweet, Facebook message or drop a comment below so that we can make the most of our trip as well. Would also love any emails to keep me motivated!
Camino de Santiago as seen on Instagram:
Click on any of the photos to create a clickable slideshow.
[instapress piccount="60″ tag="fjCAMINO" size="125″ effect="fancybox" title="1″]
Map of where Cole has been on the Camino de Santiago:
Make sure you click the play button!
Have you ever walked the Camino de Santiago? Do you have any tips for me?