We just returned from what can only be described as the most relaxing 8 days of our lives on the first ever Busabout Sail Turkey adventure cruise. Hopefully you can get a sense of what we were up to from our photo essay below. Enjoy…
Not only was it Busabout's first ever Sail Turkey cruise but it was also our first travel adventure to Turkey as well. So after being emotionally drained during the ANZAC Day commemorations around Gallipoli we needed a holiday. And what better way to relax than on a traditional Turkish Sailing Gulet?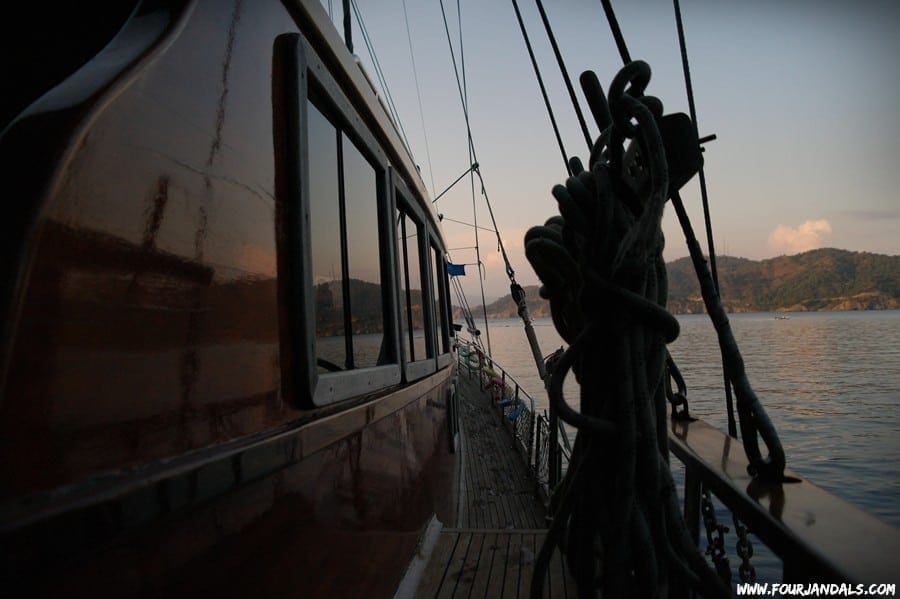 For 8 days and 7 nights we cruised the beautiful and refreshing crystal clear waters in the Mediterranean Sea off the southern shores with Busabout Sail Turkey with 18 other lucky passengers.
By day we swam and snorkelled. Or jumped off the towering cliffs into the plunging waters. And even though it was only the end of April the water was warm enough that we could spend at least 30 minutes cooling off under the hot Turkish sun.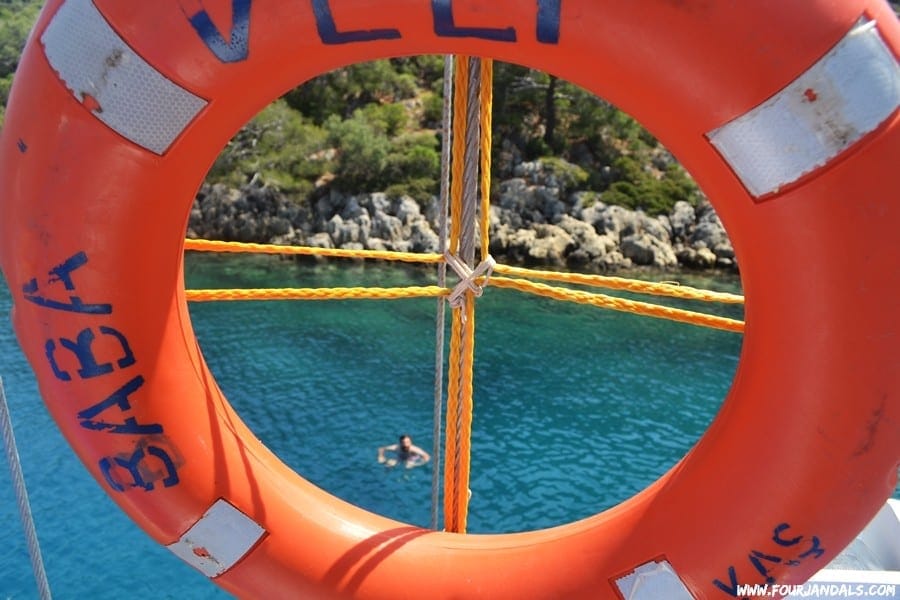 If we were not sunning ourselves on the deck of the boats then we would be exploring the cultural offerings that Turkey has in abundance. Whether it was the ruins of the sunken villages, ancient Kings Tombs and the old Castle overlooking the small village of Kaleköy (Simena in ancient Lycian).
Or hiking and climbing up to the ice cold glacial waterfalls carving through the quiet and serene Butterfly Valley in Turkey.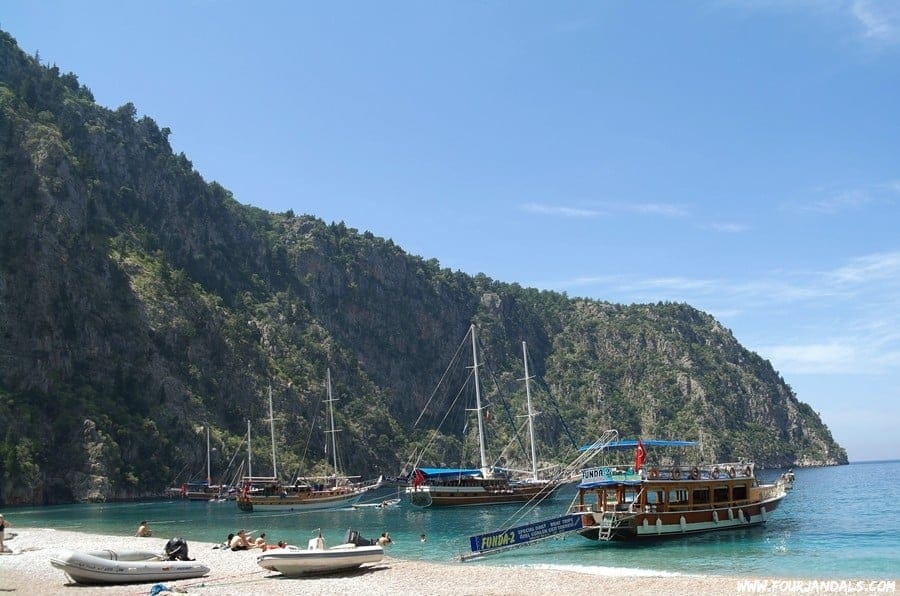 Our days could not be better.
Luckily the evenings were just as good, if not better. Hours were spent sitting onboard the Busabout Sail Turkey Gulets with a beer (Efes is delicious) or a wine in hand. Our only cares were watching as the sky changed from royal blue into amazing reds, oranges and yellows as the sun set on each glorious day.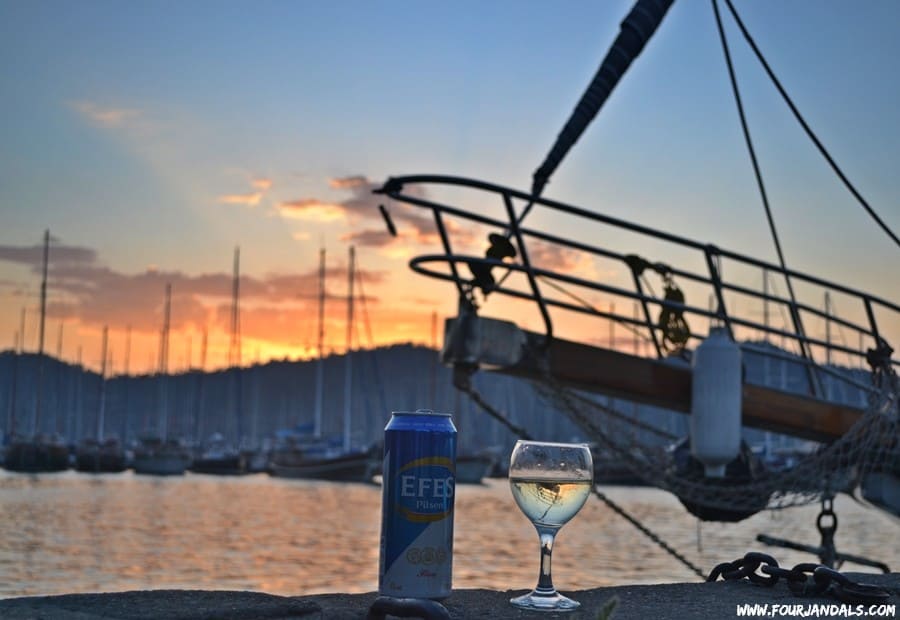 The nights would either be spent playing copious amounts of backgammon and card games on the decks. Or we would consume a few too many Efes and end up partying the night away with the other Sail Turkey boats in remote bars like in Smugglers Cove below.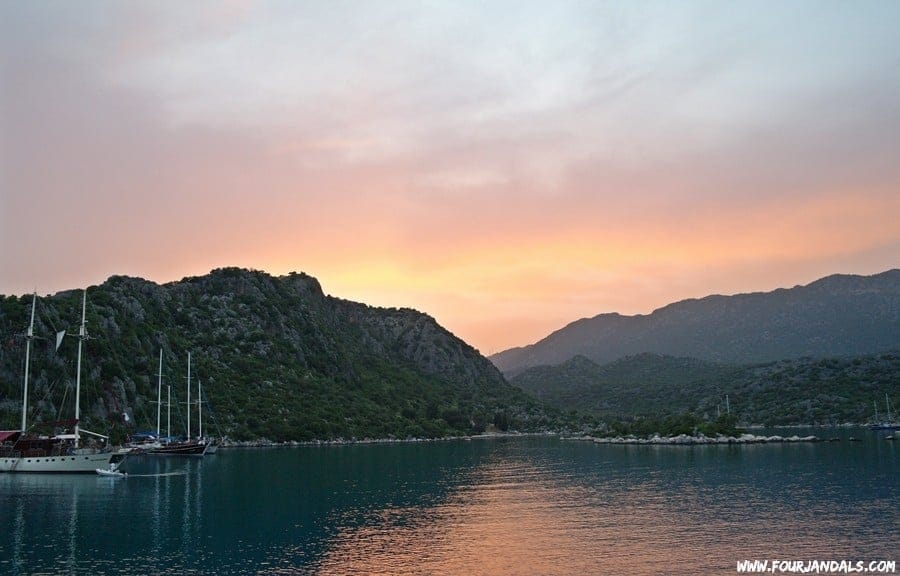 Unfortunately like all good things, our Busabout Sail Turkey cruise had to come to an end.
Book your Busabout Sail Turkey Trip Here:
Disclaimer: We were provided with a discount for the Busabout 8 Day Sail Turkey trip, however, as always our thoughts here our own.