Warning: This post does contain graphic images 
I never thought that I would have to write those words at the top of any of our posts. But I felt it was necessary for this article.

I am torn.
I can't decide whether bullfighting in Spain should be celebrated or condemned. Is it so ingrained in Spanish culture that it should be left alone? Or is it cruelty hidden behind a thin veiled disguise called tradition?
While I don't condone animal cruelty, I do recognise and celebrate traditions.
Experiencing San Fermin in Pamplona
The reason I love travelling is that you are exposed to so many different adventures.
We are like sponges, soaking up every cultural experience that we can get our jandals close to.
It's why we chose to run with the bulls in Pamplona. And why we watched the bullfighting in Spain.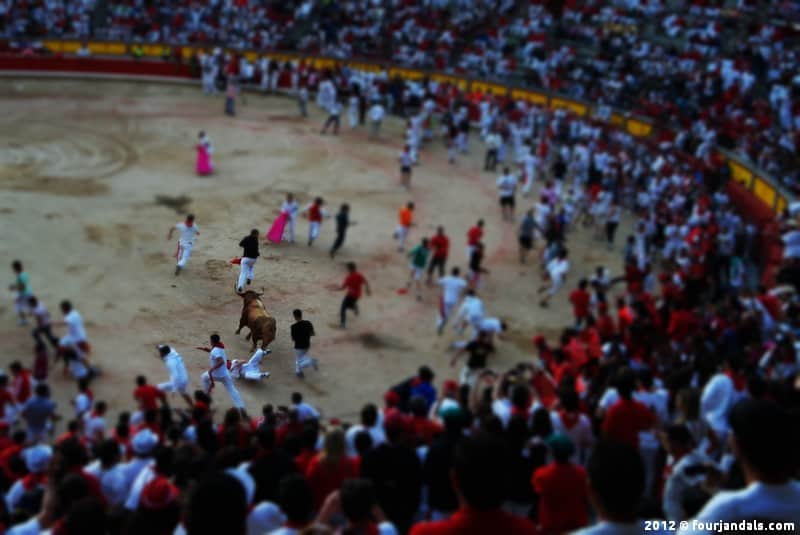 The San Fermin festival in Pamplona is the most well known bull-running and bullfighting festival in the world thanks to one writer. Ernest Hemingway.
For 8 days every year, hundreds of locals and tourists, including ourselves, pack 800m of narrow cobbled streets in Pamplona. Shoulder to shoulder they stand ready to run in front of a thundering pack of bulls.
It was the most terrifying and exhilarating travel adventure we have ever had.
One I will never do again.
We diced with death once, and that was enough for us.
While we were happy enough to run with the bulls, we were very conscious of our decision to watch the bullfight that evening. But considering that bullfighting has been a part of various cultures for thousands of years, and continues to be, there was no way I was going to miss this opportunity.
Because how can I speak out against what is right or wrong without experiencing it for myself? Who am I to speak out about how other people live their lives in cultures I barely understand?
These are questions I asked myself before we visited Spain.
Experiencing the Bullfighting in Spain
Bullfighting in Spain is one of the most celebrated spectacles in the country.
It is a pre-historic battle of man versus beast.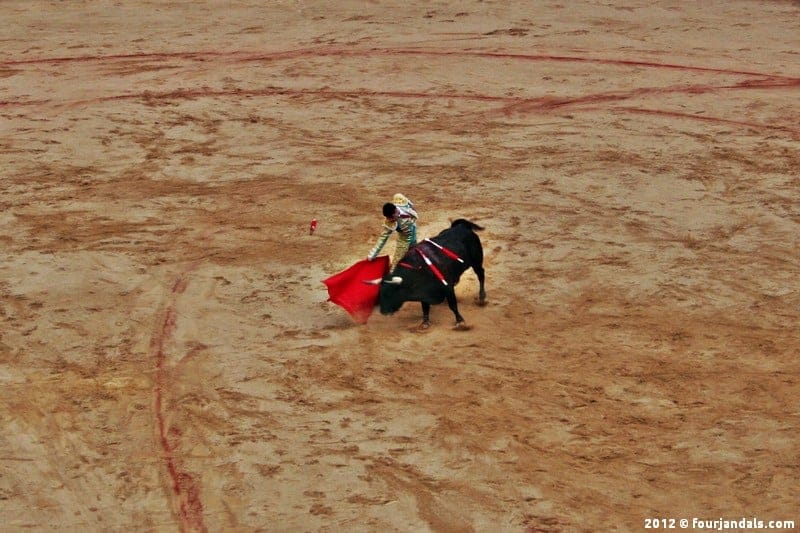 Protestors against bullfighting in Spain call it a blood sport. The Matadors (or torero), and spectators, call it a 'fine art', similar to painting, dancing or music.
Each Matador is revered locally while the most famous are recognised nationally. And every man, woman and child that was present at the bullring seemed to be honouring each bull after it was killed.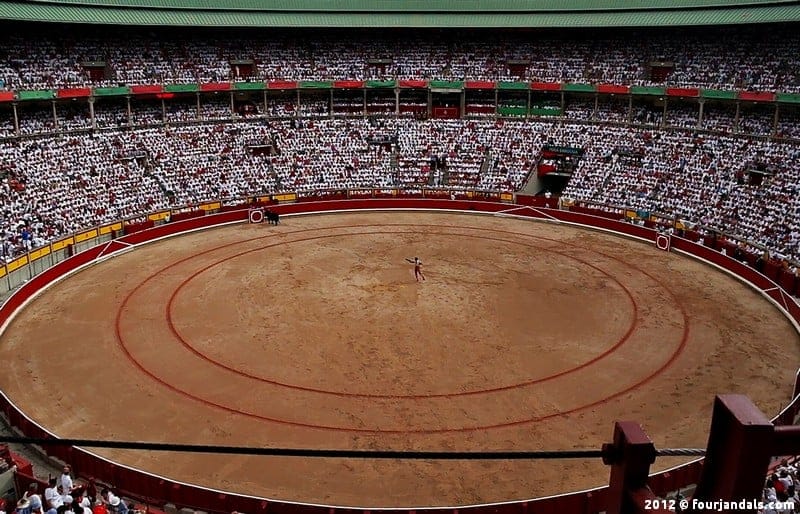 While we knew that bulls were killed at the end of each day, we didn't know anything more than that.
After speaking with a few locals we found out that only the 6 "new" bulls, out of the 12 that ran, are killed each evening in the arena.
These 6 bulls have been specially reared for this very reason. They live in relative luxury with very little human contact before they reach the bullring.
This supposedly makes them much healthier and stronger so that it is a fairer fight between the Matador and the bull. A fight that is virtually impossible for the bull to walk out of the ring a winner.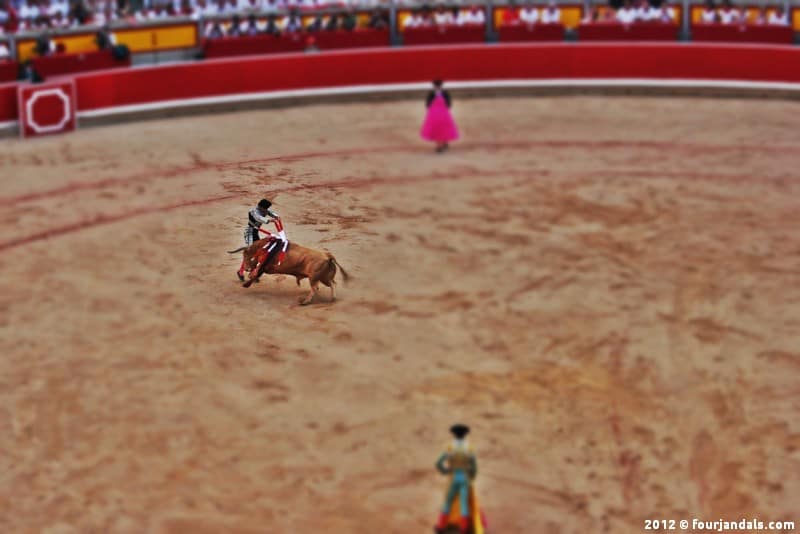 Our experience and feelings
The Spanish are passionate with a capital "P". When we discovered we had somehow secured seats in what seemed to be a locals only zone. We were stoked.
Sitting under the blistering sun we were surrounded by the Spanish singing, cheering and swigging back Sangria like it was going out of fashion.
They were here to celebrate.
They were celebrating what they believe is their right. But they were not celebrating death as they watched the bulls be slaughtered.
And we felt like we were part of the celebrations. We were not merely spectators watching from afar. They welcomed us into their singing circles even though we spoke limited Spanish. Filled our cups up with homemade sangria and fed us when we were hungry from their own picnic supplies.
As we watched the Matadors "dance" with the bulls around the ring I began to understand their passion. They were celebrating life. 
And I agreed with them.
I don't agree that the slow killing of these magnificent beasts is right. At the end of each fight I was willing the Matador's to deliver the final killing sword strike to end their suffering.
Secretly I was hoping the bulls would get their own back. A goring of the Matador would have been something to see.
But most of all I realised that bullfighting in Spain is so much more than what some call a "blood sport".
It is a time for friends and family to get together like they have been for the last few hundred years. A time to watch an event that is celebrated nationally.
Not to mention the fact that before their final fight, these bulls probably lead much better lives than the beef that is delivered onto your plate at home, at McDonald's or in the frozen section of your local supermarket.
It is why I think that, if the majority of the population want to carry on watching bullfighting then they should be allowed to. I would probably even go along to another one.
Let us know in the comments below:
Have you ever witnessed something traditional overseas that you don't agree with? And what are your thoughts on bullfighting?