How to Go Backpacking in Japan on a Tight Budget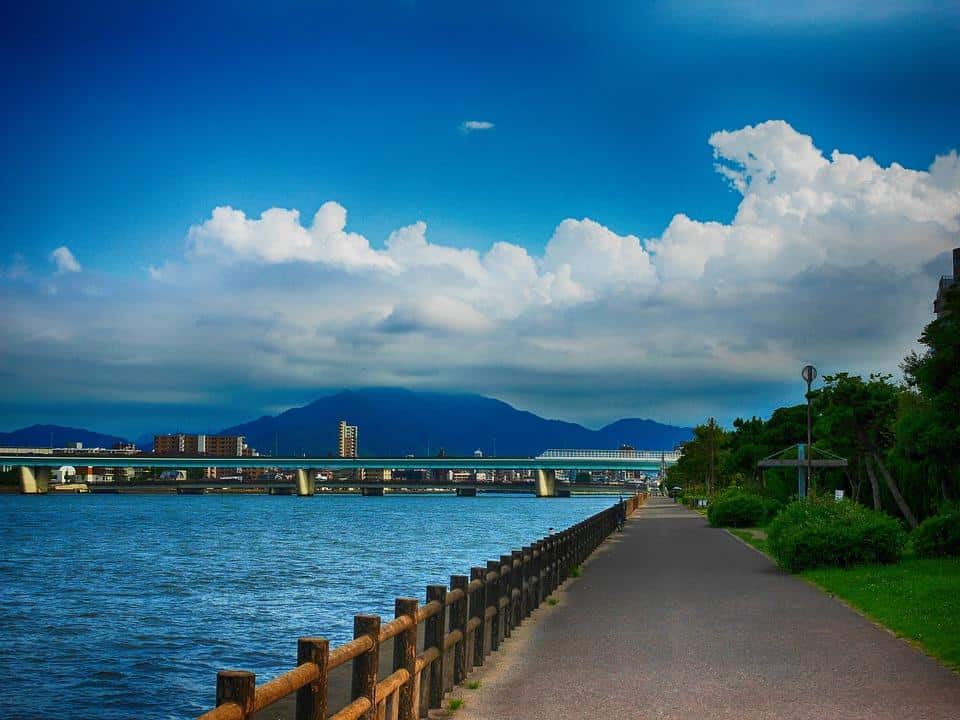 Japan is a backpacking destination high on many traveler's bucket lists. With four main islands and over 6,500 smaller islands, there is an abundance of sights and activities for the eager visitor. From the breathtaking Japanese Alps to the bustling city of Tokyo, Hiroshima with its peaceful memorial sites to Kyoto with its geisha culture and gorgeous cherry blossom blooms, Japan is a country that offers many memorable and unique experiences sure to enrich your life for years to come. While not a cheap destination to explore by any means, there are certain ways to make sure you get the most bang for your buck when visiting this amazing country.
Plan Ahead and Purchase a Rail Pass
At the first stages of planning, you should decide on which areas of Japan you hope to visit. If you're wanting to experience all the wonders of Japan, it would be wise to look into purchasing a Japan Rail Pass. A JPR allows visitors of Japan an inexpensive option for traveling throughout the country. Available in a 7-, 14-, or 21-day pass which generally range in cost from $250-$523 USD, you will need to purchase it before traveling to Japan.
Find a Hostel or Couchsurf
In most of the larger Japanese cities you will be able to find a hostel, providing you a cheaper alternative to the more expensive hotel options. Many hostels offer free wifi, a shared kitchen, or discounts to attractions in the area.
Another great option is couchsurfing. Line up a place to stay beforehand and your host may help you experience some of the culture and hidden attractions not known to most tourists.
Get a Pocket Wifi
When traveling in a foreign country, it's beneficial to have access to wifi even in the most rural of places. A Japan pocket wifi provides a fast, reliable wifi connection throughout the entire country for around $10/day. It is important to reserve one before you arrive in Japan, usually 1-2 weeks in advance. At the height of the tourist season it may be necessary to place a reservation at least a month in advance.
Explore Nature
Mount Fuji is a must-do adventure for any worthy backpacker in Japan. While not a strenuous hike, prepare yourself to make a slow climb as it is a busy tourist hotspot. This is a once-in-a-lifetime opportunity to spend a day enjoying nature's wonder at a very low cost. In the Tohoku region you can find onsen, natural hot springs to relax in, as well as preserved samurai houses to explore. There are numerous other natural wonders and geographical areas to explore, filling up your days with inexpensive, yet memorable adventures.
Wander the City
With all the brilliance and excitement of Tokyo, don't skip an opportunity to spend at least a day exploring the city. Catch a glimpse of the Harajuku girls, visit the Tsukiji fish market for an interesting experience, or just walk the streets and take it all in. This is a great time to sample Japanese cuisine as there are various options for every taste and price range.
All in All
When visiting a country as spectacular as Japan, budget planning is important. It can be extremely costly if not planned properly or months in advance. Keep these tips in mind as you plan for your adventure and remember to go off the beaten path for some cheap, yet memorable and worthy finds. Japan is a country full of possibilities and wonder, ready to be found wherever your travels may take you.
Top 7 tips for choosing the best Kerala tour packages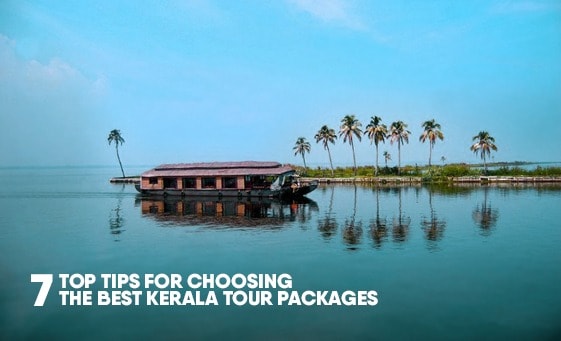 Kerala is the 13th largest state in India and one of the most applauded travel destinations in South India. Kerala is blessed with dense mountain, lush greeneries, serene backwaters, exotic flora and fauna, and many more things. That's why Kerala is known as "Gods own country" and throughout the year, people used to visit this place.
There are many tour operators who offer some lucrative and best Kerala tour packages to the customers. But you should be very careful while choosing the best package as the options are endless. Here, we are mentioning top 7 tips for choosing the best Kerala tour packages.
Go with a reputed tour operator:

If you were looking for the

best Kerala tour packages

, then you need to choose carefully your tour operators. Always go for a well-known and reputed tour operator who has an in-depth knowledge of Kerala so that they can guide you thoroughly in your Kerala tour. They must know all the famous and popular places where you should visit within your limited days. It would be a prudent decision for you if you can avoid a novice tour operator because they have lack of experiences and thus, they can't give you the best packages for your tour.

Take references from your relatives and friends:

Are you looking for the best Kerala tour packages? Then why don't you take references from your friends, relatives, or acquaintances who have visited Kerala recently (within 6 months) with a travel and tour operator. This will certainly help you how you can choose the best Kerala tour packages from a tour operator.

Price:

Price will be a prime factor when you are looking for the best Kerala tour packages. Don't consider those tour operators who quote a very low price for your tour. Because they might not give you the best quality for your tour. It doesn't mean that you should pay a humongous amount to get the best tour packages for your trip. Get the quotation from 2 to 3 tour operators and compare their rate and finally, choose the best one which will satisfy all your needs.

Take a deep look at the portfolio of your tour operator:

A reputed and experienced tour operator can only provide you with the best

Kerala honeymoon packages

for your trip. Thus, before choosing your tour package, don't forget to check the portfolio of your tour operator. Take a look at the feedback and recommendations that your tour operator got from the other clients. If your tour operator has a questionable market reputation, then don't take any package from them.

Know the local pulses well:

If your tour operator has a good knowledge of the local pulse and flavour, then they will certainly provide you with the best package. For example, auto-rickshaws are a common mode of transport in Kerala and very often tourists are exploited in terms of fare. But if your tour operator shares a good relationship with the localities, then there will be a less chance of exploitation. So, if you want the best Kerala tour packages, then choose a tour operator who has a good knowledge of Kerala local markets and people.

Finalize the number of days yourself:

Before going to a tour operator for Kerala tour packages, first, finalize the number of days that you want to spend in Kerala. Most of the tour operators have their own travel programme which may not suit your requirements. So, if you want the best

Kerala tour packages

, finalize the number of days by yourself and then ask a travel operator to make a plan within those days.

Cover the main places:

Kerala has many places to visit. It would be a difficult and hectic job to cover all the places within a limited time period. If you are looking for the best Kerala tour packages, then go for a tour operator who covers all the prime attractions like Alleppey, Kochi, Thiruvananthapuram, Munnar, Kumarakom, etc.
These are the top 7 tips for choosing the best Kerala tour packages. Now, you can contact an eminent tour operator and ask for the best Kerala tour packages.
Philippines Couples Vacation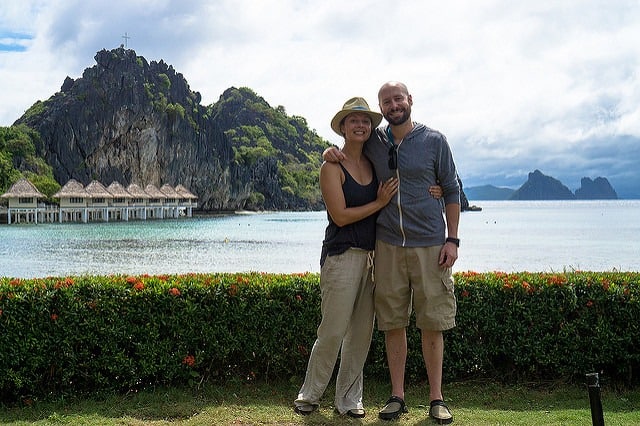 The Philippines is one of the least explored countries in Southeast Asia. While tourism has picked up over the last few years, it is still mostly a backpacker's destination. That said, one recent trend has been the increase of couples, especially honeymooners, who come to the country in search of romantic, unspoiled beaches.
While standard honeymoon vacation packages offer a visit to the country's main tourist spots, Palawan and Boracay, there are so much more you can see if you dare go off the grid for a short while. This is especially true now, with Boracay island being closed for at least 6 months for rehabilitation.
Boracay's closure shows exactly why responsible tourism is so important, to preserve nature and keep the place clean and safe. Over-development is a huge risk in 3rd world countries which are rapidly becoming tourist magnets, and it's clear this is already starting to happen in the Philippines. Luckily, there are so many other beautiful islands to which the mainstream tourists didn't come to yet. This might be your last chance to enjoy those places before they are lost forever in the hands of modernization and commercialization.
Palawan's hidden secrets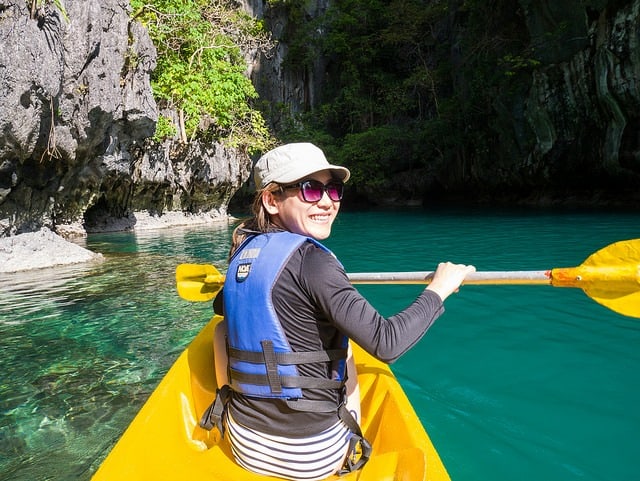 No one in his right mind would tell you to not visit Palawan, one of the most beautiful islands in the world. There is, however, ways to make your trip more special and help you avoid the crowds. The 2 most popular locations in Palawan are El Nido and Coron, both offering some of the most spectacular small islands and hidden lagoons you will ever see. The problem is there are literally hordes of tourists taking the island-hopping tours each day, so you never get to really enjoy those places to yourself.
One solution, if you can afford it, would be to hire a private speedboat. You can leave at your own time, and since the boat is faster than the sailboats used for regular tours you can easily reach all the nice places before the organized tours gets there. This option is more relevant for families and larger groups, since you can split the cost of the speedboat between all of you. Couples might find renting a boat each day to be too costly though.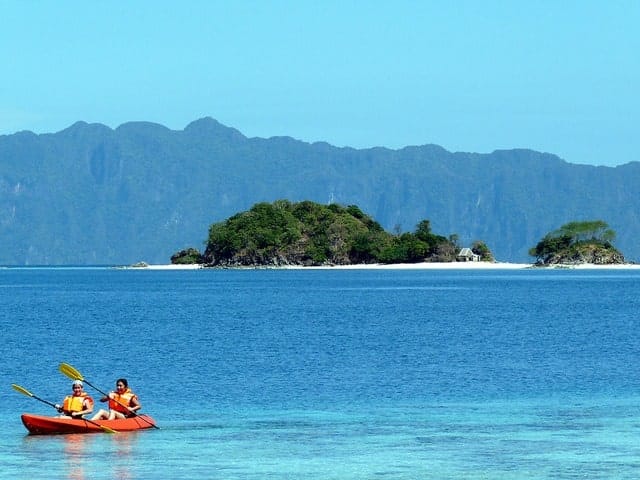 The alternative to that would be to go to the islands and beaches which are still off the tourist radar instead. In El Nido, a perfect solution would be to stay at the Qi Palawan resort and take their tours when you feel like it. This romantic boutique resort is owned by foreigners and standards are very high, it's a perfect place for couples who want a romantic and private setting for their vacation. The resort is located about an hour's drive from El Nido town and facing the other side of the bay, so it's ideal for going on alternative tours.
For Coron, the same trick applies. The northern part of the island is much less developed but the beaches and scenery there is just as breathtaking. Near the area called San Jose there is a small pier called decalachao, from which you can go diving with sea cows, one of the most unique diving experiences the Philippines has to offer. Alternatively, you can also stay at the eastern side of the island, where more traditional island hopping tours are offered.
Siargao island – the next Boracay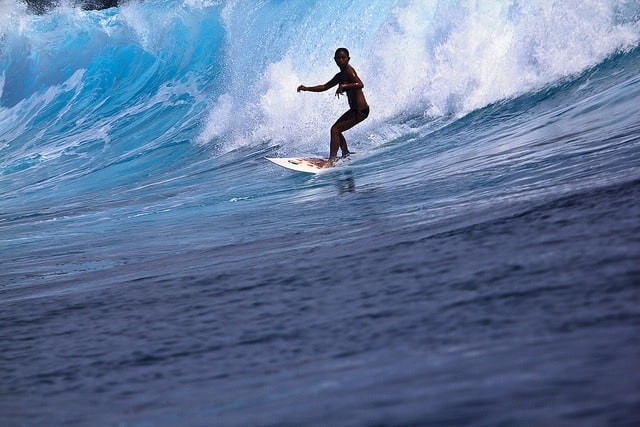 If you ask any Filipino where the next big tourist spot will be, the answer is always Siargao. And it seems like a self-fulfilling prophecy and the island is now fully booked for months in advance due to Boracay's imminent closure. This has caught Siargao's hotel industry by surprise, as this place is still relatively undeveloped and is now full of tourists looking for a place to sleep at.
What used to be one of the best hidden secrets and an ultimate backpacker destination is now quickly turning into a crowded tourist mecca. Now might be your last chance of going there and enjoying some peace and quiet before this happens. If you do go there, make sure you check for availability and book your stay in advance. luckily, there are plenty of places offering homestays, dormitory and Airbnb style accommodation, so finding room on a budget is still relatively quite easy.
The main area in Siargao is called General Luna, and it stretches out all the way into Cloud Nine beach. That beach also has quite a few hotels right next to it, since it is considered one of the best surfing spots in the world and is the original reason why Siargao picked up traction among tourists.
The best way to enjoy Siargao is by renting a motorbike and going on adventures yourself. The organized tours are cheap and quite fun, but you can easily get to all the cool places even without them. When you explore by yourself you get a chance to be on your own itinerary and stop anytime you see something interesting. And believe us, there is plenty to see in Siargao – hidden white sand beaches, thick jungles and stunning landscape all around.
If you feel brave, take the boat trip to Bucas Grande. It's a grueling 3 hours sail in each direction, but once you get there you'll understand it was worth the trouble. Sohoton cove is considered one of the most beautiful and unique lagoons in the country, rivaled only by the majestic scenes of Palawan. Right next to the lagoon there's also the jellyfish sanctuary, where you can swim with stunning stingless jellyfish. Overall the area makes for a great location for a full day tour, filled with fun and unique attractions.
Malapascua – more than just diving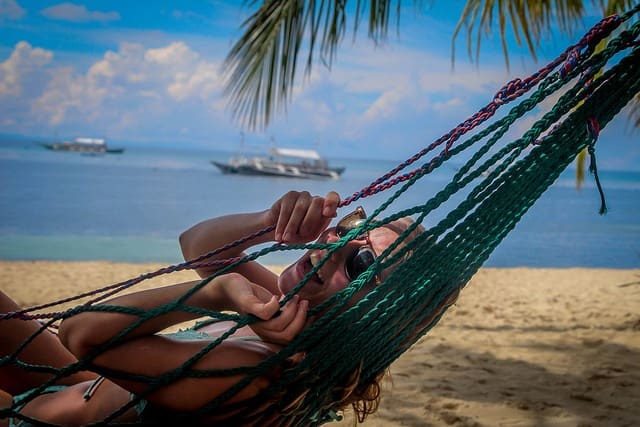 For people who really want to go off the beaten path, there aren't many better places to visit than Malapascua – a small island right off the northern shores of Cebu island. The fact it takes 5-6 hours to get to the island (van/bus then a ferry) is actually a plus, as it keeps it remote enough that you can enjoy the ultimate island getaway adventure.
Malapascua is mostly famous for its amazing dive sites and a very well-developed diving scene in general. It's one of the few places in the world where you are almost 100% guaranteed to see thresher sharks in the wild every day. What few people realize though, is that the island also has quite a few really nice boutique resorts. Developed by the island's fledgling European community, these resorts offer a fantastic solution for couples who want to stay at a nice, small resort but still enjoy excellent amenities.
Overall, Malapascua is one of the best places to go to if you want that unspoiled island vacation, but also care about a comfortable stay. Thanks to the fact this island is so close to Cebu, it can easily be combined with other, equally beautiful locations nearby. Moalboal is a very popular diving town in its own right, and also home to the famous Kawasan Falls. Bohol is a popular tourist island nearby, closely resembling the beach party mentality of Boracay. Lastly, if you truly want to go off the grid, then take a trip to the exotic Camotes islands, a stunning location where even electricity and running water are considered luxury.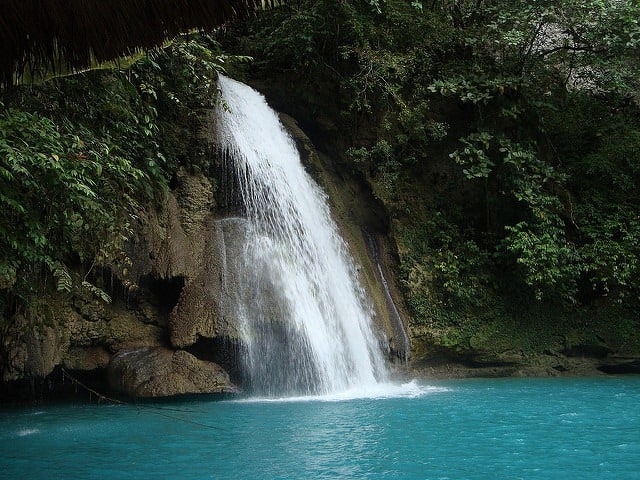 Don't be afraid of exploring on your own
While the advice above is certainly enough to help you create an exciting trip, a big part of the fun is exploring the unknown by yourself. A big part of a vacation in the Philippines is its free spirited and adventurous nature. To fully enjoy what this country has to offer, you have to let go and learn how to go with the flow.
Luckily, the locals are extremely friendly and helpful and they all speak English. Start talking to people around you and soon you will be able to find a ton of exciting new things to do everywhere you go. Make friends with other travelers and book tours together – you'll get to learn from their insights and it will also help you cut back on the costs.
The Philippines, with the exception of Mindanao island and some parts of Manila, is a very safe place. Don't be too afraid to mingle or explore just because you feel you might get hurt. The worst you might encounter is petty crimes such as pickpocketing or small tourist scams, especially since couples are rarely targeted. These can be easily avoided by staying alert and using basic common sense. There's no reason you won't be able to discover everything this country has to offer and have the perfect holiday with your loved one.
Gambling Around The World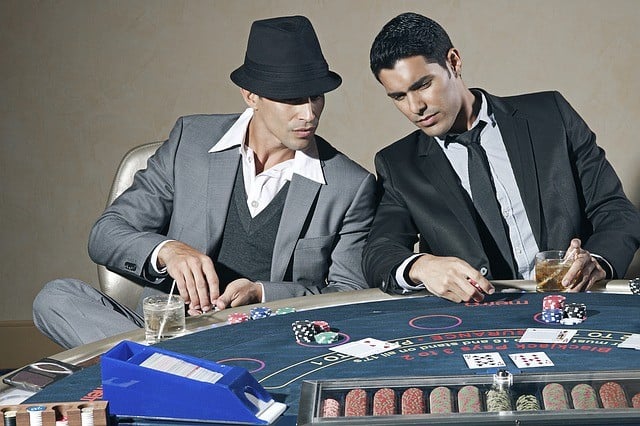 Gambling in 2017 has many different facets, some of them new, some of them going back literally thousands of years.
Some of us like to just stay home and play online, look for the best casino bonuses and have a great time from the comfort of our home sweet homes. And there is certainly nothing wrong with that.
But maybe you are travelling and you would like to check out the local casinos. We are going to include a quick list of the world's hot spots for gambling in case you come near one of these places, or just get the brick and mortar casino bug and want to check them out.
Monte Carlo: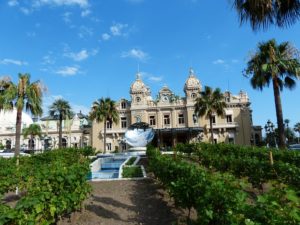 This is perfect for people who want to combine the classic gaming experience with spectacular views of the Mediterranean. Definitely you have a history and a tradition here not to be felt anywhere else. This place is not cheap, but it's worth every penny.
Aruba:
This one may surprise you, as people don't think of it as a gambling destination, but it's one of the world's best, with 24 world-class facilities, and of course, everything else to cater to tourists to a T.
It's also worth mentioning that most of these destinations are also beach destinations, but out of all of them, Aruba's beaches are hands-down the best.
Macau: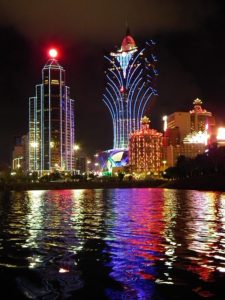 Once owned by the Portuguese, in today's world, Macau is part of China, but considered a special administrative district, in the same fashion as Hong Kong. Since a long time ago, it has been a famous destination for gamblers, and gambling and tourism make up a whopping 50% of its economy.
Las Vegas:
Las Vegas is all about big! It has the biggest concentration of casinos (over 75 next to each other on the strip), some of the world's biggest casinos, and biggest hotels. There is no doubt that this still remains the premier destination for people who are serious gamblers, no matter where in the world they may come from. No self-respecting high roller lives his or her life without at least one stop in Vegas.
Atlantic City:
This is the smallest of the destinations in this list, but not to be easily discounted. Many people prefer the relaxed vibe of Atlantic City compared to other destinations, and if you live anywhere between New York and DC, the proximity is a huge draw. And of course, the famous boardwalk is still there, and still as nice as ever in season.

We have been wearing out our jandals (Kiwi for flip-flops) on our travel adventures around the world since 2009. We think our blog is thought provoking and a little witty. But we have been proven wrong before. Find out more about us here...