Located in north central Laos on the Mekong River, Luang Prabang is a charming town that offers the perfect balance between exploration of its attractions and quiet reflection for absorbing all of the amazing things you are guaranteed to see and do while you are there. Below are my favourite Outdoor Activities to do in Luang Prabang, Laos.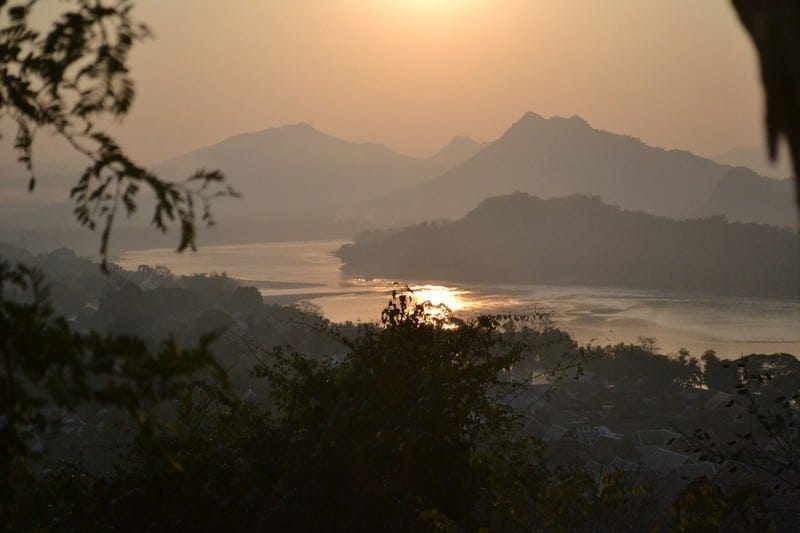 Why visit Luang Prabang for adventure?
A UNESCO World Heritage Site with a French historic influence, there is beautiful natural scenery to discover, the river to walk along and watch locals go about their days, markets to peruse, temples to visit and more delicious food than you think is capable of consuming in the time you choose to spend there.
Outdoor Activities to do in Luang Prabang, Laos
Tat Kuang Si Park and Kuang Si Falls
This is a picturesque spot 30km out of town and makes for a great half day trip. As you ascend through lush forest, you pass a series of pools where crystal clear water cascades over to create a multitude of beautiful waterfalls. Once you reach the last big one at the end of the path, don't be daunted by the final arduous muddy climb to reach the top of it.
The spectacular view makes the climb worth it and afterwards you can reward yourself by taking a dip in the refreshing water; either by launching yourself off the rope swing or by sitting under the waterfall and feel it beating down over your back.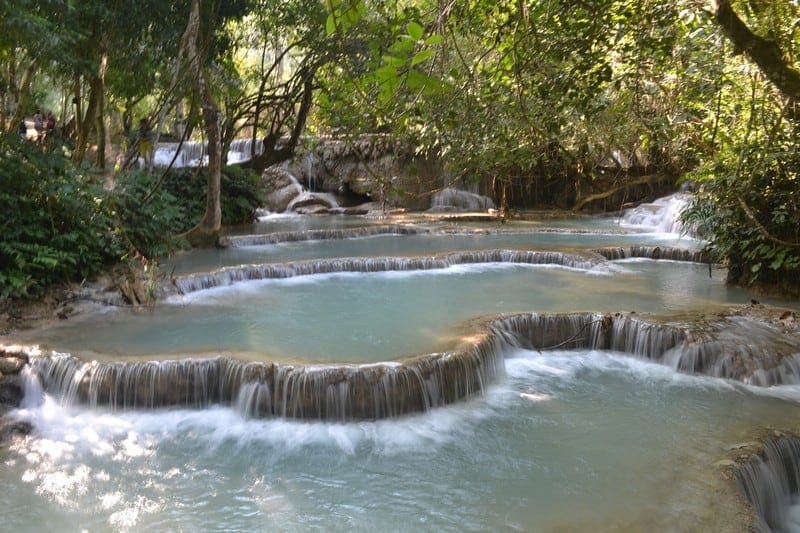 If you forget to pack a picnic lunch, make sure you pick up a delicious baguette from one of the stalls at the park entrance. Cheap and filling!
Travel Tips for getting to Tat Kuang Si Park
A shared rickshaw will cost about US$5 each (30 minutes from the centre of town)
Cost
Entrance to Tat Kuang Si Park is 30,000 Kip.
Tat Kuang Si Bear Rescue Centre
Before you leave the waterfalls at Tat Kuang Si Park, you will pass the 'Free the Bears' sanctuary which is a rescue centre. They provide rehabilitation to Asiatic Black Bears that have been illegally taken from the wild as cubs to be sold on the traditional medicine black market. Don't forget to make a small donation if you stop to take photos and gaze at their cute antics.
The organisation doesn't receive any fees from the ticket price to enter the park so they rely solely on donations from visitors to maintain care for these animals.
Getting to Tat Kuang Si Bear Rescue Centre
It is a short walk after you pass through the entrance to Tat Kuang Si Park.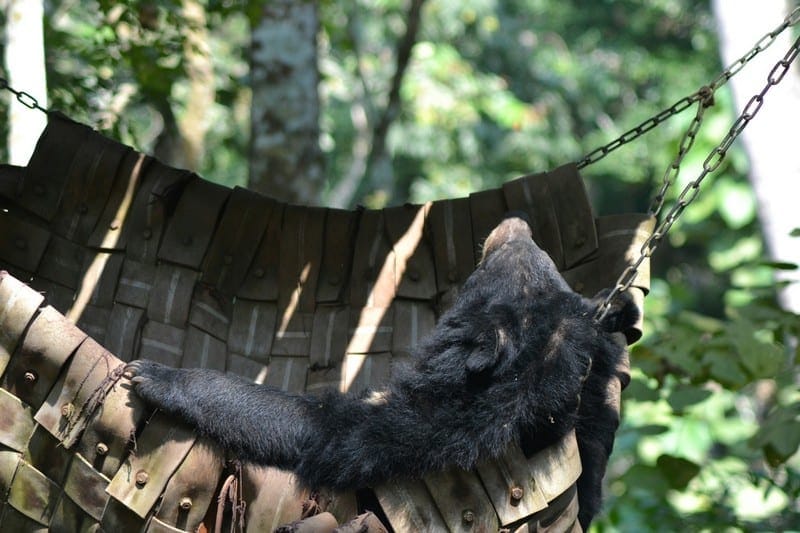 Cost of doing the adventure activity
Free but donations are welcome.
Watch the sunset from Phousi Hill
Make sure you leave the park by 4pm so you have time to get back into town and catch the stunning sunset over the Mekong River. The best vantage spot is from Phousi Hill which looms over Luang Prabang. While there are many steps to the summit, they are perfectly manageable and there are many relics and including Wat Chom Si and Wat Tham Phou Si that you can explore on your way up to help break the climb up. It can get incredibly crowded up at the top so make sure you give yourself ample time to get a good spot.
Travel Tips for getting to the adventure activity
Simply ask your rickshaw driver to drop you off at the base of Phousi Hill and walk the short 10-15 minute up the summit.
Cost
Free
Food Street and Night Markets
As dusk descends, it is time to satisfy any hunger pangs by visiting the extensive Food Street where you will be overwhelmed by the vast array of culinary treats. The real piece de resistance is the vegetarian buffet where you can heap your plate for just 10,000 Kip. If you still have room afterwards, you can select some sweet morsels from the number of stalls that sell beautifully made pastries and cakes; a nod to the town's French influence.
Afterwards you can walk off your meal by wandering around the night markets. The goods on offer is pretty stock standard stuff by south east Asian standards but the stall owners tend to leave you to your browsing which makes for a more pleasurable shopping experience.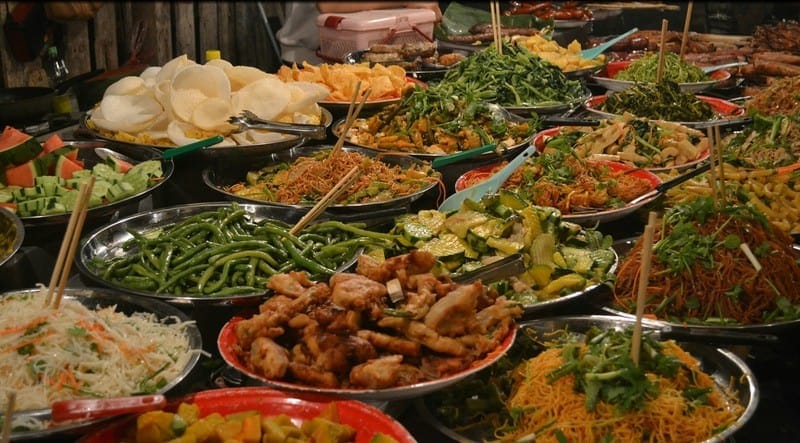 Travel Tips for getting to the adventure activity
Just a short five minute walk from the base of Phousi Hill.
Cost of doing the adventure activity
As much as you are convinced to spend at the markets and on delicious culinary treats.
Best time of the year to visit Luang Prabang for adventure?
Year round although Laos is more popular outside of monsoon season.
Finally, the reason I love Prabang for adventure is because…
Luang Prabang is one of those places that you instantly fall in love with. You plan on staying just a couple of days but it quickly worms its way into your heart and you find yourself staying longer than anticipated. There are so many great cafes and restaurants and it is easy to just spend leisurely days walking, eating and chatting to locals.
BIO:

Alaina McGregor, from Jandals & A Backpack, is a nomad Kiwi who likes to share her tips for backpacking on a budget. She counts hefting her backpack around the globe as part of her regular fitness regime and has a passion for volunteering, collecting passport stamps, sampling local beers in every country and visiting some of the world's most beautiful beaches.
Have you visit Laos before? What are your favourite outdoor activities to do in Luang Prabang?