Are you looking for an insider's adventure travel guide for the best outdoor activities in Montreal?
As part of our Adventure City Guide series, Carri from Carri Uranga.com, shares with you her expert insider tips on the top adventure and outdoor activities to do in Montreal.
Why visit Montreal for adventure?
Montreal is a vibrant city with a rich culture full of stunning architecture, hip trendy neighbourhoods and delicious food. But there's also many outdoor activities in Montreal itself. Even a sporty, adrenaline junkie thrill seeker will find plenty to keep oneself occupied before a night out on the town.
Outdoor Activities in Montreal
Running, cycling, or walking on Mont Royal
The lush green hill in the heart of the city is like Central Park to New Yorkers. Even on the coldest of days in deep Winter, you will find locals out on the "mountain."
While 233 meters (764 feet) may not seem like a huge elevation, once you're running or biking up it you'll think again. Not to be missed is the  Chemin Olmsted Path – a 5.5 mile loop that meanders through trees and rewards enthusiasts with a killer view overlooking the city. The loop starts and ends on Avenue du Parc at the George-Etienne Cartier Monument at the base of the hill which is also the site of the famous Tam-Tams – a giant drum circle held each Sunday May through September beginning at 1pm and going until sunset, a Montreal tradition since 1978.
What's it cost?
Best of all there is no entrance fee as the mountain is a public park. Check out http://www.runmap.net for more information.

Biking or kayaking on the Lachine Canal
A 14.5 kilometer waterway turned urban park that runs from the Old Port in Downtown Montreal to Lake Saint-Louis.
While walking, running and rollerblading are welcome on the path that runs the length of the canal on both sides, it's most utilized by cyclists. There are multiple bridges throughout the canal so riders can create their own length of ride. The use of the path is free, but if you need a bike there are plenty places to rent. Ca Roule Montreal on Wheels is Montreal's largest bike rental center and can be found in the Old Port at Rue de la Commune at St. Laurent right on the St. Lawrence river.
Kayaks, canoes and pedal boats can be rented at H20 Adventures close to the Atwater Market on the other side of the canal – 2985 St. Patrick crossstreet is Charlevoix. From downtown take the Metro for $3 to Station Lionel-Grouix.

Urban Biking
In addition to biking the Mountain or the Canal, biking around the city is the best way to get from place to place using Bixi.
Bixi is a brilliant bike concept developed in Montreal in 2008 that has since spread to other cities in Canada and the world. It's a public bike sharing system where a user can pick up a bike (city-wide fleet of 5000) at one of 411 stations in Montreal, ride it to another station in the city and park it securely in the rack. Users pay per day or even the year.

Surfing, Stand Up Paddleboarding or Kayaking on the St. Lawrence River
Probably the biggest surprise to most adventure enthusiasts to Montreal is that you can actually surf in Montreal on the St. Lawrence River just minutes from downtown!
The Lachine Rapids are a series of rapids between the Island of Montreal (like NY, the city of Montreal is an island) and the south shore. The rapids contain permanent waves due to the volume of water, the current and natural features of the riverbed. Starting at $70, KSF Adventures will take you on the most unique experience in Montreal.
The water is cold so be prepared to wear a wetsuit.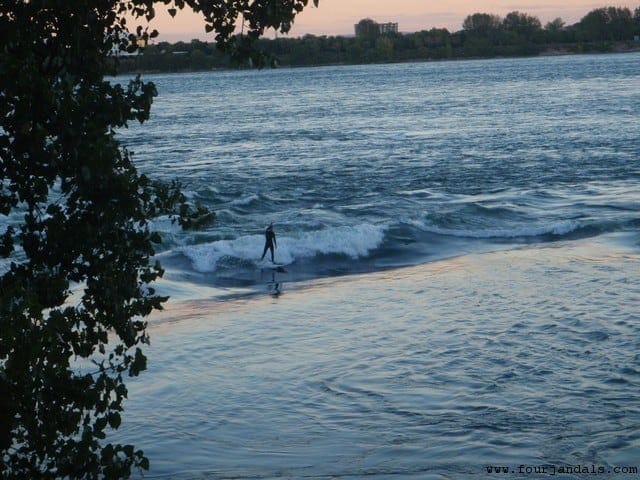 Jet Boating or Rafting the St. Lawrence River
You can also jet boat or white water raft on the St Lawrence River on these same rapids.
Best time of the year to visit Montreal for adventure?
Montreal is best enjoyed May through October unless of course you're looking for powder. In that case come December – March and head 90 minutes north to Mont Tremblant, one of the best ski areas in North America.
Endless winter adventures such as skiing, snowboarding, dog sledding, ice climbing, snow mobiling and even winter all-terrain dune buggy tours can be had at this top rated resort where Europe and North America culminate to give you hours of exhilirating activities.
Finally, the reason I love Montreal for adventure is because…
You don't need a car to enjoy what the city has to offer. The adventures are at your fingertips not far from downtown.
In addition to the architecture, the history and the fashionable boutiques, one can spend the day sweating it out on a bike, running up hills or satisfying the inner adrenaline junkie before rewarding yourself with fabulous Quebecois cuisine, stylish bars and late night clubs.

Bio:

In 2006 Carri and Chris sold their house in Vermont, most of their possessions, gave away a car and traveled in Central & South America for 1 year, hiking, biking, surfing, eating and drinking their way through this amazing and beautiful land. It was during this journey Carri decided to get certified to teach Yoga.

Her passion for Yoga and travel has led her around the world teaching in Peru, Italy, South Africa and working as a volunteer at Ibiza Yoga. She now leads her own Yoga Teacher Training courses with Drishti Yoga International in Mexico, India, Peru and Italy. Find out where Carri will be next on her blog, CarriUranga.com, Drishti Yoga site, and on Twitter.