Outdoor Activities in Cairns: Adventure City Guide
Find out how you can find the best Outdoor Activities in Cairns with our comprehensive Adventure City Guide to Cairns in Australia.
Are you looking for an insider's adventure travel guide for the best outdoor activities in Cairns?
As part of our Adventure City Guide series, Charli from Wanderlusters shares with you her expert insider tips on the top adventure and outdoor activities to do in Cairns; including how to get there and costs.
Why visit Cairns for adventure?
Cairns sits on the north east coast of the state of Queensland. Known as the place where the rainforest meets the reef the area provides a wealth of activities for the adventurous traveller. With its warm climate and laid back vibe the city is an excellent base to explore Australia's tropical north.
We spent two months living in Cairns although we'd only planned on visiting for a few days. Camping each night in our Winnebago we utilised the city's excellent network of bicycle lanes to discover all that is on offer.
Outdoor Activities in Cairns
Scuba Dive the Great Barrier Reef
Cairns is known as the gateway to the Great Barrier Reef and it would be impossible to visit the city without hopping aboard a boat to see first-hand the beauty of the world's most extensive coral reef eco system. For the adventurous traveller the only way to experience the reef is to join one of the liveaboard dive boats that take guests out to the best dive sites on the reef.
The famous Cod Hole, Steve's Bommie and Pixie Gardens all provide world class dives and give a brilliant insight into the diversity of life on the reef.
If you're a more experienced diver or wish to gain experience fast join Mike Ball's 7 day Coral Sea Safari and see the best of the Great Barrier Reef as well as the epic shark dive 150km from the shore at Osprey Reef. This five star liveaboard is world renowned for ensuring you see the best the reef has to offer.
Jump in at the Cod Hole and dive with fish the same size as you!
Brush up on your macro photography skills at Steve Bommie where you'll spot nudibranchs, frog fish and sea horses. You'll need nerves of steel for the shark feed dive out at Osprey Reef. Descending to fifteen metres your heart will race as you watch their shadows appear from below anticipating a meal. As they frenzy around you'll need a steady hand to take a photo as they swim inches from your mask. In our opinion this trip is the only way to literally submerse yourself in an unforgettable Great Barrier Reef adventure.
Getting to the Great Barrier Reef
You can jump aboard any of the liveaboard boats in Cairns so no transportation is required.
Mike Ball offers three, four and seven night trips. Note that you must opt for either the four or seven day trip to experience the shark feed. Prices start at $1600 AUD for the three night trip but cheaper rates can be negotiated a week before departure.
SAVVY TIP – We secured a placement on the Mike Ball Expedition Volunteer Programme and worked as dive crew on the boat for two weeks. This meant that we experienced the seven night Coral Sea Safari twice in exchange for two weeks of unpaid employment on the boat.Averaging three dives a day this is a brilliant way to experience the reef on a budget.
Note: To work on the dive deck you must be a certified Dive Master however there are opportunities for Open Water divers to volunteer in the galley.
For more information read our trip report.
White Water Rafting
For adrenaline junkies the opportunity to get off the beaten track and onto some white water is always met with enthusiasm.  The run off from the rainforest and mountain ranges that surround Cairns provides a number of great stretches of river to explore. The Tully River is known throughout Australia and New Zealand for its exceptional rafting and encompasses classes one through five.
Along with the white water rafting a day trip to the River Tully includes the opportunity for rock jumping, raft surfing and rapid swimming. With memorable spots along the stretch of forty five rapids like 'Alarm Clock' named because it provides those who pass a soggy wakeup call, and 'Stair Case' a nail biting drop, the Tully makes for a first rate adventure from your base in Cairns.
Logistics
When booking your white water adventure you will be advised of a collection point for your journey south to the Tully River. The transport is included in the cost of your rafting experience.
Cairns Rafting offer collection and return to your accommodation, a lunch time BBQ and five hour rafting experience for $195 AUD
SAVVY TIP – Visit the numerous tour desks in the town and barter for the best rate you can. Booking direct with the company is not always the cheapest option. The tour desks receive commission and they often give extra discounts to secure a sale.
Crystal Cascades
If you're strapped for cash take a day trip to the freshwater paradise of Crystal Cascades. Located just twenty minutes west of the city this area is known to locals and tourists alike and is a popular place to cool off in the heat of the day.
With no entry fees this is one of the most affordable paradise retreats you'll ever find.
With numerous waterfalls and swimming holes set in stunning rainforest surroundings it's a great place to explore or relax and soak up some sun. There are opportunities for the more adventurous to take part in some cliff jumping. A short walk up the cliff from the largest waterhole will take you to 'No Fear' point, the highest part of the cliff face from which you can launch yourself into the water below.
Logistics
While not far from Cairns there are no public transport options to Crystal Cascades.
We recommend hiring a car which can be done for around $35/day. If you're considering taking a taxi note there is intermittent mobile reception at the falls and you may find yourself unable to call for a ride home. Drive to the suburb of Redlynch, and simply follow the signs to Crystal Cascades. From the Red Beret Pub, the swimming hole is about 10 kilometres away.
There is no entry fee to the falls however be sure to take supplies and sun cream as there are no shops close by.
SAVVY TIP – Chat to other travellers about visiting the falls, they may have their own transport and be interested in experiencing the beauty of the falls themselves. Leave a wanted advert on the noticeboards in hostels and caravan parks advertising for travel buddies to share the cost of car rental and fuel.
Local Secret Adventure in Cairns
If you've spent your day laid by the lagoon and are in need of something to get your blood pumping pop down to the esplanade for an evening exercise class. The best part about this programme is that all the classes are free. All you need to do is arrive at the esplanade in the centre of the city equipped with the motivation to burn some calories and away you go.
Choose from yoga, pilates, beach volley ball, aqua aerobics, bootcamp and zumba and get that booty in shape for free.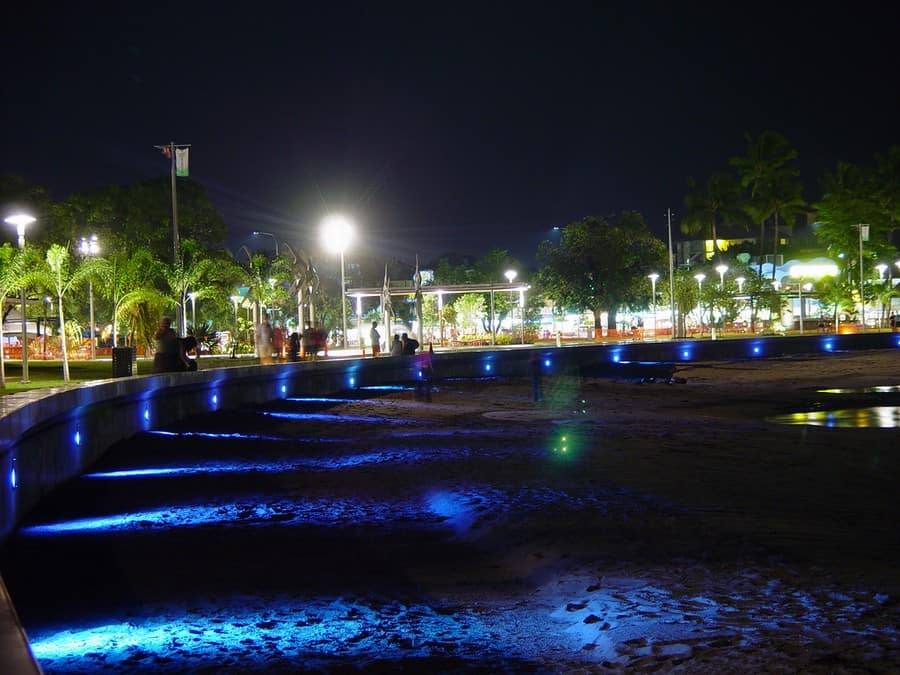 Best time of the year to visit Cairns for adventure?
Cairns provides adventurers with activities throughout the year however be aware that the Minkie Whale migratory season is from May to August and you can scuba dive with them aboard Mike Ball's Minke Whale Expedition in June and July.
Temperatures in northern Queensland can also reach 40°C during the summer months and the area can be hit with thunderstorms and cyclones December to March. If visiting during this time be vigilant about applying sunscreen, wearing a hat and always carry water.
The reason I love Cairns for adventure is because…
The city is nestled in between the aquatic splendour of the Great Barrier Reef and the vibrant canopy of the surrounding rainforest that covers many of the coastal mountain ranges. Both provide endless opportunity for exploration and would keep any explorer happy for the duration of their stay.
And once you've explored the natural beauty of the surrounding environment you can experience the cities thriving nightlife and relaxed beach vibe. Sometimes a cool beer and a sea view is just what you need after a day of adventure.
BIO:

In 2010 Charli & Ben made the decision to live a life less ordinary and six months later embarked on an undefined period of travel.  Enforcing no restrictions on their itinerary they have chosen to travel at a slow pace and incorporate house sitting assignments in each country they visit.

With no time limit restricting their experience they are content to continue exploring the world as digital nomads. From backpacking through Central America to road tripping around Australia they embrace each and every opportunity for adventure.

Find them on Facebook and Twitter or catch up with their journey at their travel website Wanderlusters.
Popular vs. Underrated Destinations:How To Avoid The Crowd?
The biggest dilemma you have to face as an enthusiastic holidaymaker is whether to embrace popular destinations or to find lesser known regions for your vacations. Popular destinations have the advantage that they are experienced with tourists. You can be sure that you will find someone speaking your language and that hotel receptions will be open 24/7. But they are likely to be crowded to the point where it can be impossible to find a free spot on the beach or to walk down that famous avenue you've read about in your guidebook. Underrated destinations, in comparison, offer freedom of movement and peacefulness that you associate with a quiet pace of life. But they may not have all the necessary facilities to welcome tourists. You may struggle to find someone who speaks your language or even to get a decent hotel room, let alone direct flights to get there. In short, what's the best answer to this dilemma?
Popular destinations with a twist
When you pick a destination that is familiar to the tourist industry, it's both a blessing and a curse, as the available facilities and attractions are likely to attract hundreds if not thousands of same-minded tourists. However, these destinations are popular for a reason, so it would be a pity to avoid visiting marvels of the world just because you want to stay away from the crowd. Dubai, for example, receives every year a growing number of tourists, with estimations for 2020 to top 20 million. Needless to say, you'll need to find things to do in Dubai that avoid the main entrance to their attraction area. But, looking for concierge services in famous cities like Dubai, Paris or Hong Kong can get you access to a privileged network to avoid tourists.
Visiting Dubai without the tourists
The perfect mix: Destinations that are about to get trendy
There are some destinations that are getting the necessary infrastructure to welcome tourists without having yet become popular. They are destinations in the making, areas that are about to go big and that you can visit while they're not yet famous. The rising stars of the holiday industry are places such as José Ignacio in Uruguay – where you can meet the likes of Shakira among other celebrities – and Sofia in Bulgaria, which is Europe's cheapest city destination. In those places, you can enjoy quality visits, beautiful landscapes, and architectures, without forgetting the exquisite hotel services too.
Beautiful and underrated destinations offer peace
Finally, there are places that simply don't attract tourists for a reason or another. They are not specifically growing in popularity, but they remain hidden gems across the world. You will need to plan your holiday in advance, as some of these areas provide minimal comfort, such as the Basque Country which is a humble and quirky location. The Canary Islands, while being a highly popular spot in summer, is almost deserted in spring. There, you don't need to worry about holiday attractions.
The charm of the forgotten destinations
In short, picking the best destinations for you demands a little bit of logistics juggle at first. Nobody likes a crowded place, so you can avoid other tourists either by choosing a different tile in a popular area or by working directly with a privileged service. If you are not keen on a famous destination, visit rising holiday stars or forgotten jewels. You'll have fewer tourists but still a lot of fun!
Five Of The Best Ways To Soak Up Scotland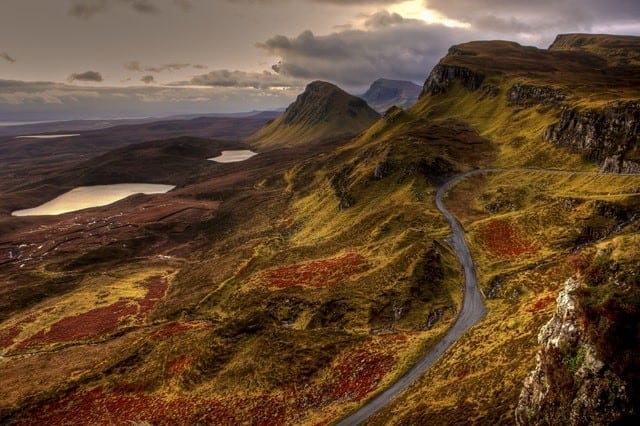 Rugged scenery, historic landmarks and a rich heritage – Scotland is a fantastic place to explore. With walking routes dotted between quaint cosy pubs, cities full with culture, and miles of beaches and scenic drives, there's really no excuse not to embrace the tartan. Here are some of the best ways you can explore and soak up Scotland's rich heritage.
Tour famous film locations
Scotland's landscape is stunning, so no wonder its dramatic scenery has been captured on the big screen. Explore the picturesque film locations, such as Glen Coe for James Bond's Skyfall moments. Visit Gairloch for the Billy Connolly classic, What We Did On Our Holiday where you can see views of the Isle of Skye from the expansive Red Point beach. Explore the Glenfinnan Viaduct in Lochaber for the iconic arched bridge that the Hogwarts Express chugs down in Harry potter.
By rail
Take the leisurely route around Scotland and travel by train. It's a much needed break from walking routes, with stunning views from the window that look out across the ever-changing landscape. Scotland's rail routes connect its seven cities with stops in many towns and villages across country, so you'll find it easy to delve into the West Highlands from Glasgow, traveling through the scenic Fort William, or roll past the battlefields of Robert the Bruce through Dumfries.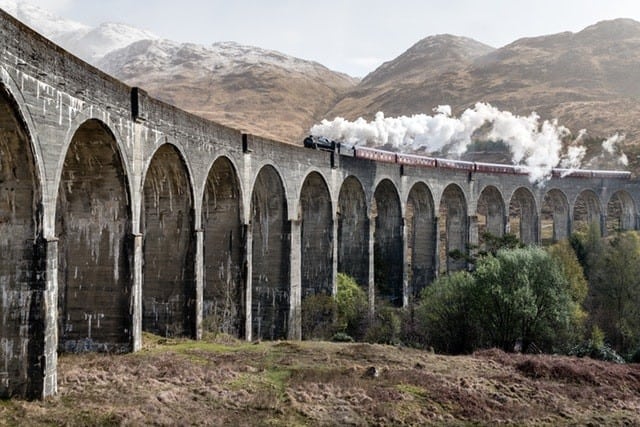 Walk, trek, stroll
Discover all the wonderful wildlife and nature on foot. Trek through the rugged countryside for unbelievable sights of the towering mountains, shimmering lochs, golden beaches and lush farmland. Find Lochan Urr in Glen Etive for a spot of paradise, stroll along Applecross Bay, or scale new heights for stunning views of Loch Lomond and The Trossachs National Park. For longer routes head to Fort William and Glen Coe for miles of green countryside.
Castle to castle
You'll find castles on top of, near enough, every rolling hill in Scotland. From pretty fairy tale castles to robust medieval fortresses, you can visit the most spectacular buildings all around Scotland. Enjoy strolling around the floral gardens looking up at the enchanting French design of Dunrobin Castle, on the northern coast near Dornoch. Explore Culzean Castle for dramatic scenes, or, Kilchurn near Dalmally in Argyll to gaze over the Loch Awe. Visit the royal stronghold, Fyvie Castle near Turriff for rich decor and 13th century furnishings. For something completely different, head to Kelburn Castle in Ayrshire for a colourful mural of unusual cartoons.
Cruise the Scottish waters
Take a look at Scotland from a different point of view by travelling Scotland's shores on a boat cruise around the islands. Visit the Isle of Skye, Stornoway, Port Ellen, Montrose and the picturesque Holy Loch Port. For something even more adventurous, canoe in the lochs and rivers around Fort William.
Sound good? There's so much to see in Scotland that you're bound to be mesmerised!
Top things to do in Cleveland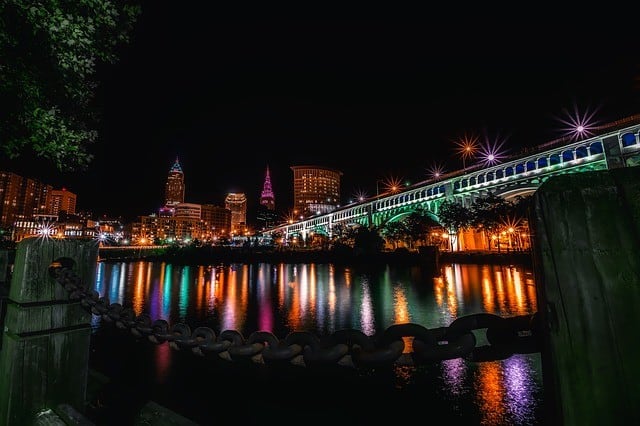 Cleveland, Ohio may not be a well-known city like the Big Apple or the sunny beach cities of California, yet there is still much to do in this small but very vibrant city. If you have been planning on heading out to this wonderful city, then you're in luck as there are numerous activities, attraction, and reservations that will be sure to educate as well as entertain the family.
Here is a small list of places and activities for the family and visitors to enjoy.
# 1 Hard Rock Rocksino
The Hard Rock Rocksino offers people a Las Vegas-esque kind of vibe and feel for the citizens and tourist of Ohio. If you love games, racing, elegant cuisine and just an overall fantastic night out on the town, the Hard Rock Rocksino is the place for you.
# 2 Outdoor Activities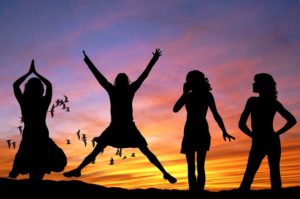 If you are someone who isn't too much into the nightlife and the whole city feel then Ohio still has you covered. Ohio indeed is one of the most aesthetically pleasing states to see and visit. Boasting and offering its residents and visitors sights and environments such as the Cuyahoga River in Lake Erie where people can go kayaking to The Townpath Trail where people can go jogging, hiking or horseback riding.
If you are an outdoor' kind of person than this is the place for you. Beautiful atmosphere, surrounded by nature and overall a sight that is awe-inspiring to look at – what more could an outdoors person as for?
# 3 Education – Family friendly Orientated Places
Now, ask yourself what type of family trip it would be if you just visit and didn't walk away learning something new and different? Well, in Ohio there are a plethora of places where you can take the family for an educational trip for the day.
There is the Cleveland Metroparks Zoo which boasts a wide array of animals from all around the world. There really is nothing more splendid for kids to see the animals that they love to imitate in person.
If the Zoo were fascinating and intriguing then the next destination, Greater Cleveland Aquarium would be sure to be as equally entertaining as the Zoo. When Visiting the Greater Cleveland Aquarium enter into an under that is akin to the Atlantis. Experience the aquatic lifeforms in such proximity.
Lastly, Ohio offers its residents and visitors many museums. There is the International Women's Air and Space Museum which educates the populace about the story of aviation and how much women had their part in history. And let's not forget the famous Rock and Roll Hall of Fame.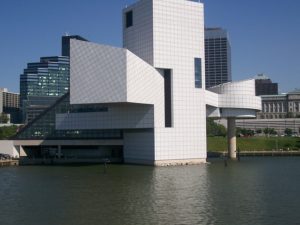 Final Thoughts
If you are deciding to visit this fantastic state, then be prepared for a wonderful visit and many cultural aspects that will be learned and offered. Make this trip a trip to remember with these places in mind.

We have been wearing out our jandals (Kiwi for flip-flops) on our travel adventures around the world since 2009. We think our blog is thought provoking and a little witty. But we have been proven wrong before. Find out more about us here...