East, South, West, North – 18,068km through Canada and USA (Week 4)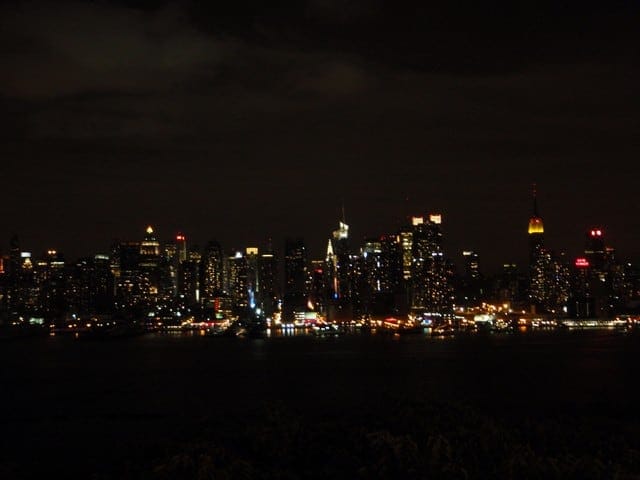 The following post relates to Week 4 of mine and Adela's road trip from Jasper in the Rocky Mountains across Canada into America and back to Vancouver covering a total of 18,068 km in just 7 weeks.
Day 22 – 25/09/2010 – We spent the morning relaxing around the camp ground and taking it easy as we watched the tide roll in.  It was really foggy so watching the tide continue to rise, and rise, and rise was pretty creepy as it covered about 15m in height up the shoreline in a matter of hours.  We had thought about walking along the beach but were glad we hadn't as we could easily have been stranded around the base of one of the cliffs very quickly.  
Our car is at the top of the 12m high bank which the tide rushed up within 2 hours
We finally headed away about 11am and drove through some beautiful areas with all the trees in full Autumn colours.  It was a great end to our drive through Canada.  A grand total of 9,100 km through Canada in just 3 weeks.  I couldn't believe our car was still going strong.
We crossed into America in the late evening and pulled in to Walmart to replenish our stocks and sleep before heading to New York tomorrow.  It was actually incredible that in the space of about 50 km from the border the size of everything had increased exponentially.  Now I don't like to be stereotypical but it seemed that the cars, houses, food portions and unfortunately some of the waists were quite significantly larger! 
Spending = $55 (petrol), $12 (USA visa), $11 (food) = $78 total.

Day 23 – 26/09/2010 –
We had planned on spending the afternoon in Boston but were anxious  that we had accommodation booked for 5 nights in New York starting from tomorrow so drove on instead decided on stopping for a bike ride at Wompatuck State Park in Massachusetts.  A nice afternoon out with no plans was exactly what we needed. 
Stopped in Jersey City for the night and checked out the New York skyline for the first time.  What a sight!  Unfortunately our cheap motel option was not as good as the views and I am pretty sure they must have been charging by the hour rather for the entire night considering the noises we heard coming from above and resulting lack of sleep…  Just a recommendation, don't pick a motel at 10pm at night based on the nightly rate advertised by the huge neon signs.
Spending = $48 (petrol), $13.75 (bridge tolls), $18 (dinner), $40 (petrol), $70 (hotel) = £188 total.
Day 24 – 27/09/2010 – NEW YORK CITY.  Once we worked out the one-system it was easy enough to find the hostel we were staying at so parked the car and high fived (not really but I wanted to) since we didn't have to do any more driving for another 4 days!  We were staying on 104th St which is located quite far from down town and in what looked like a dodgy neighbourhood.  However since we had no place to store our bikes we had to leave them chained up on the back of the car…  Surprisingly that's where the stayed the entire time.  Very impressed.
Hot Dog time in Times Square
Headed down to Times Square and were blown away by the bright city lights and the number of people milling around.  Definitely a surreal feeling after spending so much time in a small town and driving for 3 weeks just the 2 of us.  We decided to rest up early that night as we had brought 3 Day New York City Passes (highly recommend) which would get us into 55 attractions for free.  Kind of costly for $155 each but we knew that we would get our moneys worth if we saw on average 3 – 4 sights a day which was easily do-able.  
KM travelled = 19 km! (Woo hoo).
Spending = $54 (subway pass), $8 (bridge tolls), $492 (4 nights accommodation), $24 (food) = $578 total (Whoops).
Day 25 – 28/09/2010 – I love hostel breakfasts.  Most of the time they are free or you pay a few bucks and just fill up on muffins, fruit and toast or cereal.  Always a good way to make it through the morning without having to spend extra on snacks which is a sure fire way to spend your hard earned pennies.  However, this one was pretty disappointing with only stodgy muffins and croissants, but free is free.
Super jam-packed on the subway for rush hour traffic.  Felt a bit out of place amongst the suits heading downtown to work through the recession.  Got to love travel.  Spent the morning around Times Square again just enjoying the atmosphere before getting all cultural at the American Museum of Natural History to take in "one of the largest and most innovative museums in the world".  Heaps of cool exhibits.
Wandered through Central Park to the opposite side to the Metropolitan Museum of Art located on the Museum Mile.  This place is enormous with some 2 million pieces of art and 5,000 years of different cultures.  I am not usually a fan of these sorts of museums but I must say the modern art section was pretty cool and I would have loved to be able to afford some of the pieces for a house I may someday own and I am pretty sure the armoury section would look great in anyone's house!  Adela was more of a fan of the older Greek sculptures (I think for all the rude bits on display) and the European paintings.
Meet a few celebs on our way back in to the heart of New York…
The final museum of the day was at the King Tut exhibition which was travelling the world at the time and were lucky enough to have it included on our pass.  He was made the King of Egypt when he was only 9 years old and ruled for a whopping 10 years before dying when we was just 19.  Although it took a wee bit longer to stumble across his remains some 3,200 years later.
Our New York pass got us into the Empire State Building, although no line skips were allowed.  Luckily by going at night there were not the horrendous queues we had heard about so managed to get up in about half an hour.  Some amazing views over the city with thousands upon thousands of twinkling lights.  It was really peaceful being above the raw City.
Strolled back through Times Square as Adela was obsessed with the atmosphere.  I think it was more to do with the bright lights attracting her in like a moth.  Stumbled into bed absolutely buggered at 11.30pm that night.
KM travelled = 0 km by car (heaps by foot).
Day 26 – 29/09/2010 –
 Beautiful weather today which we were stoked about as we had woken up early to beat the tourist stampede to the Statue of Liberty.  Even the ferry ride across was a highlight as it gave some impressive views along the waterfront of Manhattan. 
We love all the informative signs and displays at museums and tourist attractions, so while other people are basically rushing around snapping photos and whizzing off to the next destination you can usually find us meandering along getting in everyone's way as we learn why the Statue of Liberty was built and the meaning behind it all.  (By the way, it was a gift from the French to America as a token of friendship and designed as a woman welcoming immigrants to the New World with her flame lighting the way).  
The Ellis Island guided museum tour was informative as well and the little bits you pick up from the guide are pretty neat.  We couldn't believe that 5,000 immigrants a day were flocking to America, and they only had about 10 immigration officials!  I get sick enough of airport queues so glad we didn't get stuck in one of this size.
We wandered the city taking in Wall Street and the New York Stock Exchange in the Financial District before heading to the moving tributes at the site of 9/11.  They are currently rebuilding there so unfortunately we couldn't see a lot happening.  I still remember hopping out of the pool and being told about it after swim training on the morning it happened.
Finished the informative day at the New York Police Department museum learning about the different gangs and criminals throughout the history of New York.  
Before we jumped on a 90 foot sailing boat to cruise the harbour and watch the sun set over Manhattan.  Such a relaxing way to finish another day on our feet with cocktails and amazing views across the water.  A definite highlight so far.
Spending = $20 (drinks), $7 (lunch), $10 (lunch) = $37 total.
Day 27 – 30/09/2010 – Really muggy, windy and low cloud this morning but were just glad it was not raining especially as we headed to the Rockefeller Centre first thing to go to the "Top of the Rock".  We were looking forward to checking out the daytime views over the city but with the low clouds sitting right at viewing platform level we had no luck.  We were photographed by some journalists though that were reporting on the stormy weather.  (Can't have been that bad as we were still in jandals…)


Jumped on a tour of Radio City, which is the largest theatre in North America, and home to the world famous Rockettes who are legendary for doing the high-kick can-can in sync.  I was more impressed by the actual stage though and the mechanics behind it which allows the stage to move up and down and round and round.  It was also the first tour I have been on where the take you into the bathrooms.  They were nice though!
Lounge and powder room in the girls toilets at Radio City
Had to visit the Notre Dame Cathedral of New York, but unfortunately our volunteer tour guide turned out to be a local old man who basically just loved to give free tours but didn't know too much about the actual Cathedral.  Quite hilarious though as we wandered around asking questions and he just diverted a lot of them to talk about other bits and pieces.  We did learn though that it's the biggest in North America (typical) and could fit the entire Statue of Liberty in it standing up!
Queued up in Times Square at the half-price ticket counter to get some tickets to the Addams Family musical.  Ended up getting prime seats and was well worth lining up for an hour and a half as the show was very funny and a bit of a different take on the usual genre and theme of the  Addams Family movies and TV shows.  Gomez had to be the highlight.
Day 28 – 01/10/2010 – Rubbish weather again this morning and unfortunately time to check out of our hostel back to the car.  We had planned on riding around Central Park for the rest of the day but was way too wet unfortunately so pigged out at the free breakfast and said goodbye to New York City.
As a recap, my three favourites would have to be:
1 – The Addam's Family on Broadway;
2 – Times Square and the atmosphere around the heart of the City; and
3 – Surprisingly the Modern Art Gallery at Metropolitan Museum of Art.
1 – The Cruise on the 90 foot sailing boat (and cocktails);
2 – The Addam's Family musical; and
All in all a great start to our road trip across America.  Plus we managed to knock off 3 states, New York, New Jersey and Pennsylvania, as we drove straight to Ohio.  
Spending = $26 (car parking), $30 (petrol), $24 (food) = $80 total.
Weekly KM travelled = 2207 km total.
Weekly Spending = $1245 total.
Where To Travel To On Your First Surf Holiday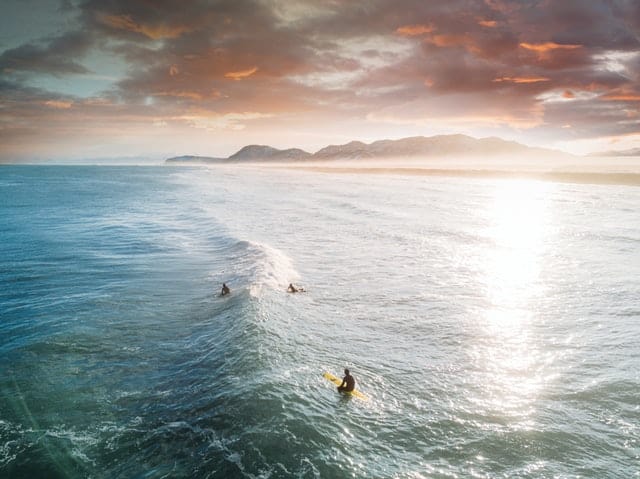 Since news broke that surfing would make its debut at the 2020 Olympics there has been a lot of interest in this surface water sport. Gone are the days when it was a sport reserved only for the weed smoking beach bums in their floral inspired board shorts. So, if you are feeling extra adventurous and would like to try surfing on your next vacation, we have rounded up the best destinations where you can ride your first wave.
Costa Rica
This populous Central American country is a surfers dream. Whether you are a seasoned pro or a beginner you are bound to catch some neat waves that reach up to 12 feet in height. If you want to take a surfing holiday, Playa Tamarindo is one of the most popular beaches to surf in Costa Rica. Be careful though, as this beach can experience strong rip currents at low tide.
Tamarindo has two main breaks for advanced surfers: Pico Pequeño a rocky point to the right of the Hotel Tamarindo Diriá and the excellent river mouth break across from Cabinas Tsunami called El Estero. The rest of the beach breaks are perfect for beginners.
Nicaragua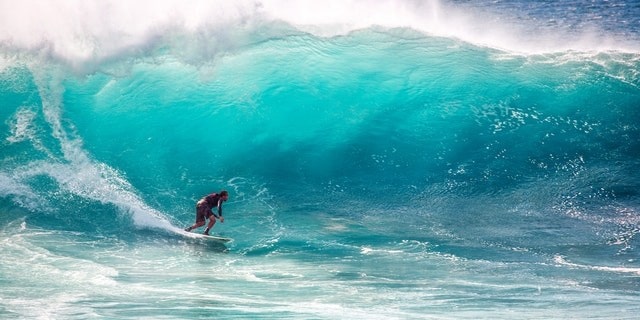 South Western Nicaragua receives 300+ days offshore wind and constant southern swells which means that this country is a surfer's dream. The entire pacific coastline in Nicaragua is peppered with amazing surf spots. From the The Boom in Northern Nicaragua to Popoyo in central Nicaragua and then all the way down to Playa Maderas in San Juan Del Sur.
Nicaragua has a wave for every level of surfer and with water temperatures averaging 27 degrees celsius, long surf sessions are always in order. There are plenty of surf camps dotted all over the country and because Nicaragua is still less developed than Costa Rica, prices are a lot lower than it's southern neighbour. Don't forget your surf equipment because you are bound to have a blast.
Portugal
Portugal isn't just famous for it's pastèis de natas, this European country also has some of the best surfing spots in the world. Super Tubos situated in Peniche, has been a favourite with locals and tourists alike. The break offers world-class surfing conditions with its hollow powerful waves, and is the site of the MEO Rip Curl Pro Portugal the World Surf League Men's Championship Tour event.
The Algarve on Portugal's southern coastline is famed for white sandy beaches and beach breaks. There are a number of great surf spots in the Alrgarve with Sagres being the epicentre of surfing in this region.
Morocco
Deep in the heart of North Africa there is a fishing vilage called Taghazout. Just north of Agadir. Which comes alive each winter with the sound of pounding pointbreaks and surf banter. It's a beautiful place with a rich Arabic culture to add  to the magic.
Taghazout is surf, surf and surf.  Taghazout is the premium surfing destination of Morocco with some iconic surf spots, like Anchor Point. Since Anchor point was first put on the surf mpa in the 1970's, Taghazout has steadily grown to become Morocco's preeminent surfing destination.
Taghazout now has a plethora of great surf camps to choose from, and all of them mainly cater to beginner and intermediate surfers.
Bali
We had to keep the best for last, Bali has been on the top of travellers favourite destinations for a long time which doesn't come as surprise. Bali has everything from sun, sea and surfing spots aplenty. Our top pick Kuta is if you are looking for a beach and resort area in the south of the island of Bali.
One of Bali's first tourist developments, it's best known for its party-centric atmosphere and surfing in the Indian Ocean. Kuta's long, consistent waves make it a popular surf spot, particularly for beginners, with plenty of outfitters offering board rentals and surf lessons.
Top of Cappadocia day trek – with Middle Earth Travel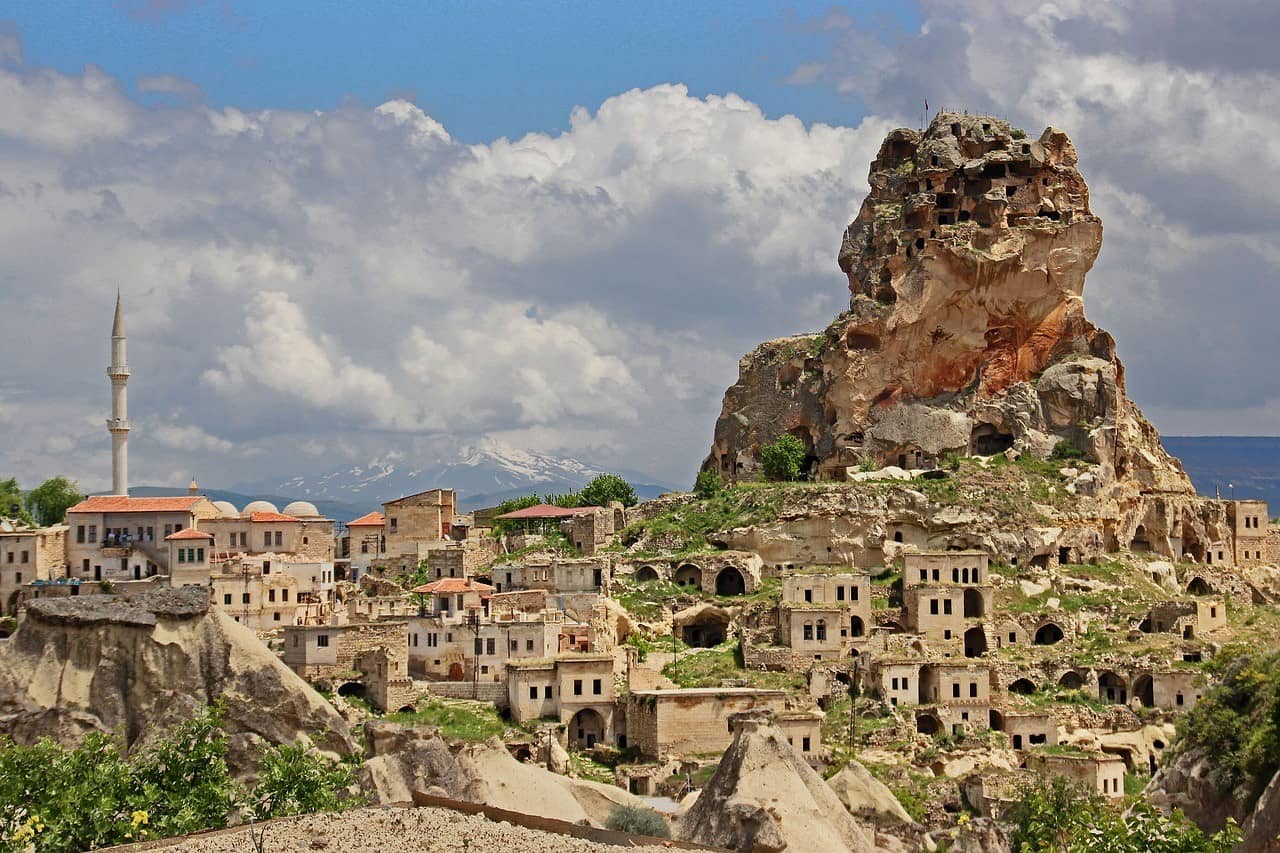 Trekking through the valleys of Cappadocia's fairy chimneys with Middle Earth Travel feels more like the set of a Star Wars movie than a historical region once carved out and lived in by humans. Churches, homes and pigeon houses are scattered throughout the valleys, all waiting to be explored. The best part is, Middle Earth Travel know all the hidden secrets.

Top of Cappadocia day trek – with Middle Earth Travel
On the 26th of July (which just so happens to be my birthday!) Middle Earth Travel took us on their private and guided Top of Cappadocia day trek. From Pasabag, along the top of Cappadocia and down through the Gulludere Rose Valley to Goreme, we trekked 15kms in one day! (We recommend getting your bearings with this map)
Upon arrival to the Middle Earth Offices, we were warmly greeted by our new friend Atil whom we had met a few days earlier while mountain biking through the Kizilcukur Red Valley. We were then introduced to our guide and given a briefing regarding the day. Normally, the Top of Cappadocia tour would start from Çavuşin, however, since we had already explored Çavuşin Castle, they adapted our tour to compensate ensuring we would explore new terrain!
With charged cameras, plenty of water and our running shoes on, we were driven to our starting point of Pasabag. We wandered through the fairy chimneys, coming across camels and markets – then the true hike began.
It was a slow and gentle incline. With no trees to provide shade, I quickly realised why our tour guide had chosen to wear fully covered clothing! As the sweat quickly set in (a waterfall in Moss's case) we snapped away with our cameras and enjoyed the entertaining shapes of Imagine Valley and the amazing view. We also passed a lot of rock piles, which according to our guide mean 'father' and are built to help lead the way.
The higher we trekked, the more breath taking the views became! As we walked along the summit of Bozdag mountain (the Top of Cappadocia) we could see EVERTHING – Pasabag, Çavuşin Castle, Kizilcukur Red Valley, Gulludere Rose Valley and Goreme. We were on the Father of Valleys! After a quick nod of agreement to the guide, we pushed ourselves the extra distance and made our way to the flag, as this HAD to be the highest point and was definitely worth a photo and a selfie or two!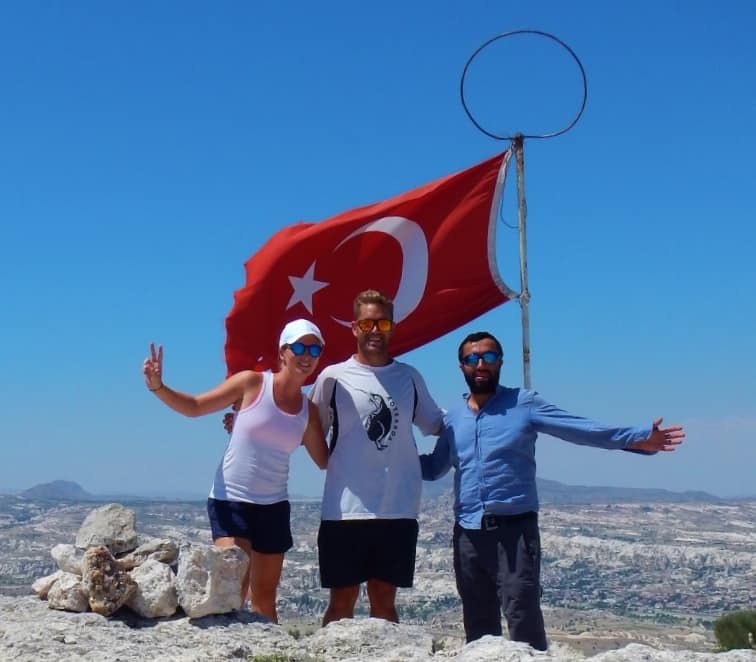 From the flag we looked down upon Aktepe Hill which is known as a popular destination for watching the sun set and could spot Kizilvadi Restaurant, our destination for lunch! Kizilvadi Restaurant is an attraction of its own. With its own historic winery and Grape church, plus some Middle Earth Travel treks even stay there for the night! After having a massive feed of soup, salad and pasta plus a surprise birthday cake, we made our way down into Gulludere Rose Valley.
The scenery is amazing, with strong colours visible in perfect layers on the chimneys, you would wonder what an artist was thinking, had it been a painting. Also, hidden to the side of the track we walked across a little bridge and not expecting anything to be there we were wowed by the massive church carved. It was absolutely huge and hard to believe that its most recent use has been as a pigeon house!
Middle Earth Travel Review
The team at Middle Earth Travel were extremely knowledgeable and certainly know Cappadocia's hidden secrets. They have friendships with local tea garden owners which is also of benefit as it gained us entry to locked churches and hidden rooms that we would not have otherwise seen.
We covered a lot of ground, however we did not feel rushed. The whole day focused on showing us the region, therefore we had as much time as we needed to explore each church and to take 'just one more photo'.
It wasn't all about trekking. With a whole day and 15kms to cover, there were a few silly poses (especially in Imagine Valley), and we learnt a lot about the myths, legends and way of life in Cappadocia.
In conclusion I highly recommend Middle Earth Travel if you wish to go trekking or mountain biking in Cappadocia.
Cost: Day treks with Middle Earth Travel range from 50-90 euro, depending on the number of people taking part. This includes lunch, guide, vehicle transfers and entrance fees to historical sites, but excludes alcoholic and soft drinks.
Middle Earth Travel are outdoor enthusiasts and offer multi-day over night treks, mountain biking, abseiling, or custom made itineraries, in multiple regions throughout Turkey.
Disclaimer: We were provided with a discount for the trek with Middle Earth Travel, however, as always our thoughts on our adventure travel blog our own.
Here's How To Make It In Morocco As A Tourist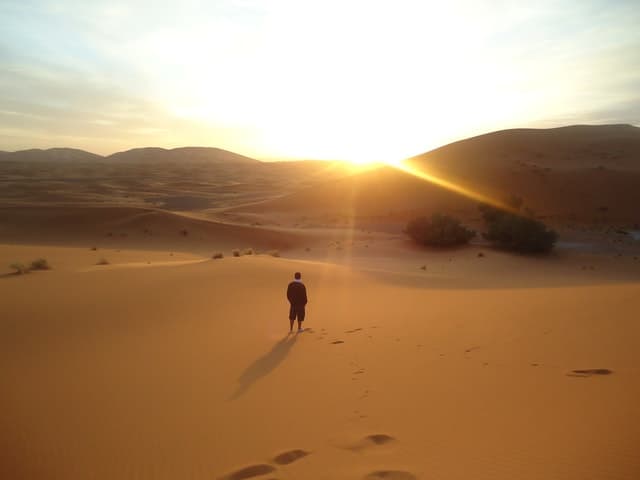 Morocco can be a wonderful place to visit and many of us might recall adventurers such as T.E Lawrence who contributed to the region in more ways than one. We may also remember classic movies such as Casablanca which was supposed to be set in the land of Morocco. Lines such as "here's looking at you kid" and " What in heaven's name brought you to Casablanca?" "…My health, I came to Casablanca for the waters." "The waters? What waters? We're in the desert." "…I was misinformed" certainly ring in our minds.
Who could forget the other classic lines from Casablanca that will go down for the ages? "You know how you sound…? Like a man who's trying to convince himself of something he doesn't believe in his heart" and "Where I'm going, you can't follow. What I've got to do, you can't be any part of. Ilsa, I'm no good at being noble, but it doesn't take much to see that the problems of three little people don't amount to a hill of beans in this crazy world. Someday you'll understand that."
Lines such as those and more certainly will make individuals want to at least go and check the great land of Morocco out, to at least be in the space and discover the country for themselves.
If you are planning on taking a visit to this North African nation and might find yourself taking multiple trips in Morocco do yourself a favor and follow these few tips to have a great experience.
Dress Well
It is important that you pay close attention to the attire and the customs of the region that you go and visit. Women should note to dress modestly, while men can wear regular attire that they might in their home countries. It is best not to dress provocatively as they may attract unwanted attention.
Money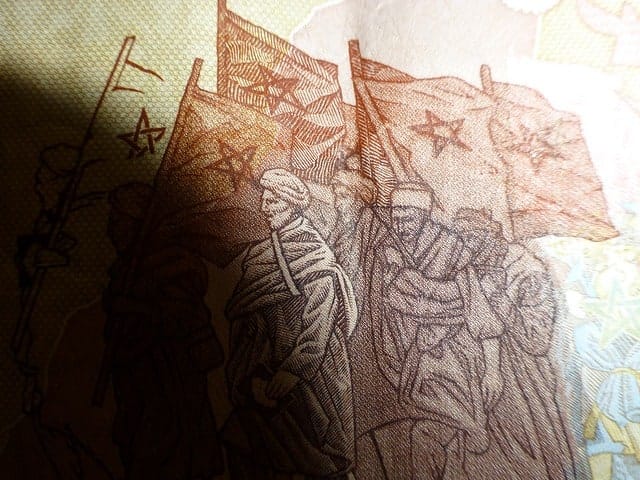 You'll want to make sure that you have enough Dirhams on hand to be able to move around in a pleasant manner, make sure to have the right amounts of this currency while booking cabs and for conducting other affairs in the region. Do not rely on automated teller machines to spit out the right currencies as they may be out or might not be reliable.
Put on your Negotiating Cap
Morocco is a place where you will want to make sure to get the right substance in exchange for your money. This is not to say that merchants will rip you off, no, it is more to say that you can negotiate as that is part of the culture and prices are not rigid they are flexible. Don't' hesitate, learn how to negotiate! You will just have to invest the time into the deal and be rewarded with good prices for quality items.
Tourists are a form of income for many shop owners and people in the region
Make sure to have a good time but stay guarded. Random people may offer to be your guide to the region but they might not be trustworthy. This means that individuals might try to take advantage of your lack of knowledge and urge you to spend more money at shops that they take you to, spend more money on the tour itself, etc. It is wise to look at different options for tours earlier on and go with trustworthy people. 
Watch out
Watch out for a variety of things, pickpockets, the food and the types of water. The food might be prepared differently and not similar to how it is in your home region. Thus is it is necessary to note that for the first few days while in the land, there is a chance that your stomach might feel queasy.
Make sure to follow precautions with important items, from your passport to your money as pickpockets may lurk.
Also, make sure to source water bottles if possible so you can stay refreshed and won't have any issues from a health standpoint.

We have been wearing out our jandals (Kiwi for flip-flops) on our travel adventures around the world since 2009. We think our blog is thought provoking and a little witty. But we have been proven wrong before. Find out more about us here...
What Are You Looking For?