East, South, West, North – 18,068km through Canada and USA (Week 4)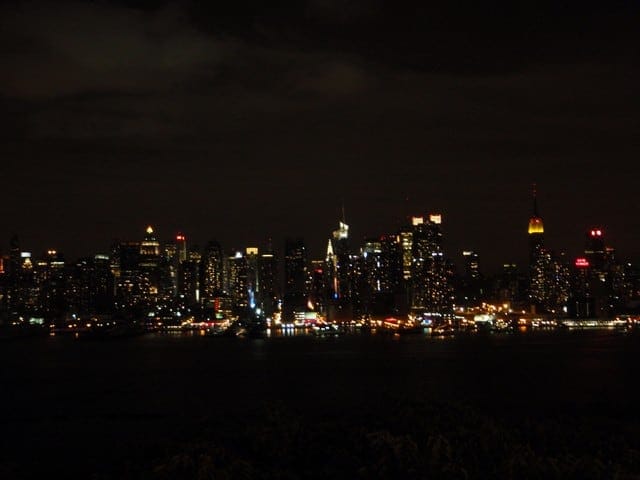 The following post relates to Week 4 of mine and Adela's road trip from Jasper in the Rocky Mountains across Canada into America and back to Vancouver covering a total of 18,068 km in just 7 weeks.
Day 22 – 25/09/2010 – We spent the morning relaxing around the camp ground and taking it easy as we watched the tide roll in.  It was really foggy so watching the tide continue to rise, and rise, and rise was pretty creepy as it covered about 15m in height up the shoreline in a matter of hours.  We had thought about walking along the beach but were glad we hadn't as we could easily have been stranded around the base of one of the cliffs very quickly.  
Our car is at the top of the 12m high bank which the tide rushed up within 2 hours
We finally headed away about 11am and drove through some beautiful areas with all the trees in full Autumn colours.  It was a great end to our drive through Canada.  A grand total of 9,100 km through Canada in just 3 weeks.  I couldn't believe our car was still going strong.
We crossed into America in the late evening and pulled in to Walmart to replenish our stocks and sleep before heading to New York tomorrow.  It was actually incredible that in the space of about 50 km from the border the size of everything had increased exponentially.  Now I don't like to be stereotypical but it seemed that the cars, houses, food portions and unfortunately some of the waists were quite significantly larger! 
Spending = $55 (petrol), $12 (USA visa), $11 (food) = $78 total.

Day 23 – 26/09/2010 –
We had planned on spending the afternoon in Boston but were anxious  that we had accommodation booked for 5 nights in New York starting from tomorrow so drove on instead decided on stopping for a bike ride at Wompatuck State Park in Massachusetts.  A nice afternoon out with no plans was exactly what we needed. 
Stopped in Jersey City for the night and checked out the New York skyline for the first time.  What a sight!  Unfortunately our cheap motel option was not as good as the views and I am pretty sure they must have been charging by the hour rather for the entire night considering the noises we heard coming from above and resulting lack of sleep…  Just a recommendation, don't pick a motel at 10pm at night based on the nightly rate advertised by the huge neon signs.
Spending = $48 (petrol), $13.75 (bridge tolls), $18 (dinner), $40 (petrol), $70 (hotel) = £188 total.
Day 24 – 27/09/2010 – NEW YORK CITY.  Once we worked out the one-system it was easy enough to find the hostel we were staying at so parked the car and high fived (not really but I wanted to) since we didn't have to do any more driving for another 4 days!  We were staying on 104th St which is located quite far from down town and in what looked like a dodgy neighbourhood.  However since we had no place to store our bikes we had to leave them chained up on the back of the car…  Surprisingly that's where the stayed the entire time.  Very impressed.
Hot Dog time in Times Square
Headed down to Times Square and were blown away by the bright city lights and the number of people milling around.  Definitely a surreal feeling after spending so much time in a small town and driving for 3 weeks just the 2 of us.  We decided to rest up early that night as we had brought 3 Day New York City Passes (highly recommend) which would get us into 55 attractions for free.  Kind of costly for $155 each but we knew that we would get our moneys worth if we saw on average 3 – 4 sights a day which was easily do-able.  
KM travelled = 19 km! (Woo hoo).
Spending = $54 (subway pass), $8 (bridge tolls), $492 (4 nights accommodation), $24 (food) = $578 total (Whoops).
Day 25 – 28/09/2010 – I love hostel breakfasts.  Most of the time they are free or you pay a few bucks and just fill up on muffins, fruit and toast or cereal.  Always a good way to make it through the morning without having to spend extra on snacks which is a sure fire way to spend your hard earned pennies.  However, this one was pretty disappointing with only stodgy muffins and croissants, but free is free.
Super jam-packed on the subway for rush hour traffic.  Felt a bit out of place amongst the suits heading downtown to work through the recession.  Got to love travel.  Spent the morning around Times Square again just enjoying the atmosphere before getting all cultural at the American Museum of Natural History to take in "one of the largest and most innovative museums in the world".  Heaps of cool exhibits.
Wandered through Central Park to the opposite side to the Metropolitan Museum of Art located on the Museum Mile.  This place is enormous with some 2 million pieces of art and 5,000 years of different cultures.  I am not usually a fan of these sorts of museums but I must say the modern art section was pretty cool and I would have loved to be able to afford some of the pieces for a house I may someday own and I am pretty sure the armoury section would look great in anyone's house!  Adela was more of a fan of the older Greek sculptures (I think for all the rude bits on display) and the European paintings.
Meet a few celebs on our way back in to the heart of New York…
The final museum of the day was at the King Tut exhibition which was travelling the world at the time and were lucky enough to have it included on our pass.  He was made the King of Egypt when he was only 9 years old and ruled for a whopping 10 years before dying when we was just 19.  Although it took a wee bit longer to stumble across his remains some 3,200 years later.
Our New York pass got us into the Empire State Building, although no line skips were allowed.  Luckily by going at night there were not the horrendous queues we had heard about so managed to get up in about half an hour.  Some amazing views over the city with thousands upon thousands of twinkling lights.  It was really peaceful being above the raw City.
Strolled back through Times Square as Adela was obsessed with the atmosphere.  I think it was more to do with the bright lights attracting her in like a moth.  Stumbled into bed absolutely buggered at 11.30pm that night.
KM travelled = 0 km by car (heaps by foot).
Day 26 – 29/09/2010 –
 Beautiful weather today which we were stoked about as we had woken up early to beat the tourist stampede to the Statue of Liberty.  Even the ferry ride across was a highlight as it gave some impressive views along the waterfront of Manhattan. 
We love all the informative signs and displays at museums and tourist attractions, so while other people are basically rushing around snapping photos and whizzing off to the next destination you can usually find us meandering along getting in everyone's way as we learn why the Statue of Liberty was built and the meaning behind it all.  (By the way, it was a gift from the French to America as a token of friendship and designed as a woman welcoming immigrants to the New World with her flame lighting the way).  
The Ellis Island guided museum tour was informative as well and the little bits you pick up from the guide are pretty neat.  We couldn't believe that 5,000 immigrants a day were flocking to America, and they only had about 10 immigration officials!  I get sick enough of airport queues so glad we didn't get stuck in one of this size.
We wandered the city taking in Wall Street and the New York Stock Exchange in the Financial District before heading to the moving tributes at the site of 9/11.  They are currently rebuilding there so unfortunately we couldn't see a lot happening.  I still remember hopping out of the pool and being told about it after swim training on the morning it happened.
Finished the informative day at the New York Police Department museum learning about the different gangs and criminals throughout the history of New York.  
Before we jumped on a 90 foot sailing boat to cruise the harbour and watch the sun set over Manhattan.  Such a relaxing way to finish another day on our feet with cocktails and amazing views across the water.  A definite highlight so far.
Spending = $20 (drinks), $7 (lunch), $10 (lunch) = $37 total.
Day 27 – 30/09/2010 – Really muggy, windy and low cloud this morning but were just glad it was not raining especially as we headed to the Rockefeller Centre first thing to go to the "Top of the Rock".  We were looking forward to checking out the daytime views over the city but with the low clouds sitting right at viewing platform level we had no luck.  We were photographed by some journalists though that were reporting on the stormy weather.  (Can't have been that bad as we were still in jandals…)


Jumped on a tour of Radio City, which is the largest theatre in North America, and home to the world famous Rockettes who are legendary for doing the high-kick can-can in sync.  I was more impressed by the actual stage though and the mechanics behind it which allows the stage to move up and down and round and round.  It was also the first tour I have been on where the take you into the bathrooms.  They were nice though!
Lounge and powder room in the girls toilets at Radio City
Had to visit the Notre Dame Cathedral of New York, but unfortunately our volunteer tour guide turned out to be a local old man who basically just loved to give free tours but didn't know too much about the actual Cathedral.  Quite hilarious though as we wandered around asking questions and he just diverted a lot of them to talk about other bits and pieces.  We did learn though that it's the biggest in North America (typical) and could fit the entire Statue of Liberty in it standing up!
Queued up in Times Square at the half-price ticket counter to get some tickets to the Addams Family musical.  Ended up getting prime seats and was well worth lining up for an hour and a half as the show was very funny and a bit of a different take on the usual genre and theme of the  Addams Family movies and TV shows.  Gomez had to be the highlight.
Day 28 – 01/10/2010 – Rubbish weather again this morning and unfortunately time to check out of our hostel back to the car.  We had planned on riding around Central Park for the rest of the day but was way too wet unfortunately so pigged out at the free breakfast and said goodbye to New York City.
As a recap, my three favourites would have to be:
1 – The Addam's Family on Broadway;
2 – Times Square and the atmosphere around the heart of the City; and
3 – Surprisingly the Modern Art Gallery at Metropolitan Museum of Art.
1 – The Cruise on the 90 foot sailing boat (and cocktails);
2 – The Addam's Family musical; and
All in all a great start to our road trip across America.  Plus we managed to knock off 3 states, New York, New Jersey and Pennsylvania, as we drove straight to Ohio.  
Spending = $26 (car parking), $30 (petrol), $24 (food) = $80 total.
Weekly KM travelled = 2207 km total.
Weekly Spending = $1245 total.
WHY WE LOVE TRAVELLING IN ANTIPOLO (AND YOU SHOULD, TOO)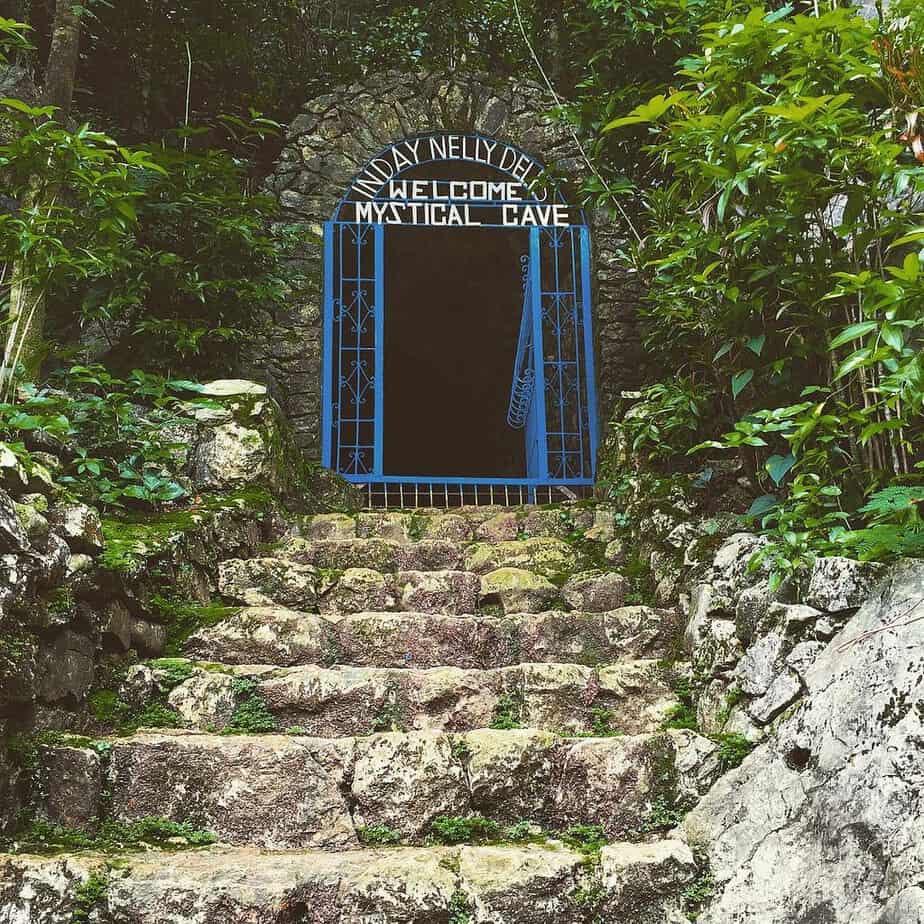 Antipolo is one of the seven most popular cities in Philippines which is located in the province of Rizal. The city of Antipolo is famous for being a pilgrimage site and is popularly known as the "pilgrimage site of Philippines". Being the heritage city of the country Antipolo holds many beautiful and amazing places where you can explore your travel buds. The main and the enshrined attraction of the place is the marine image of the Our Lady of Peace and Good Voyage present in the Antipolo museum which was brought from Mexico during the year 1626.
There are many beautiful and extravagant places present in the beautiful city of the Antipolo where one can easily find peace and can explore the beauty of Philippines, the Antipolo style.  The city consists of many historic and natural sites which will blow your mind off and are worth visiting. We have some tourist attractions in Antipolo where you can go exploring with your friends or family or even alone.
Antipolo Cathedral: – Being the most historic and antique church present in the city the Antipolo church is widely famous for its renowned icon, the Our Lady of Peace and Good Voyage. The church is located in the proper town and every year on the month of May Antipolo becomes the centre of attraction for many of the visitors and tourists who travel from faraway lands and locals in order to pay homage to the Our Lady.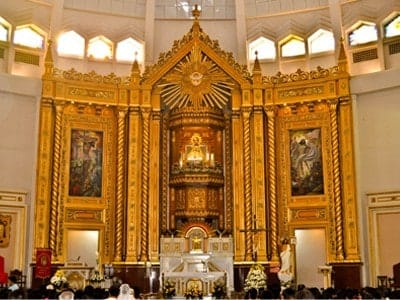 Boso Boso church: – This church is mostly a remnant of a centuries old church which was destroyed during the Second World War. This beautiful remnant of the church belongs to the Spanish era that dominated the country of Philippines that for more than 300 years. It was constructed in the year 1700 under the Jesuits. After getting destroyed by earthquake in 1800, the church was abandoned in the 1930 and got into a fire scandal in the year 1945; it got restored back by the government in the year 1995. If you are a great lover of history and past things this place might fascinate you.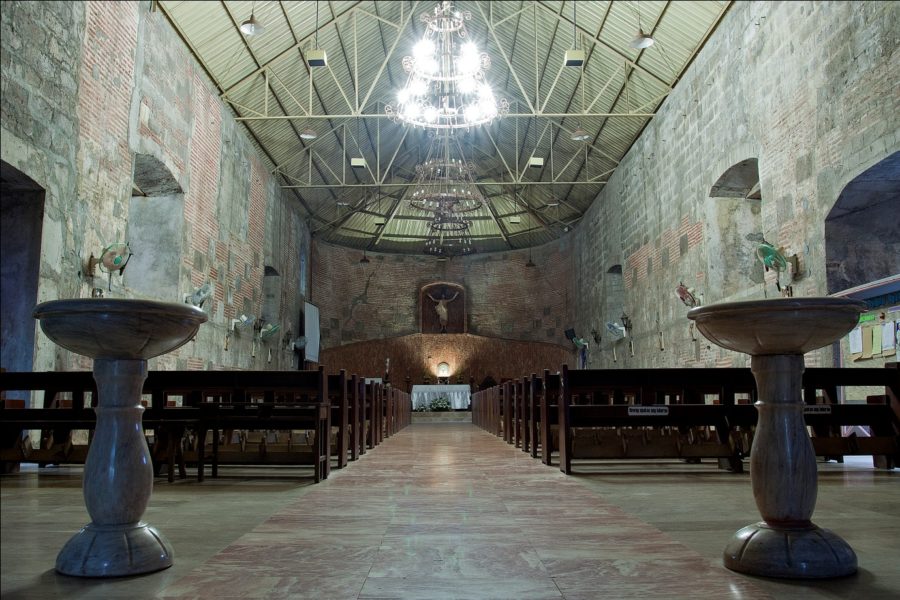 Hinulugang Taktak: – The name of the place means "where the bell was dropped", is a waterfall that was designated by the government of Philippines as a national park. The mesmerizing waterfall got its interesting name due to a turn of event down the history. The priest of the nearby church on the demand of the town people had thrown the church bell into the river as it was causing unwanted sound in the town every time it rang during the Angelus.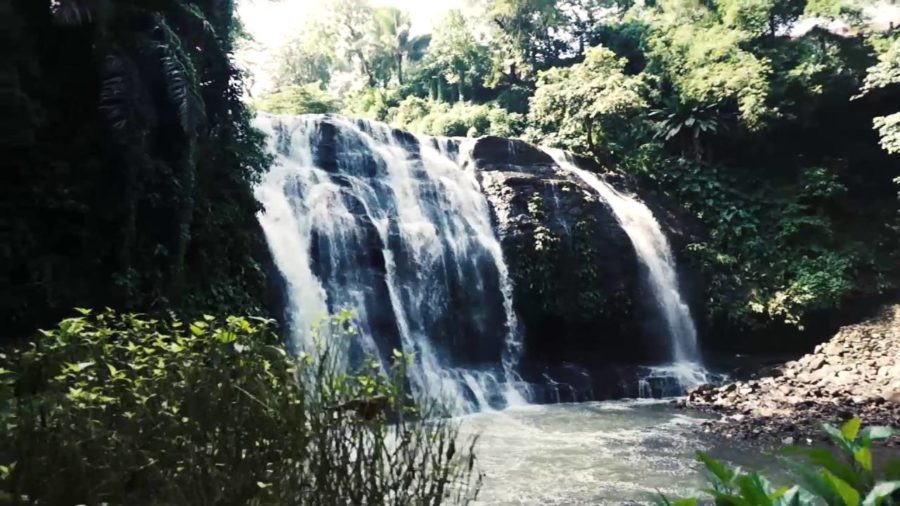 Mystical Cave: – The cave is named as mystical because one can see the several religious images that appear inside the cave. Mostly the images are in stalactite and stalagmite formations that mainly resembles religious Gods. The cave consists of two floors but the visitors are allowed to explore the first one without permission.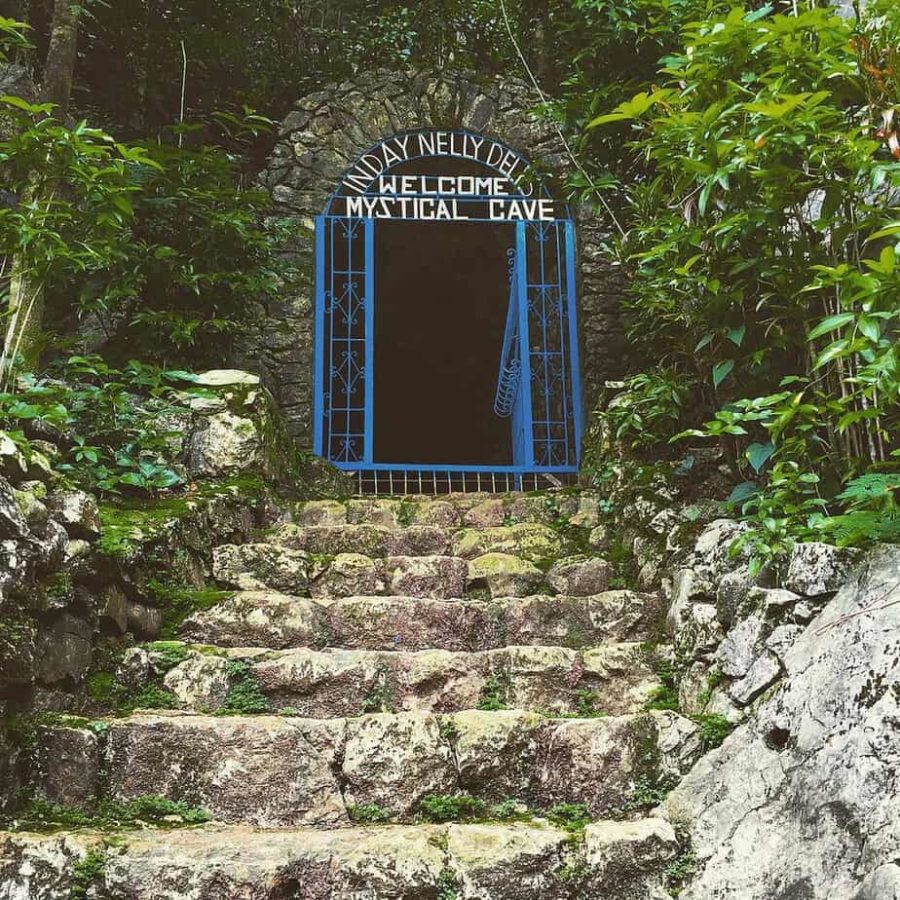 Pinto Art Museum: – If you adore art and paintings and want to connect with the Antipolo's culture then this art museum is an amazing chance you to get connected with the locals. The museum mainly displays the art, sculptures and paintings of the local artist bringing out the cultural background of the place.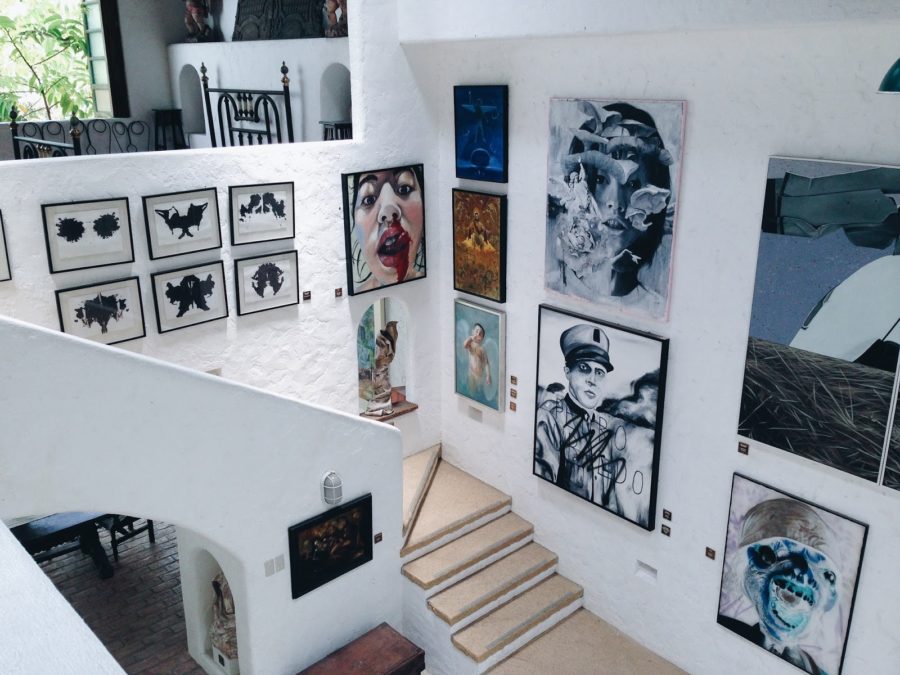 Not only have these amazing historic places given you a clear image of the Antipolo's beauty and history but there is a little more than just places that you will find fascinating. As the city of Antipolo is situated in a higher elevation than the Metro Manila, it gives you a breathtaking view of the metropolis at night, which is a sight to behold in the ancient city. In order to stay in the city you can easily find vacation home in Antipolo Philippines where you can stay and enjoy of your own.
Not only just places the city of Antipolo provides you exquisite food choices to make your taste buds go bananas or you can have fresh locally grown mangoes and cashews. The most famous dish in the city is the Suman, which is normally a local delicacy that is made from glutinous rice.
Antipolo is a breathtaking place hidden in the depth of Philippines with a mesmerizing history and culture. It will not only make you fall in love with itself but also will make your eyes reach with beauty.
Top of Cappadocia day trek – with Middle Earth Travel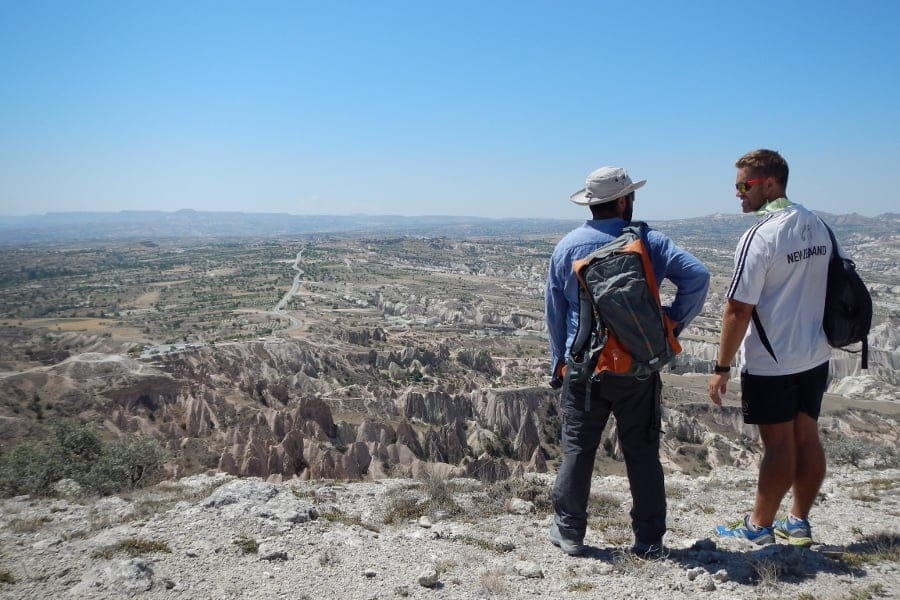 Trekking through the valleys of Cappadocia's fairy chimneys with Middle Earth Travel feels more like the set of a Star Wars movie than a historical region once carved out and lived in by humans. Churches, homes and pigeon houses are scattered throughout the valleys, all waiting to be explored. The best part is, Middle Earth Travel know all the hidden secrets.

Top of Cappadocia day trek – with Middle Earth Travel
On the 26th of July (which just so happens to be my birthday!) Middle Earth Travel took us on their private and guided Top of Cappadocia day trek. From Pasabag, along the top of Cappadocia and down through the Gulludere Rose Valley to Goreme, we trekked 15kms in one day! (We recommend getting your bearings with this map)
Upon arrival to the Middle Earth Offices, we were warmly greeted by our new friend Atil whom we had met a few days earlier while mountain biking through the Kizilcukur Red Valley. We were then introduced to our guide and given a briefing regarding the day. Normally, the Top of Cappadocia tour would start from Çavuşin, however, since we had already explored Çavuşin Castle, they adapted our tour to compensate ensuring we would explore new terrain!
With charged cameras, plenty of water and our running shoes on, we were driven to our starting point of Pasabag. We wandered through the fairy chimneys, coming across camels and markets – then the true hike began.
It was a slow and gentle incline. With no trees to provide shade, I quickly realised why our tour guide had chosen to wear fully covered clothing! As the sweat quickly set in (a waterfall in Moss's case) we snapped away with our cameras and enjoyed the entertaining shapes of Imagine Valley and the amazing view. We also passed a lot of rock piles, which according to our guide mean 'father' and are built to help lead the way.
The higher we trekked, the more breath taking the views became! As we walked along the summit of Bozdag mountain (the Top of Cappadocia) we could see EVERTHING – Pasabag, Çavuşin Castle, Kizilcukur Red Valley, Gulludere Rose Valley and Goreme. We were on the Father of Valleys! After a quick nod of agreement to the guide, we pushed ourselves the extra distance and made our way to the flag, as this HAD to be the highest point and was definitely worth a photo and a selfie or two!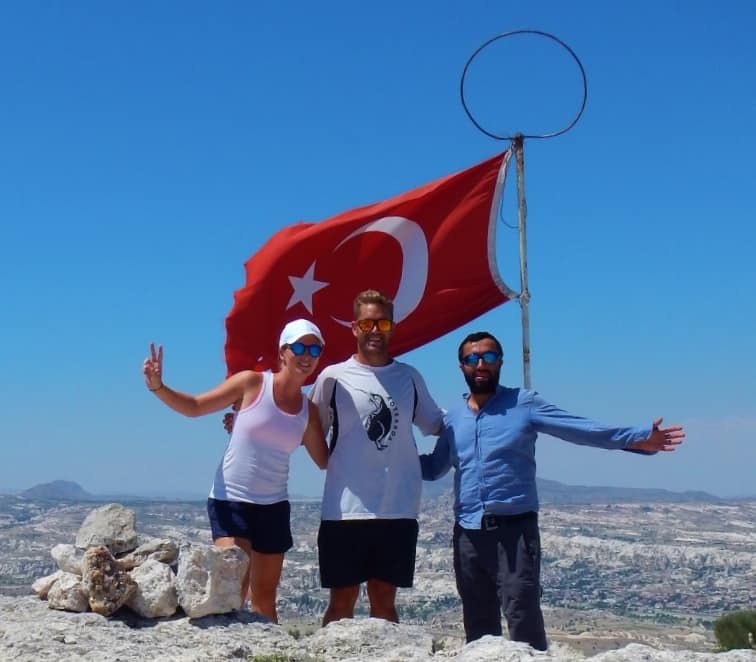 From the flag we looked down upon Aktepe Hill which is known as a popular destination for watching the sun set and could spot Kizilvadi Restaurant, our destination for lunch! Kizilvadi Restaurant is an attraction of its own. With its own historic winery and Grape church, plus some Middle Earth Travel treks even stay there for the night! After having a massive feed of soup, salad and pasta plus a surprise birthday cake, we made our way down into Gulludere Rose Valley.
The scenery is amazing, with strong colours visible in perfect layers on the chimneys, you would wonder what an artist was thinking, had it been a painting. Also, hidden to the side of the track we walked across a little bridge and not expecting anything to be there we were wowed by the massive church carved. It was absolutely huge and hard to believe that its most recent use has been as a pigeon house!
Middle Earth Travel Review
The team at Middle Earth Travel were extremely knowledgeable and certainly know Cappadocia's hidden secrets. They have friendships with local tea garden owners which is also of benefit as it gained us entry to locked churches and hidden rooms that we would not have otherwise seen.
We covered a lot of ground, however we did not feel rushed. The whole day focused on showing us the region, therefore we had as much time as we needed to explore each church and to take 'just one more photo'.
It wasn't all about trekking. With a whole day and 15kms to cover, there were a few silly poses (especially in Imagine Valley), and we learnt a lot about the myths, legends and way of life in Cappadocia.
In conclusion I highly recommend Middle Earth Travel if you wish to go trekking or mountain biking in Cappadocia.
Cost: Day treks with Middle Earth Travel range from 50-90 euro, depending on the number of people taking part. This includes lunch, guide, vehicle transfers and entrance fees to historical sites, but excludes alcoholic and soft drinks.
Middle Earth Travel are outdoor enthusiasts and offer multi-day over night treks, mountain biking, abseiling, or custom made itineraries, in multiple regions throughout Turkey.
Disclaimer: We were provided with a discount for the trek with Middle Earth Travel, however, as always our thoughts on our adventure travel blog our own.
Tibet Cycling: The Complete Guide to Lhasa to Ganden Monastery Cycling Tour
Tibet Cycling: The Complete Guide to Lhasa to Ganden Monastery Cycling Tour
Tibet appeals to travellers in many ways. The first and most important thing is the beautiful natural scenery. However, Tibet is a bit different from the other scenic spots. There is a charm to this place, which is not found anywhere. Travellers have a mind which wanders and loves to explore new things. They can get this experience for their Tibet travel as the various associated activities can completely thrill them. From photography to trekking and cycling, the options never seem to end.
Almost everyone is well acquainted with the various joys of cycling in Tibet, the atmosphere is absolutely perfect. Tourists can pass through several spots and they can enjoy every bit of this beautiful natural land. Cycling happens on various routes and these routes have to be understood thoroughly. In this article, we will discuss about the cycling tour to Ganden Monastery from Lhasa and provide you every detail that you need.
Why travel to Ganden Monastery?
Tibetan Buddhism has a unique appeal which calms the soul of all wanderers. They are struck by wanderlust and the monasteries in Tibet, offer them something to cherish about forever. For those who love religious places, Tibet has plenty of offerings. The monasteries, the temples and the rituals, Tibet's heritage have always echoed through the ages.  This brings us to Ganden Monastery, which is truly a magical place. It is an absolute wonder in front of the eyes and the viewers are left completely captivated. This was the very first monastery, which laid the foundation of Tibetan Buddhism. The vast expanse of land on Tibet's western site is absolutely heavenly. Emperor Yongzheng who was from Qing Dynasty gave a very special name to this monastery and called it "Yong Tai". Situated at a height of 3,800m from the sea's level, the elevation is majestic. Lagyi Hall, Angyiukang, Yangbagyain Hall are the major construction in this monastery.
Located 47Km away from the capital city of Lhasa, this monastery witnesses a huge influx of people every year. This is an important structure as far as Tibet's cultural heritage is conserved and it is preserved for this reason. The cultural and artistic significance is terrific and Ganden will always be the centre of Tibet's attraction. It joins the famous Sera Monastery in a unique list, which also features Drepung Monastery. These three temples are considered "great" and the visitors value them greatly. Tibetan Buddhism features many activities and some of them are grand and marvellous. Once in a year, a giant picture of Buddha is unfolded and it easily attracts disciples from all parts of the country. Cycling to this monastery can provide a great experience, but you must follow the basic guidelines. Once these points are followed, your trip will not only be great, it will be perfect.

Highlights of the amazing cycling tour from Lhasa to Ganden Monastery
Cyclists are of different types and they begin their journey, by having different trips in their minds. We have introduced trips of various lengths and they are tailor-made for each type of traveller. Some people can opt for the short and customized tour, while, others can choose the longer version. The distance from Tibet's Lhasa to this amazing monastery can vary slightly, depending on the route taken. Cyclists have to travel 60Km to reach their destination and not much difficulty is faced in the process.  Don't forget to be in a relaxed mood, as you take this trip. Lhasa is a great spot to be in the right frame of mind and two days can be easily spent here.  The famous trip begins from Lhasa River and cyclists go upstream.  Picturesque villages and some amazing farmlands fall between that and they are just perfect. Reaching Ganden is easy and once you reach here, your soul will be touched by a positive vibe. The environment is filled with peacefulness and everything seems perfect here. One night can be spent here to soak in the feeling. The return journey can start next day and Chubuxi village falls in the route. Tibet is all about the unique lifestyle of the locals and this is something you can't afford to miss.  From Chubuxi, the trekking trip to Samye commences.
The most classic 6 days Lhasa and Ganden Monastery Bike tour, you will enjoy the cycling joy and Tibet wonderful natural landscape and Tibetan monasteries architecture. Most tourists can complete this short ride after relaxing yourself in Lhasa for two days. The ride route begains upstream along the Lhasa River, and you will pass some farmlands and small villages. Then arrive in Gandan monastery, one of six Gelug sect monasteries, and worship this famous monastery. Then you are expected to spend a night at Gandan monastery to experience the peaceful environment. Next day, you will head back to Lhasa, and visit Chubuxi village at the foot of Gandan monastery. On the way you can experience the daily life of local people. Moreover, Chubuxi village is the starting point of Ganden to Samye trek. Finally we move back to Lhasa and the ride ends.
Tackling the changing altitude on the way to Ganden Monastery
The altitude in Lhasa is about 3600m, and that of Ganden Monastery is 3800m. There is no strict change of altitude, so it's relatively easy for travellers who want to try short cycling in Tibet.  Cycling is a strenuous activity and it can take a toll on your health. That being said, cycling in the rough terrains of Tibet is even more challenging. Ganden is situated high above the normal sea level and this steep rise can often weaken cyclists. The high altitude woes will continue, if proper precaution is not taken. Carrying additional oxygen cylinders is a must and this should be done in advance. The temperature changes greatly and travellers should also be aware of this. However, if you choose us for this trip, everything becomes easier. The freezing months can pose a far bigger threat and that should be avoided at all costs.
The perfect time to take Lhasa – Ganden Monastery cycle tour
Tibet embraces every season fabulously, though the conditions are not favourable every time. Travellers and especially cyclists must understand the timing absolutely well. If the activity is done in a pleasant month instead of the harsh winter, the fun can increase manifold. The best time for cycling is from May to October because good weather and temparature. The other months can be targeted as well, but the safety issues become important in the hilly roads.
Getting the Tibet Travel Permit – How can we help?
Exploring Tibet is a fun activity, but Tibet travel permits matter greatly. Foreign travellers must fulfil the necessary travel guidelines to get in this region and we can help you from all sides. We make the process easier, by getting you the right documents at the right time.
What to pack for this cycle tour? – Bicycle Rent and Other Tips
Taking the most essential things can do the job here. The all-important ID card and travel permit is absolutely essential and it gets the first priority. Take a medium-sized backpack to put in your things and pack it with the right kind of warm clothes. Waist packs also come in handy, as they store many important things. This is a place where you will see high elevation, so oxygen should be there in abundance. Avoid getting sunburn by taking a good sun-screen cream or lotion and lastly don't miss out on the medicines. Helmets and other cycling wear can be taken, as it is very essential. The bicycle can be rented easily and it is supplied by the tour operator itself. An important trip in this aspect would be to prepare for the changing weather. It can stay sunny or it can rain, so plan accordingly.
The challenges in Tibet are quite tough, but it will gift you an experience, which you will not forget in a long time. Cycling here is precious and it is an important aspect that strengthens Tibet's tourism.

We have been wearing out our jandals (Kiwi for flip-flops) on our travel adventures around the world since 2009. We think our blog is thought provoking and a little witty. But we have been proven wrong before. Find out more about us here...